While the biggest Marvel toy news this week is Hasbro launching their Black Panther Marvel Legends series overnight, Hasbro isn't the only one launching pre-orders for their line for the movie this week! Funko has big plans for Black Panther movie toys as well, as evident by the fact that Funko Black Panther POP Vinyls, Dorbz and more are now up for order!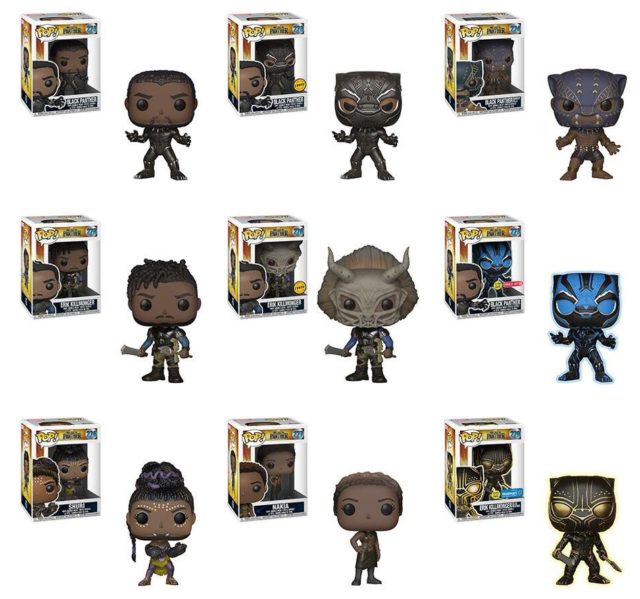 Due to the fact that there are exactly zero mainstream, recognizable characters in the Black Panther movie besides T'Challa himself, I was curious to see if the movie would get the usual full wave of Funko POP Vinyls, or the dribble of POPs that other lesser-known characters like Ant-Man got.
Well, Funko answered that question pretty definitely this week when they revealed a surprisingly comprehensive line of Black Panther vinyl figures!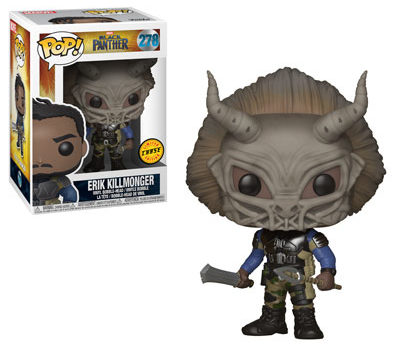 I genuinely thought we'd see a maximum of about four figures in the POP Black Panther series, but Funko had other ideas—there will be a whopping ten figures already announced (plus whatever we get in the Marvel Collector Corps Black Panther Box in February 2018)! Yowza!
The ten figures revealed in the Black Panther Funko POP! Vinyls series are as follows:
Unmasked Black Panther
Masked Black Panther (1-in-6 CHASE)
Black Panther (Warrior Falls Version)
Erik Killmonger
Masked Erik Killmonger (1-in-6 CHASE)
Glow Erik Killmonger (Walmart Exclusive)
Glow Black Panther (Target Exclusive)
Shuri
Nakia
Okoye (Funko Shop Exclusive)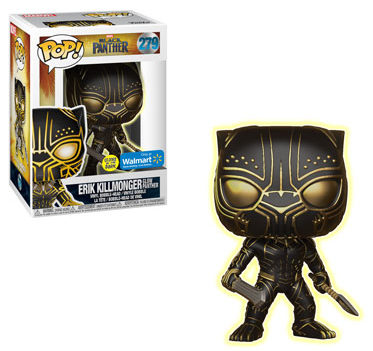 The fact that the "Golden Jaguar" costume Erik Killmonger is only available as a glow-in-the-dark Walmart exclusive definitely seems suspicious. If that isn't a tease as to one of the exclusive figures in the Black Panther Collector Corps Box, I don't know what is!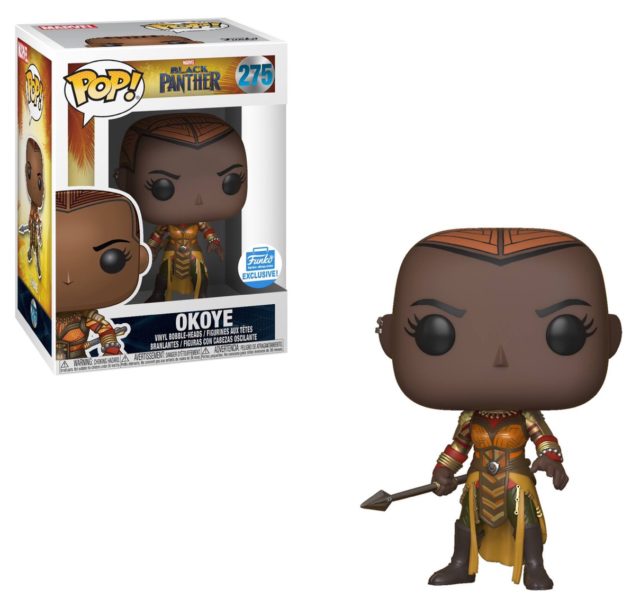 The Exclusive Okoye POP Vinyl is worth a special mention, as it's a unique-molded, unique character with a unique numbering designation and is coming as a Funko Shop online exclusive—that's a first! Hopefully they're making plenty and she doesn't end up being a nearly-unobtainable pseudo-"Chase".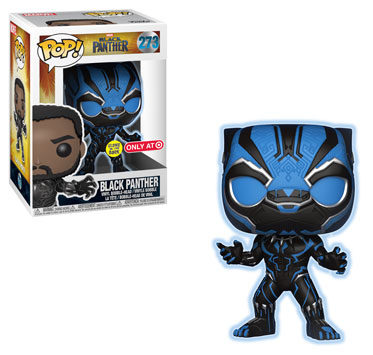 Of course, Funko's love for Wakanda isn't limited to POPs! They've also lined up Dorbz, Pocket POPs, Pint-Size Heroes and even Hero Plushies!
On the Black Panther Dorbz front, there's four total on the way:
Black Panther Dorbz
Erik Killmonger Dorbz
Glow Killmonger Dorbz
Glow Black Panther Dorbz (Hot Topic Exclusive)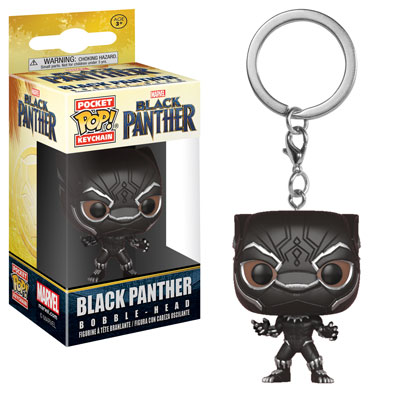 For Pocket POPs Keychains, we're getting both a regular BP and a blue glow Black Panther.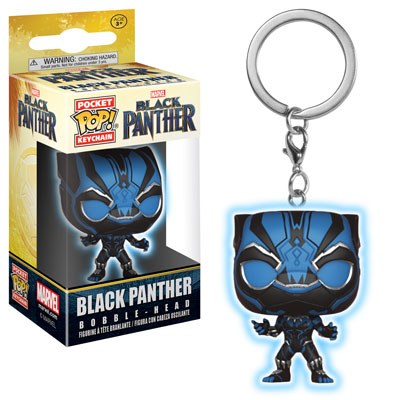 It looks like this glowing BP keychain will not be an exclusive to anyone, unlike all the other glow versions.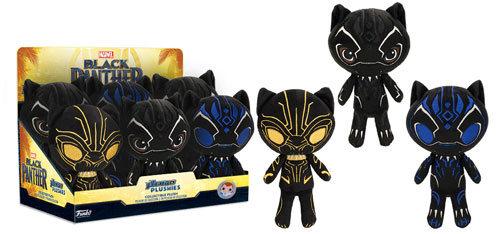 Last but not least, there's a trio of Hero Plushies and a three-pack of Pint-Size Heroes rounding out the merch!
The Pint-Size Heroes Black Panther and Erik Killmonger will be joined by a mystery third figure in the 3-pack. Will it be Shuri, a Dora Milajae, or someone totally unexpected…?
In Plushies, it's regular and glow Black Panther plus Golden Jaguar Killmonger. I'm pretty curious to see if there's a big demand for plush toys from this movie!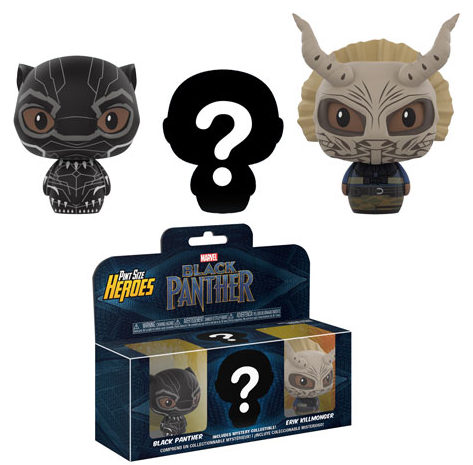 All of these Black Panther Funko toys are now available for order online, and are all set to be released in January 2018. Funko hasn't announced when their FunkoShop.com Okoye POP Vinyl will go up for sale yet, but presumably it will be when she's actually ready to ship out in early 2018.
Thoughts on the Funko Black Panther lineup, Marvel collectors? Are you surprised to see such a large assortment of items for this movie, and how do you think they'll all fare at retail? Will you be picking any of them up?