UPDATE 11/11/2017: Those who don't mind a little bit longer to get their Marvel Legends Black Panther series figure have another option: Amazon is now taking orders for all six individual figures in the Black Panther Legends wave! The catch is that the figures won't ship until 1/1/2018, whereas other online retailers have a December 2017 ship date.
UPDATE 11/10/2017: At New York Toy Fair 2017, we were told that the Hasbro Marvel Legends Vintage Series was going to be the final Marvel Legends wave of 2017, as the Black Panther Legends would be dated for 2018. Clearly something has changed for the better since then, though, because out of nowhere, the Marvel Legends Black Panther Series is now up for order online! And not only is the set dated to ship next month, but individual pre-orders for every figure in the wave–including Black Bolt and Namor–are available already! Boo-yah!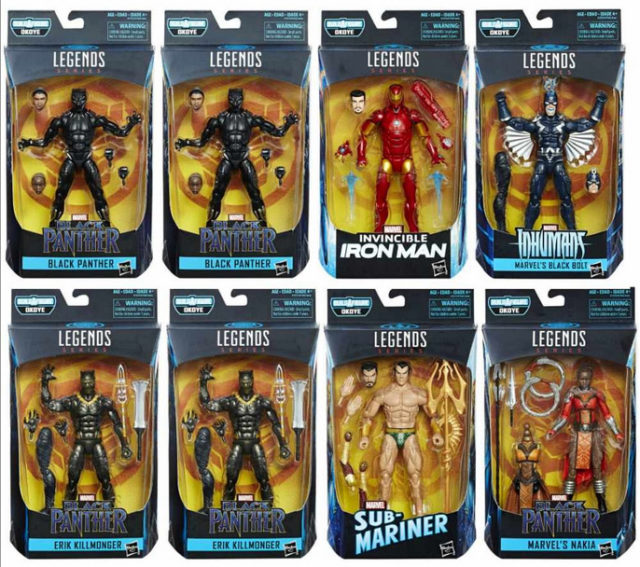 It doesn't happen
too
often, but tonight Hasbro managed to catch collectors pretty much everywhere (including me!) totally off-guard with a surprise early pre-order for the Black Panther Marvel Legends series of figures!
What's less unexpected, however, are the fairly predictable case ratios for the series, which are as follows:
(2) Black Panther
(2) Erik Killmonger
(1) Nakia (Dora Milajae)
(1) Namor the Sub-Mariner
(1) Black Bolt
(1) Invincible Iron Man
Build-A-Figure: Oyoke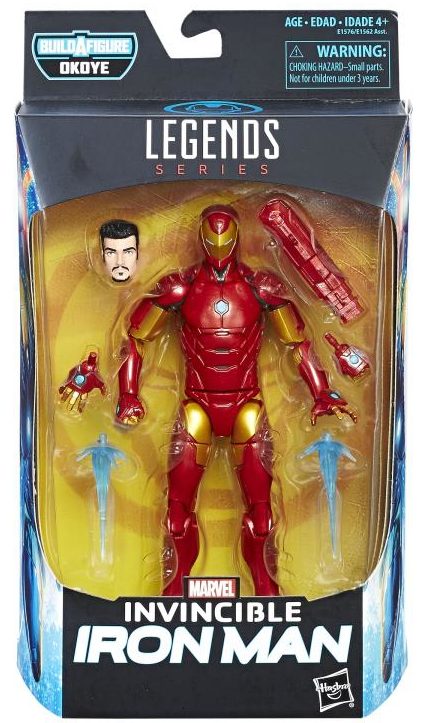 Now, on paper, I imagine plenty of collectors would be super-bummed by those case ratios, as half of the case being taken up by double-packed near-identical figures of Black Panther and Killmonger won't exactly fill many completists with delight.
But it turns out that Hasbro will actually be earning brownie points from collectors this time out, though, as online retailers like EE are already taking orders for every single individual figure in this wave–including the highly-anticipated (and shortpacked!) Black Bolt and Namor figures!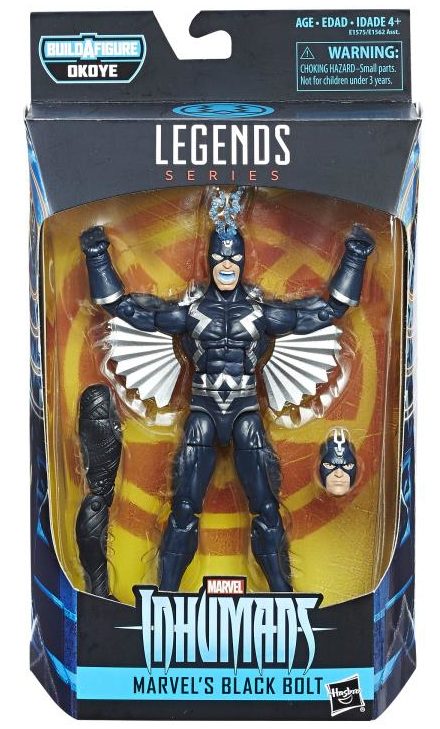 This was a pretty divisive wave among fandom when it was announced (to say the least), so I applaud Hasbro for making it easy for comic fans and MCU movie fans to easily cherry-pick their preferred figures from this series straight from the start. That's gonna make a lot of collectors happy! Le'ts hope this practice continues with the upcoming Deadpool Legends and Spider-Man Marvel Legends 2018 series!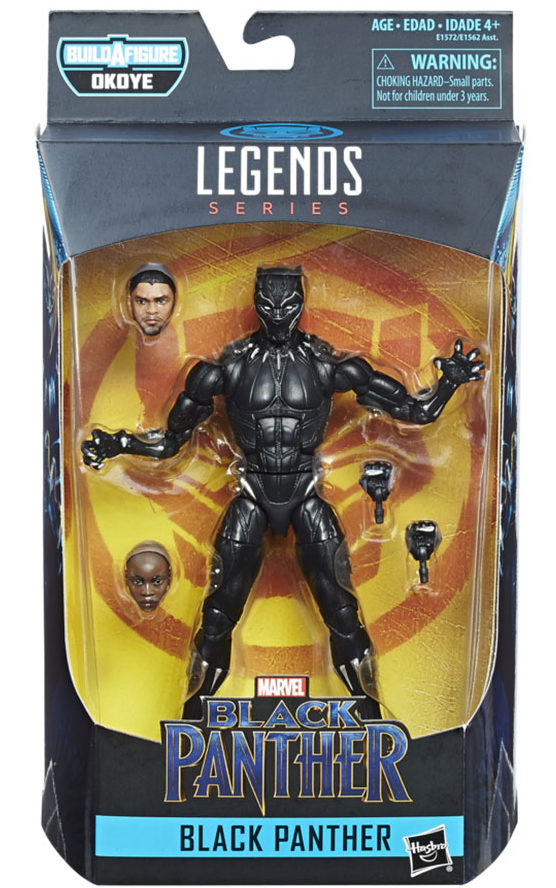 ORIGINAL (10/27/2017): This morning, photos started pouring in from the Hasbro display at the 2017 MCM London Comic-Con, where the 6" Black Panther Legends movie figures made their debut. I figured we'd be seeing official photos from Hasbro of the reveals before too long, and the big H did not disappoint: hi-res images of Killmonger, Nakia, Black Panther and the Okoye Build-A-Figure are now available!
I was a little bit taken aback by the largely negative feedback regarding the 6" Marvel Legends Black Panther movie figures that were revealed this morning, but I'm hoping that people will be a bit more enthusiastic about the wave now that official photos of the series have been sent out by Hasbro. Let's have a look and see what we think of the figures now that we can get a better look…
The figure of T'Challa himself looks pretty similar to the 2016 Civil War Legends version, but with two major improvements: a butterfly swivel for the shoulders that will greatly improve flexibility and a far better unmasked Black Panther Chadwick Boseman Head.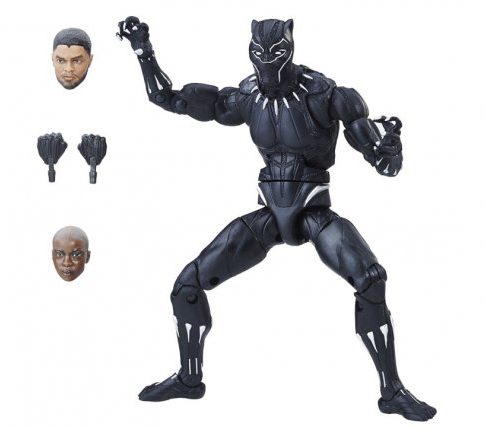 We're also getting alternate fists this time instead of just the slashing hands we got previously, which will be nice for changing up displays.
Last year's Black Panther action figure never warmed pegs or became easy to find, and I've got no complaints about an improved one hitting stores in a few months. Nice work.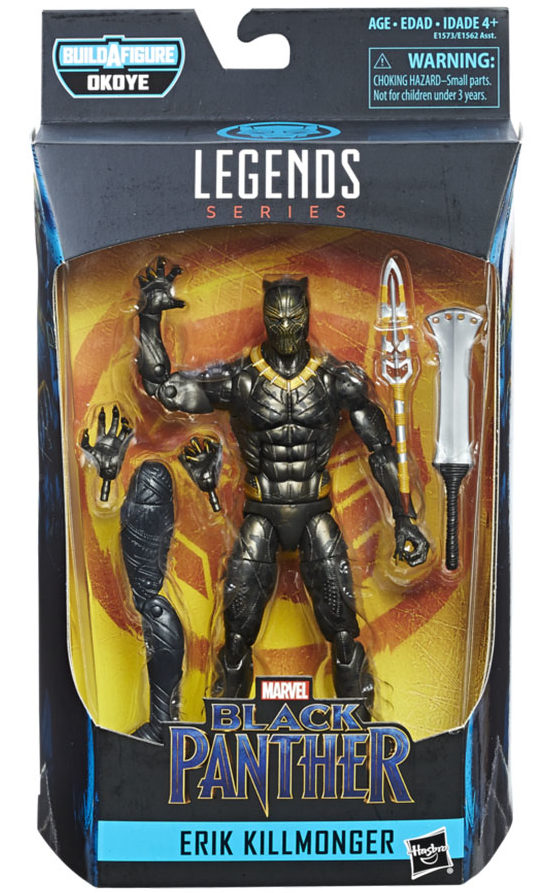 The one villain figure from the movie is Marvel Legends Killmonger in his "Golden Jaguar" costume. He comes with two killer bladed weapons and I think the gold accents on the costume look really terrific. It's a shame there's no unmasked head, though.
This feels a bit weird being in the same wave as the largely similar new Black Panther, but this is the costume Erik Killmonger wears in the movie and this wave is our one chance of getting it in ML form. I'm okay with this release, though I know many collectors are not so thrilled.
Rounding out the series are the two Marvel Legends Dora Milaje figures: the single-packed Nakia and the Okoye Build-A-Figure. I've already heard lots of complaints about these characters getting released, particularly another "normal-sized" Build-A-Figure like the Okoye BAF.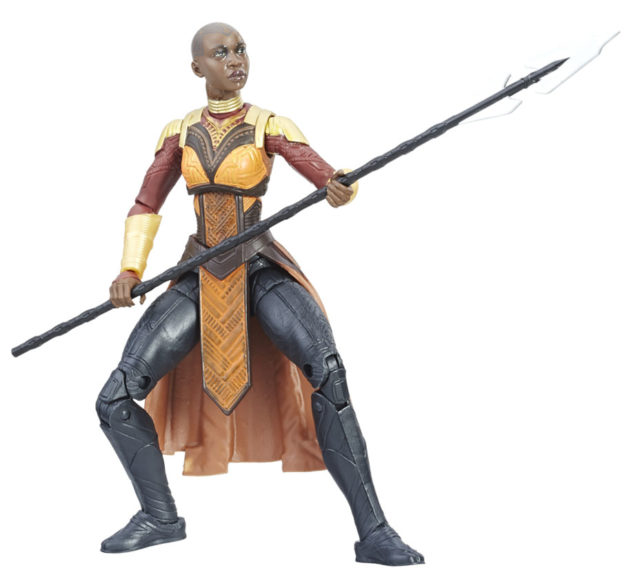 I genuinely believe that the Dora Milaje will be
the
breakout fan-favorite characters from the Black Panther movie, and that Hasbro is planning for that instance with this pair of 6" figures.
Despite the chilly reception for Okoye and Nakia, I think fans and collectors will ultimately end up being very glad that Hasbro gave us these two bodyguards for King T'Challa while they had the chance. Skeptics may want to withhold judgment until they see these two in action in the movie and see just how awesome they are.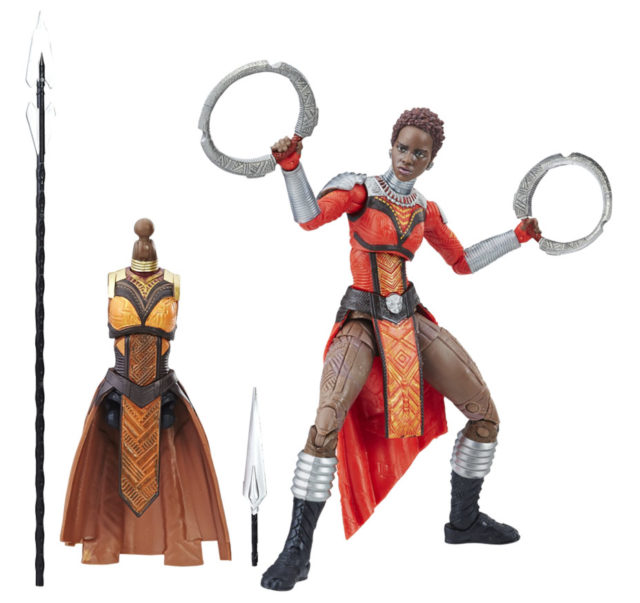 The Black Panther Marvel Legends wave is now up for order, and will reportedly ship out in December 2017. That's at least a month before we were told the action figures would originally be available, so it looks like some ML collectors may be getting an extra-special, early set of figures under their Christmas tree this year!
Initial reactions I've heard to these figures were a bit cold, so let me ask: now that you've seen the hi-res photos and the wave is up for sale, are you warming up to this series? How do you think the Black Panther movie series is going to fare at retail, and are you ordering any figures from this series?