Thanksgiving is just two days away, and we're getting something to really be thankful for in advance: lots of fresh Marvel toy news! There's a lot I want to talk about before the holiday, but I want to start with something that's been a long time coming: the Marvel Select Black Panther went up for order in the fall despite just being a silhouette then. Now it's finally been revealed—along with multiple series of Black Panther Minimates and even DST Marvel Gallery statues!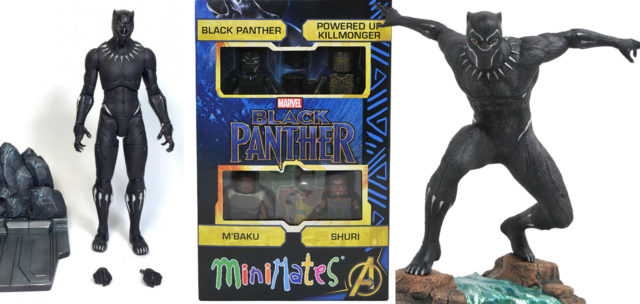 Following the mega-success of Deadpool and Old Man Logan the last two winters, Marvel Studios is looking to claim some of those Valentine's Day week dollars for themselves next year!
And while he's not quite the most iconic superhero in the world, the Black Panther movie is looking pretty golden from the trailers thus far.
Of course, what we care about here is less about the media driving merchandise sales, and more about the merch itself. And Diamond Select Toys is serving up quite a few slick Black Panther toys…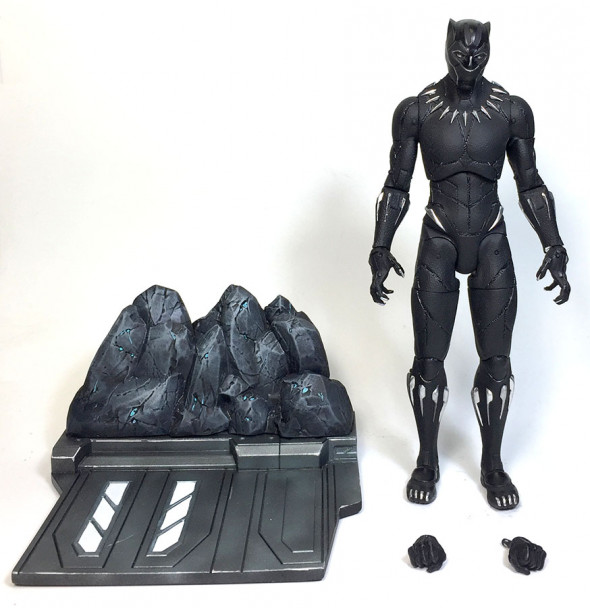 First up, it's the reveal of the 7" Black Panther Marvel Select figure! There were some grumbles when T'Challa didn't get a figure to coincide with Civil War, but I don't think anyone will argue that DST definitely did the King of Wakanda justice now that they have finally done him.
Sculpting and articulation-wise, Black Panther Select is looking terrific so far. As usual, Diamond Select is restricted to integrating 16 points of articulation, but they've gotten really great at making those 16 points count.
T'Challa looks to come with two pairs of interchangeable hands—fists and "clawing"—in addition to his diorama-style base. The base itself is some rocks next to a technologically-advanced… floor. The base is sort of plain, frankly. It's not bad, just sort of there.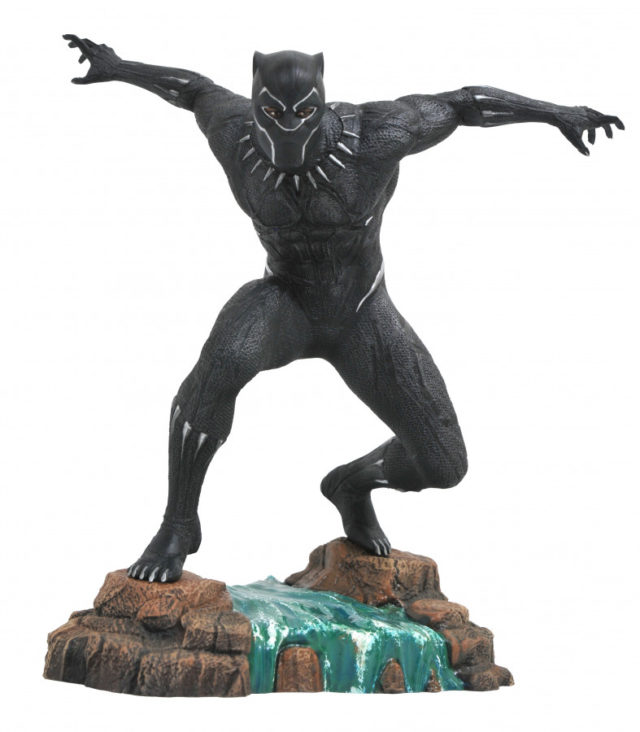 Next up, Diamond Select Toys will be adding to their increasingly popular line of Marvel Gallery statues with a pair of Black Panther movie-based statues of Erik Killmonger and Black Panther himself.
The two 9" PVC statues will be sold separately and can be paired together to recreate a scene from the movie (presumably a battle between BP and Killmonger at Warrior Falls). The Black Panther is larger and posed more dynamically than the Civil War Marvel Gallery Statue released earlier this year.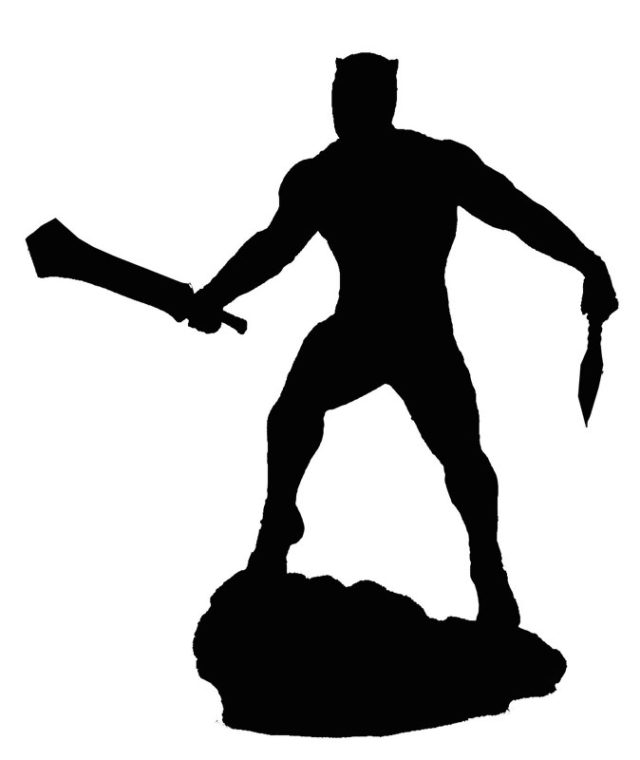 Killmonger is still only revealed as a silhouette, but we can see his basic pose holding a sword and knife, and it's also apparent that he's in his "Golden Jaguar" costume.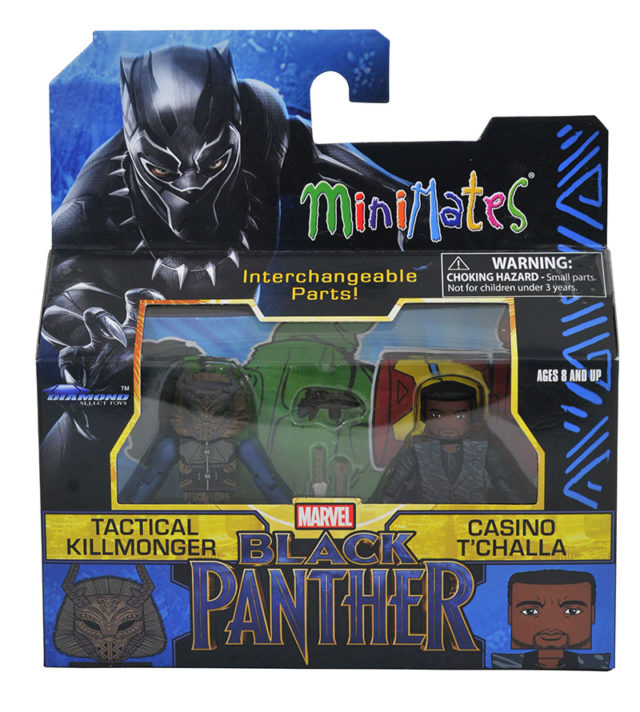 Finally, we've got Black Panther Minimates figures from the movie—lots and lots of them! There's going to be four two-packs in the Marvel Minimates Black Panther series at Walgreens (including four exclusive figures), three two-packs at Toys R Us (including two exclusive figures), and a four-pack box set for online and specialty stores (including two exclusive figures).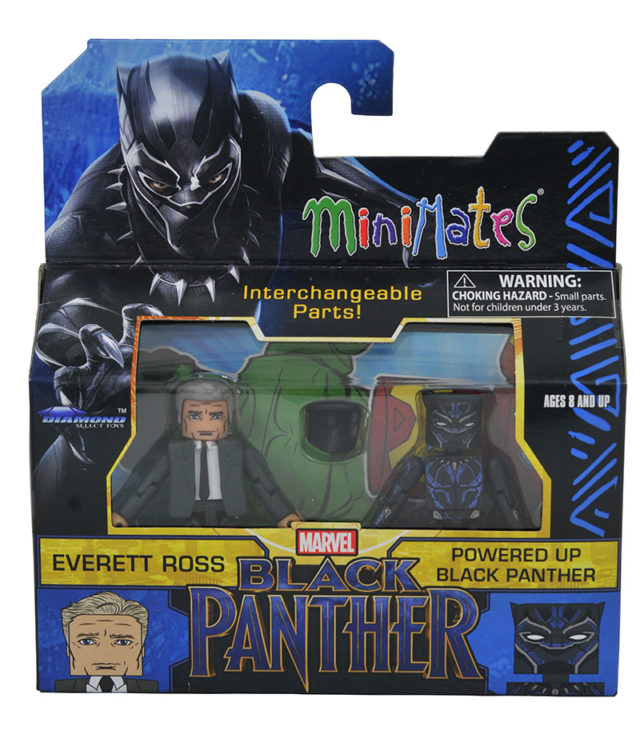 In total, there are 12 different figures spread across the different stores as follows:
Walgreens Black Panther Minimates Two-Packs:
Black Panther & M'Baku
Ulysses Klaue (Klaw) & Killmonger
Casino T'Challa & Tactical Killmonger
Everett Ross & Powered-Up Black Panther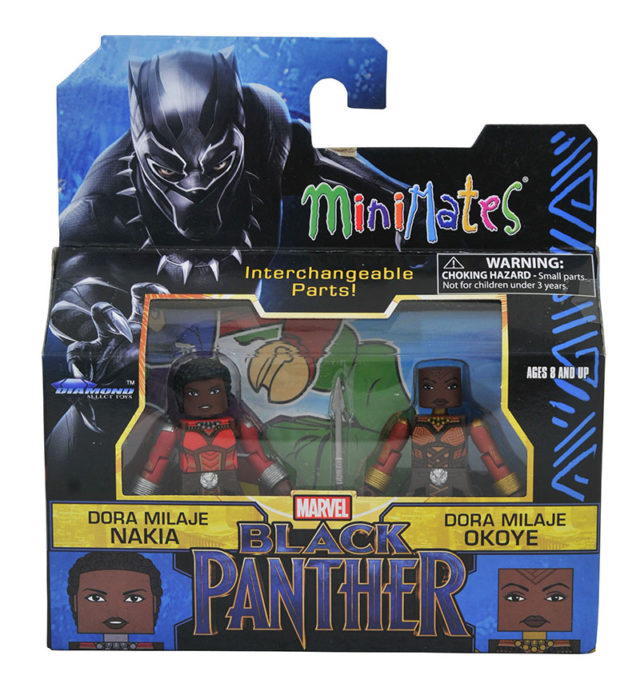 Toys R Us Black Panther Minimates Packs:
Black Panther & M'Baku
Ulysses Klaue (Klaw) & Killmonger
Dora Milajae Okoye & Naki (Exclusives)
Specialty Store Minimates 4-Pack: 
Shuri (Exclusive)
Powered-Up Killmonger
Black Panther
M'Baku
For those wanting a few of these little buggers as stocking stuffers, the four-pack should hit comic shops in December 2017, with the two-packs arriving in early 2018.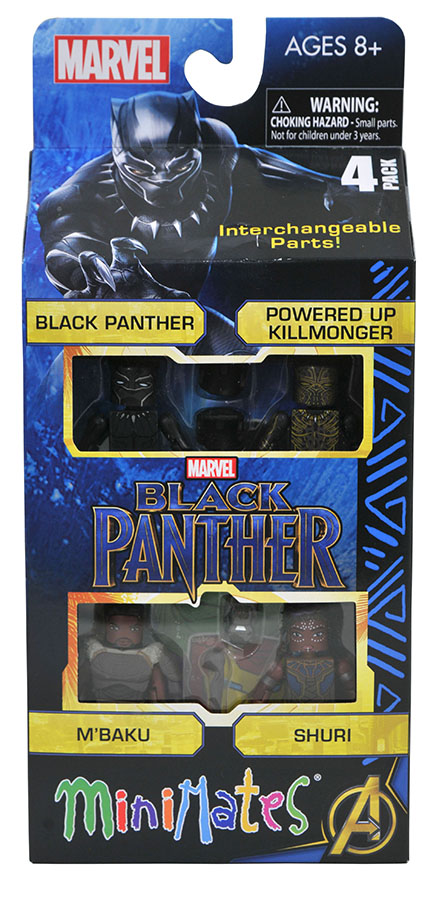 The Black Panther Marvel Select figure and Minimates box set are now available for order online. The Black Panther Gallery statues should be up for order soon, so stay tuned for that. The Walgreens and TRU two-packs aren't available for pre-order, but I'll post an update once they actually start to be found in stores early next year.
Now that we've seen just about everything that DST has cooked up to coincide with the next Marvel Cinematic Universe film, what are your thoughts, Marvel collectors? Will you be picking up the Black Panther Minimates, Marvel Gallery statues, or Select figure?