After two and a half weeks in theaters, the Thor Ragnarok movie has bright in around 250 million dollars domestically and is an unarguable success. Meanwhile, just about every company from Hasbro to Bandai Tamashii to Gentle Giant to DST has put their Gladiator Hulk offerings up for order. Every company except perhaps the most-anticipated of all. But no longer—the Mezco ONE:12 Collective Gladiator Hulk figure is now up for order!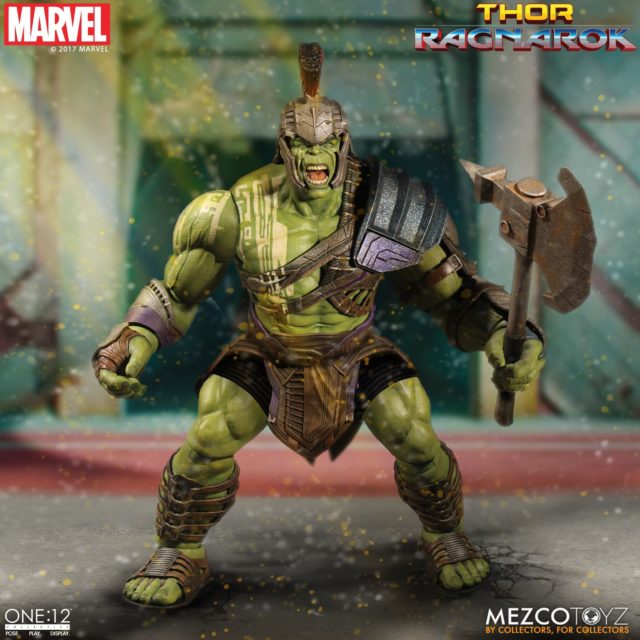 In less than two years, Mezco Toyz has managed to pull off quite a feat by carving out a significant niche for themselves in a Marvel 6"-7" figure market that's been dominated by Hasbro, Diamond Select Toys and Bandai for years.
Heralded as "mini-Hot Toys" by many, the Mezco Gladiator Hulk is perhaps the single most-hyped 1:12 scale figure of Thor Ragnarok Hulk in the land. As usual, Mezco Toyz has made collectors wait a bit, but it seems apropos that the Hulk figure many have heralded as the best of all may have been saved for last!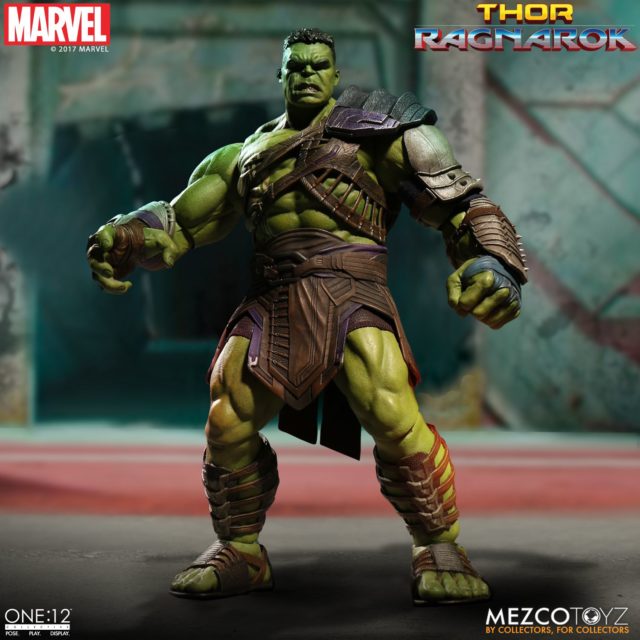 Standing 7.9" tall, this Gladiator Hulk will easily be the largest Marvel figure that Mezco has released in the ONE:12 Collective lineup to date—and also the most expensive. Hulk will carry an MSRP of $125.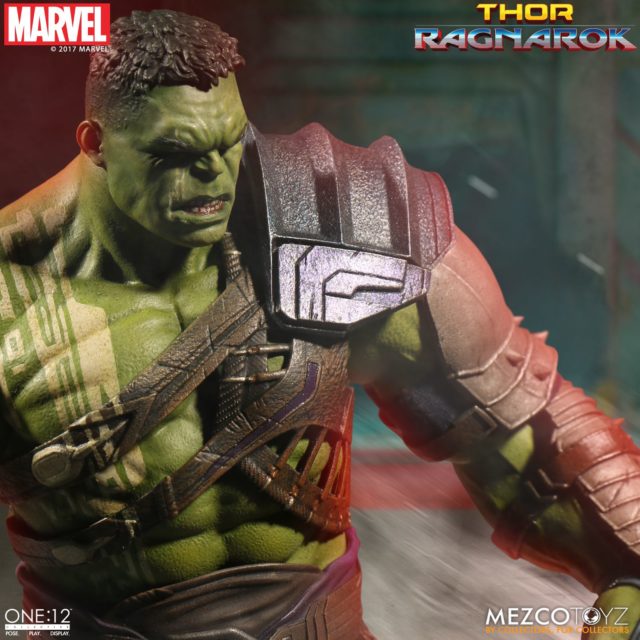 Now, there's no mistaking that that's a heavy price to pay for an 8" figure—but for what's basically a smaller Hot Toys Hulk, complete without tailored outfit and 28 points of super-articulation, it's also not a bad price.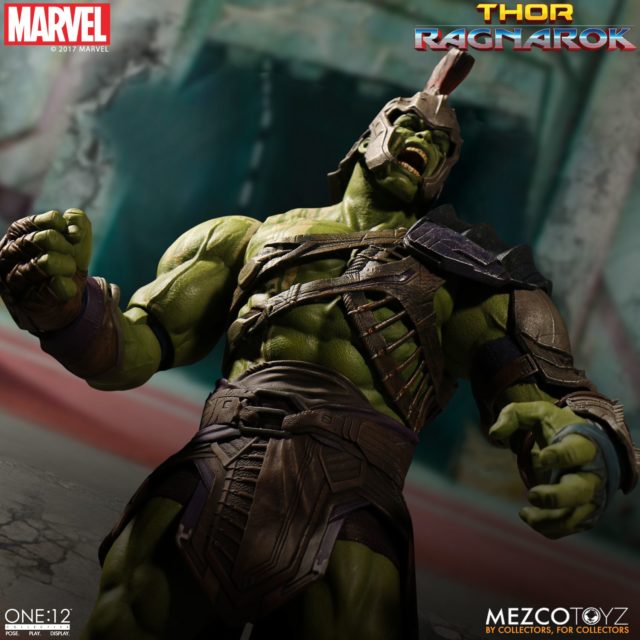 Mezco opted for a mixed media approach to Hulk's gladiator costume, with much of the costume being made of plastic, but also quite a bit made of fabric. The overall result of the mixed media is a costume that looks authentic and realistic without overly relying on fabric. Thumbs up.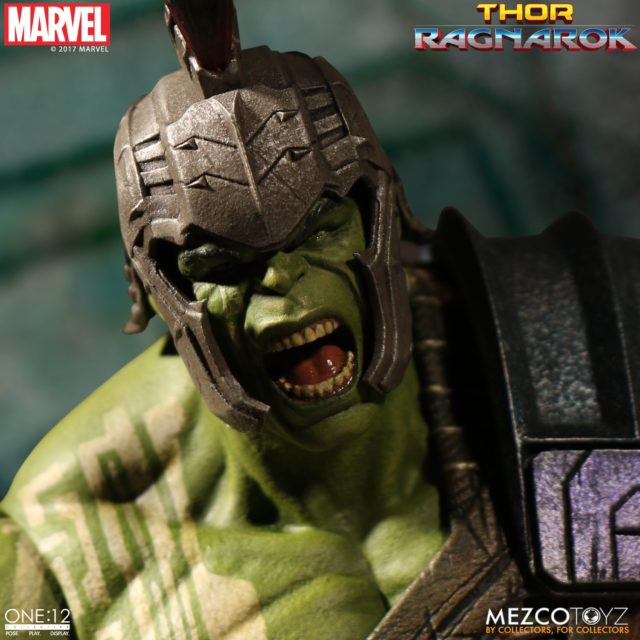 While we're stuck with one expression for Hulk from many companies, it's not the case here: we get both a sneering Hulk head with teeth bared and no helmet, as well as a screaming Hulk head with gladiator helmet permanently affixed. Both options look nice, although I would have definitely preferred a removable helmet that could be utilized with either portrait.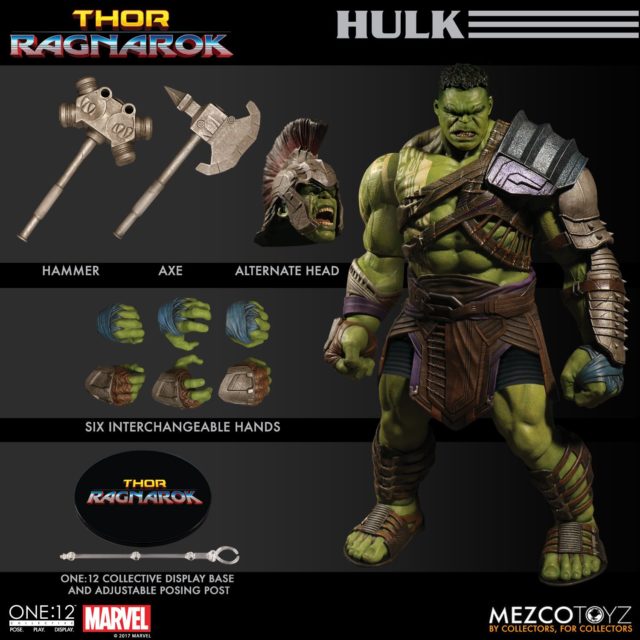 In addition to the alternate head, ONE:12 Collective Hulk also comes with six interchangeable hands (including gloved hands and hands with blue wraps on them!), an axe, a hammer, and the ubiquitous display stand with posing pole.
I'm hoping that the final production versions of the axe and hammer have heavier paint deco on them to look a bit more gritty, but otherwise these accessories are aces. I wish every 6" Marvel line out there came with display stands this awesome.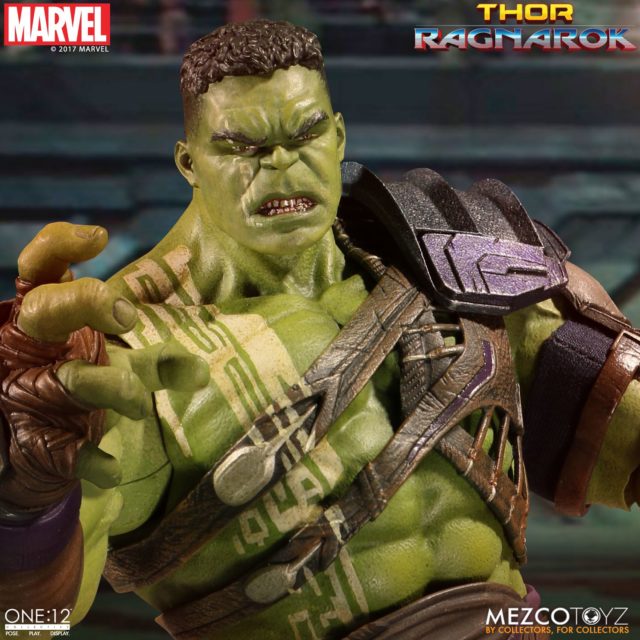 The Marvel Thor Ragnarok ONE:12 Collective Gladiator Hulk is now up for order, and is scheduled to be released in May 2018. I have a really tough time believing Mezco Toyz is going to be able to get this figure out according to that timeline, but maybe Mezco is going to surprise me (profusely) by ramping up their speed next year!
Now that the final major Thor Ragnarok Hulk figure is up for sale, where are you dollars going to fall, Marvel collectors? Does Mezco have the best 6" scale Gladiator Hulk in the land, or does that honor belong to a different manufacturer?