Now that Thanksgiving has come and gone, it's time to pick up the pace to make sure that every Hasbro Marvel Legends 2017 figure gets it's rightful spotlight while it's still, well… 2017. Moving along with the Marvel Knights Legends series reviews, we've got the star of the first-ever female-led Marvel TV series. Krysten Ritter herself has gone on TV talking about how much she loves her Marvel Legends Netflix Jessica Jones figure (which is on sale now for 17 bucks shipped). Is it as good as she thinks?
The Right:
Way back in spring 2016, Krysten Ritter was on television saying that action figures of her as Jessica Jones would sell tons and she was going to make some calls and push for it. Now, said figures were almost certainly already in the pipeline, but hey, every little push helps, right?
And so, a year and a few months later (and after the release of Minimates and Funko POP Jessica Jones figures), Marvel Legends Jessica Jones arrived. Is she everything fans (and Krysten Ritter herself) hoped for? Let's start the review…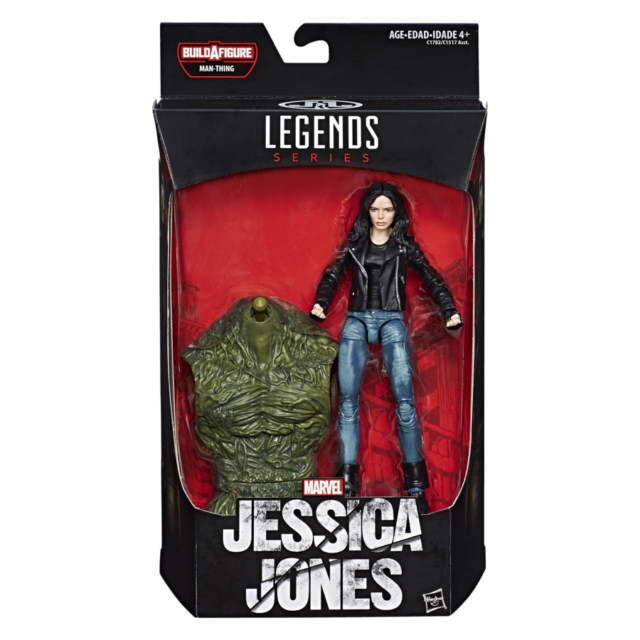 This figure is one of the four MCU Netflix characters in the Marvel Legends Man-Thing Build-A-Figure series. It's cool to see the Jessica Jones logo so proudly emblazoned on a mass market action figure, and this is the only figure doing so, since the other three Netflix characters are all from Daredevil.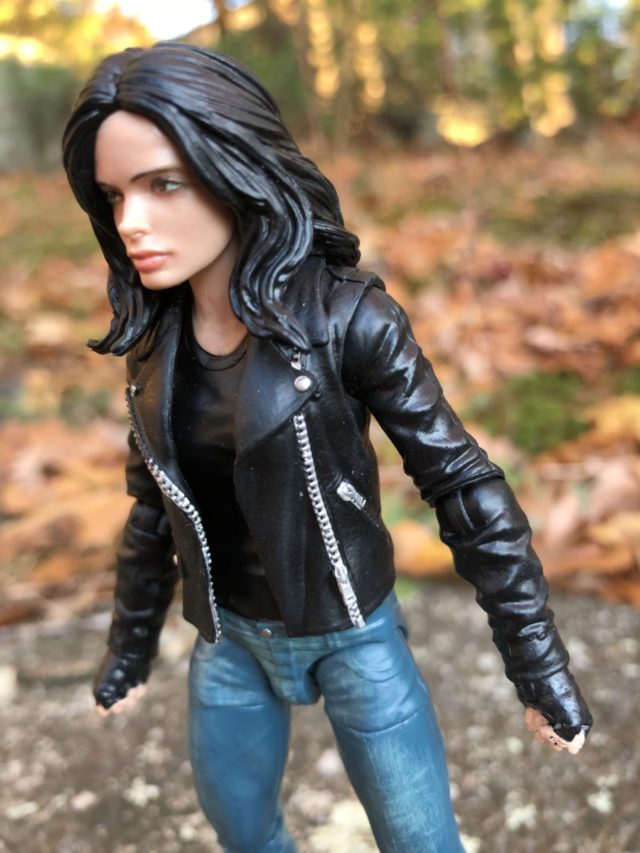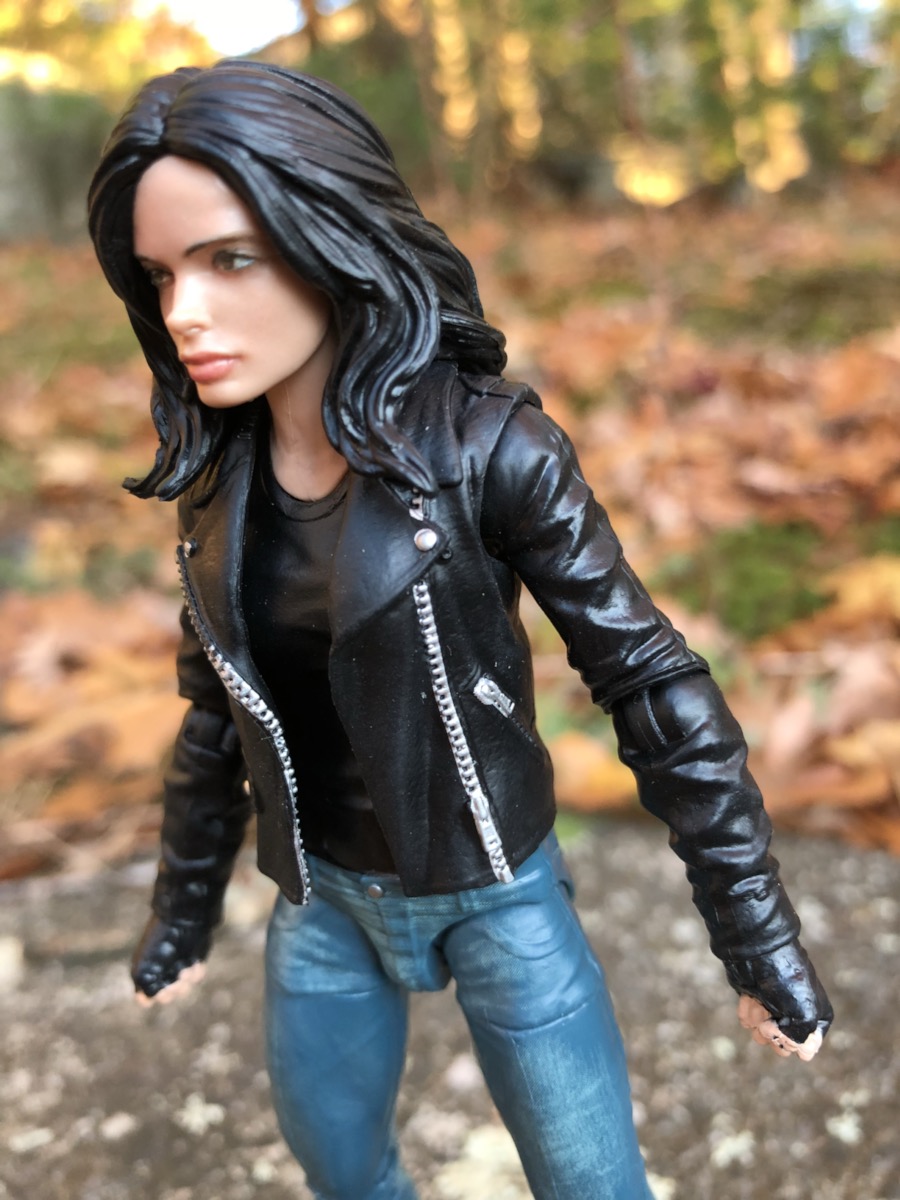 I always say that the most important aspect of a live action-based toy is actor/actress likeness, and Hasbro hits a grand slam here as far as the Krysten Ritter Jessica Jones likeness goes. The hair, the eyes, the lips and shape of the face… this head sculpt is so good it's almost scary. No matter what angle I look at the face from, it just looks so right. Stellar work here by Hasbro.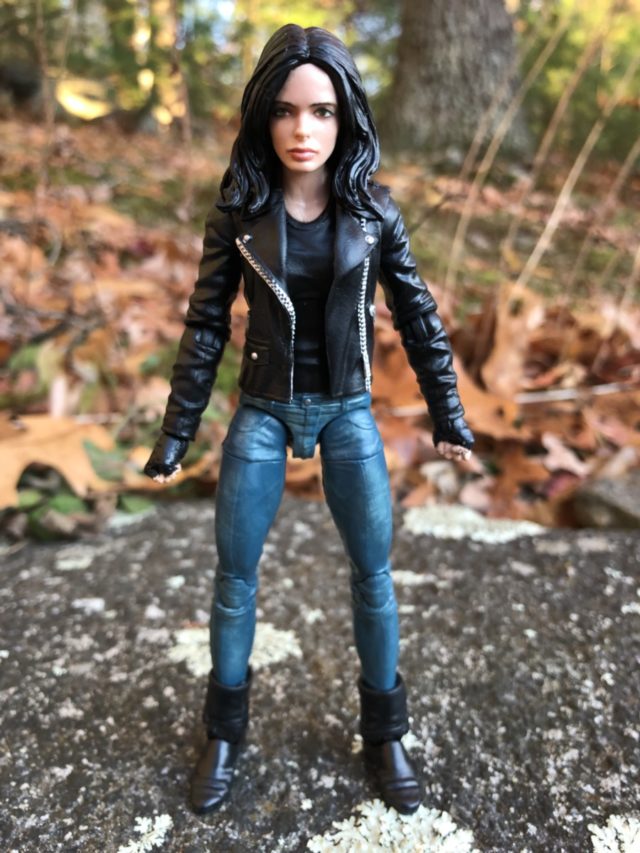 And while I've heard some people say the eyes aren't painted quite right on theirs, the paintwork on the head of my figure is perfect.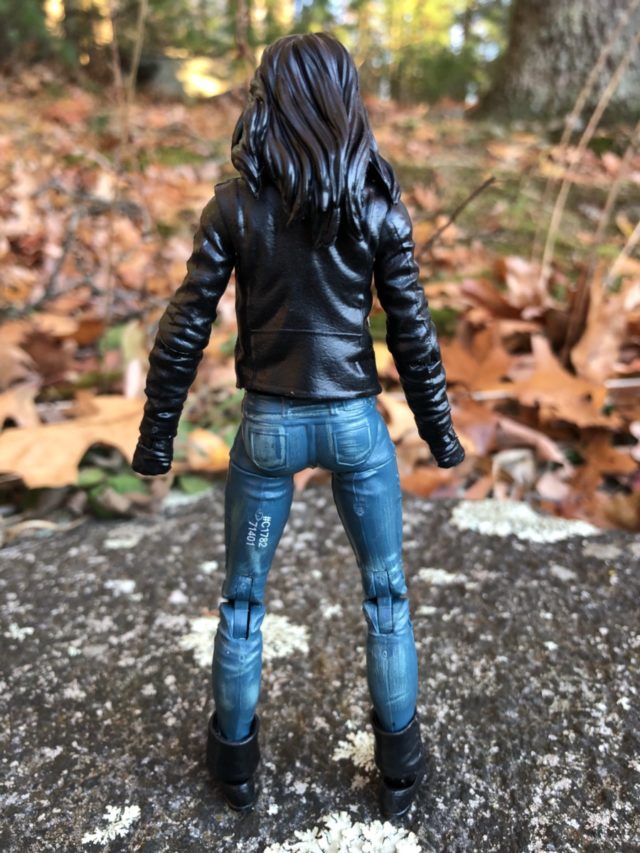 The "costume" (so to speak) of the figure is just as good as the work on the head. The soft plastic leather jacket (with sculpted zippers and buttons!) looks dead-on, the paint wash on Jessica's jeans is extremely convincing, and her gloves and even the pockets on her buns are sculpted and not just painted on.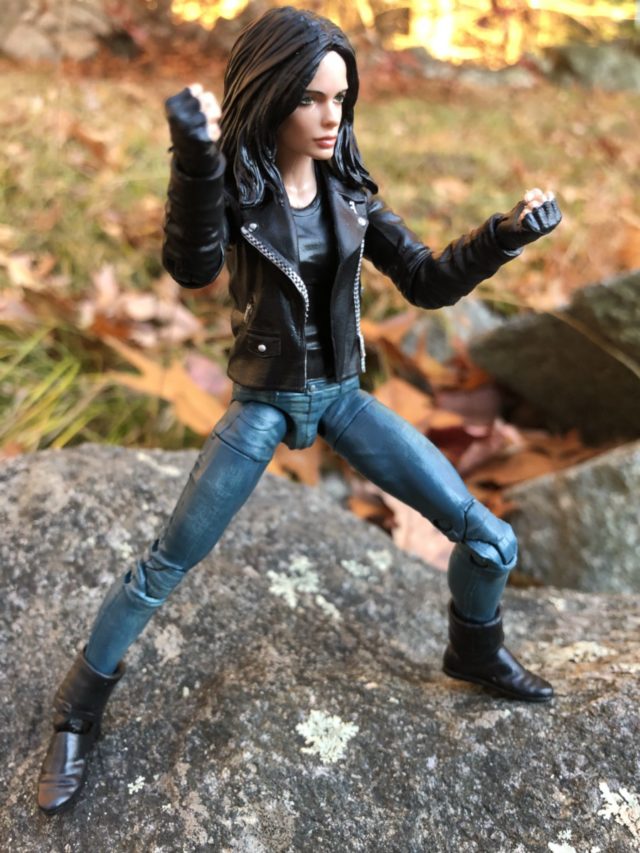 And about that paintwork: I've got zero complaints about the paint deco anywhere on this figure. All of the paint has been expertly applied and there's not a spot anywhere that's bothering me—quite a feat given my OCD tendencies.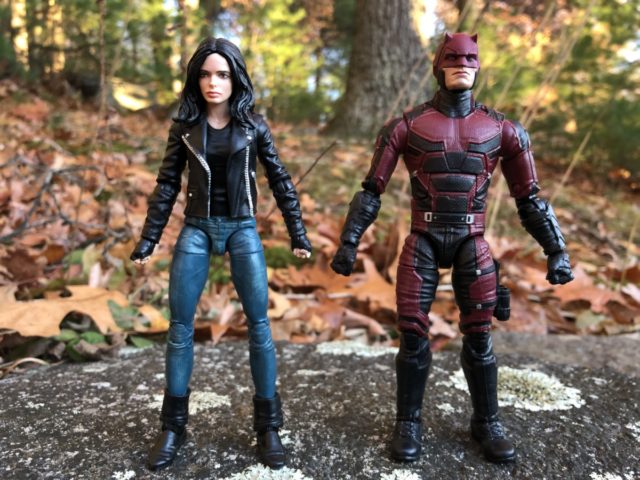 There's not a lot to this character design—or to the look of this action figure—but it's all just done so well that she's a real winner visually. And for those concerned about scale–5'9″ Krysten Ritter's figure is the slightest hair shorter than 5'10" Charlie Cox's Daredevil figure, just the way she should be.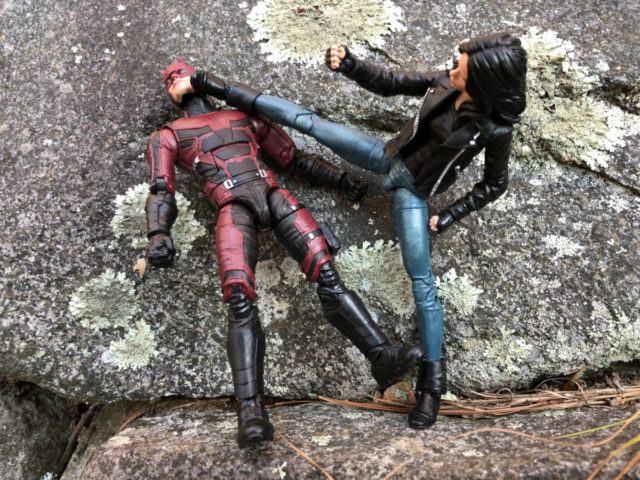 Netflix Legends Jessica Jones' articulation isn't perfect, but she does have a ball-jointed upper torso that works great, as well as hips with a huge range of motion of around 135 degrees! Jessica has better hip flexibility than a lot of Spider-Man and Deadpool figures out there!
The Wrong:
The Netflix Jessica Jones Marvel Legends figure is a total success on many levels—but there's a few areas where she does fall short.
My main disappointment with the 6" Marvel Legends Jessica Jones figure has to do with the articulation scheme. While the hip articulation is fantastic and I always love ball-jointed upper torsos, there's two places where the figure fails.
Marvel Legends female figures rarely ever have good arm articulation, but Jessica's is particularly bad. As usual there are no biceps swivels, but in this instance Jessica's elbow hinge doesn't even have enough of a range-of-motion to make a right angle. Being able to only bend her elbow less than 90 degrees is ridiculous.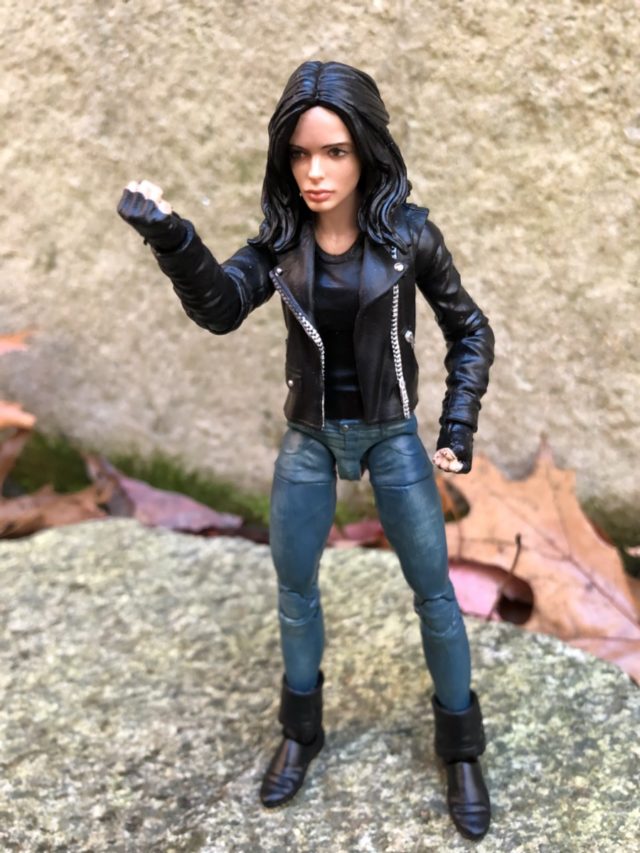 The range of motion for Jessica's head isn't ideal either. While her hair is somewhat soft, it still pushes her head to funny tilted angles when you try to make the figure look left or right—basically any lateral direction besides straight forward. Frustrating.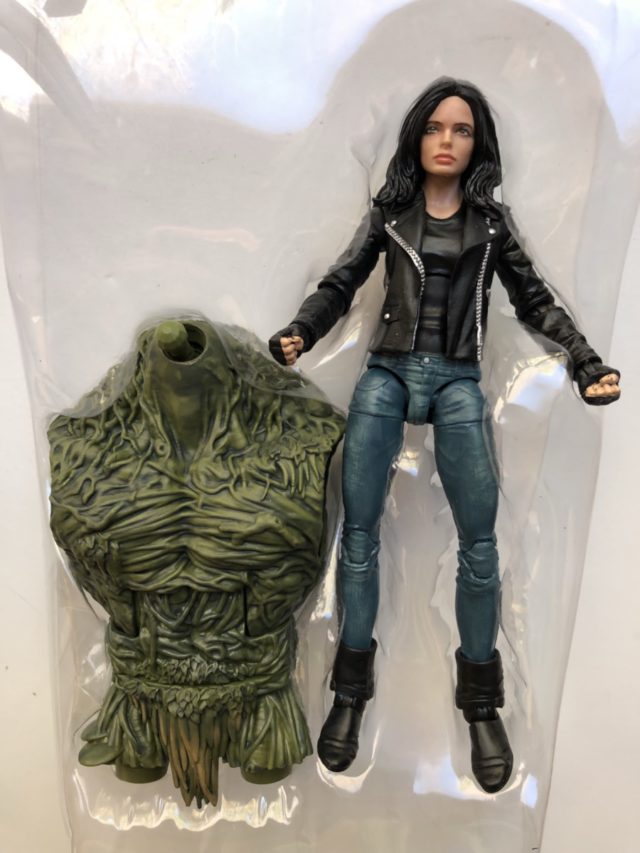 And as far as accessories go, well… she's got nothing besides the largest piece of the Man-Thing Build-A-Figure (the torso). To be fair, the Man-Thing BAF Torso is almost as big as a whole other figure, but that doesn't mean I'm letting Hasbro off the hook for giving Jessica herself a big, fat nothing.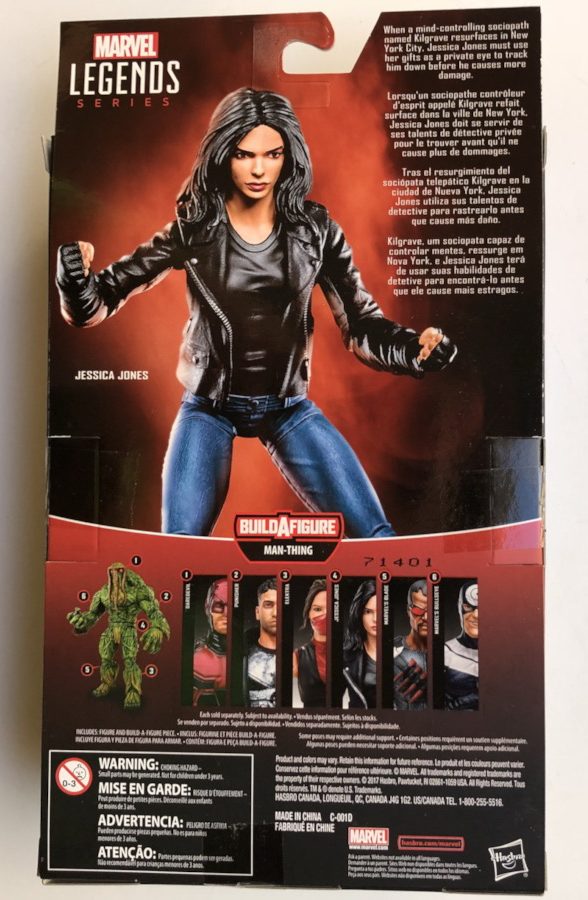 Now, Jessica may primarily fight with her fists, but at least some neutral or grabbing hands would have been nice so that there were a couple more display options. The bad arm articulation mixed with solely the fists really limits the poses ML Jessica Jones can pull off.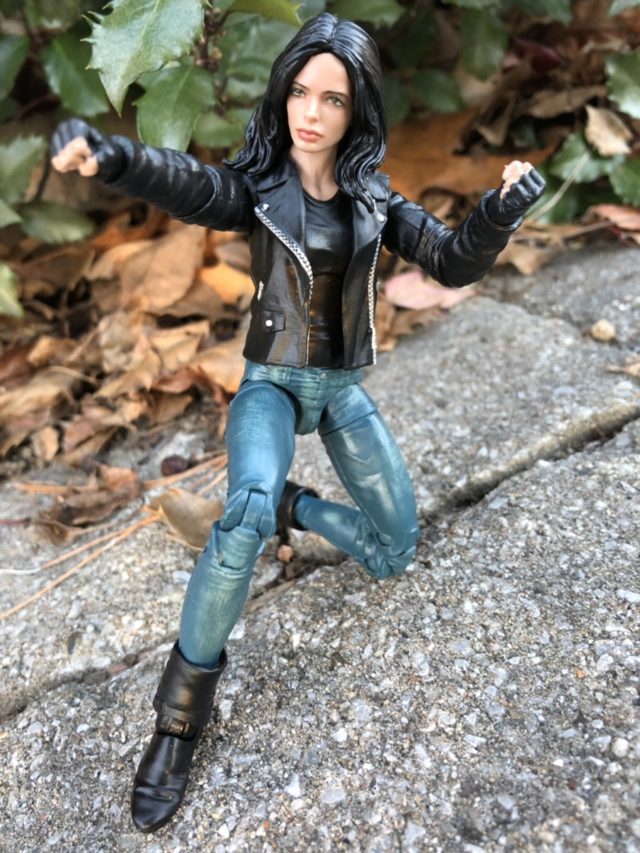 Overall: My head says that the Hasbro Jessica Jones action figure is a 'B+', but my heart says an 'A-', so that's what I'm going with. While the head and arm articulation are both pretty bad—and I'd really like some alternate hands or any accessories at all—this toy succeeds spectacularly on most other levels.
The Krysten Ritter portrait is among Hasbro's very best likenesses ever, the paint and sculpting work on the figure are excellent, and the hip articulation is flat-out outstanding. If you've been waiting for a 6" Jessica Jones figure, I strongly doubt you'll ever find one better than this.
GRADE: A-