As I've said a couple times before, I'm a total Baron Zemo fanboy. So when I came face-to-face with a fresh case of Captain America Marvel Legends 2014 figures at my local Toys R Us, it wasn't the Marvel Legends AIM Trooper or Hydra Soldier I reached for first–it was Zemo. (I reached out and grabbed the army-builders a half-second later.) And now that it's come time to start reviewing the 2014 Marvel Legends figures, I'll begin with Baron Zemo once again…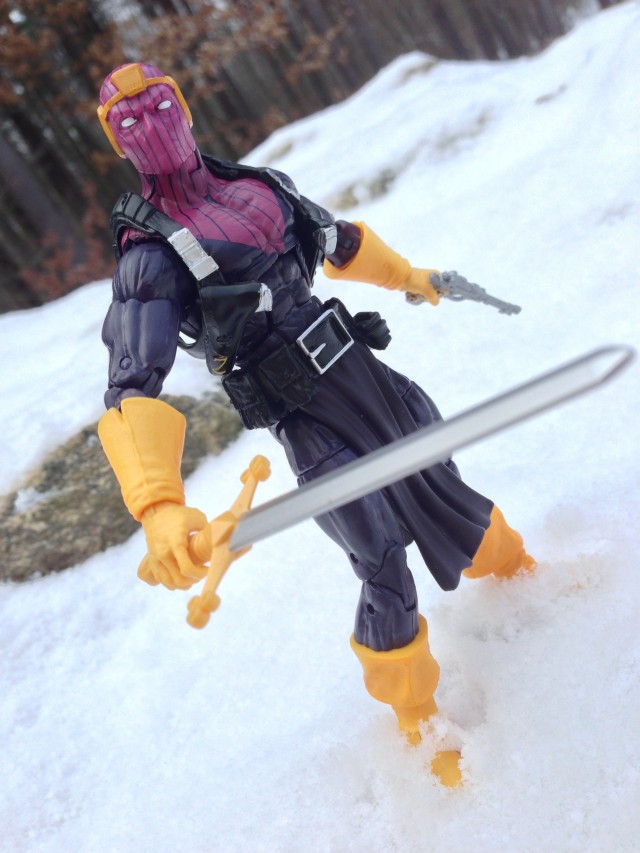 The Right:
I got the Mattel Secret Wars Baron Zemo figure when I was a little kid, and have thought Baron Zemo was one of the coolest guys ever since. I didn't have the slightest clue who Baron Zemo even was at the time, but I figured anyone who dressed in pink and fuchsia with fluffy boot cuffs had to be a total badass. (As an adult, I learned that poor Baron Zemo is a punching bag for Captain America that loses slightly less than Red Skull, but I still love him nonetheless.)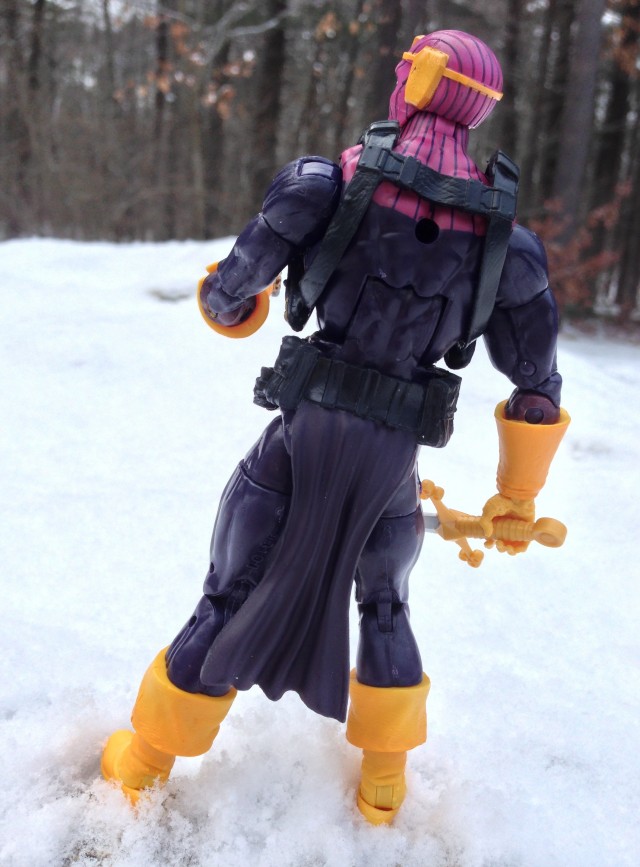 For the Marvel Legends 2014 Baron Zemo figure, Hasbro opted to go for the modern interpretation of Zemo. I was initially a bit disappointed with this selection (especially since the Toybiz Marvel Legends Baron Zemo figure was specifically the original's costume), but once I had him in-hand, I could really appreciate the modern Zemo costume. While the important elements of the classic Baron Zemo attire are all present here (especially the wacky colors), the modern costume is darker and admittedly looks less ridiculous than the classic costume.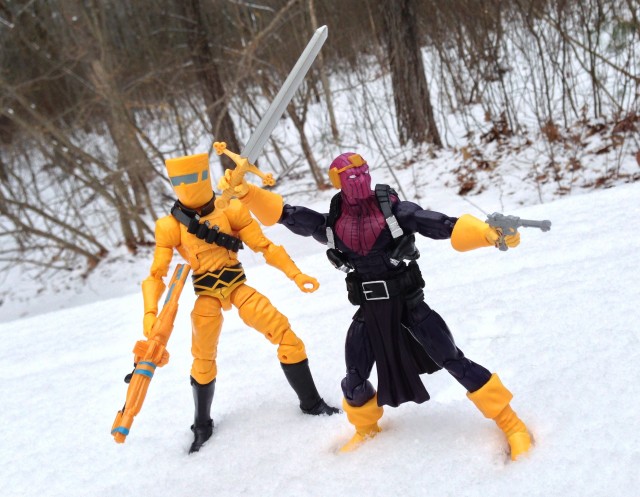 The articulation scheme on this 2014 Marvel Legends Zemo figure is outstanding. From a ball-hinge neck and hands to double-jointed elbows and knees to ankle rockers, Baron Zemo is loaded with articulation. Action poses, standing poses, kneeling poses–this 6″ Baron Zemo Marvel Legends figure can do it all. I might have preferred a ball-jointed upper torso to an upper torso ab crunch joint, but the dark paint on Zemo hides the joint so well that it doesn't bother me at all.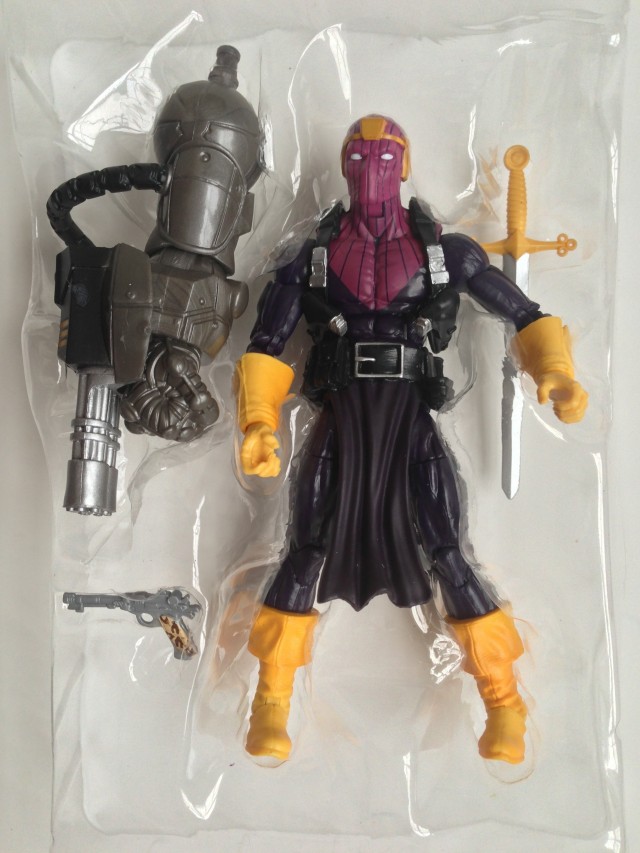 Aside from the humongous Mandroid Build-A-Figure arm, the Baron Zemo Marvel Legends Infinite Series figure includes two weapons as accessories: a sword and a gun. The pistol Zemo comes with fits well into either hand, and the trigger finger of his right hand slides right over the trigger. The best part about the pistol, though, is definitely the crazy leopard print on the handle. This is a detail that's unnecessary, but also totally fun. The pistol also fits perfectly into the holster on Zemo's belt.
The Wrong:
With the new Marvel Legends MSRP of $19.99 per figure, I have really high expectations for these figures, so forgive me if I nitpick a bit.
Quality control-wise, the Captain America Marvel Legends Baron Zemo 6″ action figure is unfortunately the only figure in the whole wave that had QC issues. His ball-jointed hips are extremely loose and wobbly, and as a result any kind of impact on the room around him can cause the figure to lose its balance and crumple over. The paint deco on Zemo is close to perfect, although the white paint of his right eye slit wasn't applied properly, which is a minor irritant.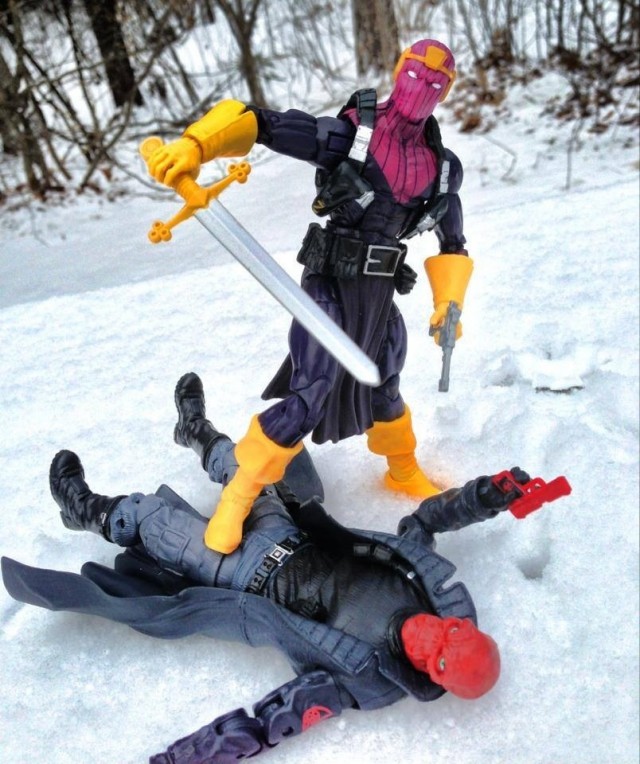 I really love that Hasbro thought to give the Baron Zemo Marvel Legends figure a sword, but it could have really used some additional deco. The yellow handle matches the secondary yellow color on Zemo's costume well, but the hilt also looks more plastic and toy-like than I would prefer.
It also would have been nice to get an extra unmasked Baron Zemo head packed in with this figure. The Captain America The Winter Soldier Marvel Legends movie figures all have an alternate head included, and I wish Marvel Legends Zemo got one as well (since it is very unlikely Hasbro will make another Baron Zemo figure anytime this decade).
"Where Can I Buy It?!"
Baron Zemo is packed one-per-case in the first wave of Captain America Marvel Legends Infinite Series that Hasbro just started shipping out a few weeks ago. Zemo is selling for $19.99 plus tax at retail, but if you can't find him in your area (and he was a real pain for me to find), you can order Marvel Legends Baron Zemo online for slightly more than cost plus shipping.
Overall:
Despite my nitpicks, the 6″ Marvel Legends Infinite Series Baron Zemo figure is pretty excellent. Marvel Legends Zemo has ample articulation to get into basically any pose you could possibly want him in, and great accessories for dueling Captain America with a sword or a gun. Though not everyone will dig the modern Baron Zemo costume, this is easily the best Baron Zemo action figure ever made. I have a couple qualms about the quality-control and paint deco that hold this back from being an "A+" figure, but if you're a Zemo fan, you will absolutely love this Baron Zemo Marvel Legends figure.
GRADE: A