Nightcrawler has a special place in my heart, as the Toybiz X-Men Nightcrawler Series 1 figure was the first X-Men action figure I ever bought (of hundreds). These days, Nightcrawler doesn't get too much love from toy companies (what with being dead and all). I recently gave up my unwarranted avoidance of Marvel Select figures, so when the Marvel Select Nightcrawler figure released this week, he was a must-buy for me. And while Nightcrawler turns out to be my least-favorite Diamond Select Toys Marvel Select figure I've bought so far, I still think he's worth picking up…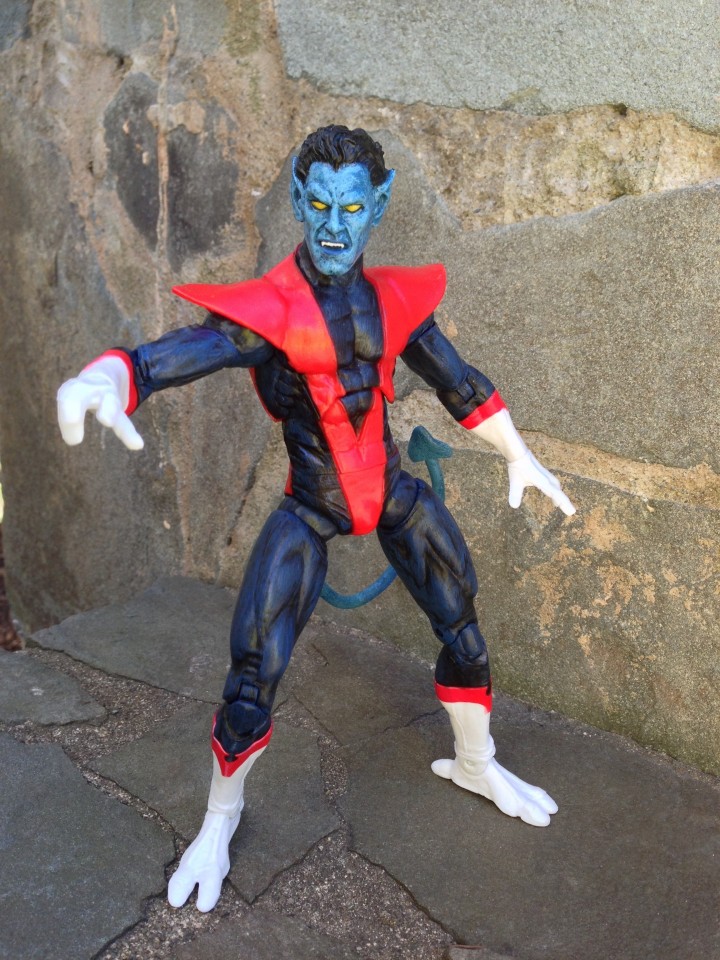 The Right:
Sometimes we get Nightcrawler action figures that look almost cutesy with regards to their facial sculpting. This isn't one of them. No, Nightcrawler was chased out of town as a demon, and the creepy head sculpt on this Marvel Select figure makes it pretty apparent why such an event transpired. My wife exclaimed how ugly this Nightcrawler figure was as soon as she saw it, and that made me smile–I'll take an ugly, demonic Nightcrawler figure of a cute, lovable-looking one any day.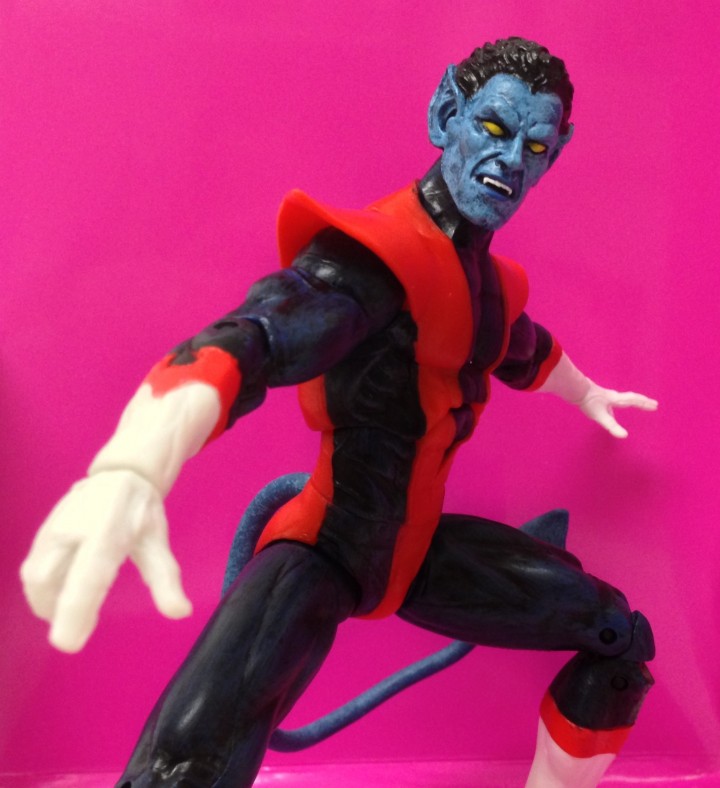 Nightcrawler has a pretty uniquely-shaped costume–not to mention his two-pronged feet and three-fingered hands. Diamond Select Toys has executed all of these features perfectly. Nightcrawler's attire and body parts are all sculpted authentically to the source material and look exactly as they should. Nightcrawler appears every bit as alien and inhuman as he does in the comics, which is just the way I want him to look.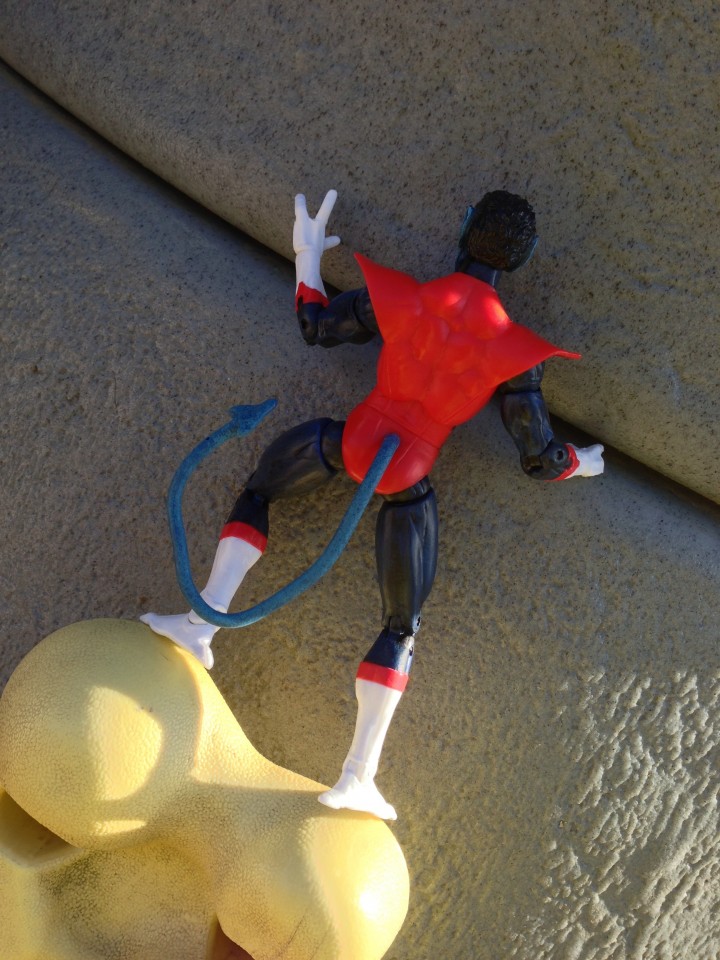 As with all Marvel Select figures, Nightcrawler has a decent amount of articulation built in. I'm not saying it's perfect or near Marvel Legends-level or anything–it's not. But the ball-jointed head, ball-jointed upper torso, swivel waist, ball-jointed shoulders, hinge elbows, swivel wrists, ball-jointed hips, double-jointed knees, and hinge ankles would still put a lot of toy manufacturers to shame. I'll be complaining about the articulation on this figure shortly for a very specific reason, but generally speaking, I'm satisfied with the work Diamond Select Toys did on this Nightcrawler action figure.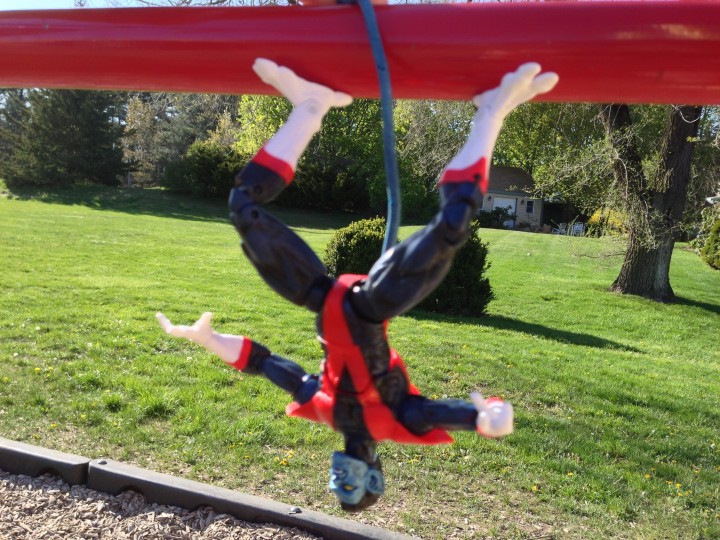 At first I was a little wary about the bendable tail on Nightcrawler, certain that if I didn't exude extreme caution it was going to rip off instantly. As I posed and played with Nightcrawler a bit, of course I realized that that notion was ridiculous. Nightcrawler's tail is made of a sturdy, bendable plastic that can be moved and posed in all sorts of manners. I wouldn't tug on it or try to break it off purposefully, but it's meant to be played with and maneuvered around. The Marvel Select Nightcrawler figure's tail turns out to be one of my favorite features of the figure, and works beautifully for its intended purpose.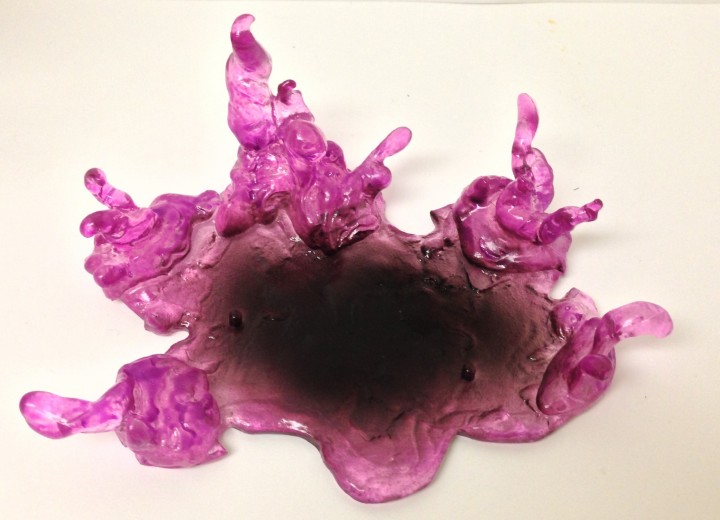 Marvel Select Nightcrawler includes one accessory: a translucent magenta figure base representing one of Nightcrawler's teleportational clouds of smoke. With the exception of a Diamond Select Toys Nightcrawler Minimates figure, I can't remember any Nightcrawler action figure ever coming with this most obvious of accessories.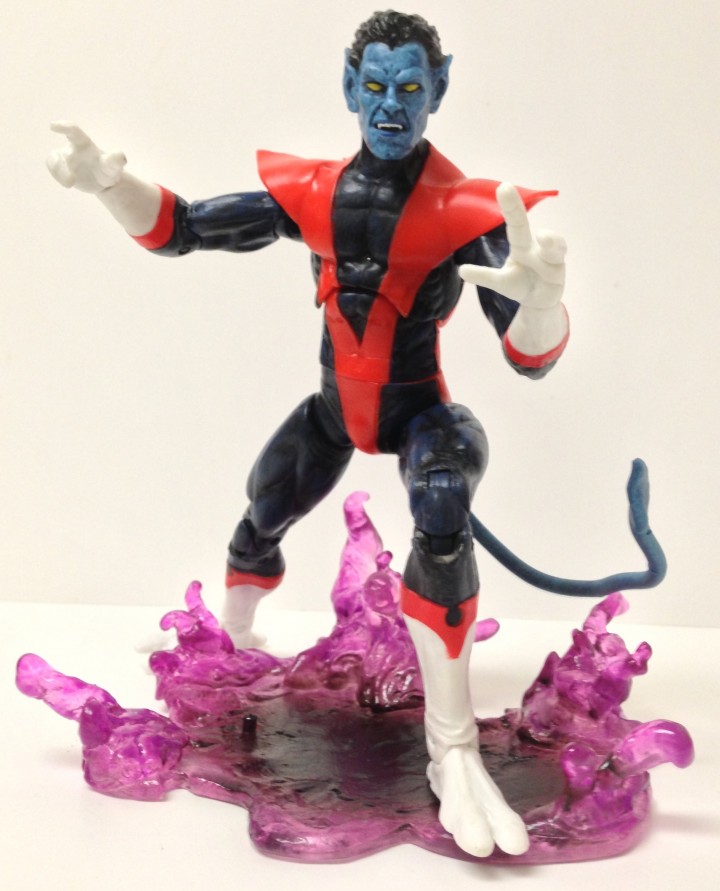 The sculpting on the cloud is totally asymmetrical and chaotic-looking, just as it should be. I appreciate the black deco on the ground part of the base, which really does add to its overall appearance. The "Bamf!" cloud display base is especially useful, as it helps to make up for someone of Nightcrawler's articulation woes. And speaking of which…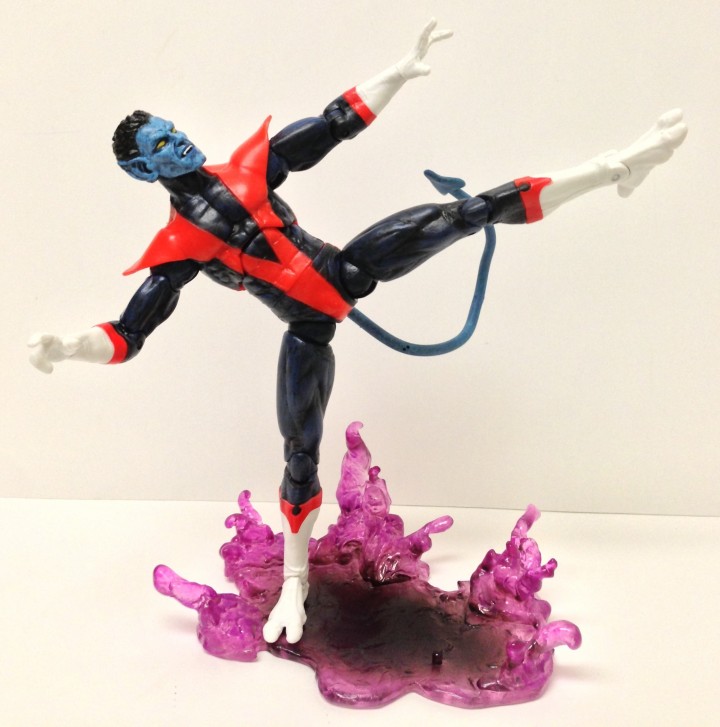 The Wrong:
Diamond Select Toys' Marvel Select figures are not meant to be super-articulated. That's just not what they're intended for. That said, they are meant to feature the most important moving joints so that Marvel Select figures can capture characters as optimally as possible. In the case of Marvel Select Nightcrawler, I don't believe the right points of articulation were prioritized. I speak, of course, of ankle rockers.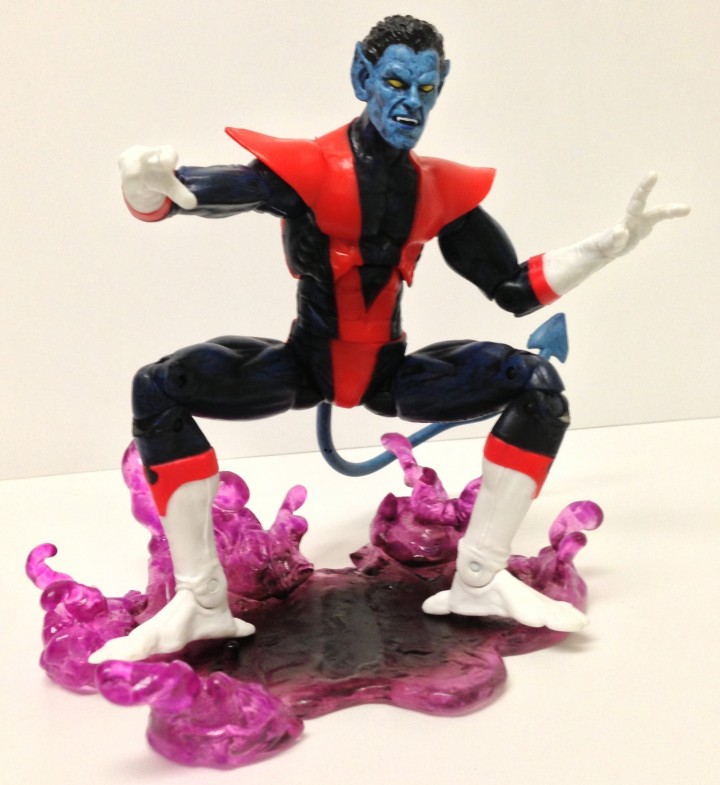 Nightcrawler is the single most acrobatic and flexible character in the entire X-Men mythos. He should be able to lithely take on tons of poses and positions. And this Marvel Select Nightcralwer figure… can't. It's not because of a lack of articulation in general–Nightcrawler has everything from double-jointed knees to ball-jointed hips, arms, and upper torso. No, Nightcrawler suffers not for a lack of articulation number-wise, but in functional quality-wise.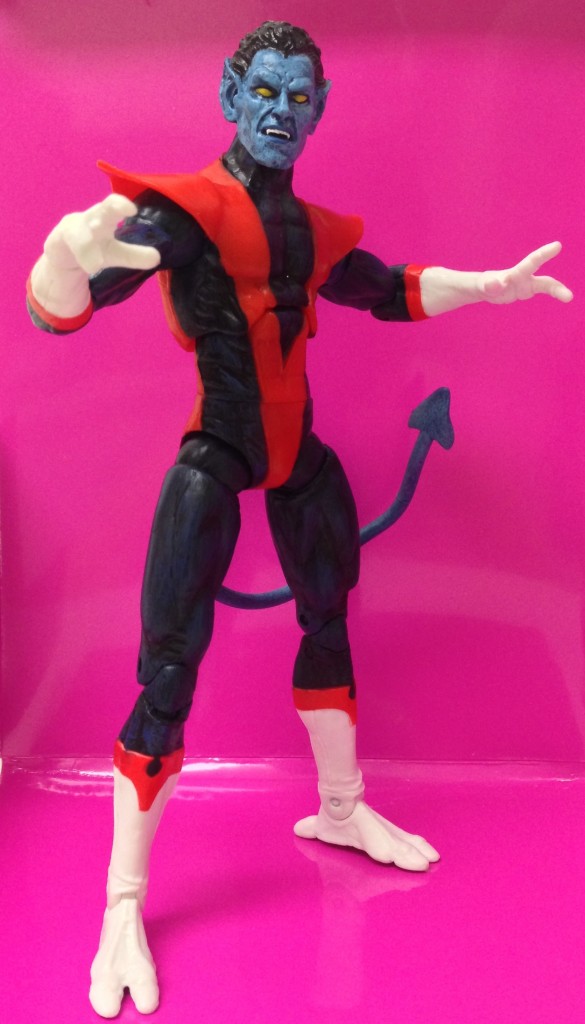 With mere hinge ankle joints, it becomes near-impossible to balance Nightcrawler stably in any kind of truly dynamic pose. Ankle rockers would have solved that problem, and we know Diamond Select Toys knows how to integrate them, but they just weren't utilized on Nightcrawler. The result is a Nightcrawler action figure that fails to meet his potential. I know Marvel Select can only incorporate a limited amount of articulation points, but ankle rockers should have been an absolute priority here, as they'd be much more essential to the enjoyment of this figure than swivel biceps, swivel waist, or even swivel wrists. The hinge ankle by Diamond Select were a bad call here, no question at all.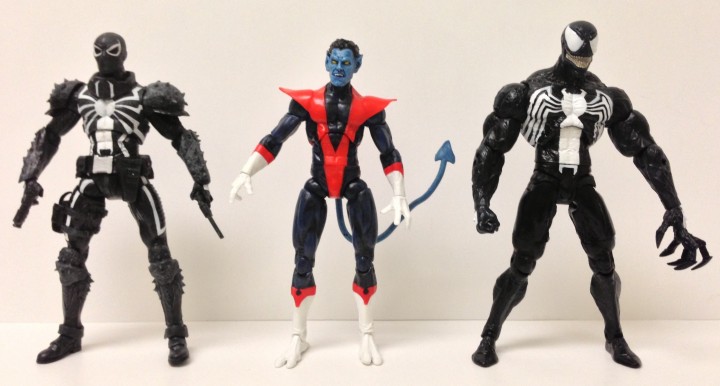 In addition, I'm not entirely thrilled with the scale on Nightcrawler or with the color of his costume. Scale-wise, something really seems off–proportionately he just seems too big. Next to other Marvel Select figures like the Venoms and Sabertooth, something is wonky. I'm not sure it's his height, exactly, but there's definitely something that's off. As for his costume–it's blue with a black wash over it, when I think it should be the other way around. Neither of these things is a deal breaker, but both issues nag at me a bit.
I paid $25 for Nightcrawler at my local comic book store, but I could have gotten him for about $22 with free shipping from Amazon. I needed instant gratification, but your mileage may vary.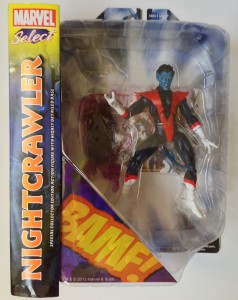 Overall: Nightcrawler is a tough figure for me to assign an overall grade to. I like him more than the average action figure I've picked up this year, but the problems with the figure like the lack of ankle rockers and questionable scale/paint deco definitely brings him down a bit for me. Even with those issues, I still like this Marvel Select Nightcrawler figure quite a bit. From his gorgeous base and bendable tail to his dead-on sculpted head, hands, and feet, this is an excellent (and creepy) representation of Nightcrawler. The Diamond Select Toys Nightcrawler Marvel Select figure is a solid toy that earns a recommendation, but be aware that he's a long way from perfect.
GRADE: B-