NECA had one of their biggest grand slams ever when they released their 18" Deadpool figure last winter. So much so, in fact, that after recently releasing an X-Force variant, they're ready to complete the hat trick just one year after the original DP's release! But this time out, the big attraction isn't a different costume: the NECA Ultimate Deadpool 18" Figure is now up for order—and it comes with a veritable cornucopia of crazy accessories!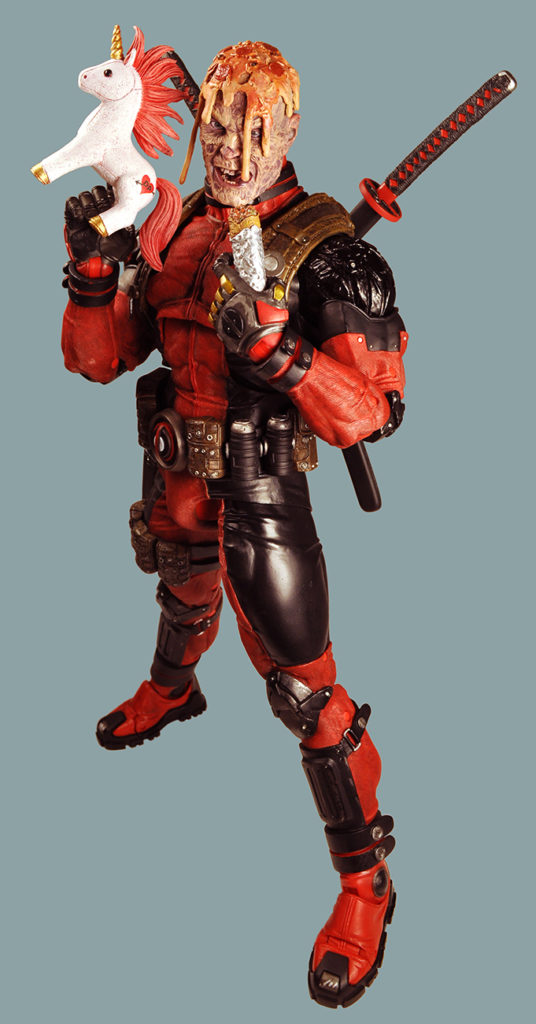 Ever wanted to pose Deadpool unmasked with a melted pizza on his head, while holding a unicorn and wearing a rapper medallion…? NECA is betting the answer is "Hell yeah!", as evidenced by the wacky assortment of accessories accompanying their latest Marvel 1/4 figure to go up for order: Ultimate Deadpool!
Yeah, we've already got regular Deadpool and X-Force Deadpool, but for the Wade Wilson fans whose tastes run a "little" more wild, this new 18" figure release may be exactly what they're looking for!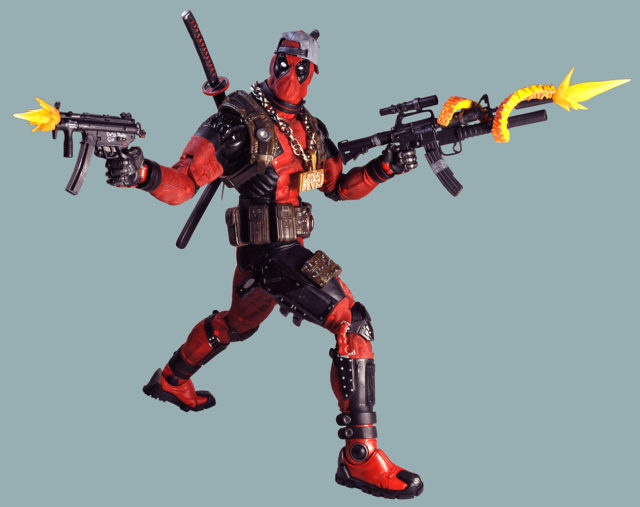 A picture says a thousand words—especially pictures like these—but it's nice to round up all the accessories in text as well, so here's the full rundown of what's included here with NECA's first Ultimate Quarter Scale figure…
18" Deadpool figure with 30 points of articulation
3 Interchangeable Deadpool heads: Masked, Unmasked, and Removable Skull Cap with Brain Inside (No, really)
Machine gun
Assault rifle
Pistol
Effect piece for each gun
2 Katanas
Sai
Knife
Mr-D medallion necklace
Baseball cap
Melted cheese pizza toppings
Unicorn
Chimichanga
That… is a lot of 1/4th scale accessories I never expected to see exist! I don't know if some of them needed to exist, mind you, but they do. And I, personally, am grateful that a melted pizza effects piece does. Heh.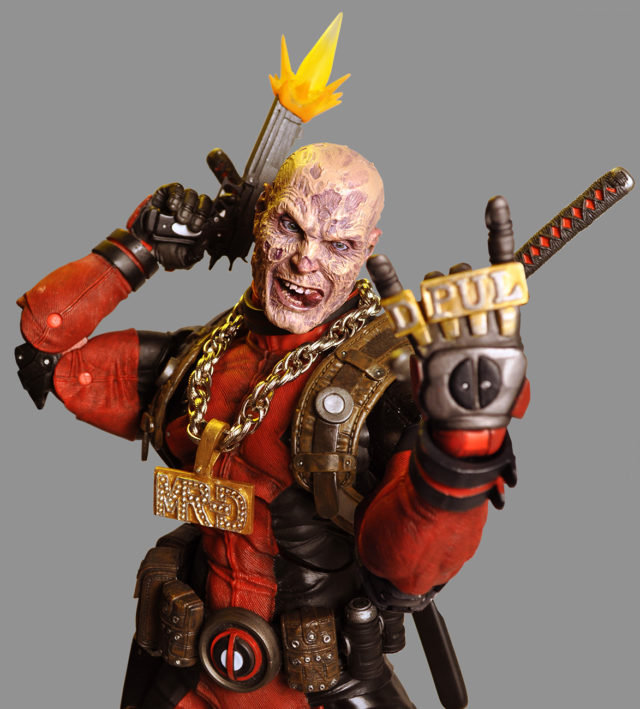 Let's talk about price. While your typical NECA figure retails for about 100 bucks, due to the multitude of accessories with this particular release, Ultimate Deadpool is gonna run a cool $150 MSRP. Ouch.
But—! BBTS is already discounting pre-orders by 20%, bringing the cost doing to $119.99. At that price-point, it's only 20 bucks more for a crap-ton of incredibly unique and fun accessories.
If I didn't buy one of the original ones already, this is the version I want. As it is, I'm thinking about it anyway for those sweet, sweet accessories.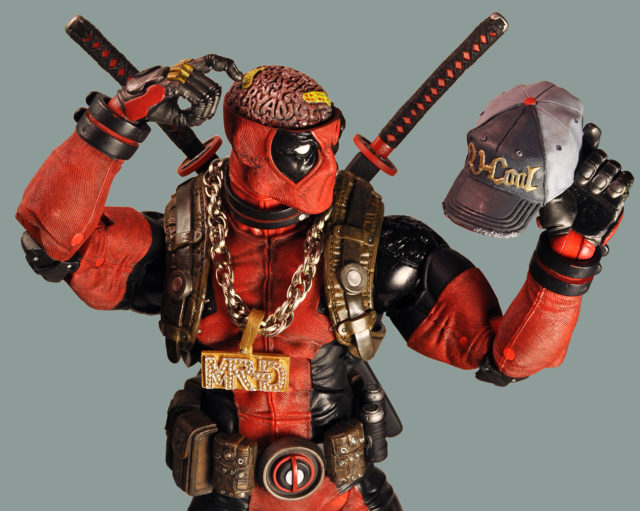 The 1/4 Ultimate Deadpool NECA figure is now up for order, and is scheduled to be released in May 2018. That's a pretty fast turnaround time, but since the bulk of the work for this release is just new accessories, I have a hunch NECA will get this out on time (or at least close to it). The 24% Off retail price and free shipping EE has is the best deal I've seen so far.
What do you think of the NECA Ultimate Deadpool action figure, Wade Wilson fans? Is this truly the "ultimate" release of this toy, or do you think all of the wacky new accessories this comes with are more superfluous junk than treasure? For those who already have a NECA Deadpool 1/4, are you considering scooping up this version as well?