"When it comes to collecting, I know no shame" is my motto. And it's a good thing that it is, too–because if I did know shame, I probably wouldn't have been able to take photos to review today's Rocket Raccoon product. No, it's not a new Rocket Raccoon action figure, vinyl, LEGO, or even plush toy. This is for the truly hardcore Rocket Raccoon fan–the one who doesn't care what anyone else thinks or what it costs to look like their favorite character: the I Am Rocket Raccoon Costume Hoodie by We Love Fine costs over $70–is it worth more than you've probably ever spent on a sweatshirt?
The Right:
We Love Fine is famous for producing some of the most creative and unique clothing ever made for a lot of niche licenses (including an unsurpassed variety of My Little Pony shirts), but some of my favorite items that they've come out with are their costume hoodies.
Now, ordinarily these costume hooded sweatshirts just give you the chance to wear the costume of a favorite character like Loki or Iron Man or whoever–but this one is a little bit different. This one gives you the opportunity to be anthropomorphized into a raccoon person!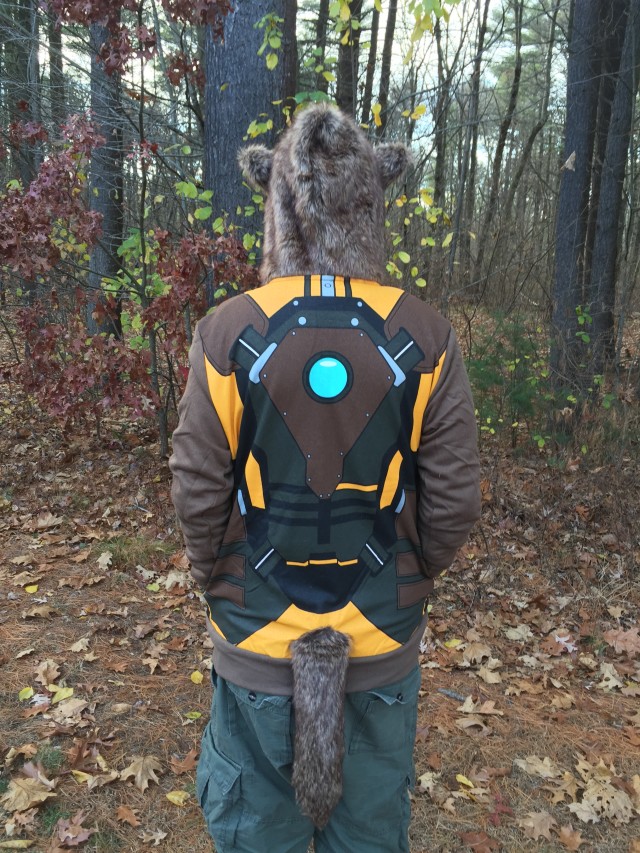 The main thing that sets this Rocket Raccoon hooded sweatshirt apart from your usual hoodie is the fact that it has two things a regular hoodie does not: 1) a super-fuzzy hood with raccoon ears and 2) an attached raccoon tail hanging down the back. Yes, it's true–thanks to the miracle of modern fashion, you can now have your very own raccoon tail hanging over your butt!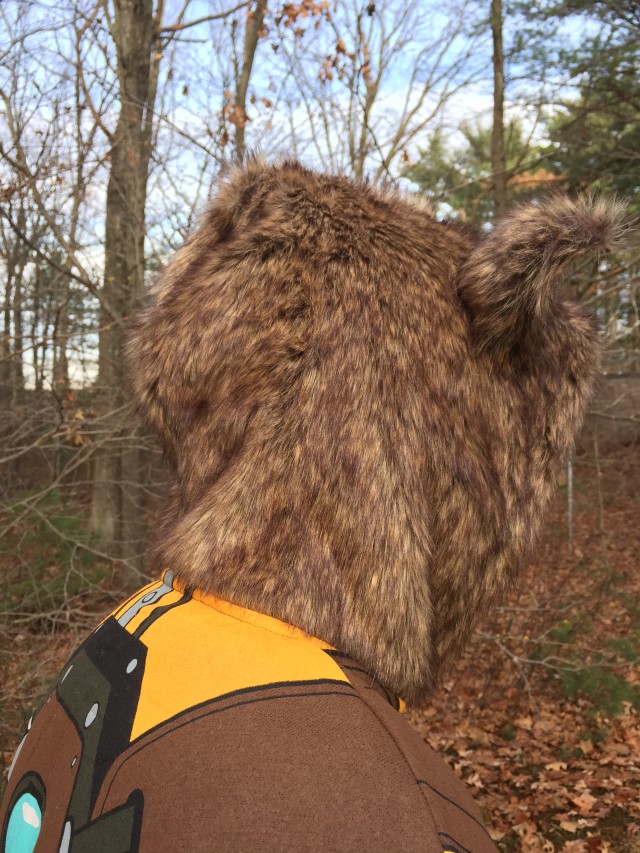 My primary concern with this hoodie was that the quality of the hood and tail would be poor. I was totally off-target on that one–the Rocket Raccoon hood is incredibly warm and soft and feels terrific pulled up over my head. Whatever it may look like to people seeing it on me (more on that in a bit), this a top-notch hood.
Meanwhile, the raccoon tail is made of a great material and is firmly attached to the back of the sweatshirt. It probably could have been a tiny bit fluffier, but as it stands I'm very happy with the look and texture of the poofy raccoon tail on the hoodie.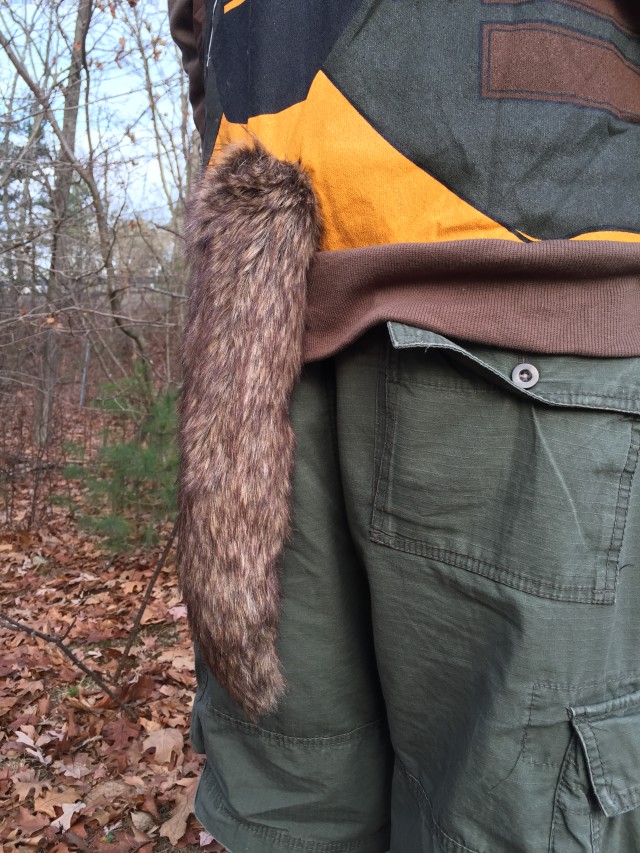 Also, the fact that a costume hoodie like this exists for a character that up until this year's Guardians of the Galaxy movie was considered to be D-List by many definitely cannot be discounted–it is amazing that this Rocket Raccoon hoodie exists at all, and I definitely appreciate that I have the option of going out dressed like my favorite raccoon superhero.
The Wrong:
Alright, before anything else, let's talk about the big anthropomorphized raccoon in the room: it absolutely requires a certain amount of self-confidence to wear this I Am Rocket Raccoon hoodie in public. And even if you're comfortable with it, keep in mind that your significant other very well may not be.
In fact, after seeing me wear this with the raccoon hood up for less than a second, my wife let me know in no uncertain terms that she would never be seen in public with me in this hoodie unless we were at a Comic Con. And maybe not even then. Fair enough.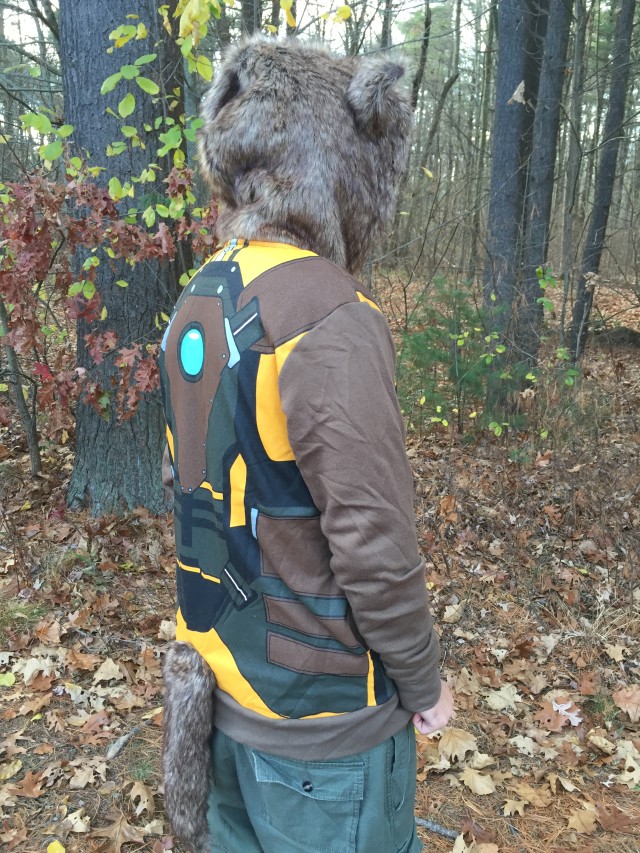 Aside from ramifications of what your friends and family may think of you if they see you sporting this I Am Rocket Raccoon Costume Hoodie, it's also necessary to consider the quality and monetary aspects of this Rocket Raccoon sweatshirt.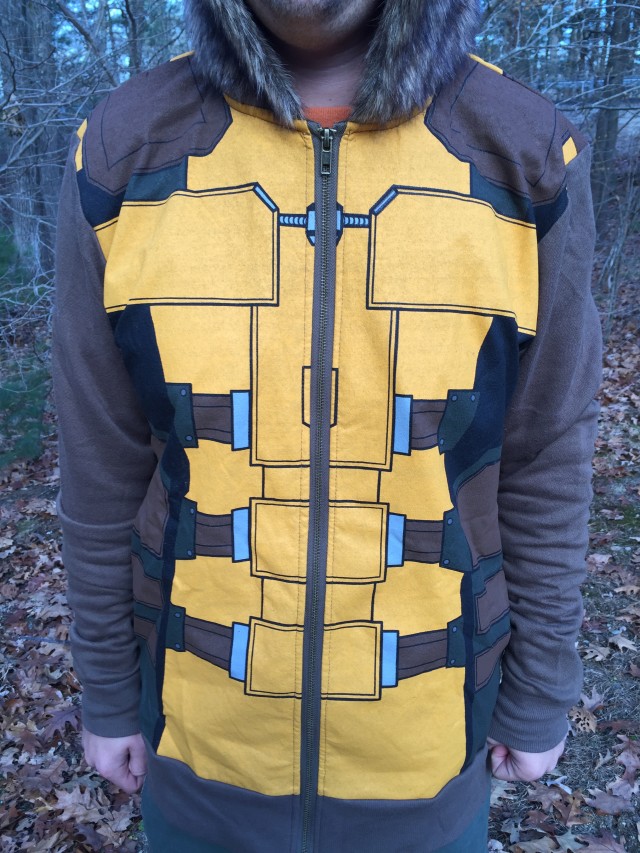 This sweatshirt retails for $75–that's more than I've ever paid for a sweatshirt in my entire life. I'm sure that adding the raccoon hood and tail added a lot to the production costs of this item–and they're high quality, so they're probably worth the extra dough–but 75 bucks is still a lot for a sweatshirt. I'd pay it, but I'm (obviously) not your casual Rocket Raccoon fan.
In addition, the quality of the ordinary parts of the hoodie itself is questionable. The hoodie itself feels rather thin and fragile, and not nearly as sturdy or warm as the Rocket Raccoon hood itself is. I haven't seen any damage to the deco on the hoodie that depicts Rocket Raccoon's flight suit, but I'd be very concerned about the design being scratched or faded out after being worn and washed a few times. This wouldn't bother me in a cheap T-Shirt, but in a $70+ hoodie, it definitely does.
My I Am Rocket Raccoon Hoodie came from TVStoreOnline on Amazon, where you can enter code "ROGIF3OT" to get $7.50 off the cost of the hoodie at checkout.
Overall: I think that the We Love Fine I Am Rocket Raccoon Hoodie is a very clever and fun item overall, but it definitely has its drawbacks. While the hood and tail feel like they're made of absolute top-quality materials, the main part of the hoodie definitely feels a lot thinner and cheaper. And for an almost $80 hoodie, that's a real bummer. Still, this is likely to be the most cool Rocket Raccoon hoodie that ever gets released, and it's definitely a fun addition to the wardrobe of Rocket Raccoon lovers who have ample self-confidence. Overall, recommended as an expensive but really fun idea.
GRADE: B-