We've been waiting almost the entire year for the Marvel Select Spider-Gwen and Guardians of the Galaxy figures to hit stores, and the time is finally almost upon us! Spider-Gwen will be arriving at retail this coming week (and Spider-Gwen is already in-stock and ready to ship online!), with Star-Lord (with Rocket) and Drax (with Groot) hitting in early 2018. And to celebrate, Diamond Select Toys posted photos this week of the final packaged figures…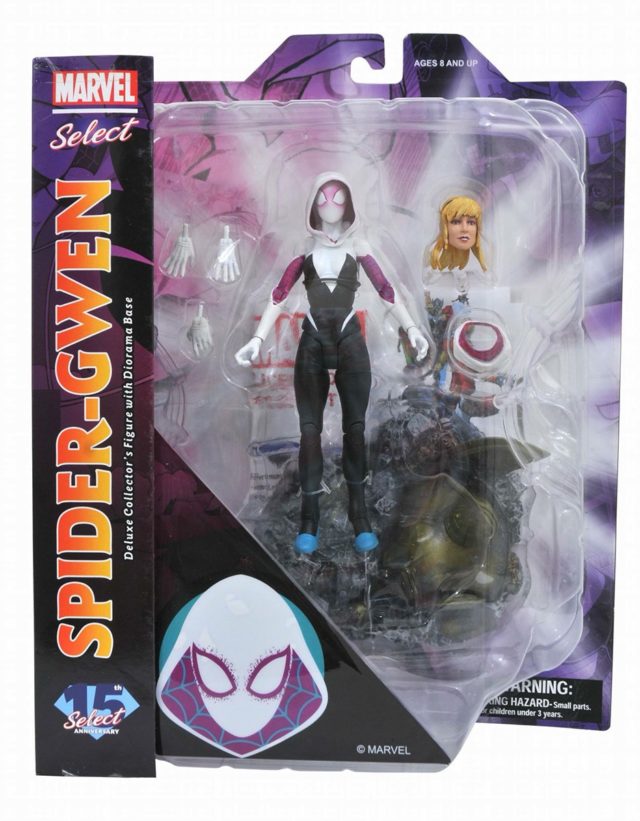 When Diamond Select Toys surprise-revealed the Spider-Gwen Select figure at the New York Toy Fair 2017, I was glad to see that Gwen was getting more merch representation, but not entirely sold on the prototype that was being displayed.
Fast-forward 10 months to the final product photos, and yeah—now I'm sold. While I didn't like the unmasked Gwen Stacy head much at Toy Fair, I think it looks terrific compared to the prototype and even the photo of it on the packaging.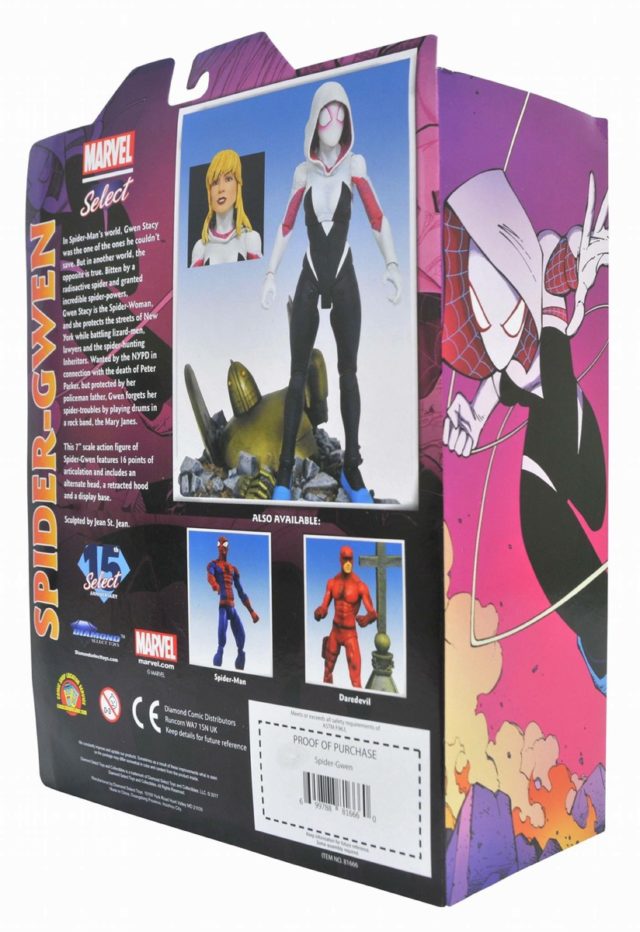 The pinks and purples on the box for Spider-Gwen are eye-grabbing and will really set her apart on the shelf from the other figures in the line. I love the colors and the artwork on this package, particularly on the spine.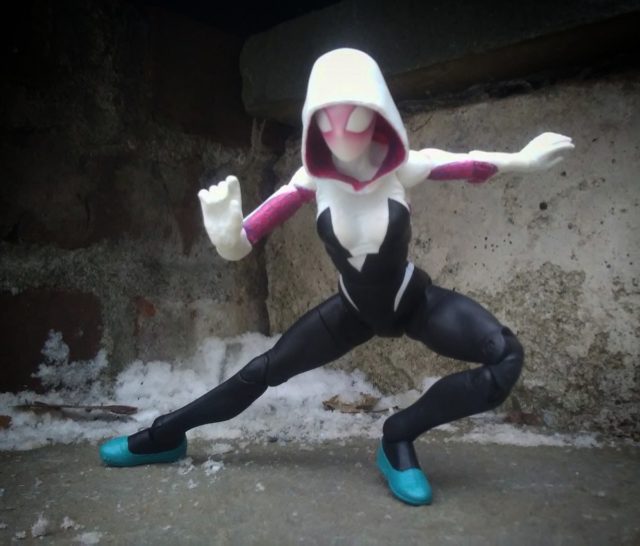 The Marvel Select figure's articulation frankly looks better than that of the Marvel Legends version, which uses the teen girl mold that I'm not a huge fan of and has awful arm articulation. It doesn't happen often, but I think the Spider-Gwen Marvel Select version may actually be more fun to pose than the Legends version.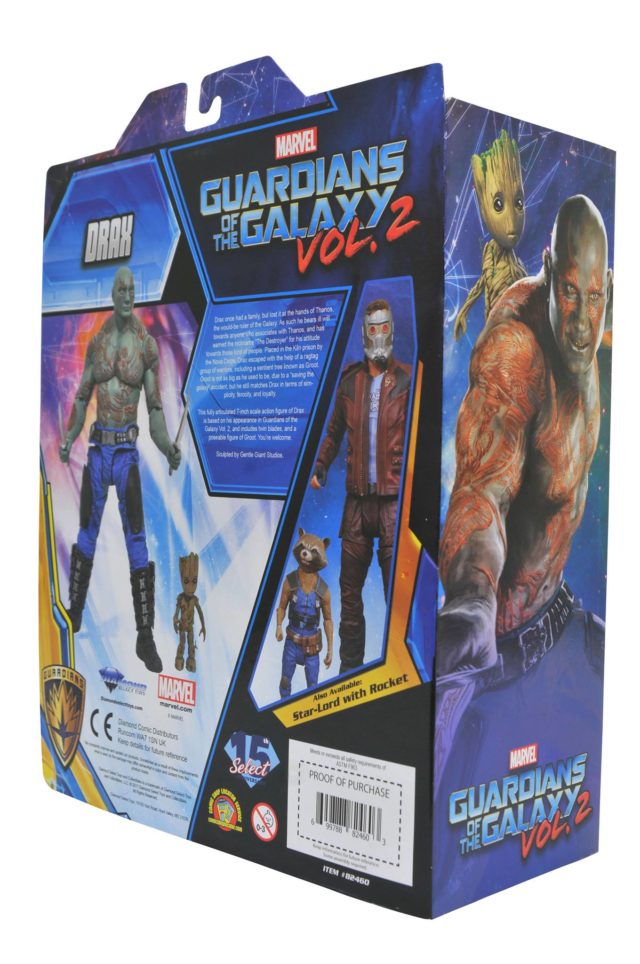 Meanwhile, we also got our first look this week at the packaged Marvel Select Guardians of the Galaxy movie Star-Lord, Drax, Rocket Raccoon and Groot Figures.
With various versions of all these characters available already from a variety of companies, it's hard to get instantly excited—but Diamond Select Toys does bring some qualities to the table with their GOTG Vol. 2 toys that I think are unmatched by other brands.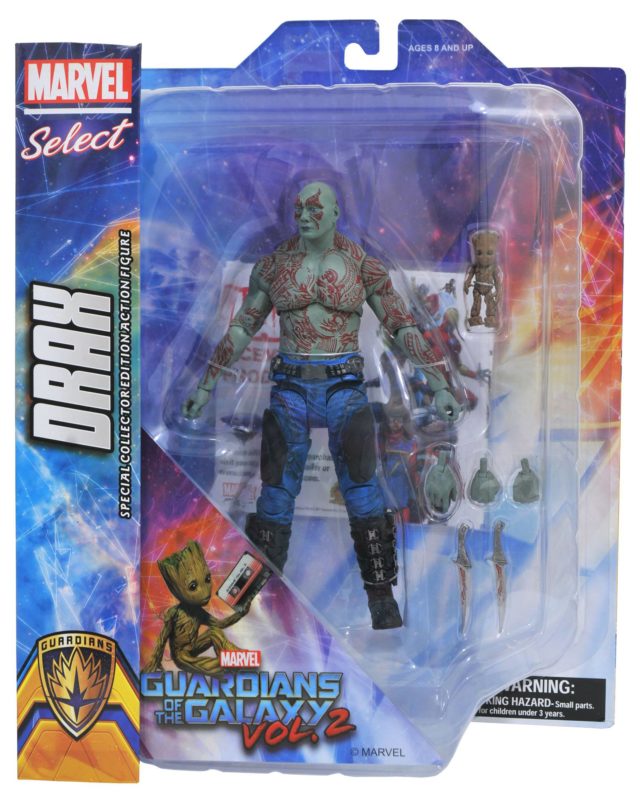 Crazy as it sounds, I think the single most impressive figure out of these four is the Marvel Select Baby Groot Figure. The sculpt is dead-on, and look at all that articulation!! This is a humongous improvement over the static Marvel Legends Baby Groot figurine!
The Drax figure packed in with Groot is actually really nice nice as well, but I'm let down by his neutral expression. So much great sculpting and paintwork on the body, but the "meh" facial expression (plus painted lips) really hurts an otherwise excellent figure.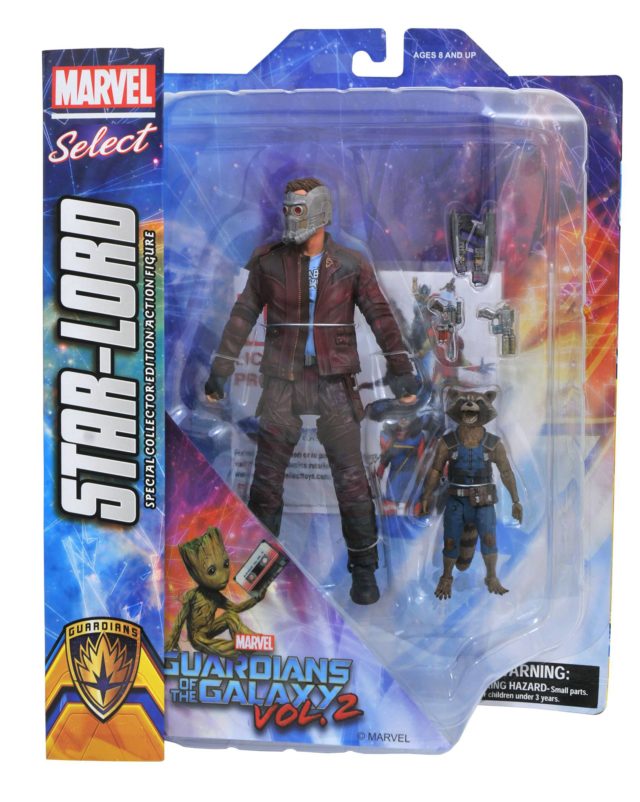 Star-Lord and Rocket Raccoon both look outstanding all-around. I'm gravely disappointed that Star-Lord doesn't have an unmasked head since Chris Pratt isn't wearing his helmet for 90%+ of the movies, which is the biggest strike against this pack (I'm not thrilled he only gets one blaster either).
Even so, the highly-articulated and beautifully-sculpted Rocket Raccoon is downright incredible for a pack-in figure, and the Star-Lord costume looks to have better detailing and deco than we saw from any other 6″-7″ option.
It sucks that a movie Gamora Select didn't make the cut, but DST is limited in the number of Marvel Select figures they can do in a year. I have very little doubt that we'll finally get a Gamora movie figure when Guardians of the Galaxy 3 comes out, though (eventually).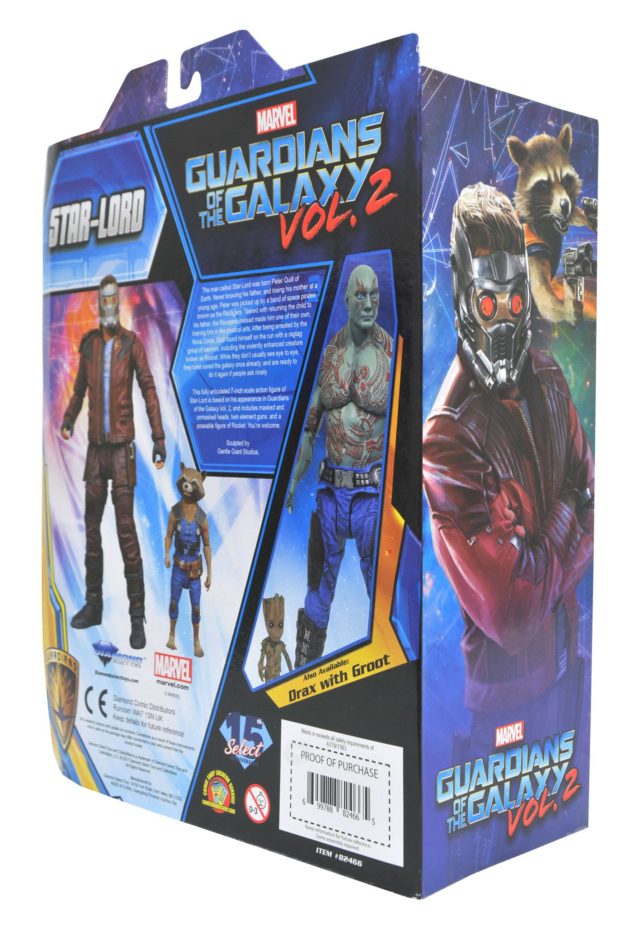 The Marvel Select Spider-Gwen Figure is available for shipping right now from EE, and is expected to ship out to more retailers this coming week (just in time for Christmas… or to miss it!), while the Marvel Select Guardians of the Galaxy Figures will arrive in early 2018. I'll be really interested to see if Spider-Gwen has maintained her popularity and is as fast a sell-out in stores as I think she will be.
Now that we've seen the final packaged figures, what do you think of this trio of long-awaited Diamond Select Toys Figures, Marvel collectors? Do the final photos convince you to buy any of these figures (or dissuade you from doing so)?