UPDATE 3/3/2017: The Disney Store is now taking orders for the Guardians of the Galaxy Marvel Select series of figures as well, and you can use code "SAVEMORE" to take 15%-25% off your orders of $50+ today! They have all four figures in-stock right now–including the Gamora & Rocket Raccoon two-packs, so this is a pretty good deal for those who've been waiting for one!
ORIGINAL: When I went to bed around 3AM this morning, I was reasonably confident nothing of importance was going to happen during my usual 5 hours of sleep. As is so often the case, though: I was wrong! I woke up this morning to discover not one, not two, not three, not four, but five previously unannounced Disney Store/Marvel Shop exclusive comic-based Marvel Select Guardians of the Galaxy figures are now up for order! And yeah… this time? There's even Gamora! Mind = Blown!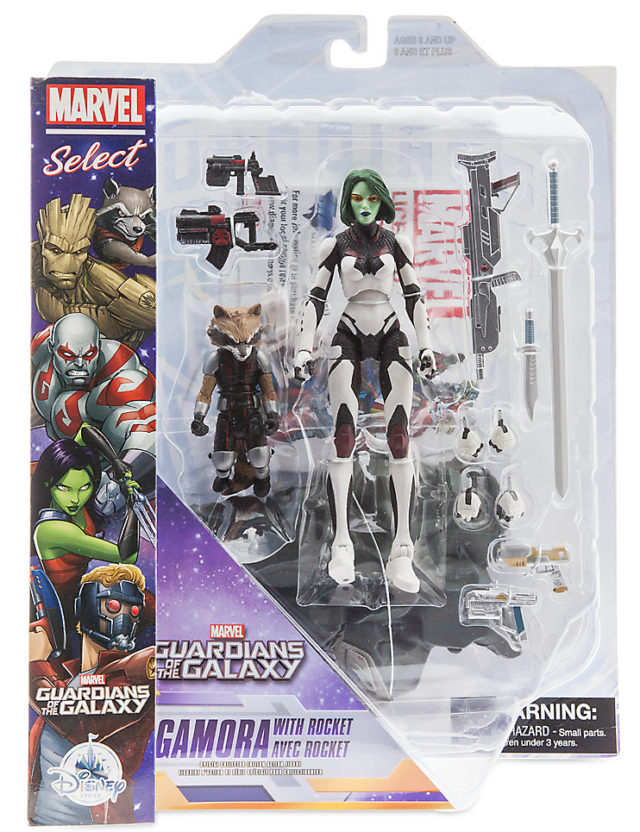 Monday mornings tend to be pretty slow Marvel Toy News-wise, so I was expecting to wake up this morning and have to scrounge around for something to talk about on the site. Instead, I wake up to find five 100% newly-sculpted comic book-based Guardians of the Galaxy action figures of the entire team up for pre-order and scheduled to ship out within 30 days!
Whoa.
Just… whoa.
Four of the five core Guardians of the Galaxy movie characters are already confirmed to be coming as movie Marvel Select figures this summer, but in one fell swoop, Diamond Select Toys is knocking out the entire team in their comic book looks first… including Gamora, who's otherwise not getting any Select figure from DST at all!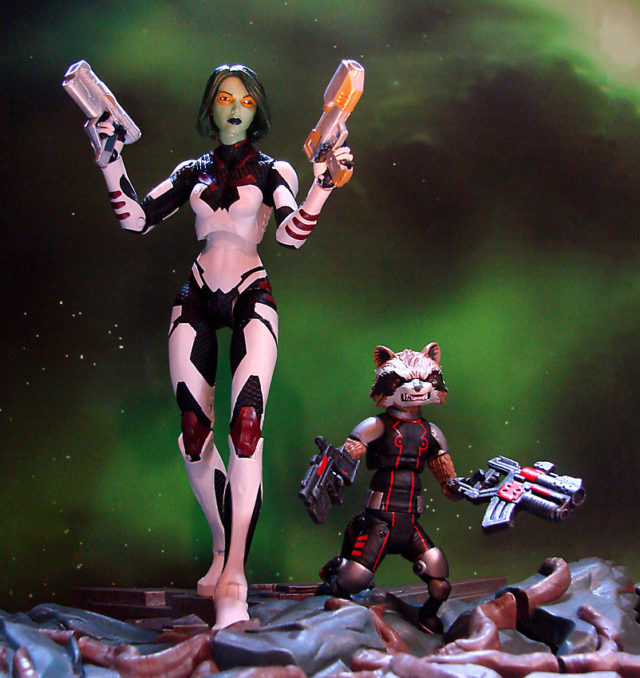 All five figures are in the usual 7″ scale and will feature the standard Marvel Select 16 points of articulation (the maximum amount of articulation that's able to be put into a Diamond Select Toys Marvel Select action figure), and will come with a variety of character-specific accessories (except for Groot, whose special feature is that he's huge).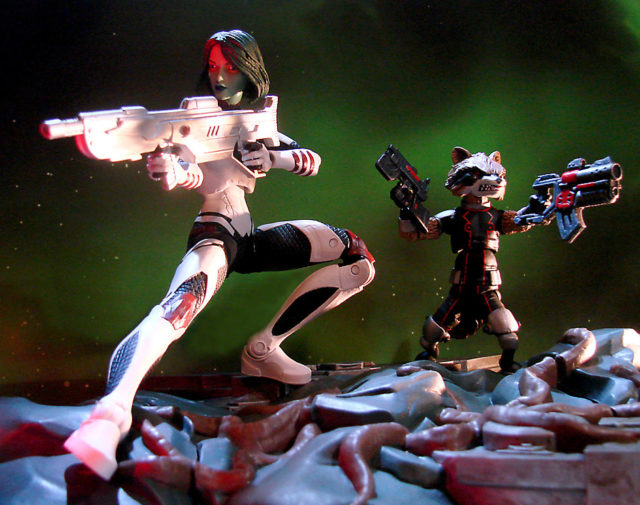 Gamora obviously gets the best accessory–a separate fully-articulated Rocket Raccoon action figure–but she also comes with a sword, a knife, a laser rifle, two laser pistols and two blasters for Rocket Raccoon himself. You're spoiling us, DST!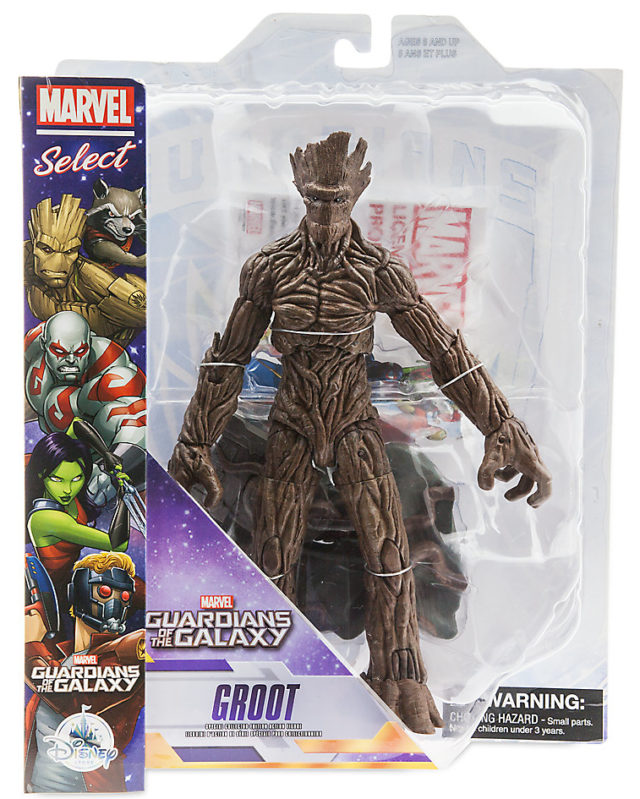 Of course, you can't have Rocket Raccoon without his trusty Tree God friend, and thus the first-ever Marvel Select Groot figure is being released next month as well! While there's a movie-based Baby Groot coming our way in the summer, this is the only full-grown adult Groot Diamond Select Toys has announced right now.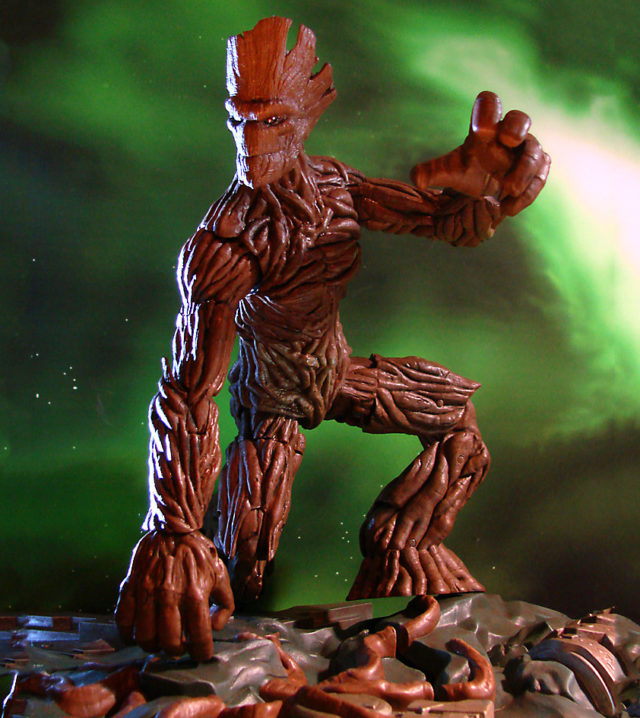 Diamond Select Toys is the king of oversized Marvel figures, and they've done a bang-up job of making the DST Groot look both friendly and intimidating at the same time. At 10″ tall, this Groot Marvel Select figure is an inch taller than the Hasbro Groot Build-A-Figure.
And because Groot is meant to be huge and this one will be even bigger than usual, I foresee a lot of collectors opting to use this as the default Marvel Legends Groot in their comic-based displays!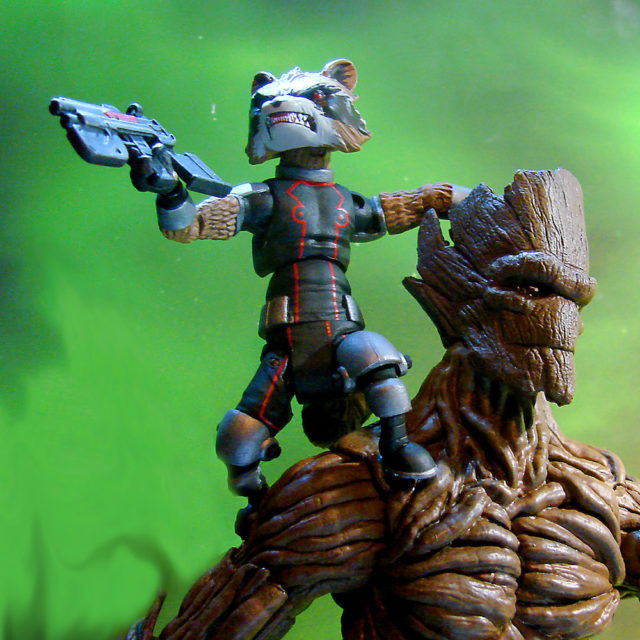 As you would hope, the DST Rocket Raccoon figure can in fact perch right up on top of Groot's shoulder. Excellent!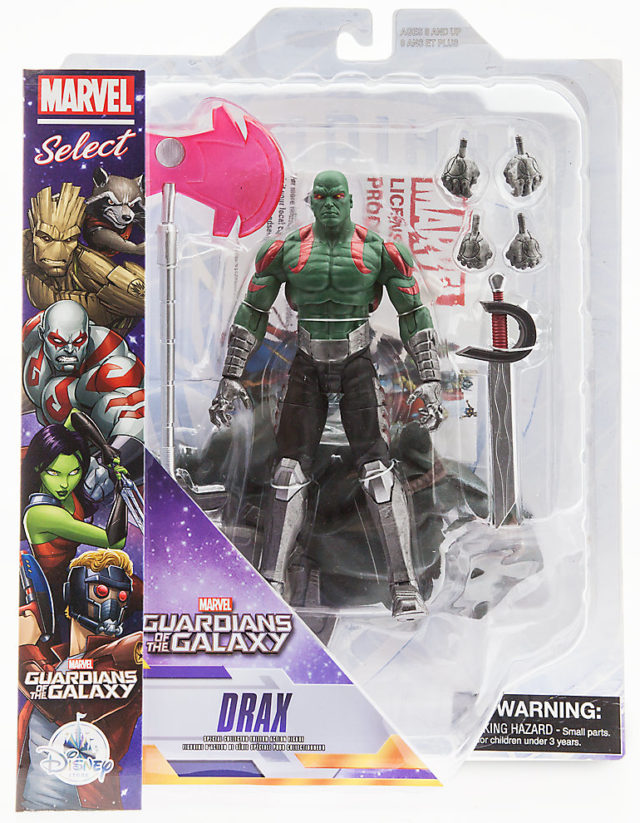 While Drax the Destroyer is traditionally the least popular member of the core Guardians of the Galaxy team, this Disney Store Exclusive Marvel Select Drax figure looks killer. Seriously–I love Marvel Legends, but this Drax figure absolutely blows the Marvel Legends Drax comic-based figure from 2012 out of the water.
Drax has got a cutlass sword, three pairs of interchangeable hands (including fists–of course), and a huge battle axe with translucent pink blade! The shiny paint on the axe hilt complements Drax's armored pieces well, while the pink blade looks terrific paired with his tattoos. Drax may traditionally not be the best seller, but this figure deserves to sell like crazy.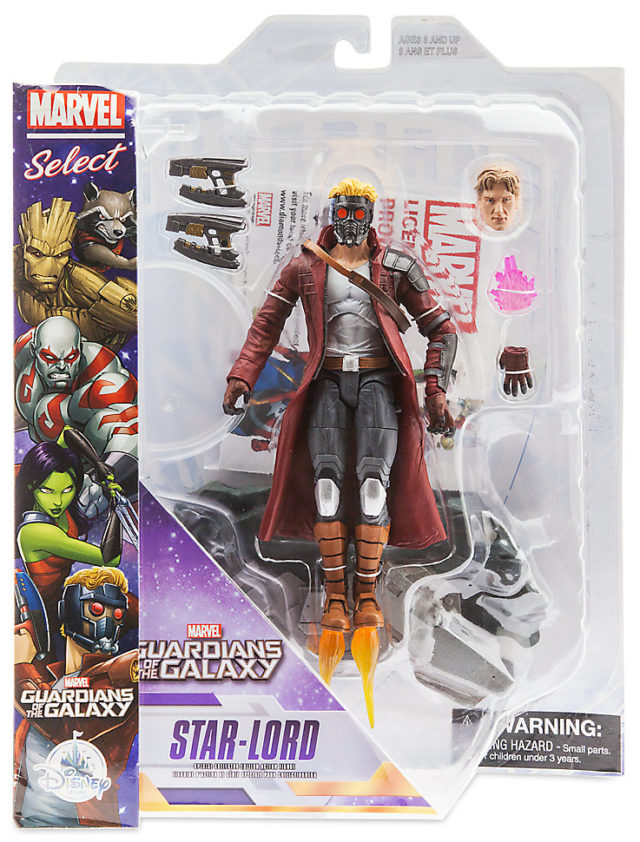 Rounding out the team, it's my surprise favorite character in the Marvel Cinematic Universe–Star-Lord! I'm not gonna lie–I'm not a big fan of the Joe-Bob Generic look that Star-Lord's head looks like in the Brian Michael Bendis-era Guardians of the Galaxy comics, but I can't fault Diamond Select Toys for accurately recreating that look on the unmasked Peter Quill portrait that comes with this figure.
Luckily, not only does this figure include both masked and unmasked Star-Lord heads, but we also get a crystal for Peter Quill to steal (I mean… "find"!), as well as twin Element Guns (with paint deco!), an alternate hand to hold the crystal, and… jet-boot flame effects that plug into the bottom of Marvel Select Star-Lord's feet!?
COOL. 
(And yes, DST thought of everything: there's even a clear flight stand so you can display Star-Lord flying. You're my heroes, DST. *heart*)
Also, you may have noticed that each of these figures has a rocky base in the back of their packaging–the bases actually all interconnect with each other to build one rocky terrain environment piece that you can display the whole team on. You are killing me with the awesomeness of this set, Diamond Select!!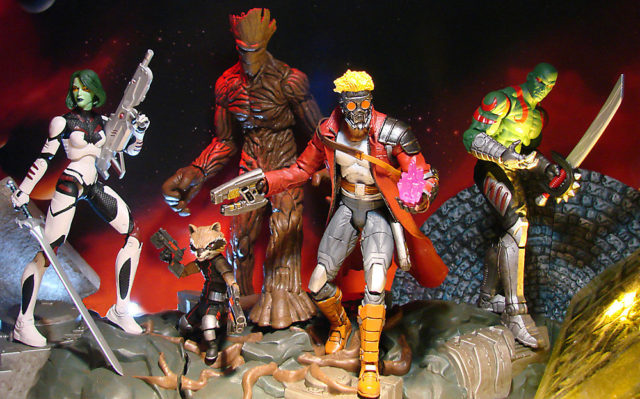 The Exclusive Marvel Select Guardians of the Galaxy action figures are now up for order online, and are estimated to be shipped on 2/27/2017. These figures should eventually be available via the Disney Store website and stores, but as of writing they're only available on the online Marvel shop. I would not be surprised at all to see online pre-orders sell out for the Rocket Raccoon & Gamora Marvel Select figure set before we even get to release, so if you're only going to pre-order "one" figure from this set, then that's the one to aim for first.
Were you as totally caught off-guard by the surprise pre-order for these Guardians of the Galaxy Marvel Select figures as I was, Marvel collectors? I'm "all in" for this whole set (of course), but what about you? Will you be picking up the whole team, just Gamora (and Rocket!), or none of the above?