If there's one character I never expected to see make a comeback in the modern universe, it's the alternate future version of Wolverine: Old Man Logan. But come back Logan has, and his place in the pantheon of beloved Marvel characters is now complete as far as Hasbro is concerned, because Old Man Logan has earned himself his first-ever 6″ Marvel Legends figure! This whole wave isn't expected to hit most retailers for another month, but Target got an early shipment and you can also snag Marvel Legends Old Man Logan for about 25 bucks on ebay. If you can get one early, I recommend it–this is one of my favorite Wolverine figures ever…
The Right:
One of the more bizarre things to happen in the Marvel Comics Universe in the last few years is Wolverine dying, only to be replaced in the X-Men roster by an alternate future old man version of himself who somehow crossed over into the present Marvel Universe. (Hey, don't ask me–I'm just summarizing the comics, not writing them.)
But bizarre or not, Old Man Logan has been a huge hit with fans, both in his own ongoing series and as part of team books where he plays a supporting role. And being ultra-popular and successful in the Marvel comics universe can mean only one thing–bring on the toys! And Hasbro has, with their new Old Man Logan Marvel Legends 2017 X-Men series figure…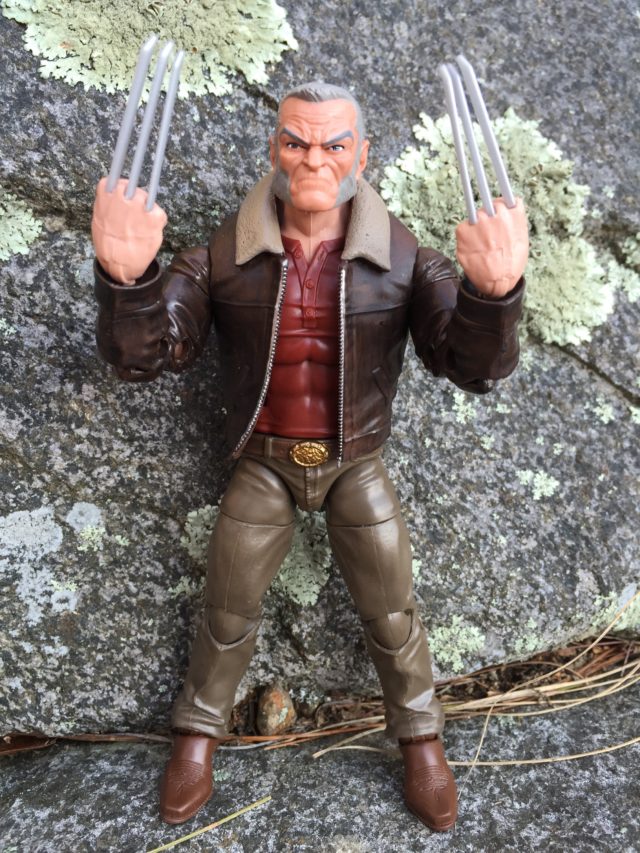 From one glance, it's readily apparent that Hasbro didn't just plan on cashing in by making any old Old Man Logan figure–they planned on making him the right way, with tons of expensive new tooling (much of which will likely remain unique to Wolverine figures).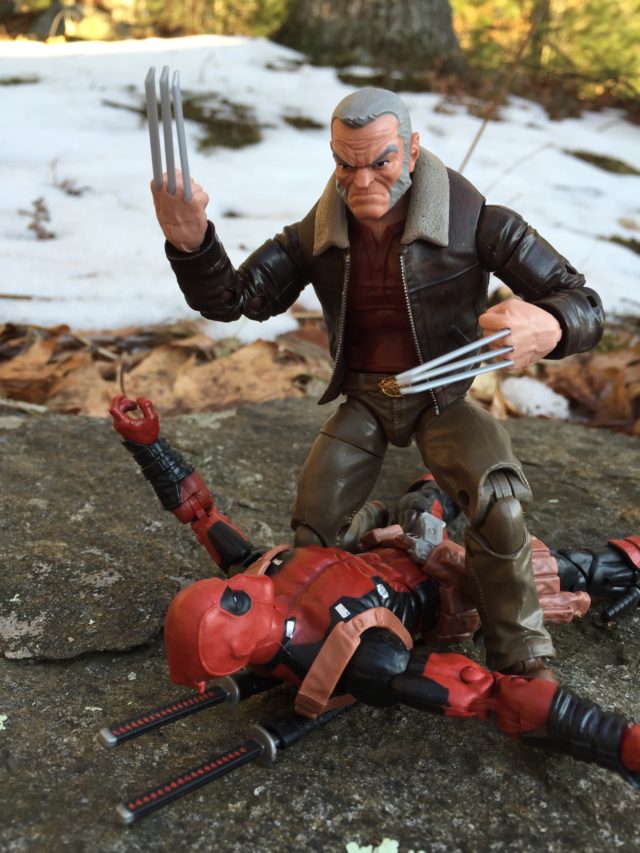 Hasbro has wisely packed this old Wolverine figure as the only double-packed, two-per-case figure in the new 2017 Marvel Legends X-Men series, which was absolutely the right call. There are still many folks who have still never seen a Deadpool Legends figure from last year at retail–a character with similar demand and appeal–so heavy-packing Old Man Logan now will save collectors (and Hasbro) a lot of frustration this summer.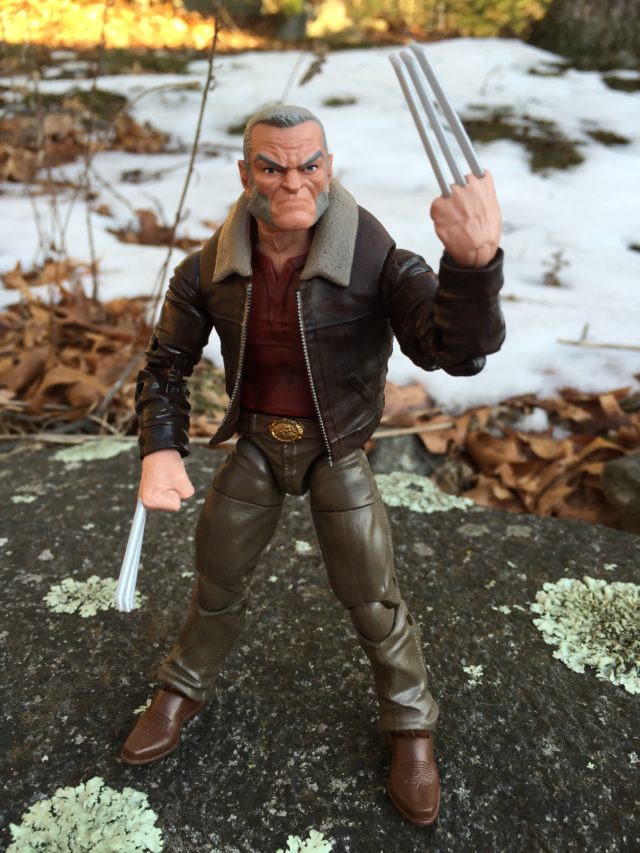 While I know there's a lot of love out there for the original character design for Old Man Logan, Hasbro has selected the modern "Extraordinary X-Men" costume version for the Marvel Legends Old Man Logan action figure. This is the version of Wolverine currently appearing in the comics and the iteration of elderly Wolverine that ultimately will have the most appearances and be most recognizable.
Don't get me wrong–I love the cowboy-looking long-coat classic version of this character too, but I think that Hasbro made the right call with the costume that they picked.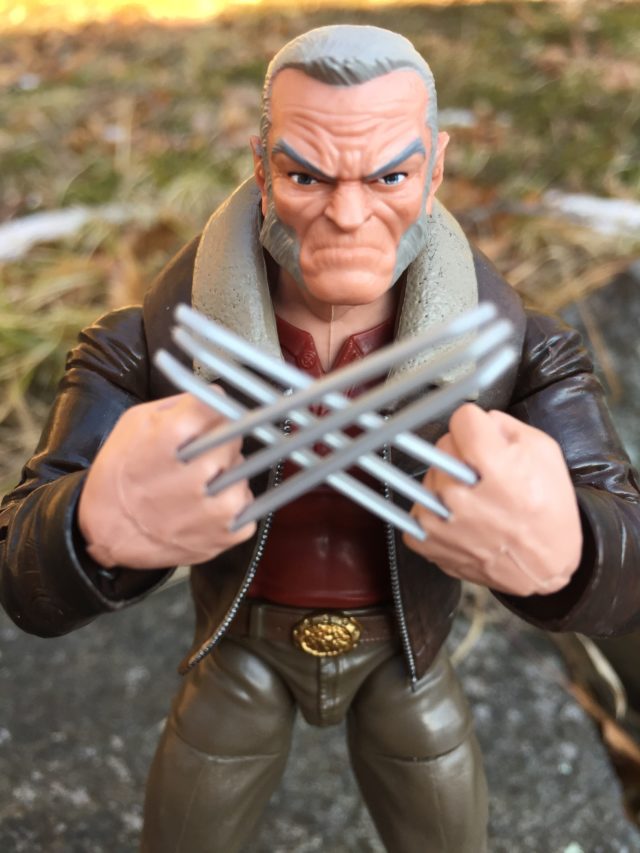 Logan's wrinkled, driven face sculpt looks dead-on accurate to me to his recent appearances. He looks like he popped right out of the pages of the past year of his Marvel comic appearances, which is the highest praise I can give a comic-based action figure's head sculpt.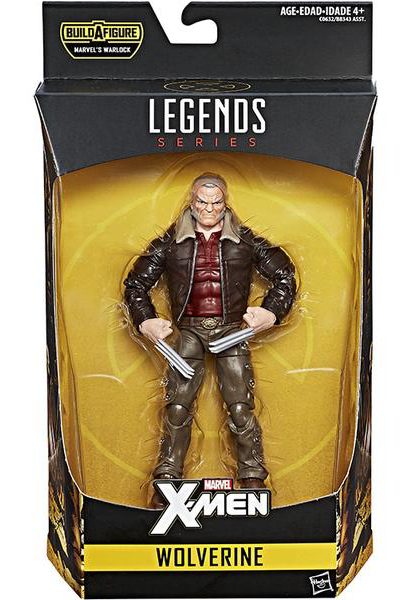 The gold belt buckles and sculpted belt and stitching on Wolverine's trousers are real highlights of this figure, in my opinion. I love that Wolverine's fly is even sculpted, as are the pants pockets on his cheeks (no, not his face cheeks).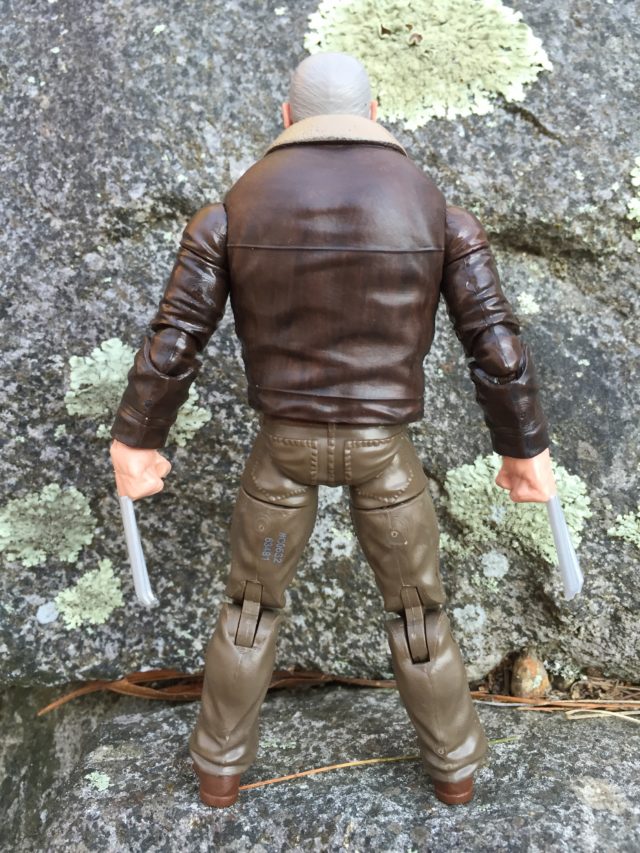 Hasbro probably could have gotten away with just sticking a plain old brown molded leather jacket on this Old Man Logan action figure, but they opted to give it a nice dark wash instead which really helps the authenticity of its appearance. I love that they also painted the fluffy collar and even the zipper on the jacket.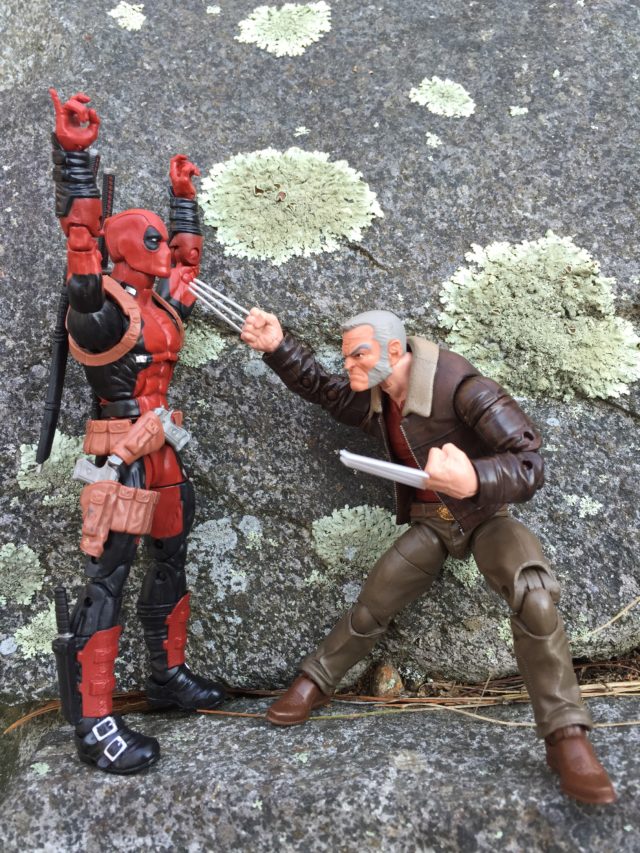 Articulation-wise, Old Man Logan is tremendous. Ankle rockers and hinges on the loafers keep him standing stably in pretty much any pose you want, while the double-hinge knees and elbows and swivel biceps/thighs/waist give him the battle capabilities any good Wolverine toy needs. Rounding out the articulation are ball-hinged head and wrists, ball hips and the ever-popular upper torso ab crunch.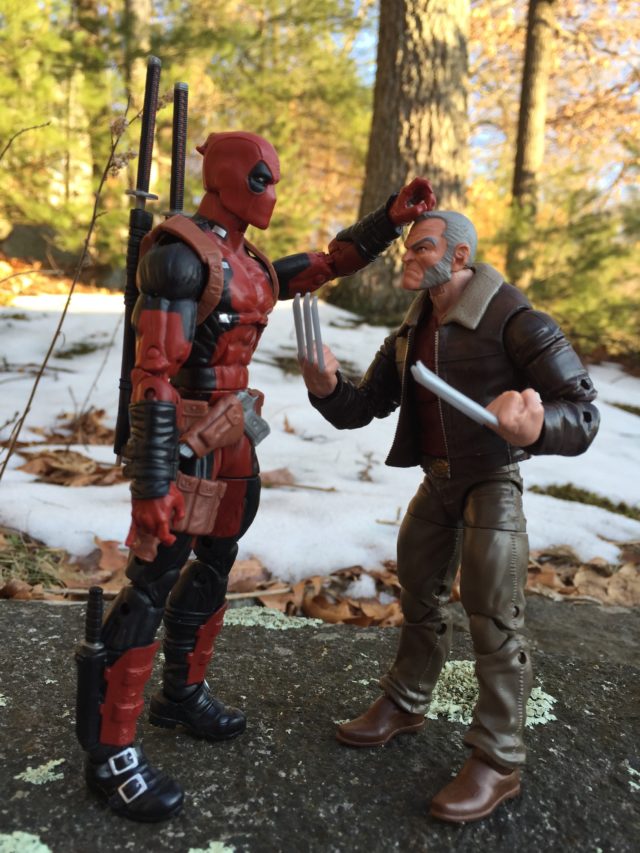 As he should be, the Old Man Logan Marvel Legends 6″ figure is actually just short of six inches tall–he's more like 5.7″ tall. That less than half an inch may not sound like a whole lot, but it actually goes a long way to making this figure feel authentic and accurate to his comic book appearances. Bravo to Hasbro for giving us a properly-scaled Wolverine figure yet again.
The Wrong:
What's here is just about perfect as far as I'm concerned. My only real gripe about the Marvel Legends Old Man Logan figure is what's
not
here: accessories!
I understand that the 6″ Old Man Logan figure required a tremendous amount of new tooling and parts, but for him to get nothing in the package with him despite being a $20 figure really stings. I'm not asking for anything big here–a cowboy hat, an alternate head… pretty much anything logical would do.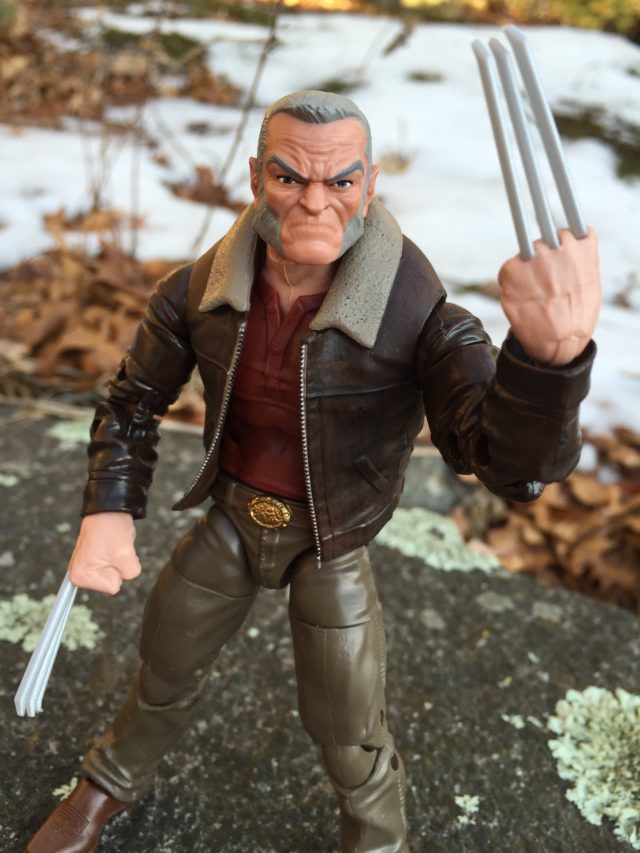 The only other thing that really bugs me is how rubbery and toy-like Logan's claws are. Just like last year's stupendous Brown Costume Wolverine figure, the claws on Old Man Logan tend to warp and get bent out of position really easily. I'd genuinely prefer the claws be harder plastic and non-removable, personally.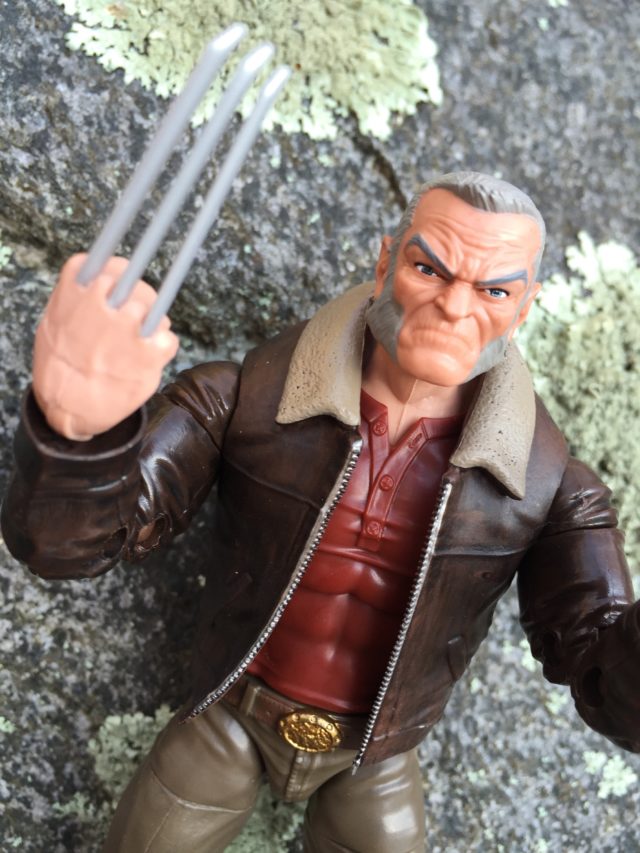 Overall: From the superb head sculpt likeness to the awesome belt buckle, loafers and leather jacket, this is the modern Marvel NOW! Old Man Logan design brought to action figure near-perfection by Hasbro. I'm ever-so-slightly irritated that we get a whopping zippo accessories and that the QC on the claws is still just short of greatness, but the Marvel Legends Old Man Logan is a truly wonderful action figure that exceeds any expectations I ever had for a toy of this character prior to this one being revealed. Fans of the current Old Man Logan character in the comics ought to love this terrific action figure.
GRADE: A