Kaiyodo has been producing Revoltech figures for many years now, and produced many movie Iron Man figures in that time. But last year they entered the Marvel Comics market with their ultra-fun Ame-Comic Revoltech Deadpool, Spider-Man and Venom figures. I figured it would be very hard for Kaiyodo to follow up the monstrous coolness of their Revoltech Venom figure, and perhaps with that in mind they're taking a different approach with their next release. Sleek, charming and beautiful, the Revoltech Spider-Gwen is now up for order!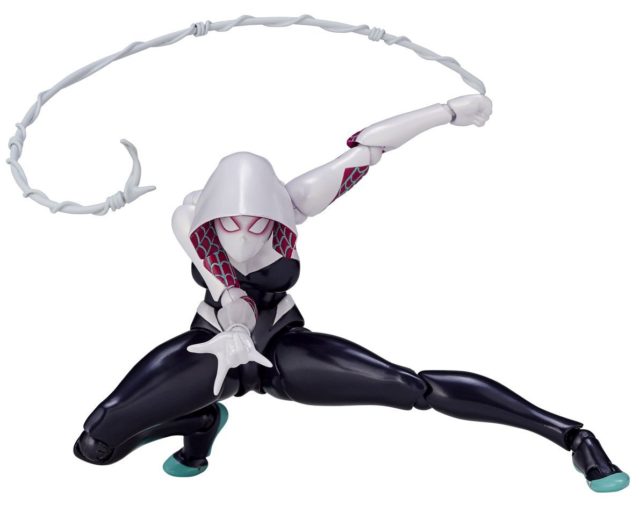 I got a bit sidetracked this week with the veritable cornucopia of Marvel toy news that's been floating around, but I'd be remiss if I didn't stop to discuss what's likely to be one of the best (and best-selling, no doubt) import Marvel comics figures of 2017: the Kaiyodo Spider-Gwen Revoltech figure!
Spider-Gwen is #4 in the Amazing Yamaguchi Ame-Comic series, and the first female in the series. Is the Gwen Stacy Spider-Woman up to the high standard of the male figures? Let's see…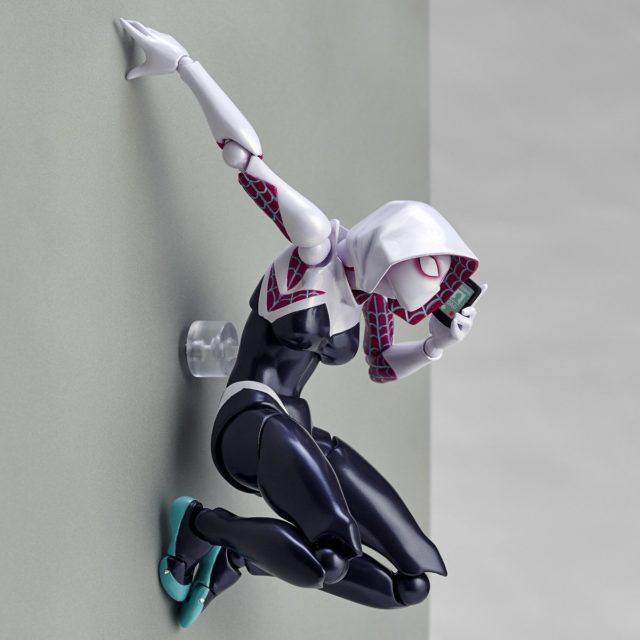 Like the previous entries in this series, Spider-Gwen has been sculpted by ace sculptor Katsuhisa Yamaguchi. The figures Yamaguchi sculpts tend to be men and mechs (and sometimes monsters), so I was curious how he would do with sculpting the proportions of a young lady like Gwen Stacy.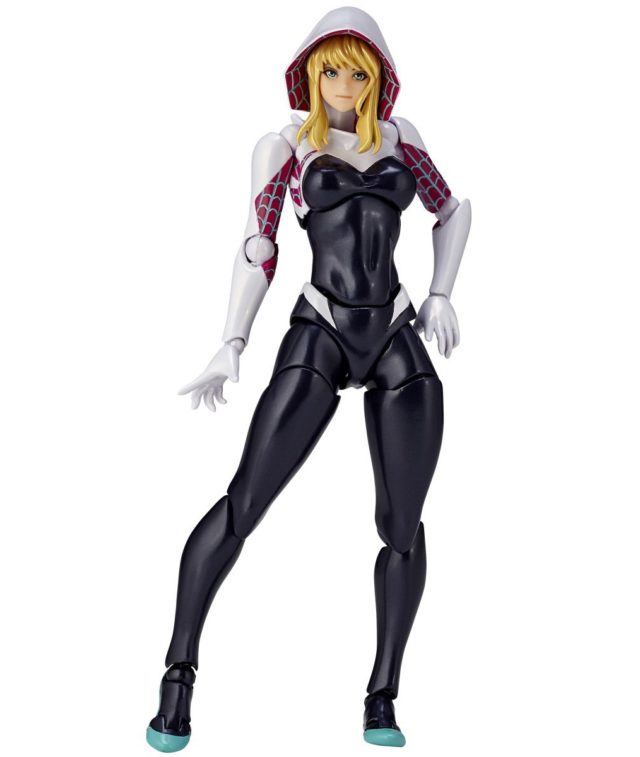 To my delight, I think Yamaguchi does an amazing job with his first Marvel female! Honestly, I think the proportions on Gwen look truer and more authentic than those on Spider-Man, and certainly better than those on Deadpool.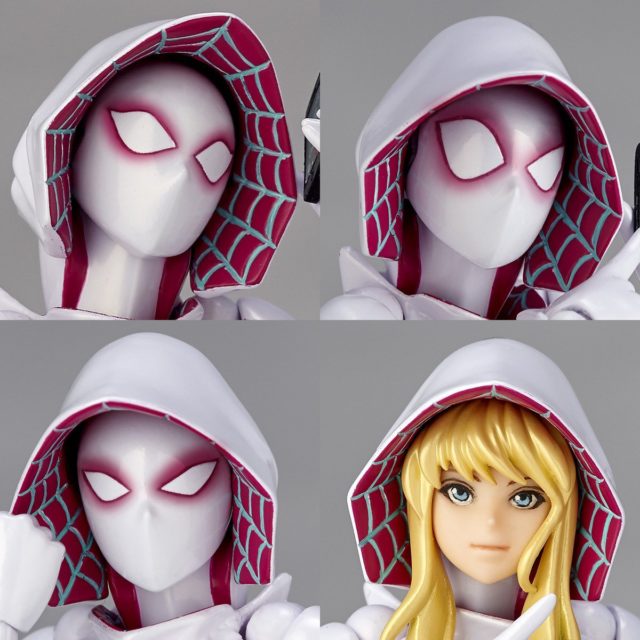 While I feel that the unmasked Gwen head still has a little bit of pinhead syndrome going on (and is a bit too "anime" for my tastes), all three of the different masked faces for Spider-Gwen look phenomenal.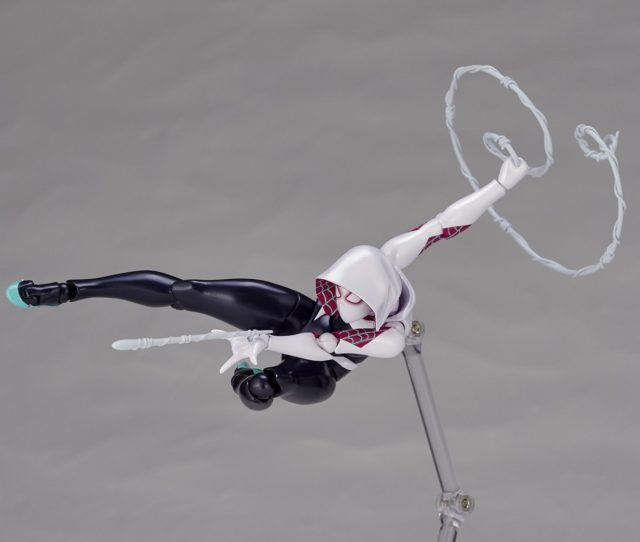 The Spider-Gwen Revoltech stands 155mm (about 6.1″) tall and features 33 points of articulation, so she ought to fit into almost perfectly on a Hasbro Marvel Legends shelf. The articulation is downright amazing on this figure, which is wonderful to see since the Marvel Legends Spider-Gwen figure using the teenage girl mold wasn't quite as articulated as I like to see.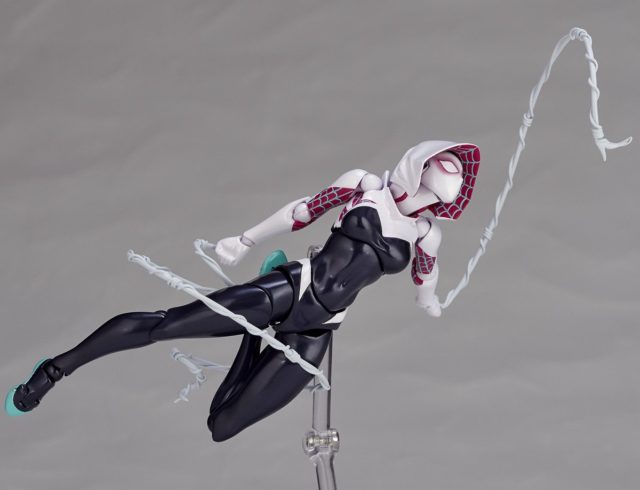 Check out the dynamic swinging poses you can achieve with this Spider-Gwen!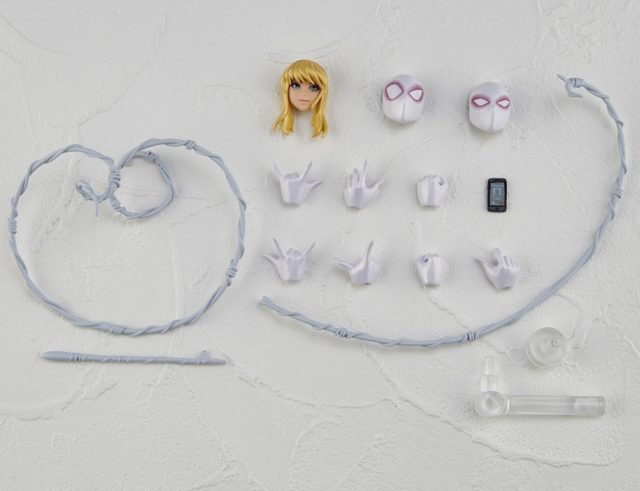 Perhaps the best thing about this figure–and what really makes it worth the extra cash that import toys like this one often cost–is the accessories. Not only are you going to get three different Spider-Gwen faces and unmasked Gwen Stacy head, but there's also three types of web lines, a dynamic figure stand for posing, a magnet for wall-mounting her, seven interchangeable hands and… a smartphone!
Other figures in this scale have come with smartphones by now (like the Figma "Durarara!!" Izaya Orihara), but I believe this is a first for Marvel figures. And man, does that smartphone look good! Love it!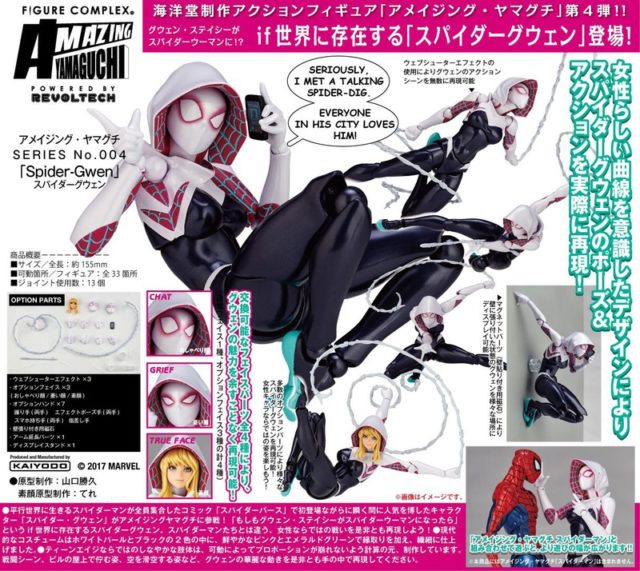 The Kaiyodo Revoltech Spider-Gwen figure is now up for order, and is scheduled to be released at the end of June 2017. WoozyMoo and BBTS are taking orders for the figure in the U.S. as import stores, as Revoltech does not have a license to sell Marvel figures in the United States. You can find Gwen for cheaper if you import directly from overseas, but then you'll also be subject to international shipping and limited cancellation options.
How do you like the first woman in the Kaiyodo Revoltech Marvel Comics series, Marvel collectors? Is Spider-Gwen as good as the previous three Marvel Revoltech figures, and are you willing to pay the price of several Marvel Legends figures to add her to your collection?