We've still get half a month of 2017 to go, but a top contender for "Best Marvel 6" Figure of 2018" has already appeared! The Kaiyodo Carnage Revoltech figure made its debut at the Fall 2017 Miyazwa Model Exhibition last month, but our quick glimpses there only scratched the surface of the amazing possibilities for this symbiote. Kaiyodo played all their cards today, though: the hugely anticipated Revoltech Carnage figure is now up for order—and man, does it look amazing!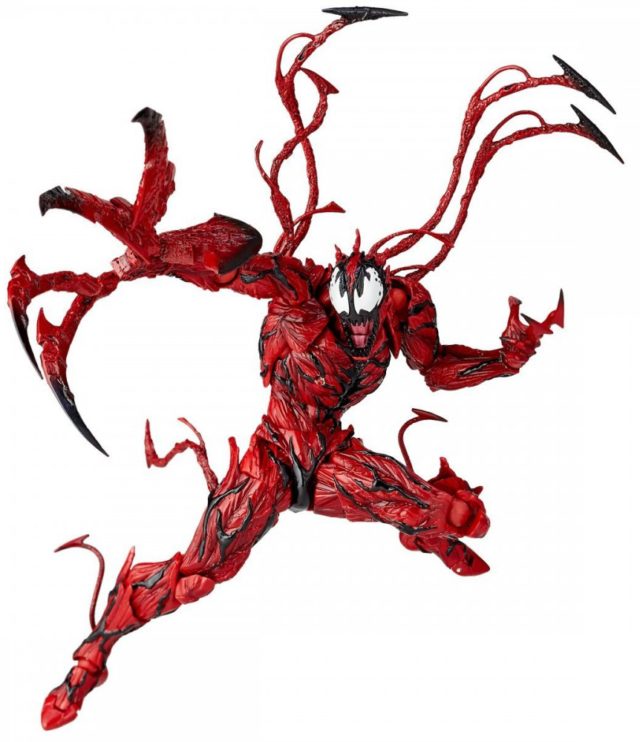 Even though the stories told about the serial-killing symbiote aren't always the best, I've been a humongous fan of Carnage ever since "Maximum Carnage" in the 90s—not just the comic books, but also the toys and video game.
I get a little bit excited every time a new Carnage action figure is revealed—but the most recent one that Kaiyodo unveiled almost unquestionably takes the cake as the best toy of the character that ever has (or maybe ever will!) be revealed.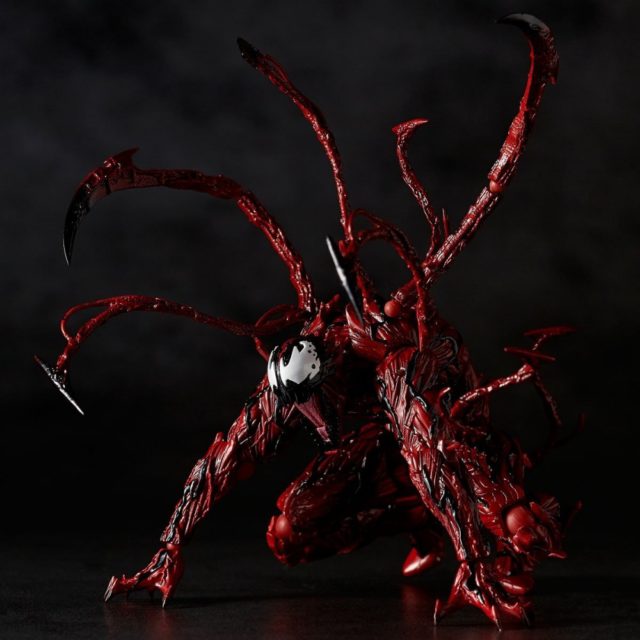 This 6.3" Carnage Revoltech figure is, well—insane.  "Insanely poseable" (no, really it's in the official product description" and with an absolutely insane amount of accessories. In total, this action figure comes with thirty-eight—yes, thirty-eight—accessories. Let your brain process that, because it's totally nuts.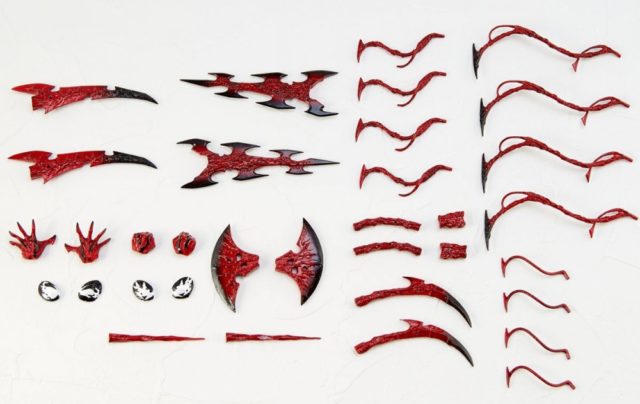 The accessories breakdown is as follows:
4 Large tendrils
4 Medium tendrils
4 Small tendrils
2 Tendril sections (large/short)
2 Tendril sections (small/longer)
2 Scythes
2 Straight large points
2 Straight small points
2 Axe heads
2 Multi-blades
6 Interchangeable eyes
6 Interchangeable hands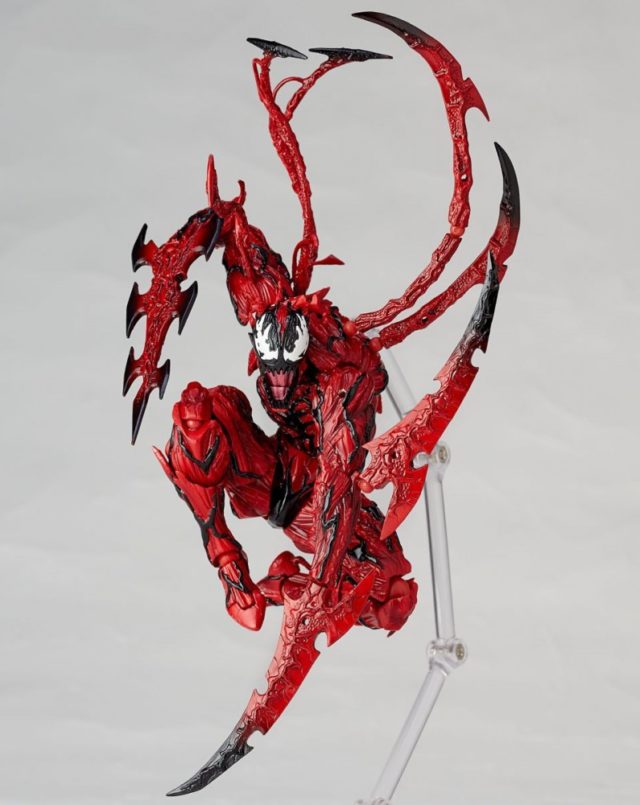 Having over three dozen possible add-ons makes the different posing options for this Carnage action figure virtually limitless.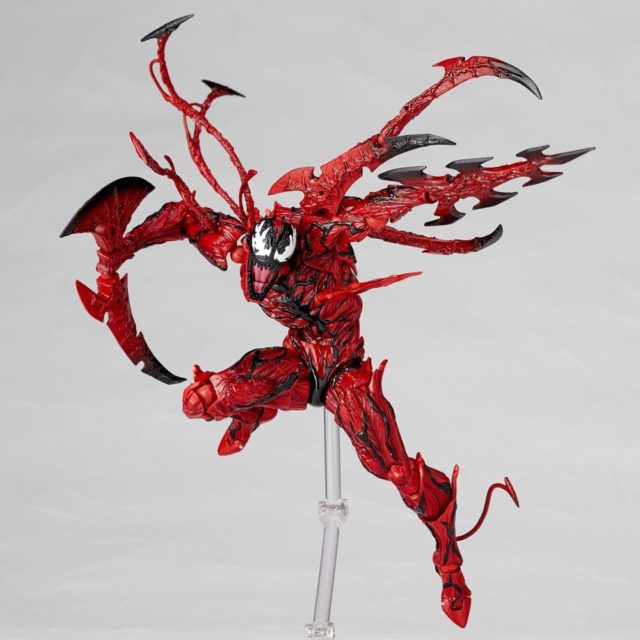 Other than an "unmasked" Cletus Kassidy head (which I honestly don't care about myself), I'm not sure that Kaiyodo really left out any extras that most folks would care about. This is pretty much the total package.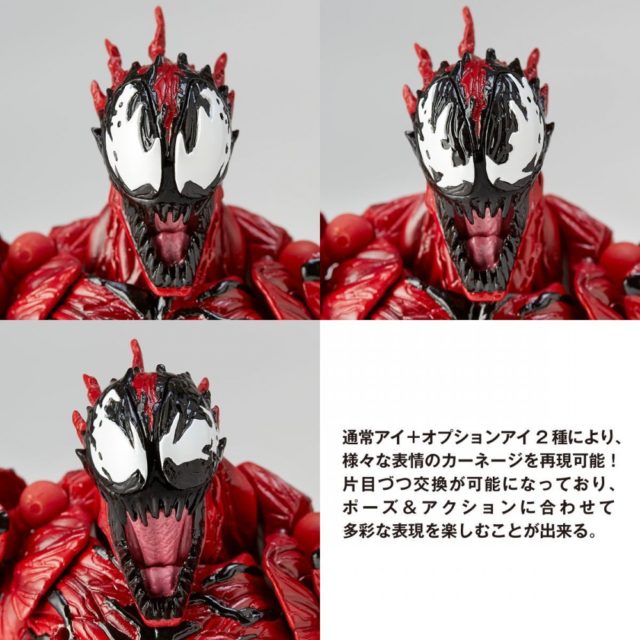 The interchangeable eyes for changing up the expressions on the figure is just the icing on the cake.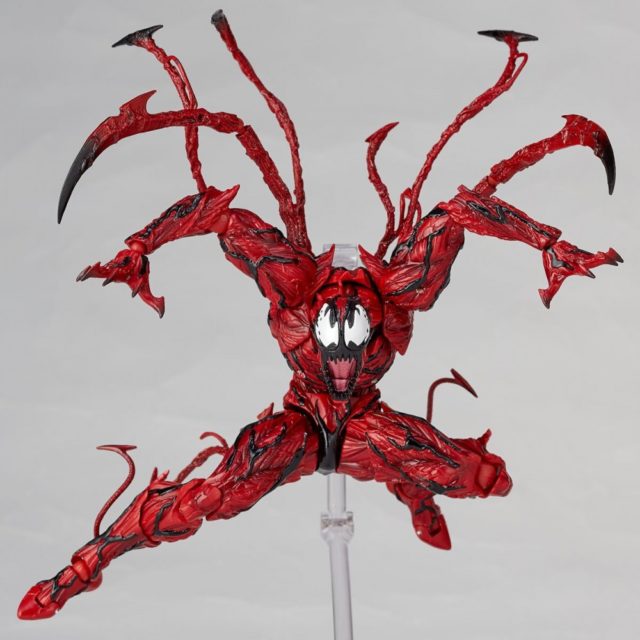 The only bad news is that this is an import only figure that's going to end up costing about $75 in the United States (perhaps a few dollars less after shipping if you import directly from an Asian store).
That's nearly the cost of four Hasbro Marvel Legends 6" figures—in other words: not cheap (at all). That said, whereas I thought the Revoltech Captain America was nowhere near worth all that dough, I can't imagine not owning this Cletus Kassidy. For me, this is a must-have—high-end price-tag or not.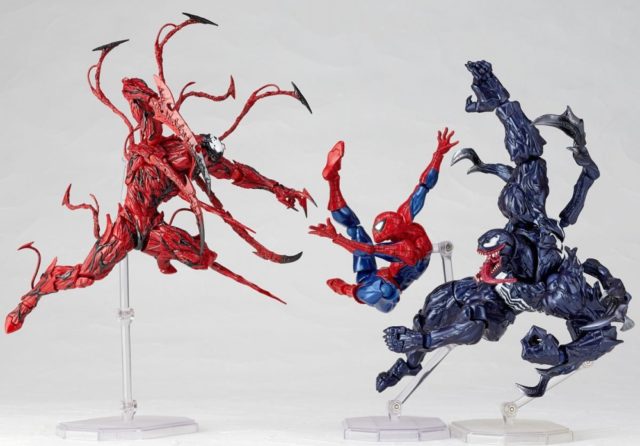 The Kaiyodo Revoltech Carnage figure is now up for order, and is scheduled to be released in May 2018. Kaiyodo can't distribute these Marvel figures in the United States themselves because of licensing, so be sure to lock in a direct import order or a pre-order from an importer like BBTS if you want one. I think this figure is going to be hot once orders close.
Now that you've seen some of the plethora of possibilities for posing and displaying this Carnage figure, what do you think, Marvel collectors? Is this the best Marvel Revoltech action figure yet? And for that matter, is it an early frontrunner for 2018 Marvel 6" Figure of the Year?