Kaiyodo has been teasing us all year long with the third figure in their Amazing Yamaguchi Revoltech Amecomics (say that three times fast) line, but no longer! All of the official release details and hi-res promo photos have now been revealed, and now we know when Venom's coming and how much he's going to cost us–Kaiyodo Revoltech Venom is now up for order!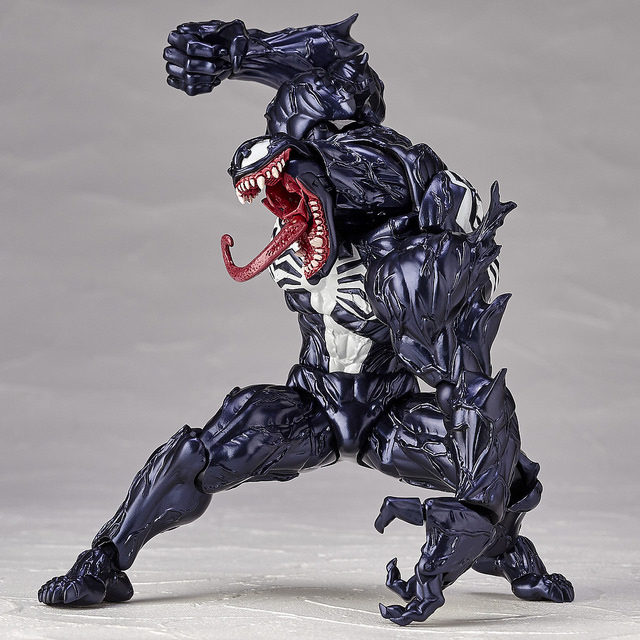 I initially had some doubts about the style of the Marvel Revoltech figures that Kaiyodo began putting out this year–particularly the weird gaps around the articulation on the figures.
But then something crazy happened: I opened my Revoltech Deadpool figure last week and discovered that he might be the most fun Marvel figure I've gotten all year long. At that point, I was ready to go all-in with this line–and luckily, Revoltech Venom is now up for sale while I'm still on my Revoltech high! Let's take a look…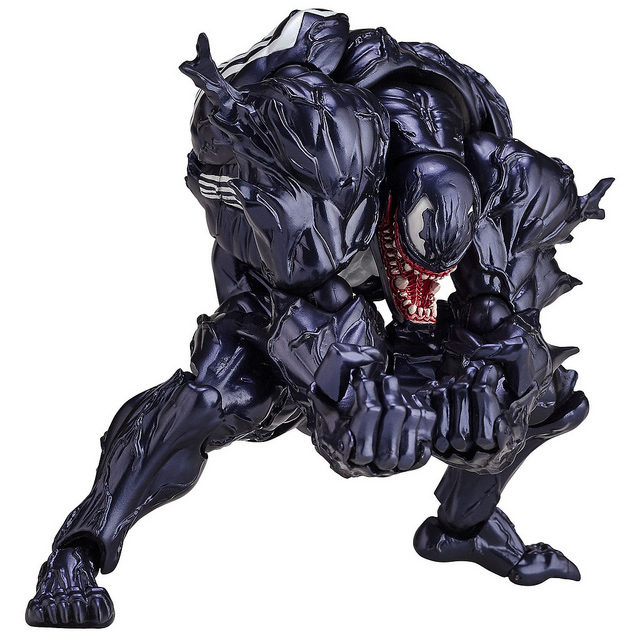 I was a little shocked to see on the specs sheet that this Kaiyodo Venom figure is going to overall have 47 points of articulation. Forty-seven! Now, some of those articulation points getting counted are on the Symbiote add-on pieces, but still: forty-seven is not an articulation points number you hear very often. Craziness.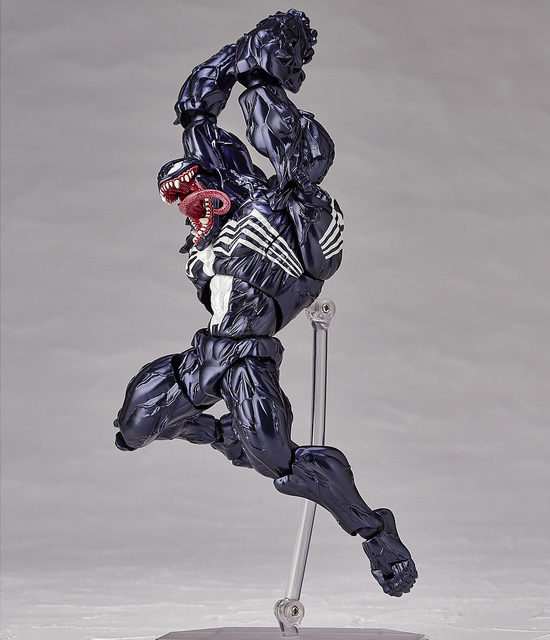 While Hasbro released two very cool Venom Legends figures in 2016 (Space Venom and classic Venom), the style of this Revoltech iteration sculpted by Katsuhisa Yamaguchi is completely different and far more textured/detailed than the Hasbro ones.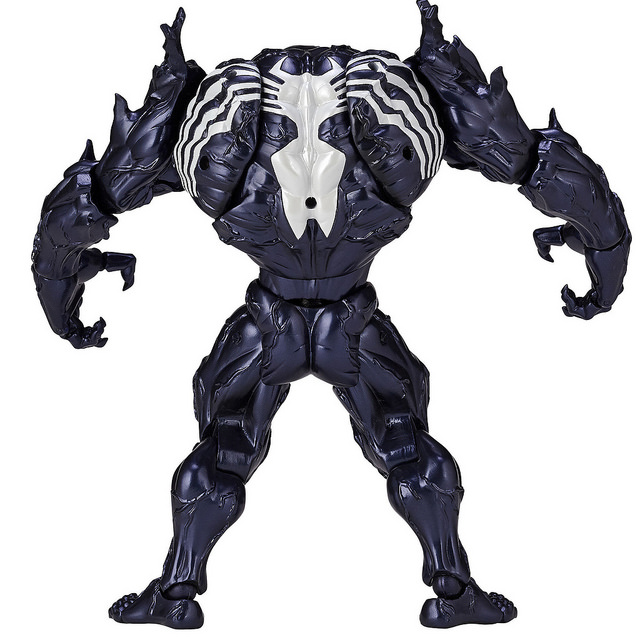 This is clearly a more expensive, high-end figure than Hasbro's (and it is certainly more expensive, retailing for 8,424 Japanese yen, the equivalent of about $71 US).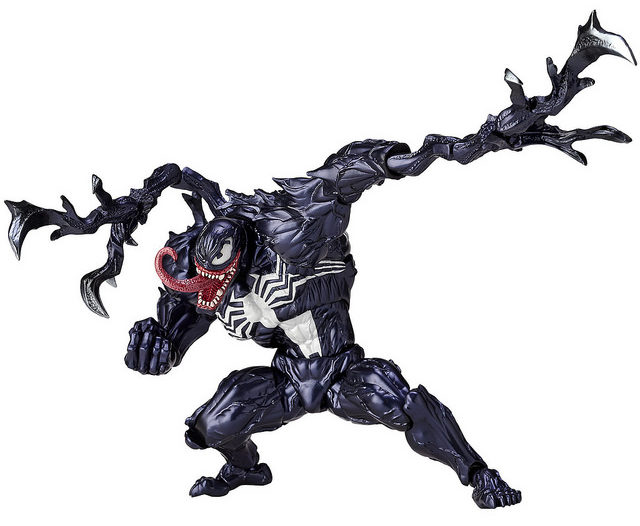 Along with the main figure itself, Venom will include a display stand (crucial for doing wacky poses like the symbiote hurling himself through the air at Spidey!), an alternate head and four add-on symbiote effects pieces.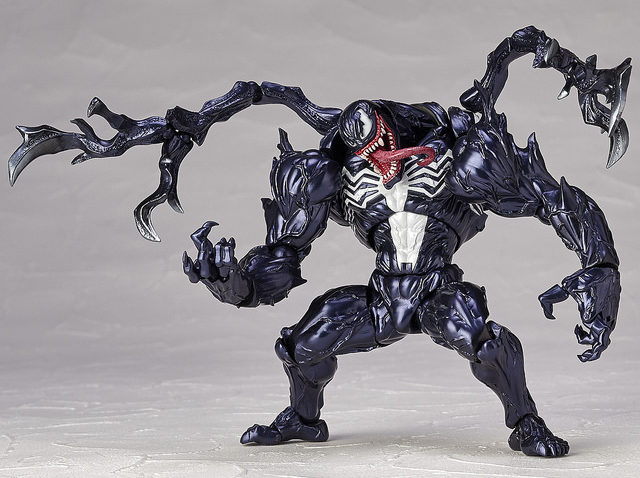 We've seen symbiote tendrils and such from other manufacturers before (and Diamond Select Toys has made some great ones), but I think that Kaiyodo may have developed the best symbiote effects ever for their Venom action figure!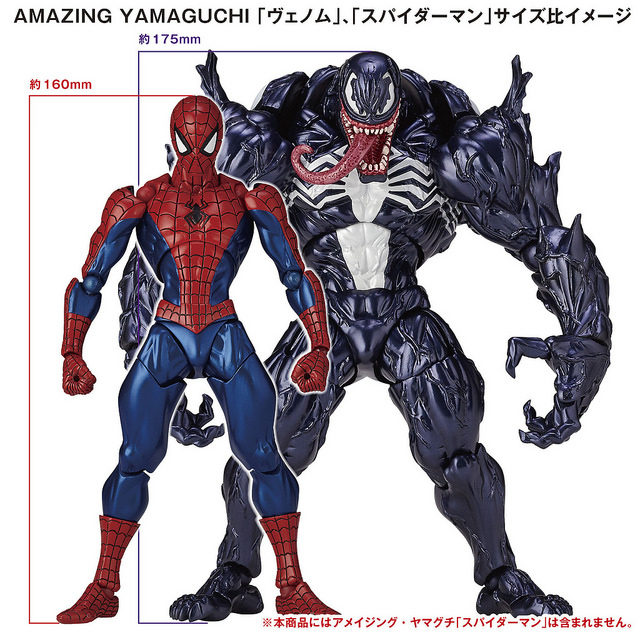 For Marvel Legends fans wondering if this Venom will be workably scaled to fit in with Hasbro 6″ Marvel Legends–I would say that the answer is yes. The Kaiyodo Revoltech figure is 17.5 cm tall, which is he equivalent of about 6.9″ tall.
So this figure won't be quite as massive as the still-incredible Marvel Select Venom action figure released years ago, but he will be larger than your typical 6″ Marvel Legends Venom (as he should be).
The Kaiyodo Venom Revoltech figure is now available for order, and is scheduled to be released in April 2017. As Kaiyodo does not have a license to sell Marvel figures in North America, if you want Venom, you're going to have to import him directly from overseas yourself or get him from an import shop like BBTS.
Now that we know when, where and how much he'll cost, are you on-board for the Venom Kaiyodo Revoltech figure, Marvel collectors? Are you hoping to see Kaiyodo release more Marvel Amecomics figures in 2017, and if so–who?