Sometimes–as was the case with this year's humongous 1/4 NECA Hulk figure–it takes years for NECA to bring a Marvel character to store shelves from the time they debut it to the public. And sometimes–not so much! Today's subject is definitely the latter, as after just having his existence revealed to collectors earlier this year, the 18″ NECA Deadpool figure is now in-stock and shipping online!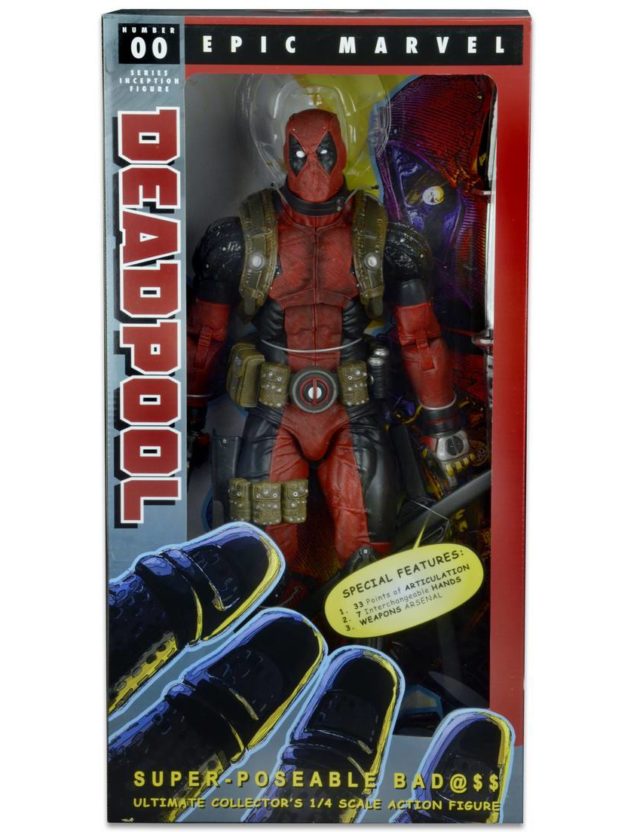 NECA hasn't had the most consistent quality since they entered the 1/4 Marvel figure game, with several of their MCU actor portraits (particularly Chris Evans) looking, well… bad.
But where NECA absolutely excels is when there are no real-life actor likenesses involved, and that's luckily the case with their latest release: the NECA 1/4 Deadpool figure! And to say that this figure blows their previous Marvel figures out of the water is an understatement.
The paint deco and sculpting detail on this figure absolutely crush what we've seen before from previous 1/4 Marvel NECA releases, and even the packaging is compelling and vastly superior to previous efforts.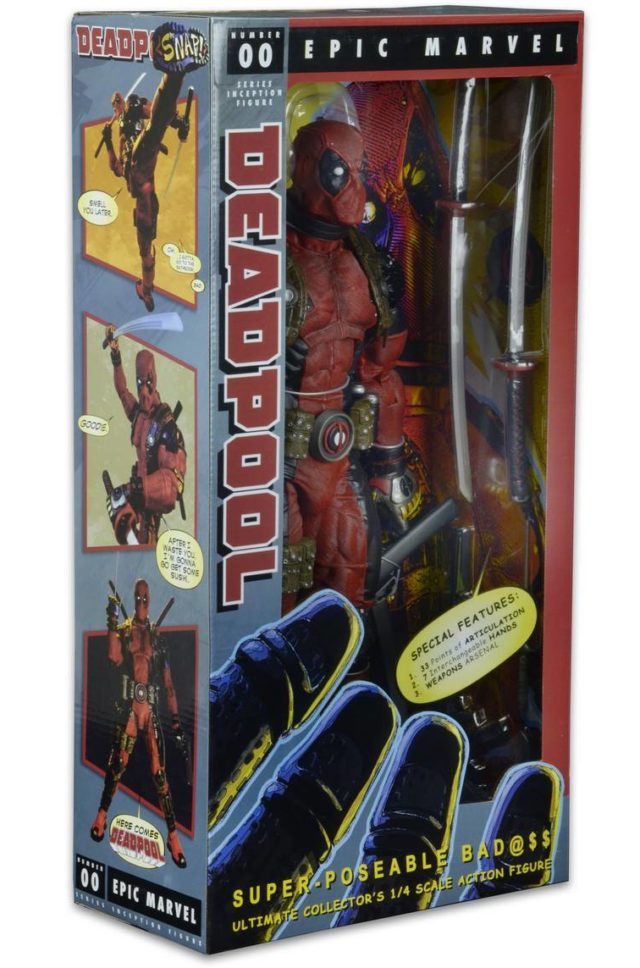 The box notes that this figure is the "Number 00 Inception Figure" in the "Epic Marvel" label, implying that we'll be seeing more figures of this sort in the future. I'm just gonna say it now: NECA Spider-Man next year, anyone…? With the same 33 points of articulation built into this Deadpool, we could definitely have an amazing Spider-Man (no pun intended) figure.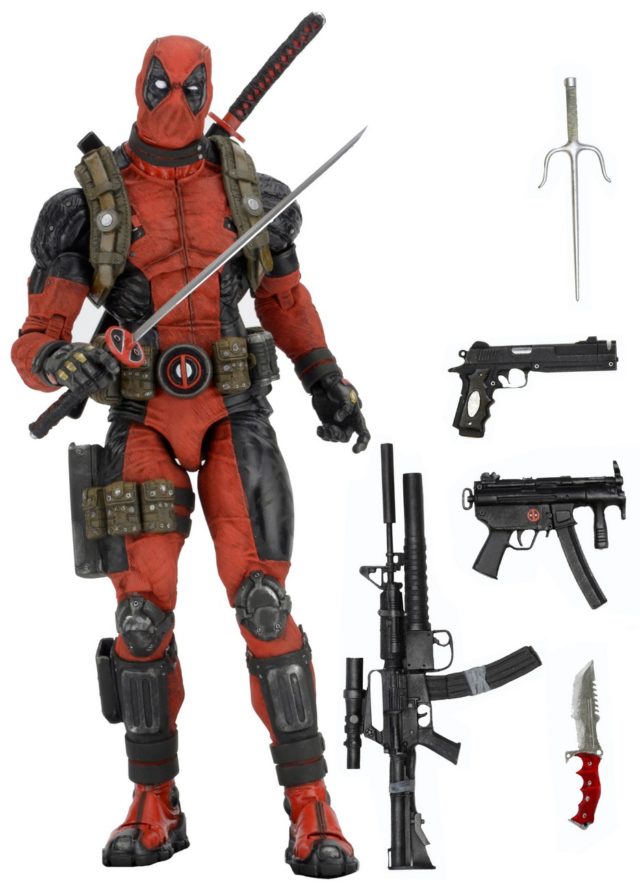 As very few Marvel licensees managed to get a license to produce Deadpool movie-based collectibles, this 18″ action figure is based off of Marvel NOW Deadpool's comic book appearance.
That said, I think it's similar enough that only the most hardcore movie-only Deadpool fans will complain (though there may be some griping about the divisive asymmetrical eyes that we see on Wade Wilson figures so frequently lately).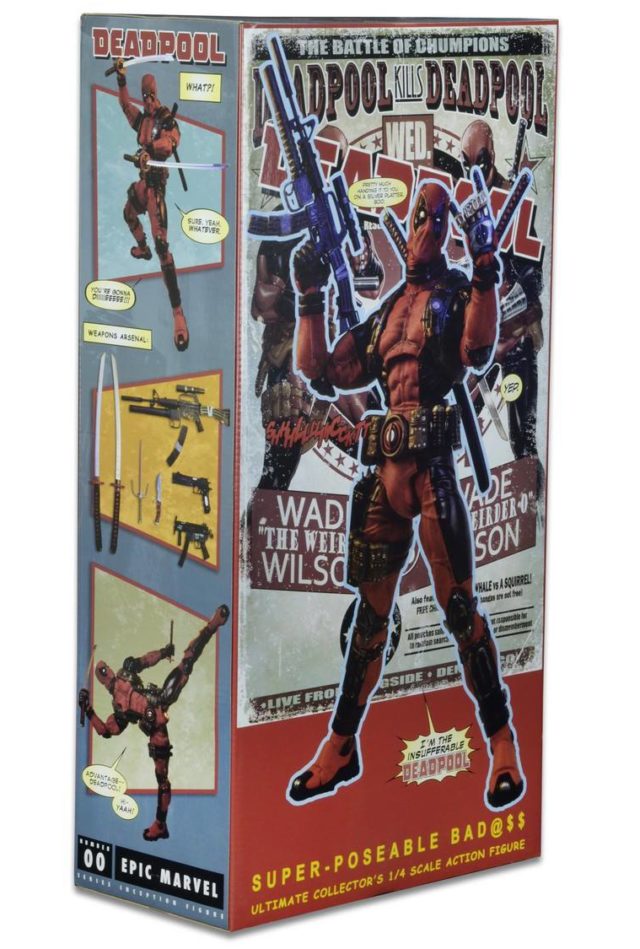 Unlike every other Marvel quarter-scale figure NECA has released, Deadpool is coming with a
ton
of accessories: seven interchangeable hands and a whole "arsenal" of weapons (really–it says "arsenal" right on the box [just above "Super-Poseable Bad@$$"]).
While it doesn't come with quite as many accessories as the extravagant Hasbro Marvel Legends Deadpool figure I reviewed earlier this year (there's no taco, boxing glove bazooka or unmasked head), I imagine most folks are going to be very pleased with the dual katanas, sai, rifle, knife and two smaller guns included with this mega-Wade Wilson action figure. I can't recall ever seeing a 1/4 figure at this low price-point including more accessories than this Deadpool comes with.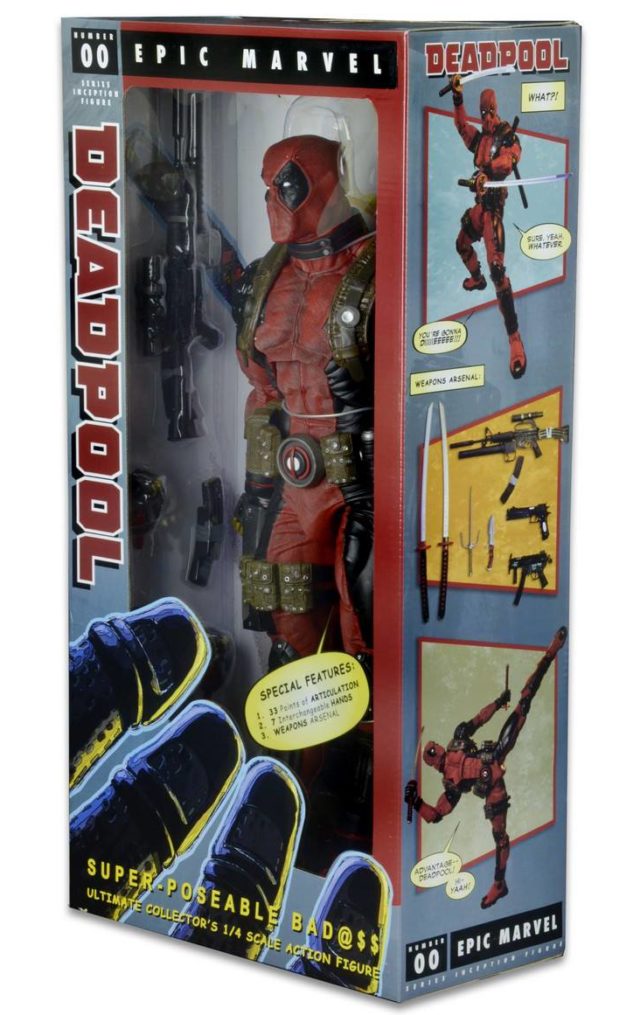 The 18″ Deadpool NECA 1:4 figure is now in-stock and shipping from Amazon and ebay, with other retailers expected to receive the figure within the next 1-2 weeks. The 1/4 Deadpool is priced at $107.99 plus shipping, which is frankly a pretty amazing price for a super-poseable, non-mass market licensed action figure with this level of painting, sculpt and accessories. I've got a hunch this will be NECA's fastest sellout ever for a Marvel action figure–by a large margin.
As you might have guessed, I'm pretty impressed with NECA's Deadpool action figure. But what about you, Marvel collectors? Are you impressed with the inaugural figure in the NECA Epic Marvel series? Would you like to see more entries in this series, and if so–who?