Earlier this month, my future wallet had a heart attack when it was announced at Tokyo Comic Con 2016 that Prime 1 Studio would be creating 1/4 Marvel statues, starting with Spider-Man 2099 and Anti-Venom. While I hoped to have a good long time to save up before the pre-order, it looks like that's just not to be. Not only have the glorious official photos been posted, but Prime 1 Studio has confirmed it–the Sideshow Exclusive Prime 1 Spider-Man 2099 Statue is now up for order!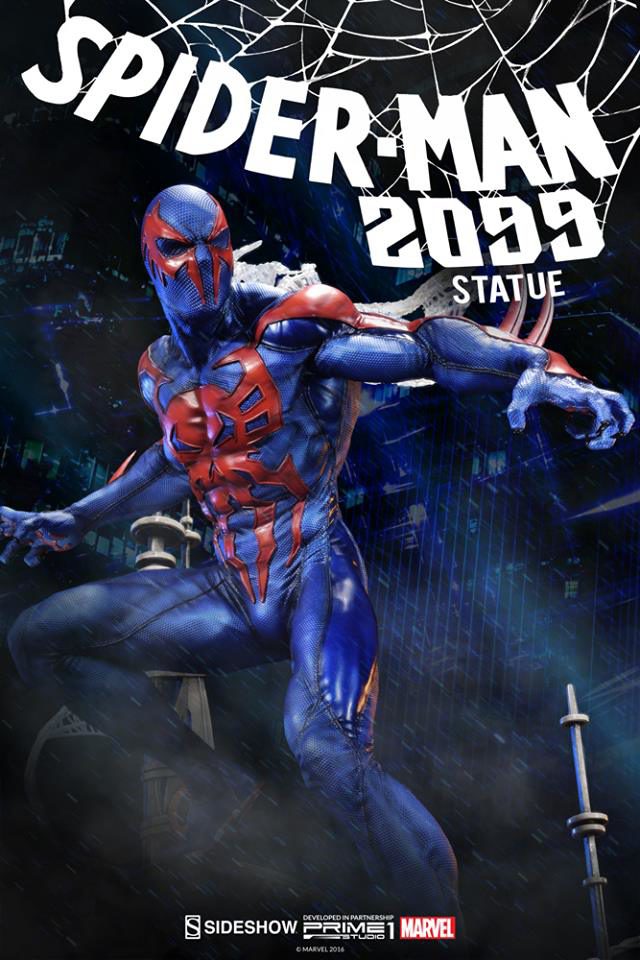 It's been a long time since I fell head over heels in love at first sight with a statue, but that's exactly what happened when my jaw dropped the first time I saw the Spider-Man 2099 Prime 1 Studio quarter scale statue earlier this month.
And today, not only did I get to find out the official specs and see hi-res photos of the next great love of my life–I'm also going to get to place my pre-order for the Exclusive Edition during what I expect to be a very short pre-order window of under a day!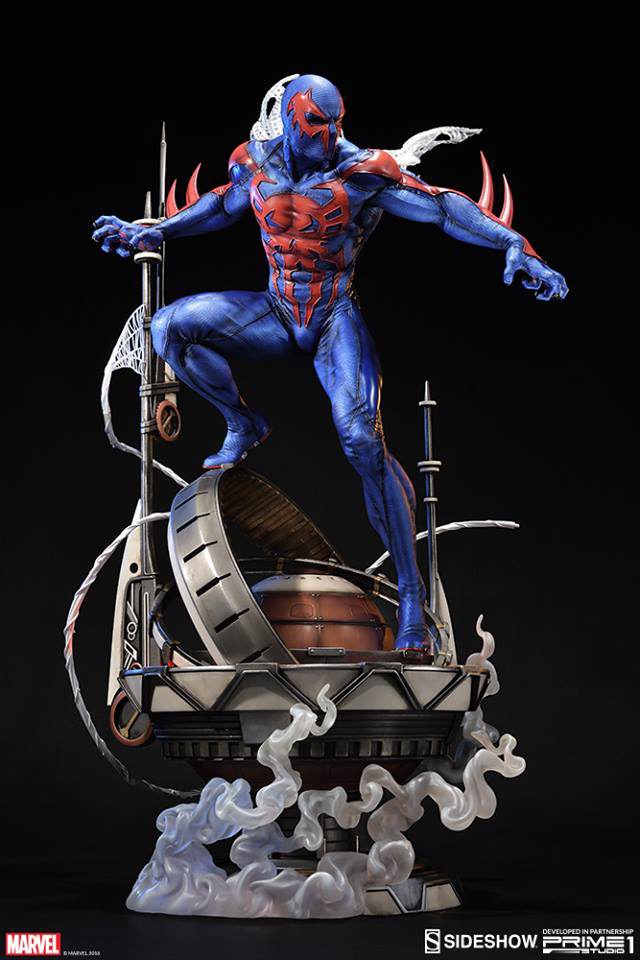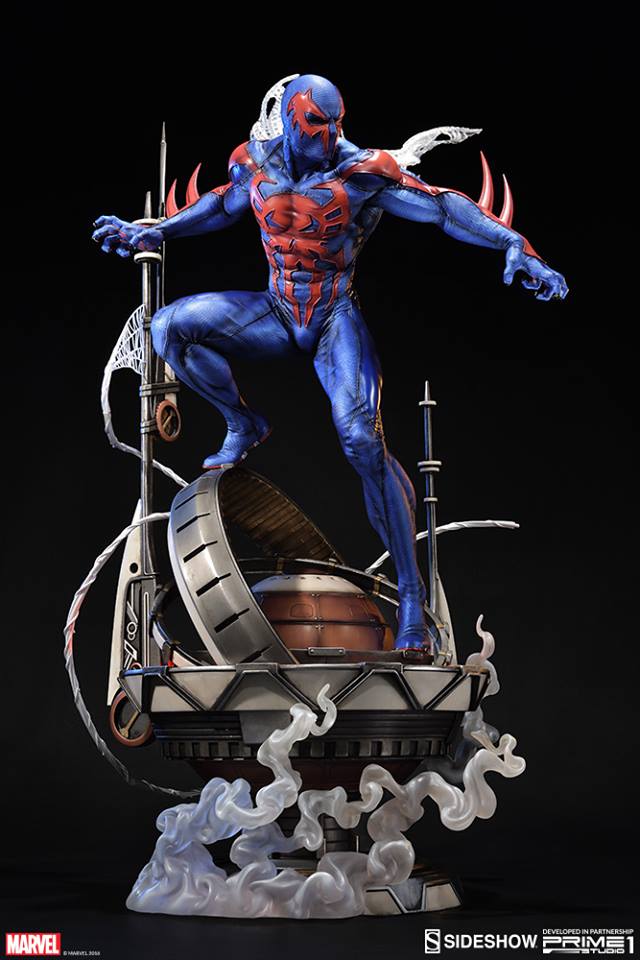 Both the first-ever 1/4 statue of Spider-Man 2099 and the first Prime 1 Studio Marvel Statue, P1 Spider-Man 2099 will be over 27″ tall and 17″ wide! This statue is a big boy–but it's also perhaps the most amazing Marvel statue I've ever seen in my life. I'll have no qualms whatsoever about clearing some space to display this gem.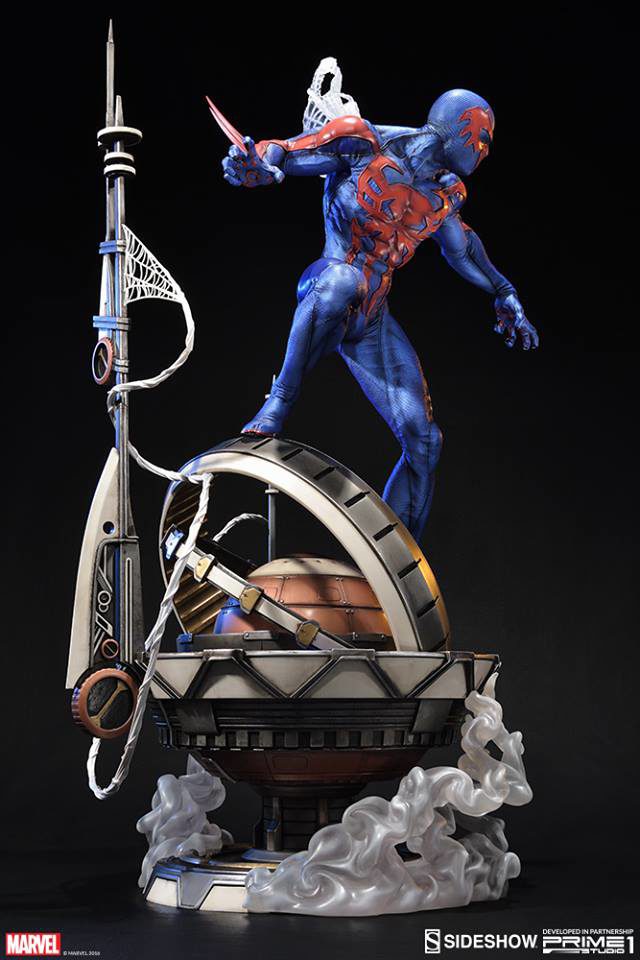 The one thing I was most worried about with this piece wasn't quality–P1 Studio has a proven track record as the best when it comes to statue quality–it was the price. And thankfully, this piece is actually priced slightly better than I expected it to be.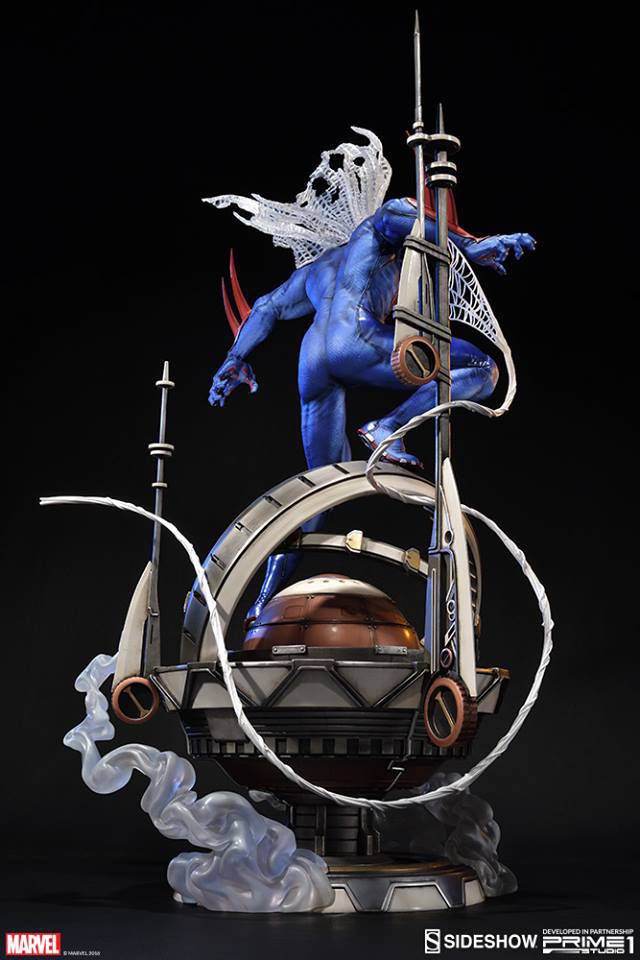 I said when this Spider-Man 2099 Prime-1 statue was announced that I'd be shocked if it was a penny less than $700. Well, I guess I am shocked, because it's been priced at exactly a penny under $700.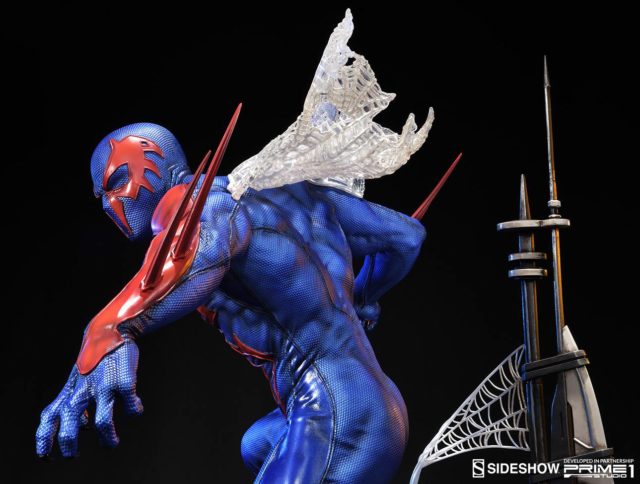 For a 1/4 Prime 1 Studio statue, $699.99 is a very fair price, and I'm genuinely surprised this statue isn't priced higher. Considering the $900+ Deathstroke exclusive statue sold out in under 12 hours last year, I think we could be looking at an even faster sellout for Miguel given the much lower price-point.
Ordinarily I don't care too much about bases and light-up features on my statues, but this beauty may be the exception. The futuristic base really adds to the sci-fi feel of this Spider-Man 2099 1/4 statue, and I love that the base will light up in four different rotating colors (including blue, green and red). This is just too cool.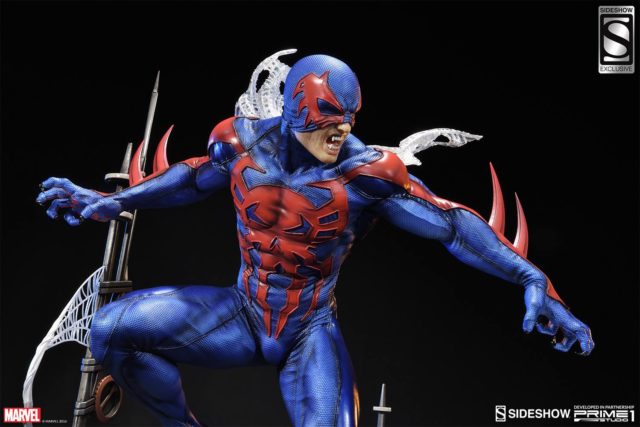 As has become the norm with high-end statues released these days, there's going to be a Prime 1 Spider-Man 2099 Exclusive Edition available only through Sideshow Collectibles in the United States–and it's a
good one!
The extra Spider-Man 2099 EX accessory turns out to be a whole other interchangeable head–a partially unmasked Miguel O' Hara portrait, revealing Miguel's lower face and sharp fangs! For many Spidey 2099 fans–including me–this exclusive alternate head is going to be a must.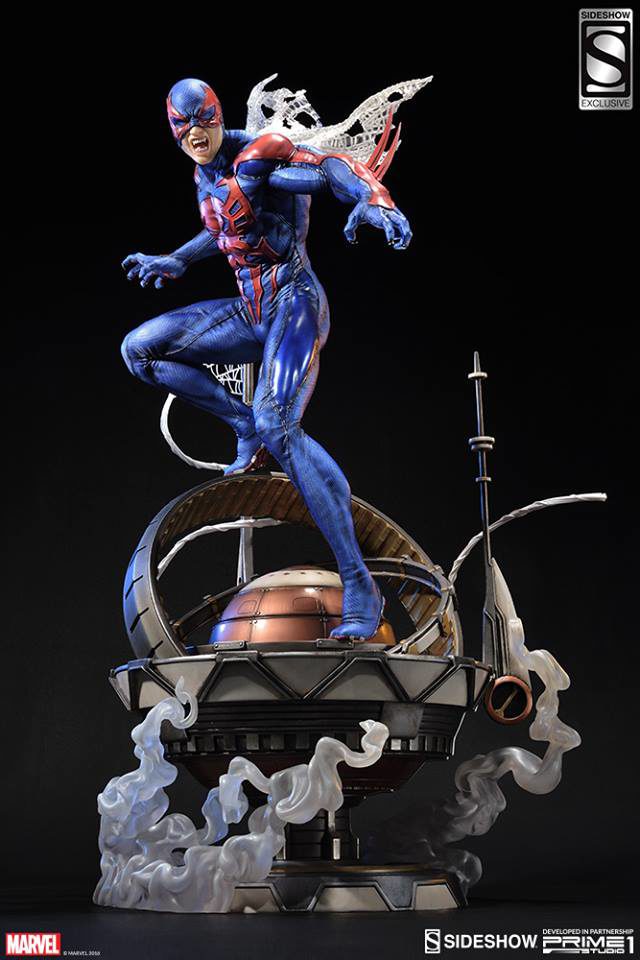 The Sideshow Exclusive Prime 1 Studio Spider-Man 2099 Statue is now up for order, and is expected to be released in late 2017. The Exclusive is limited to 750 pieces produced, but don't sleep on this–the Prime 1 Deathstroke EX last year sold out in under 12 hours and cost over $200 more than this statue! These will sell out quickly. (Thank God for payment plans so I can start paying this off now.)
Now that you've seen the specs, the price and the official photos, it's time to sound off, Marvel collectors! I am absolutely in for this statue, no questions asked–but are you? What do you like and dislike about this piece, and is it worth the big bucks to you?