For a long time now, the God of Thunder has had to stand idly by while his Avengers comrades like Captain America, Iron Man, and Spider-Man get all of the love in Good Smile Company Nendoroid super-deformed form. But no longer! The last member of the Avengers' "Big 3" is finally getting his own day in the sun, in his gladiator armor from his latest movie: the Nendoroid Thor Ragnarok Gladiator Thor figure is now up for order! And oh yeah, there's a Q-Fig too…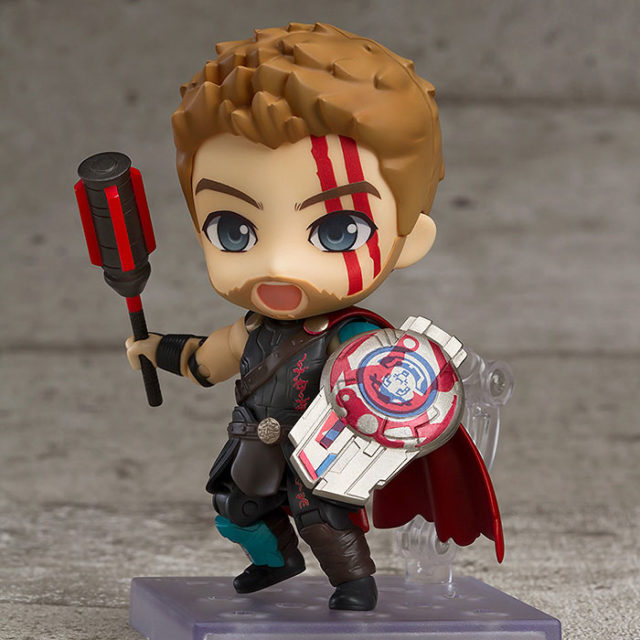 Just when you thought that every conceivable company had
surely
placed their Thor Ragnarok movie Gladiator Thor figures up for order by now, two more stragglers have joined the fight! Huzzah!!
First up, we've got a rare Marvel Nendoroid. Given that there are 800+ Nendoroid figures now, it's pretty crazy that we have less than 10 Marvel characters in the line. But finally, Thor has arrived to take his rightful place alongside Cap, Iron Man and Spider-Man!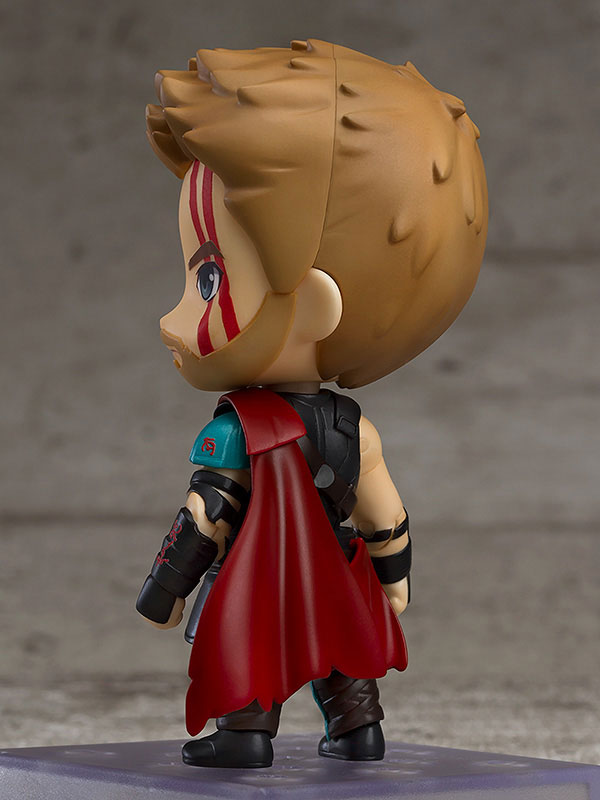 Good Smile Company opted for the Ragnarok Thor Gladiator look, which is probably a good move since it's the look from the most popular Thor movie by a landslide (and, of course, is the movie they got the license to do figures from).
I appreciate that Thor's cape has been designed as separate articulated pieces so that it doesn't get in the way of posing him.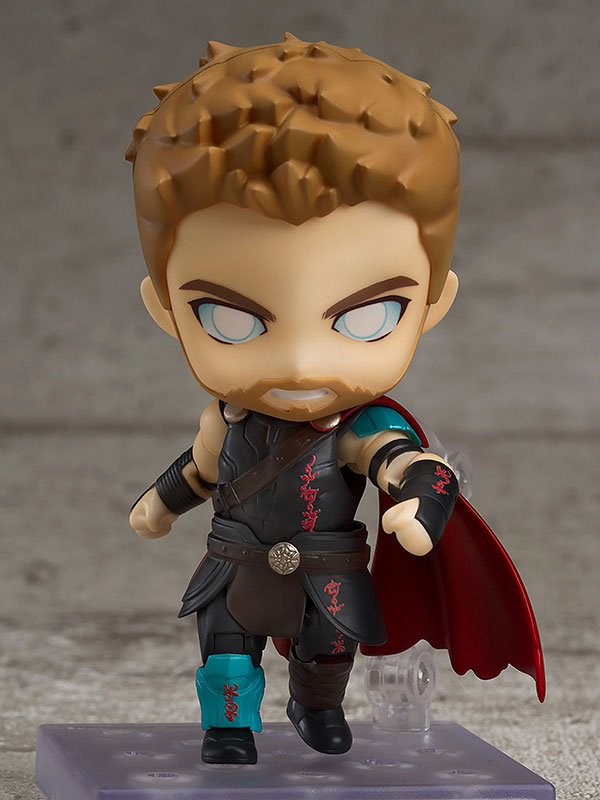 While it's not the iconic look for Thor, I really dig the short-haired look, and I'm impressed that GSC is giving us three heads: serious, yelling (adorably) and lightning-charged. All three expressions are cute and well-done.
And believe it or not, this Nendoroid Thor Ragnarok Figure comes with more weapons than most other Gladiator Thors on the market, as he comes with both swords, plus a club, plus his shield. Some lightning effects would have sealed the deal, but this is very strong accessories-wise regardless.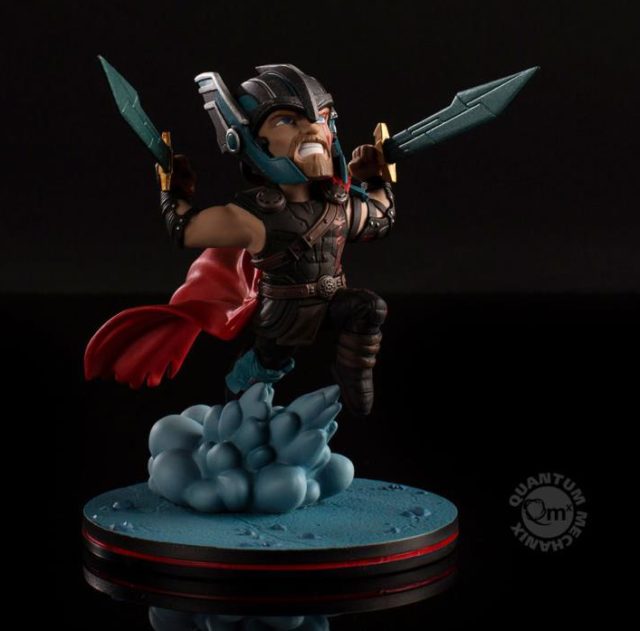 Meanwhile, QMX unveiled and opened pre-orders for their Gladiator Thor Q-Fig yesterday as well, which is scheduled to be released rather speedily–next month, in January 2018.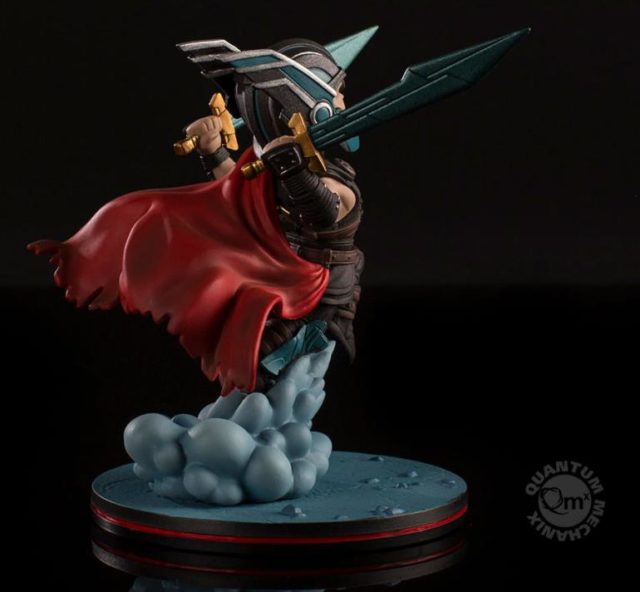 The Marvel Q-Figs line isn't bad for a series of unique-molded, $15 plastic statues—and the window box packaging is nice—but I just can't get excited about this series, no matter how much I try.
For what it is, I think this Q-Fig Thor is "fine", but it's not really to my taste. Thor's goody angry expression and the cloud of dust base just don't appeal to me, but I reckon some won't be as picky as me about a $15 figure.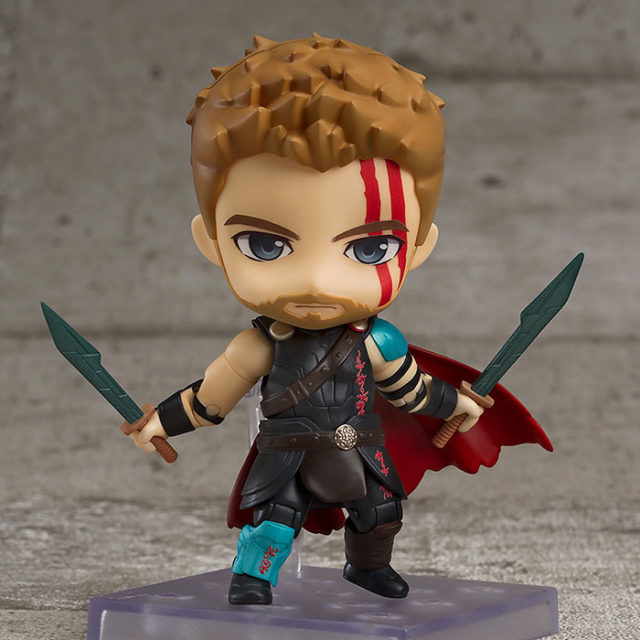 The Thor Ragnarok Nendoroid Gladiator Thor figure is now available for pre-order, and is scheduled to be released in August 2018. That's a shockingly long wait time for a super-deformed action figure like this, and I'm hoping that the Good Smile Company find a way to get this guy out a little bit quicker–hopefully with a simultaneous release for his bro, the God of Mischief.
I don't usually talk about Nendoroids here on Marvel Toy News, so I'm definitely curious: How many of you readers actively collect Marvel (or even non-Marvel) Nendoroids? Is this Gladiator Thor Nendoroid a keeper for you, and what characters (if any) would you like to see GSC tackle in this style? And hey, Q-Figs: Anybody?