Hot Toys has been unusually quiet the past few months, although I think that's more just them gearing up for a crazy taters number of Infinity Wars figures than a showing of mercy on our wallets. But after over a month without a single new Hot Toys Marvel sixth scale figure, the wait for the next pre-order is at an end! Joining the enormous Gladiator Hulk MMS that went up for sale in July, the Hot Toys Gladiator Thor is now up for order in regular and deluxe versions!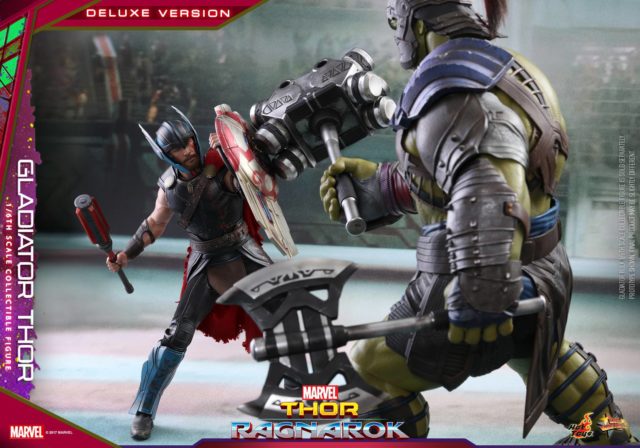 Okay, so today's newly-solicited figure isn't exactly a jaw-dropper. A Gladiator Thor Hot Toys figure was just about the biggest no-brainer imaginable for the new movie, especially considering that Hot Toys already showed off the prototype of this figure at SDCC 2017 and put Gladiator Hulk up for sale shortly thereafter.
But while he's not even close to being a "surprise", that doesn't mean the Gladiator Thor MMS isn't exquisite—because it definitely is!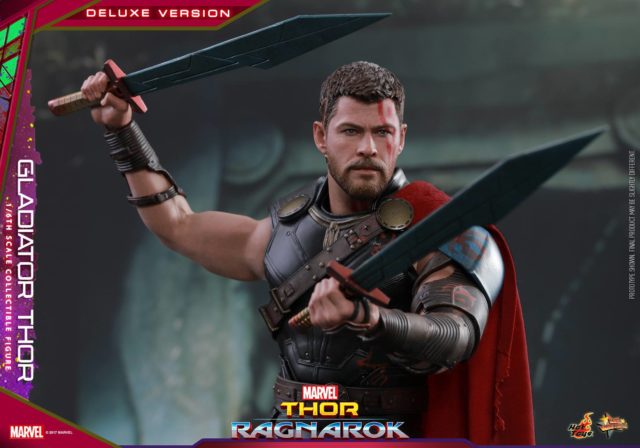 Although we've gotten plenty of 1/6 Thor figures over the years, they're all very similar design-wise (as they should be, since that's how it is in the MCU movies). But finally, we're getting something really different this time around with a truly distinctive Thor costume! He doesn't even come with Mjolnir this time out—now that is different!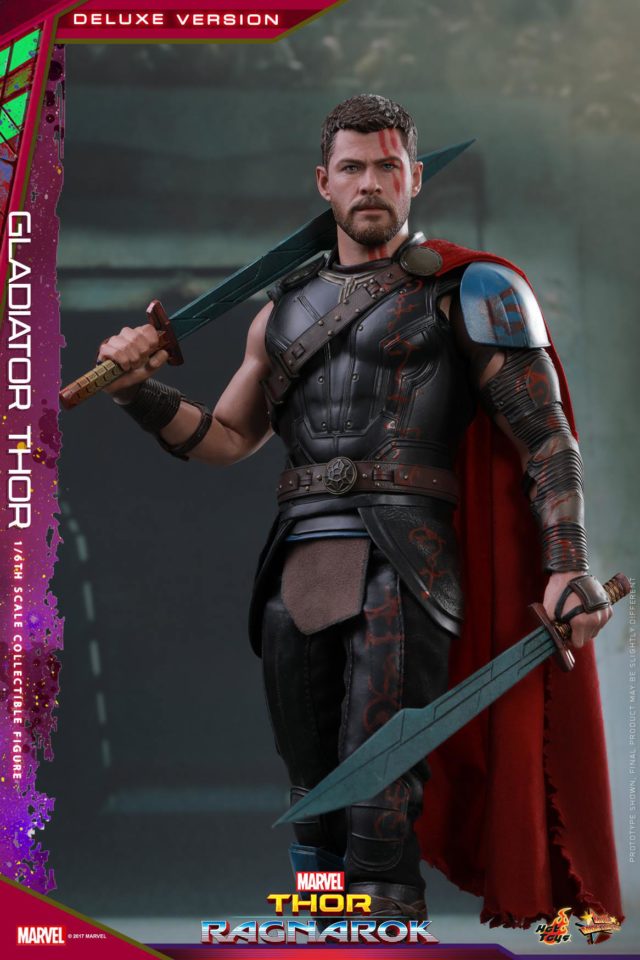 There's nothing about the soft goods clothing on this figure that especially stands out to me as outstanding—instead, all of it just looks really, really good. I love the way the bright red face markings and cape contrast with the rest of the figure's color scheme.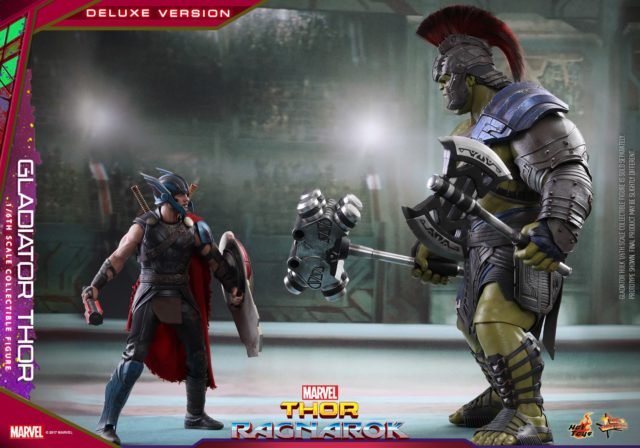 I'm also a big fan of the fact that, unlike in almost any other figure line, we have true scale between Hulk and Thor here–Hulk is absolutely massive compared to the God of Thunder, and is it amazing.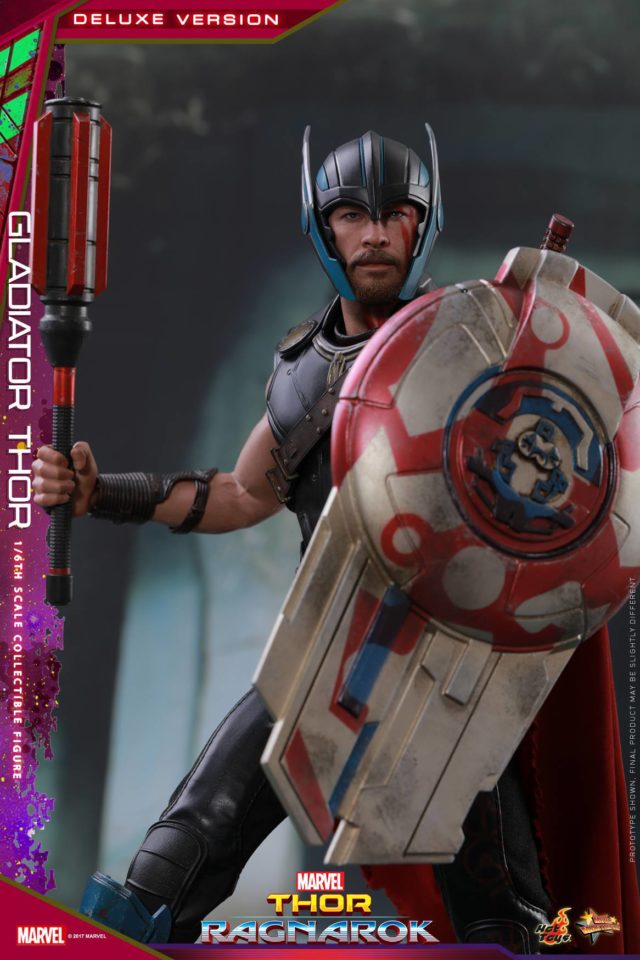 The multicolored shield and mace are also highlights of this figure. Most companies are opting for dual sword-wielding Thor only in his gladiator attire on their merch, but the shield and mace look outstanding together. I actually think they're going to be my default accessories for this figure and not the very cool blue swords.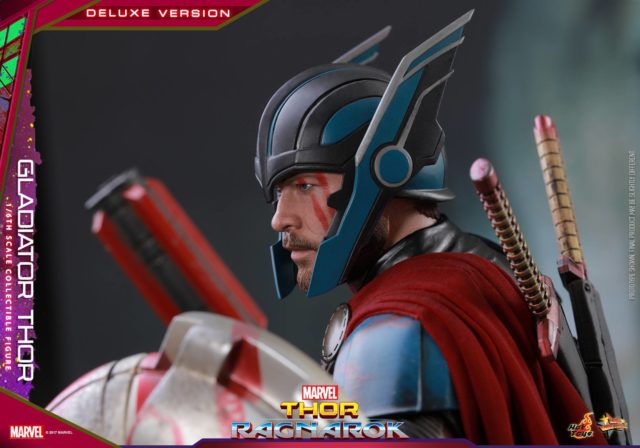 As is always the case with movie-based sixth scale figures, the actor likeness is absolutely crucial. Hot Toys has had plenty of practice doing Chris Hemsworth Thor portraits, so it's no shocker that they nail him again here. A more ferocious expression to match Hulk's might have been nice, but the neutral face is far from a deal breaker, and the face paint/tattoo keeps the heads looking fresh.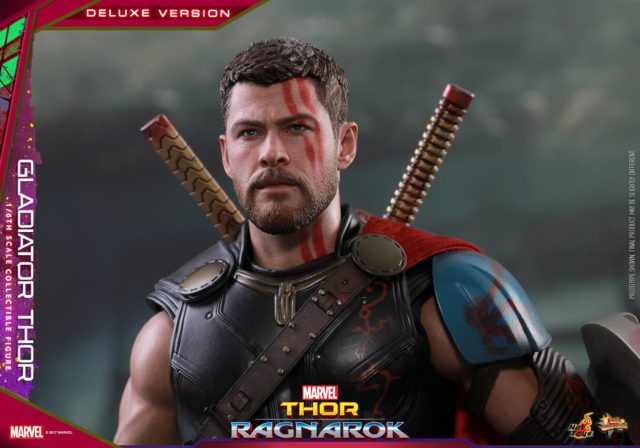 I was all set to complain about Hot Toys painting the hair on the Chris Hemsworth head way too dark—right up until I pulled up as many screenshots as possible to compare and determined that Hot Toys is more accurate than my own memory. Good work, guys.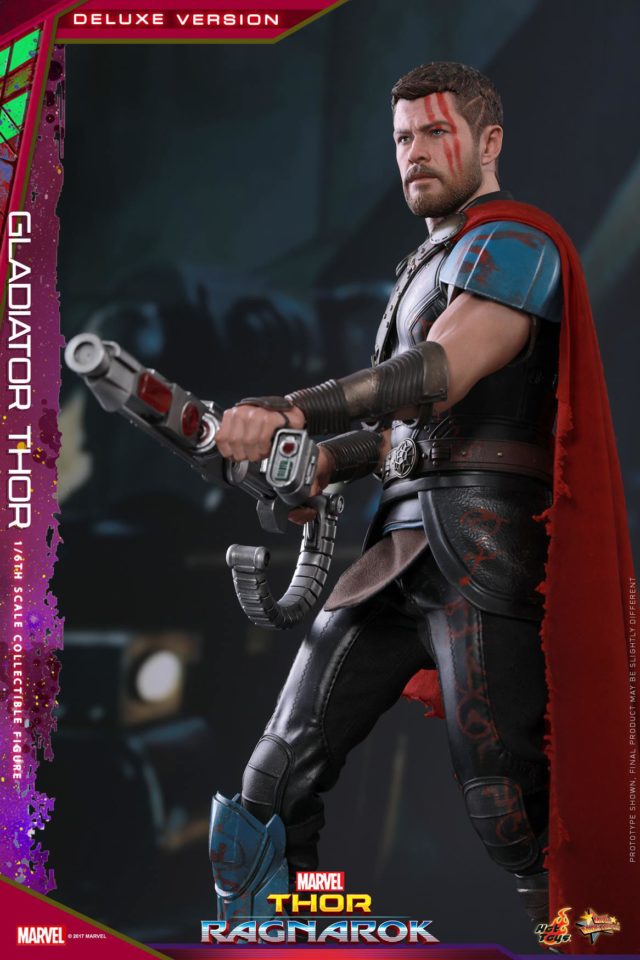 As is becoming the norm with these Marvel Movie Masterpiece Series figures, there are both regular (MMS 444) and deluxe editions of Gladiator Thor available. The deluxe version (MMS 445) comes with three extra accessories: a Sakaar Rifle and a pair of Einherjar swords.
This is an instance where I predict a lot of collectors going for the cheaper option—from the trailer, it's not clear whether the gun and these particular swords will be important/memorable at all in the film. I usually opt for deluxe, but I'm not sure which side my dollars will be on this time.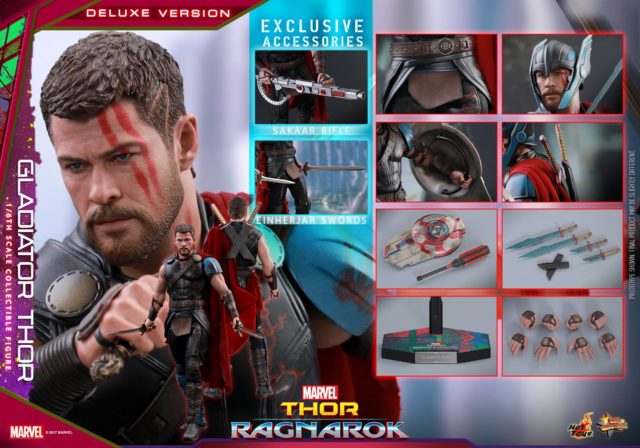 The MMS444/445 Hot Toys Thor Ragnarok Gladiator Thor figure is now available for order, and is scheduled to be released in June 2018. We know that HT had this near-finalized in July at SDCC, so I wouldn't mind at all if production went smoothly and we got this gladiator into our collections a bit early. Hope springs eternal!
What's your flavor of choice for the Gladiator Thor 12" figure, Marvel collectors: regular version, deluxe version, or none at all? Are you planning on scooping up a pre-order for this figure now, or are you waiting to see if Thor Ragnarok impresses you before making any buying decisions?