It's taken a few years for the Marvel statue collecting world to recover from Bowen Designs' exit from the market, but we definitely appear to be living in a golden age of Marvel statues once again, with more statues from more companies coming out than ever before. And the latest 1/6 statue from Kotobukiya brings us a fan-favorite vigilante who's more popular than ever thanks to Netflix—the Kotobukiya Punisher Fine Arts statue is now up for order! But this Fine Arts statues has a feature previous releases have not: a price-point of over $300…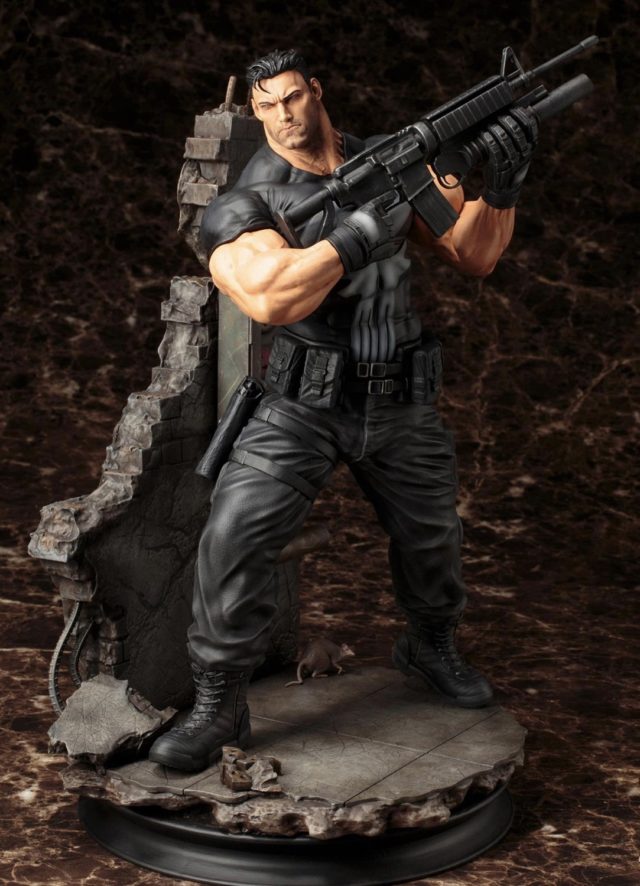 The Punisher is no stranger to high-end statues. Randy Bowen released numerous Punisher statues over the years, and even Sideshow Collectibles has tackled Frank Castle in 1/4 Premium Format Figure form on multiple occasions.
But one company that's never released a comics-based Punisher Statue before is Kotobukiya—a fact that they're rectifying next year with their just-solicited newest 1:6 Marvel Fine Arts Statue!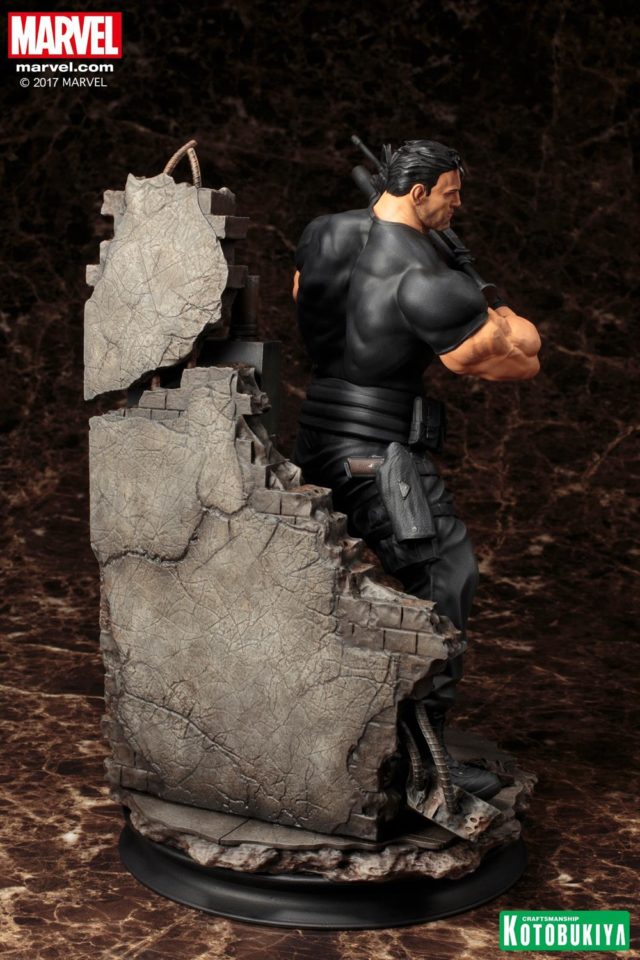 For this statue, Koto has gone back to one of their frequent sculptors whose Marvel work goes back to the Bowen Designs days: Erick Sosa. Sosa is one of my absolute favorite sculptors in this business, and you can see his distinctive style in this Fine Arts Punisher resin statue at a glance.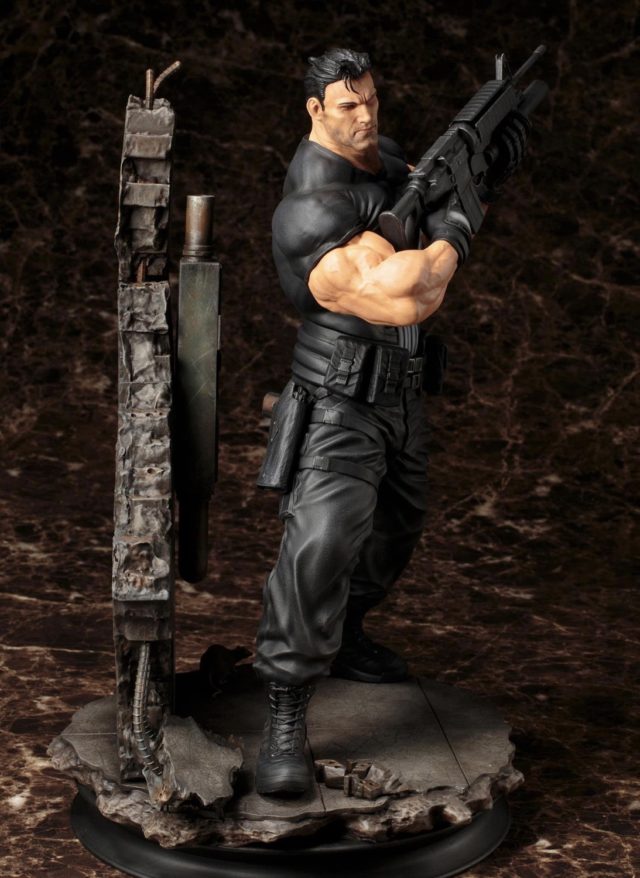 The statue has a couple features we don't see very commonly from Kotobukiya: an interchangeable head and weapons. The heads include an Ariel Olivetti-style portrait and also one with more classic hair. I appreciate the options, as the Olivetti hairdo isn't for me.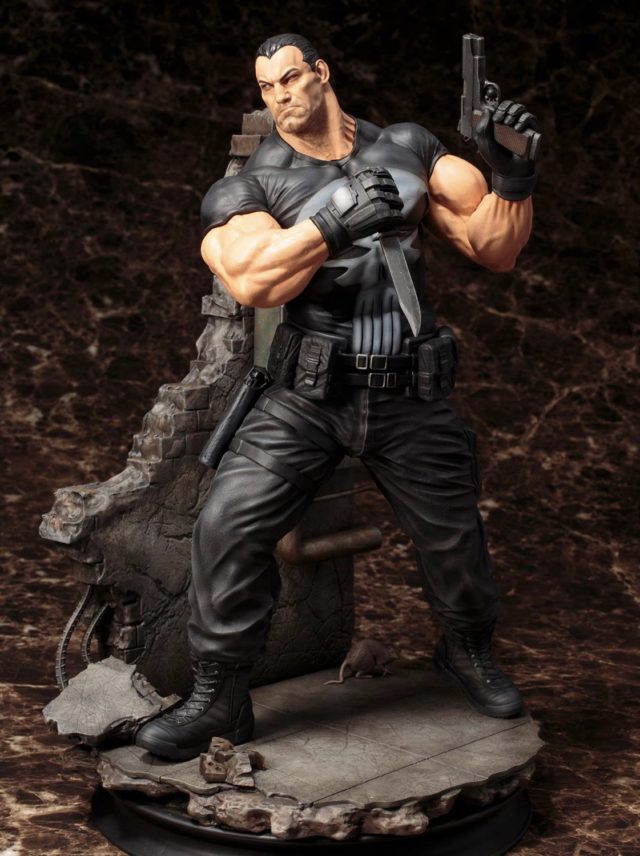 On the weapons front, you can arm your Frank Castle with a machine gun for mass destruction, or choose to let him go a bit more up-close with a pistol and knife. Weapons choices like these are a great bonus and a nice way of refreshing your display, so I'm excited to see them here.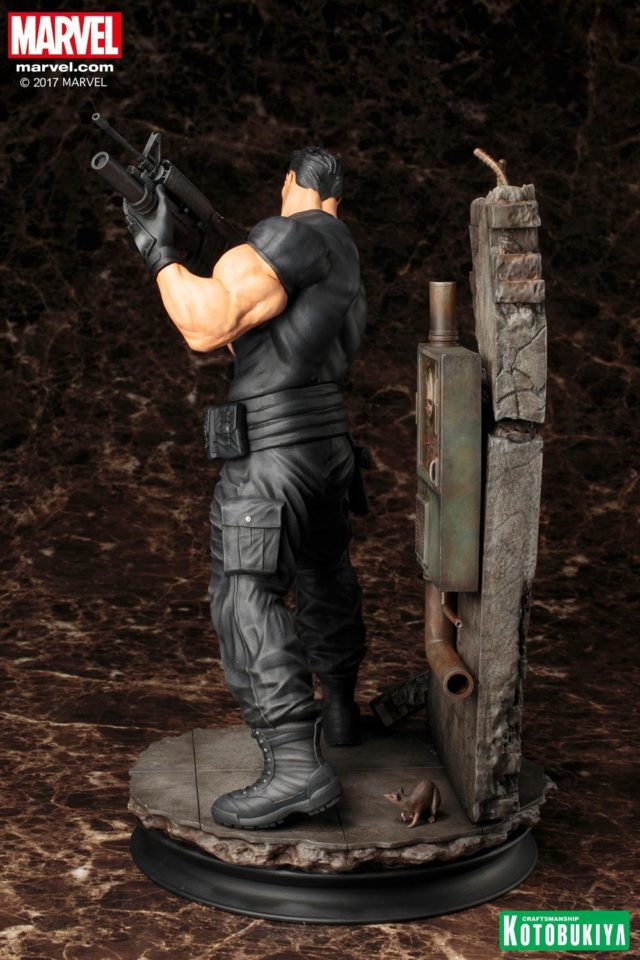 As far as flaws in the statue itself go, I'm pretty content with everything Kotobukiya has done here, with one exception: a few of the proportions. Both Punisher heads look undersized to me, and it's definitely throwing me. The fact that Frank's biceps are as big as his head(s) doesn't help matters either.
I look forward to seeing this in person at NYCC 2017 next week to get a clearer idea of how the proportions look from various angles up-close.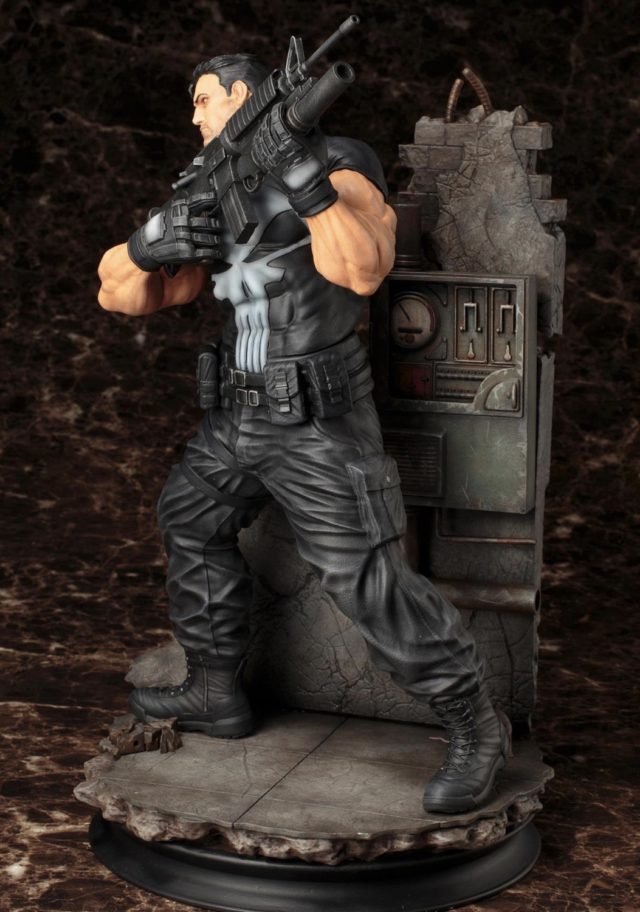 Now, there is a rather large bullet-ridden elephant in the room regarding this Punisher high-end statue, and that's the price-point. Up until now, Koto has always kept their Marvel 1/6 statue prices under 300 bucks (even if only by a penny).
That barrier has been broken with this release, though: the Koto Punisher will retail for $319.99. Even taking into account pre-order discounts from online retailers, that's quite a price for a sixth scale statue—especially considering that Diamond Select Toys is now regularly releasing Marvel Premier Collection resin statues in the same scale for 150 bucks. I foresee sales on this Punisher potentially being seriously hurt by the price-point.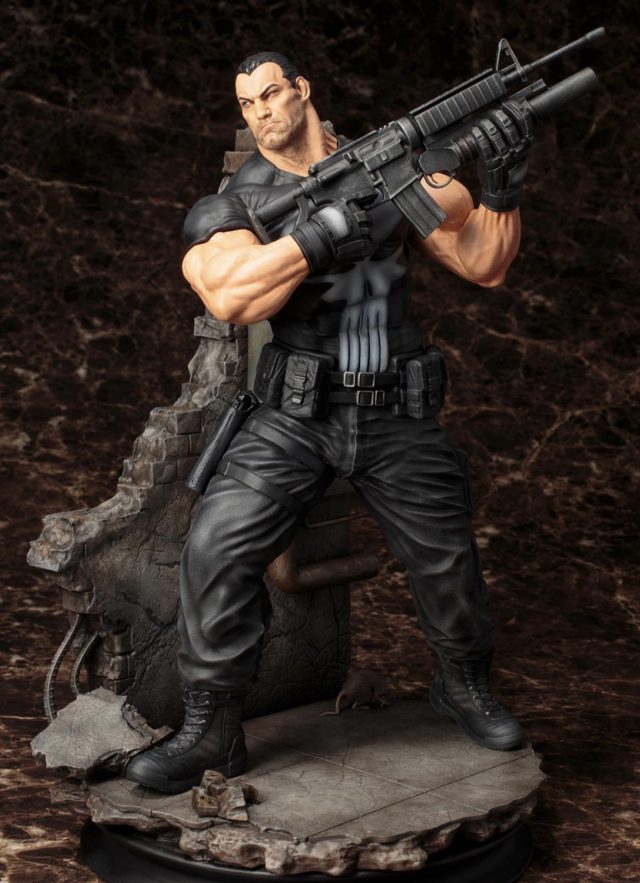 The Punisher Kotobukiya Fine Arts Statue is now up for order, and is scheduled to be released in June 2018. I'll be very interested to see how this piece performs at the comparatively high price-point for a 1:6 statue, and what the final edition size ends up being. I'm betting the LE on this may be lower than Koto anticipated.
What do you think of the newest high-end Punisher Statue, Marvel collectors? For those who own Bowen Punishers in this scale, how do you think Koto's compares? And what are your thoughts on Kotobukiya breaking the $300+ barrier for the first time for a Marvel 1/6 Statue?