One of the biggest surprises for me at Star Wars Celebration Orlando this April was that Gentle Giant Ltd. actually brought a handful of never-before-seen Marvel statue prototypes to show off at their booth at the event, including Punisher and Star-Lord statues and a new Skottie Young Thor Marvel Babies statue. I've been mightily looking forward to the pre-order for at least one of those pieces ever since, and the time has come: the Marvel Collector's Gallery Punisher and Animated Thor statues are now up for order!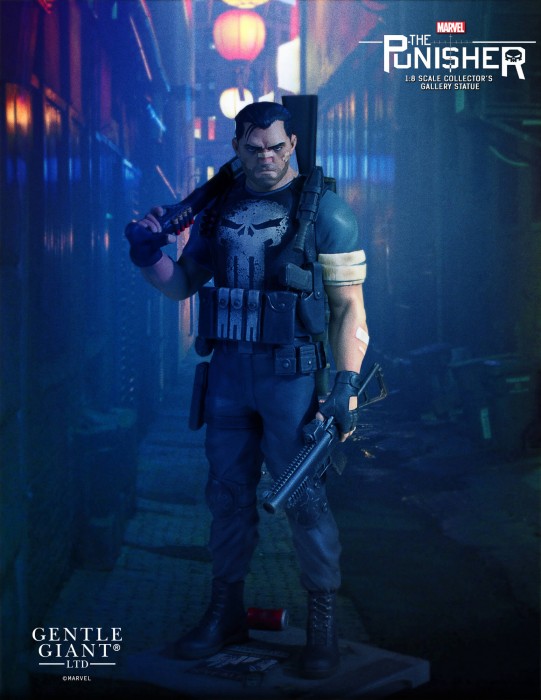 Gentle Giant has reemerged as a major force in the world of Marvel statues over the past year, with their Collector's Gallery and especially their Animated/Skottie Young Marvel Babies lines really starting to take off and catch fire with fans.
So I was very pleased to see Gentle Giant keep the momentum going with a trio of new additions to the lines at Celebration Orlando 2017 in the spring. Let's take a look…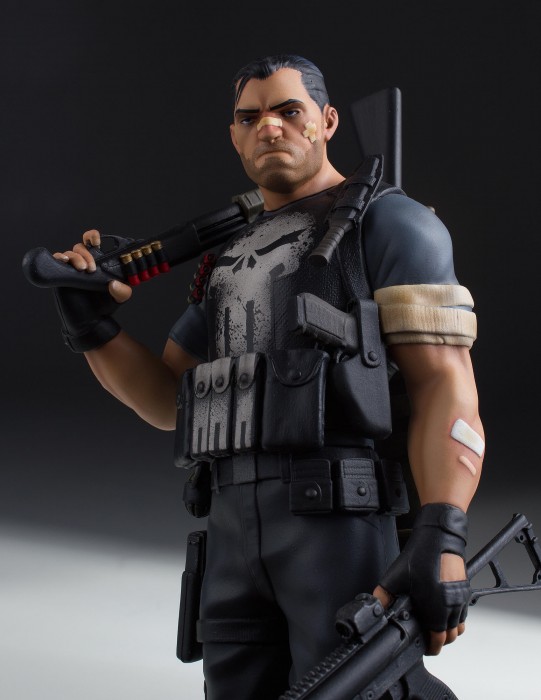 First up, we've got the Gentle Giant Punisher Collector's Gallery statue. Gentle Giant brought a much larger version of this piece along with them on the convention circuit last year that really wowed fans, so actually releasing this Punisher was a no-brainer for GG.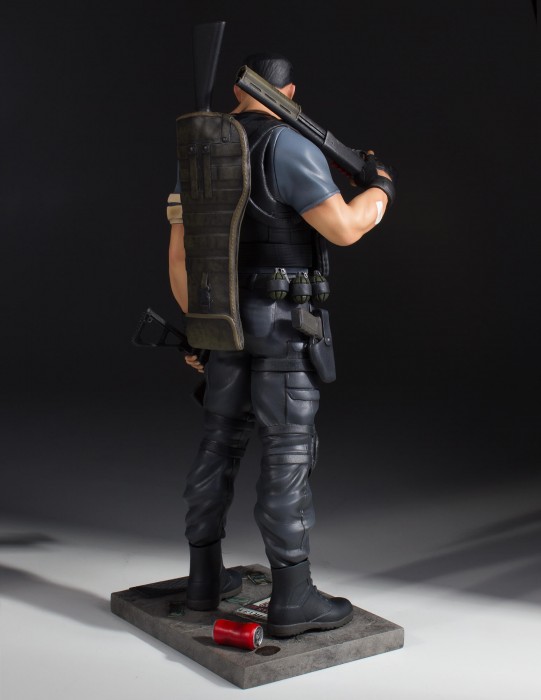 While collectors were screaming out for this Punisher statue to be released in a larger size (1/4), Gentle Giant doesn't look like they'll be releasing any statues that big again any time soon. And so, using a demanded sculpture of a hot character fans have been asking for to help build a following for the 1/8 Collector's Gallery line seems like a smart move.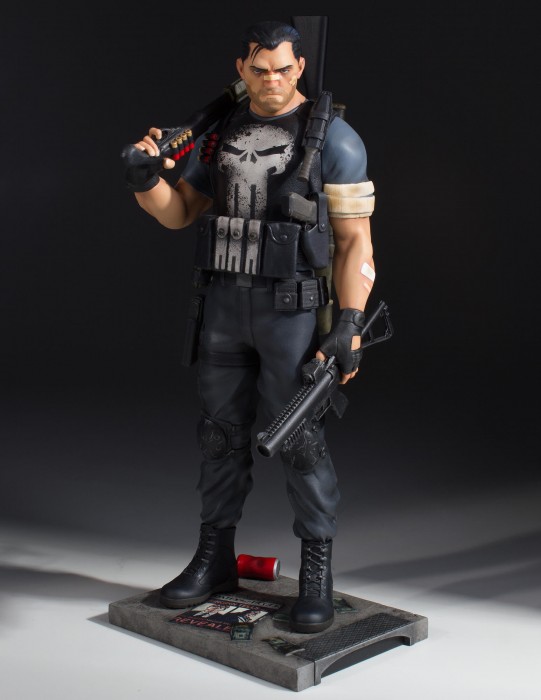 I'm not a huge Punisher guy (sorry), so I'm not as enthusiastic about this 10″ Punisher statue as some folks I've talked to, but I do think it looks like a nice representation of the modern version of the character overall.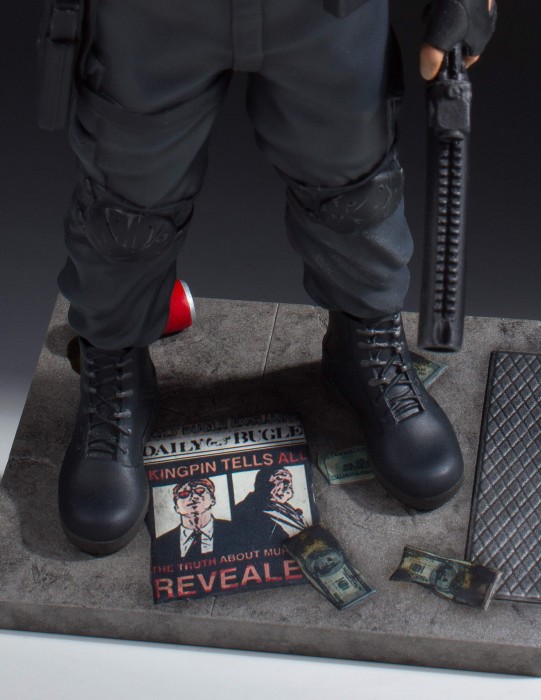 I dig the beaten-up, bandaged face and the fact that this is a battle-worn man packing guns on a simple concrete terrain base. It's gritty and not flashy–just like the Punisher should be.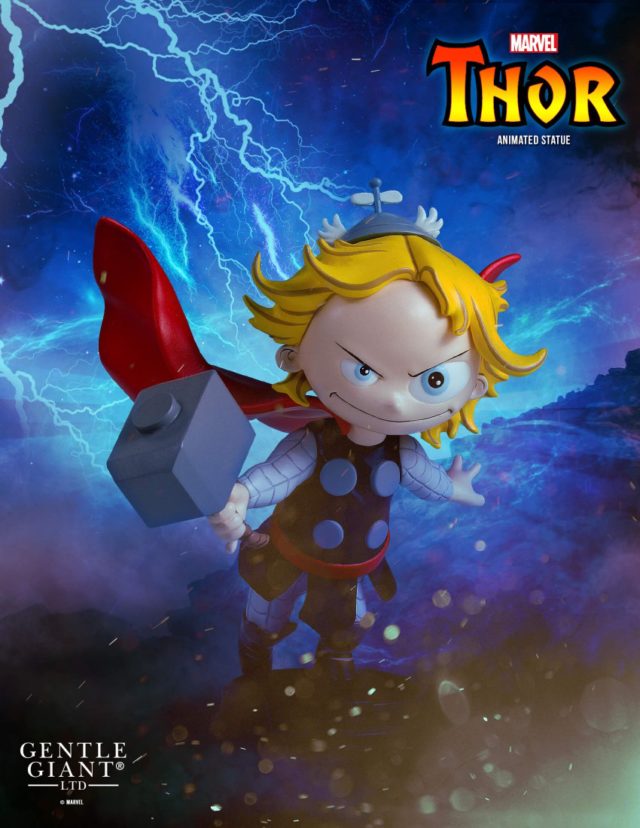 What I have plenty of enthusiasm for, however, is the Gentle Giant Thor Marvel Animated statue!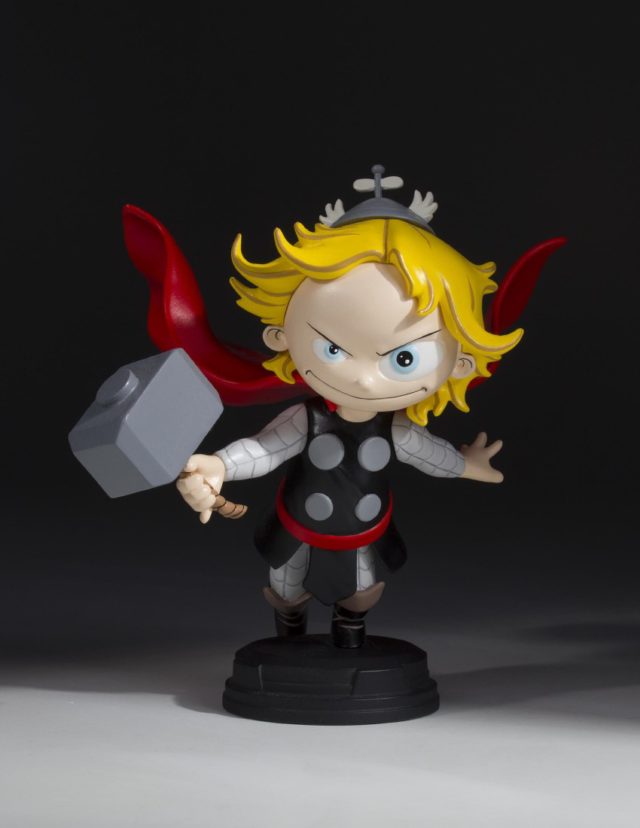 I was definitely bummed to see a pause in the releases after Animated Magneto went up for sale a few months back, but it looks like Gentle Giant just needed a moment to reload and get their next winning entry in this line ready to go.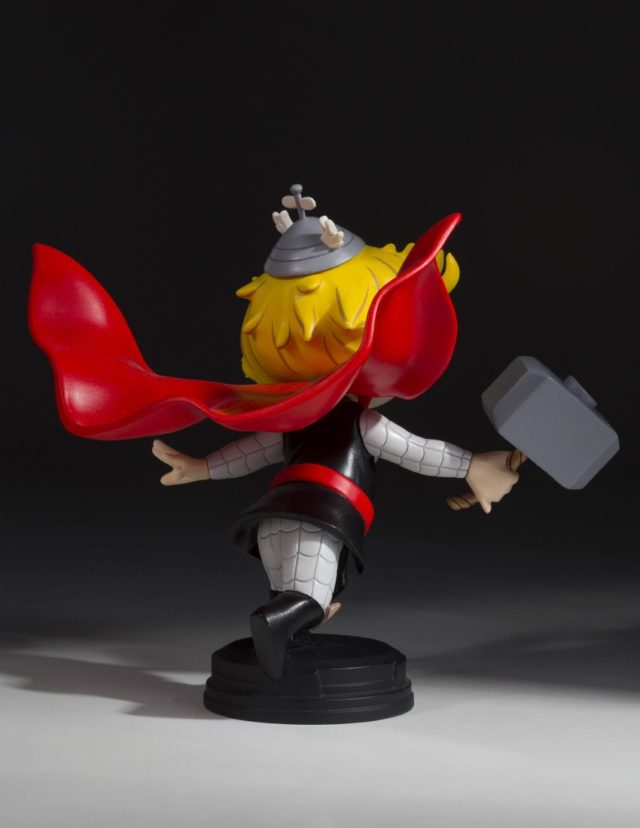 I talked about this Marvel Animated Thor statue at length when I saw it revealed at Star Wars Celebration, and my feelings for the statue are the same now as they were then: outstanding piece, full of life and energy.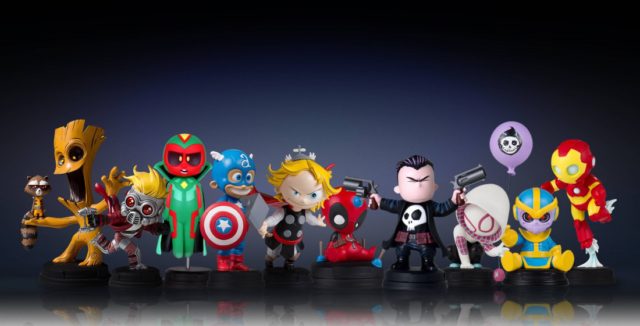 The Gentle Giant Animated Thor statue has a ton of charm and personality, and is a worthwhile final addition to the Avengers "Big Three" in Skottie Young form. With Captain America, Vision, Iron Man and now Thor covered in Animated figure form, I wonder which classic Avenger Gentle Giant will hit up next? Hawkeye, Black Widow, Hulk… or someone else totally unexpected?
I do wish that this line was slightly cheaper–$65 is a bit harsh for a 4.75″ sculpture–but I've been so impressed with the design and quality of this series that I really can't complain all that much (plus I've been pre-ordering each entry to get a discount).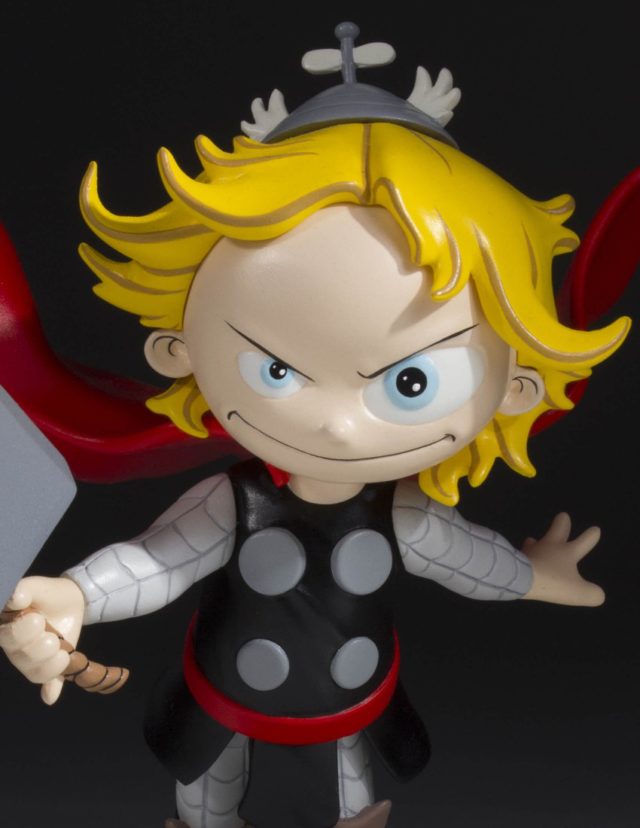 The Marvel Collector's Gallery Punisher and Thor Animated statues are now up for order, and both are scheduled to be released in Q4 2017. The Animated Punisher released this spring has already sold out from most retailers, so you may want to snag a reservation if you're interested in one of these guys and don't want to risk missing out.
Collectors seemed psyched for both these pieces when they debuted SWCO in April, but now it's time to put your money where your mouth is: Who's still impressed with either (or both!) of these pieces, and are you planning on making a purchase now that they've been solicited?