In my eyes, Marvel Studios can just about do no wrong. But if they could do wrong, that wrong would likely be called "Thor The Dark World". While I didn't think that "Thor The Dark World" was bad, per se, it was definitely the lowest-quality Marvel Studios movie released thus far. Even so, there are three things I love about "Thor The Dark World" (in this order): Natalie Portman, Loki, and Thor's new costume. Though I would have preferred the other two, Sideshow has crafted a killer new statue for one of these aspects: the Sideshow Exclusive Thor The Dark World Premium Format Figure is now up for order!
It's hard to believe after the deluge of Marvel statues that Sideshow Collectibles put up for pre-order earlier this summer, but it's actually been a couple weeks since Sideshow posted a new Marvel Premium Format Figure statue for order!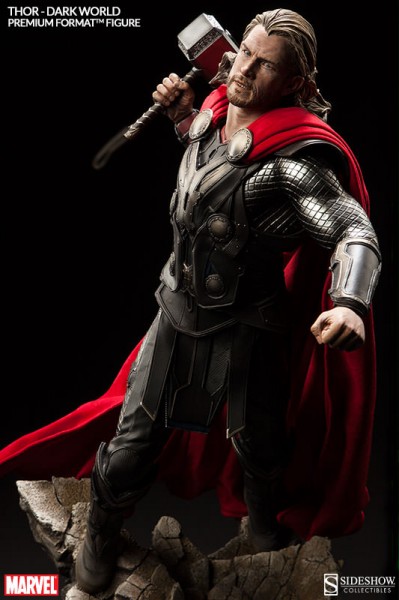 Recess is over, though, and Sideshow is ready to claim Marvel collectors' future dollars once again. This time, Sideshow is backtracking and giving us a statue based off of last year's not-quite-blockbuster, "Thor: The Dark World". I didn't hate "Thor The Dark World", but I also didn't love it. It was just sort of there (and just sort of lackluster).
Thankfully, much of the merch for the Thor 2 movie has turned out to be far better than the movie itself was! Hasbro's 4″ Thor The Dark World action figures were a real surprise with how well they turned out, and the three Hot Toys Thor The Dark World figures are all true masterpieces. Now it's Sideshow's turn, and I really am impressed with what they've cooked up for us!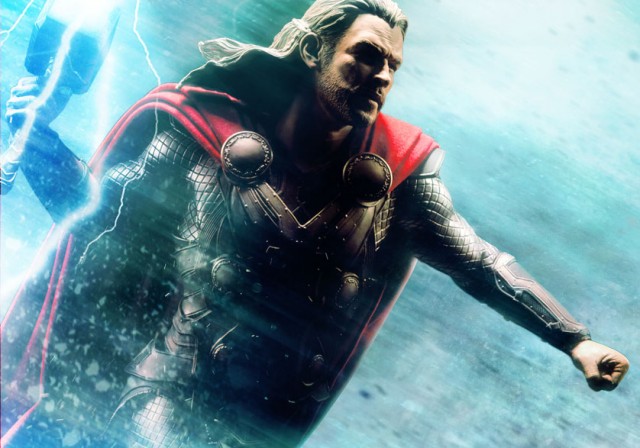 Nine times out of ten, I prefer my statues to be comic-based instead of movie-based. Luckily, this Thor 2 movie statue is that tenth time. I tried desperately to love the comic-based Premium Format Thor statue Sideshow put up for order a few months ago, but that statue ultimately looks like a big disappointment to me. The Dark World Thor Premium Format Figure, however, shatters my expectations.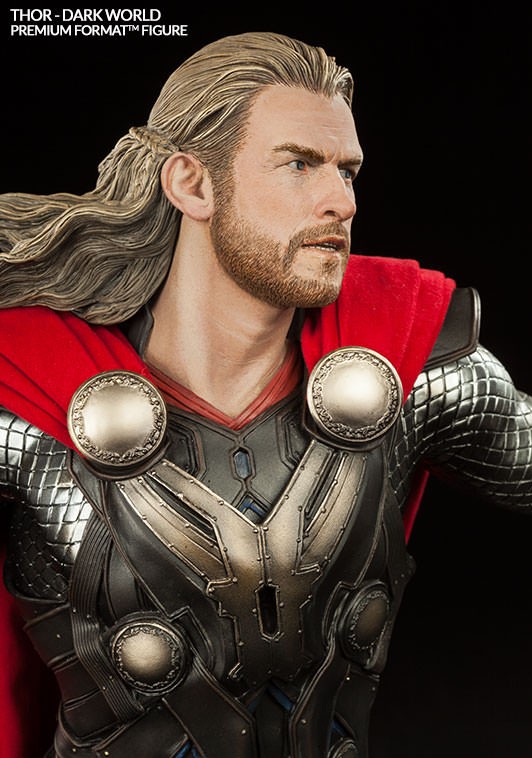 It's always tough to judge the quality of a Sideshow head sculpt based off of the prototype photos, but if the Chris Hemsworth portrait comes out looking as good as it does in the preview images, I will be a very happy Thor-buyer. I'm not convinced that this head is quite as well-done as the Hot Toys Thor The Dark World figures', but I think Sideshow did an excellent job capturing Chris Hemsworth nonetheless.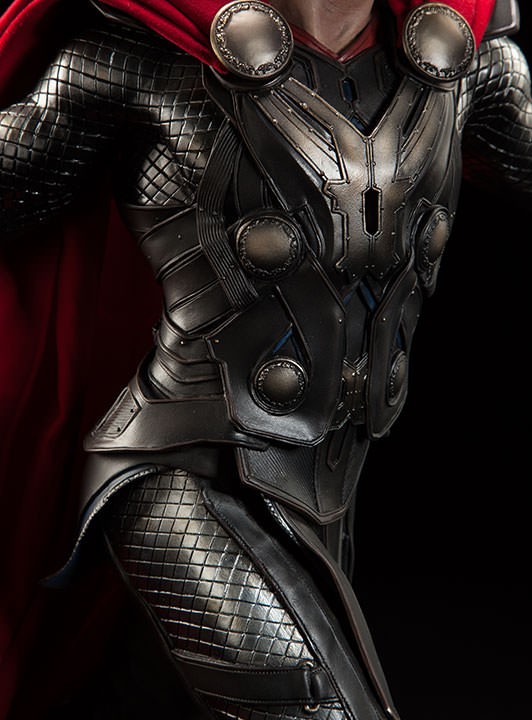 As much as I like Thor's head sculpt, however, it's actually the weakest part of this quarter-scale Thor Dark World Sideshow Premium Format statue. The work that Sideshow did on the chest armor of Thor's costume is outstanding and looks to be a perfect fit on the Odinson.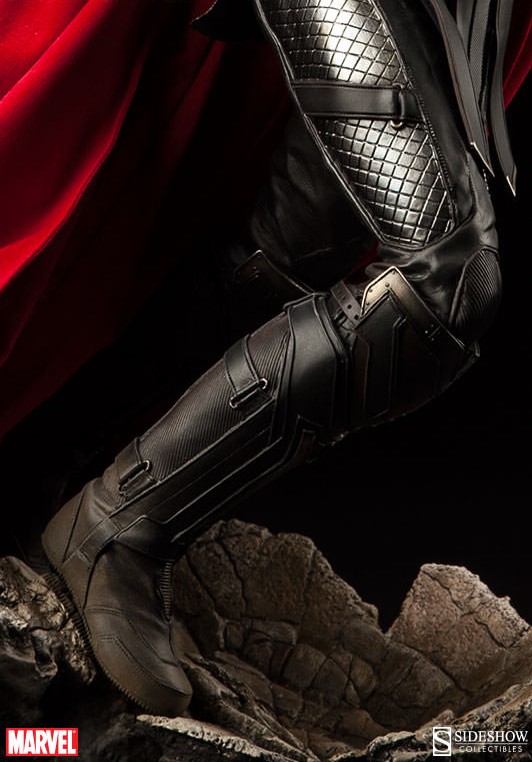 And oh man, Thor's boots! The texture on the side of Thor's boots and the solves look incredible. As ridiculous as it sounds, this Thor Dark World Premium Format Figure may end up having my favorite boots ever on a statue!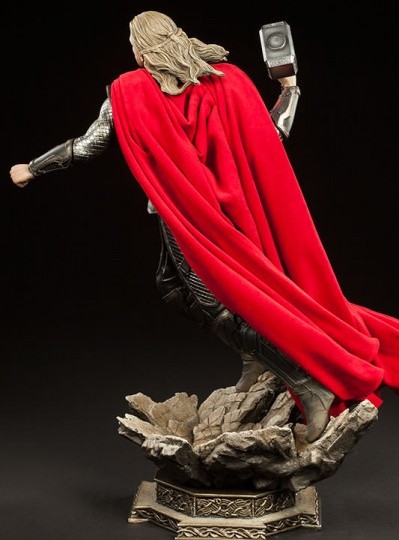 Sideshow chose to go the "soft goods with wires" route for Thor's cape, and that was obviously the right decision to make. Hard, sculpted capes tend to be far too easy to break, and also usually end up looking unnatural on a realistic, movie-style statue like this movie Thor Premium Format Figure. Visually superior and nigh-unbreakable, the soft cape was definitely the way to go for this Thor.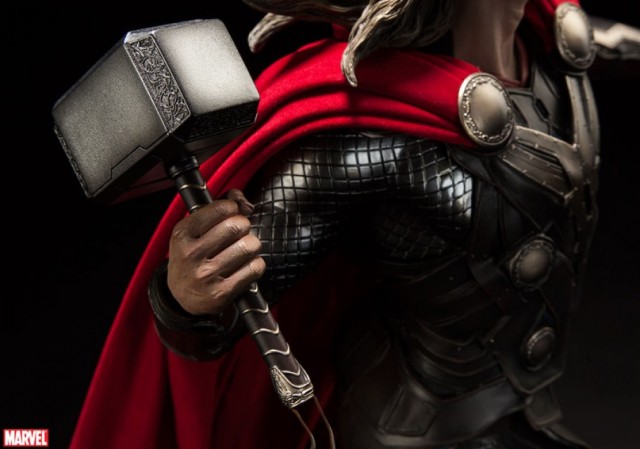 The detailing on the shaft of Thor's hammer and the head of Mjolnir itself are also stupendous. I love the intricate work Sideshow put into what's a crucial part of Thor's character.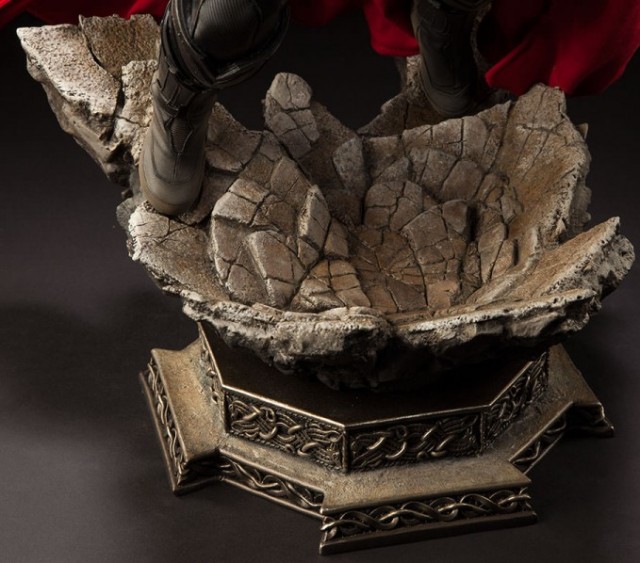 Even the base for the Premium Format Figure Dark World Thor looks great. I'm not the biggest fan of having a destroyed earthen base atop a pedestal design-wise, but the colors flow well enough that the base ends up looking very cool.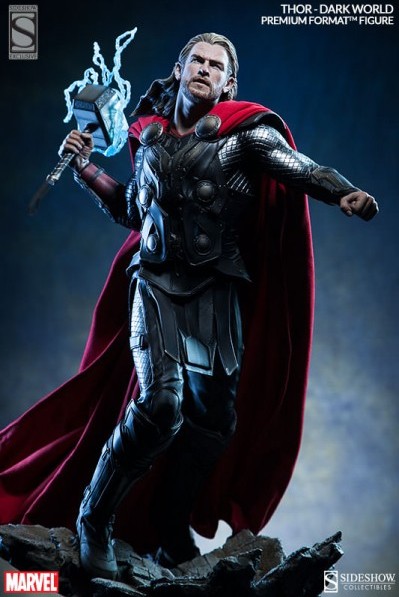 Like all the best Sideshow Collectibles Premium Format Figures, they're a Sideshow Exclusive Thor Dark World Premium Format Figure edition available exclusively though the Sideshow website. As soon as I saw the Premium Format Thor The Dark World EX accessory, I knew I wanted it. I'm a total sucker for effects pieces, and I think the lightning tendrils emanating from Mjolnir look like a lot of fun.
I was surprised to hear many people griping about the lightning-charged Mjolnir EX accessory for this piece, so it's definitely an addition that has divided fandom slightly, but I personally love it. Your Marvel mileage may vary.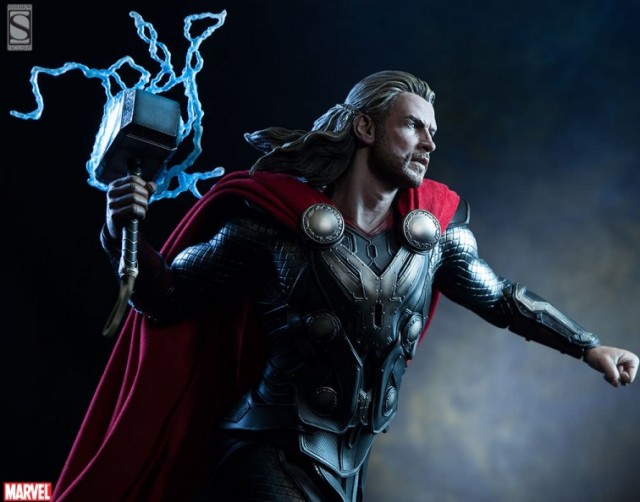 The Sideshow Exclusive Thor The Dark World Premium Format Figure statue is now up for pre-order. Like all Sideshow Premium Format Figures that have an exclusive edition, I'd recommend placing an early order if you know you want the exclusive item–Sideshow Exclusive Marvel Premium Format Figures almost never lose value and sell out far, far earlier than their mass-release counterparts.
What do you think of the Sideshow Collectibles Premium Format Thor The Dark World statue, Marvel collectors? Are you glad to see Thor finally getting his due for his second solo movie appearance, or would you have preferred if Sideshow had skipped over "Thor The Dark World" entirely?