While the Incredible Hulk is one of the most popular and in-demand characters in the Marvel Universe, not every collector has an extra two grand lying around with which to purchase the original Sideshow Hulk Premium Format Figure statue off the aftermarket. Sideshow Collectibles finally seems to have realized that fact, and is preparing to give Hulk aficionados another crack at a Green Hulk Premium Format Figure this year, as the Sideshow Exclusive Premium Format Hulk statue is available for order as of this afternoon!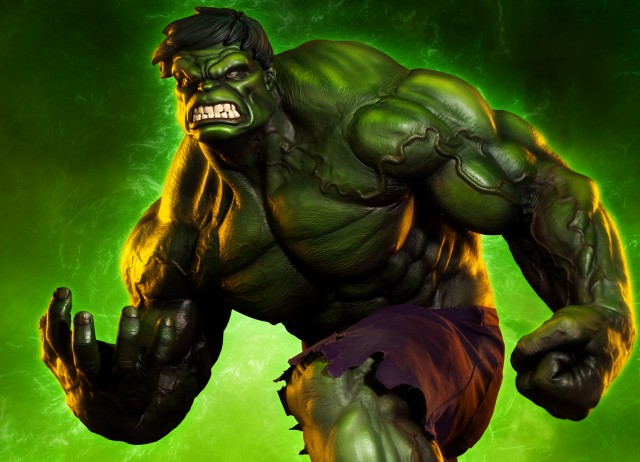 As a character, I like Hulk quite a bit. I don't
love
Hulk, but I really do like Hulk. It's important to make that distinction, as it explains why I don't own
the original Sideshow Hulk Premium Format Figure, which sells for $1200-$1600 on the aftermarket
. See, while I do respect Hulk as an icon of the Marvel Universe and like him a lot, he's not a character that I would
ever
drop between one and two grand for.
So when Sideshow Collectibles announced the development of a trio of new Premium Format Figure Hulk statues, I was pretty excited about having a chance to own a Sideshow Green Hulk statue for a fraction of the cost of the original LE 1000 Hulk Quarter-Scale statue.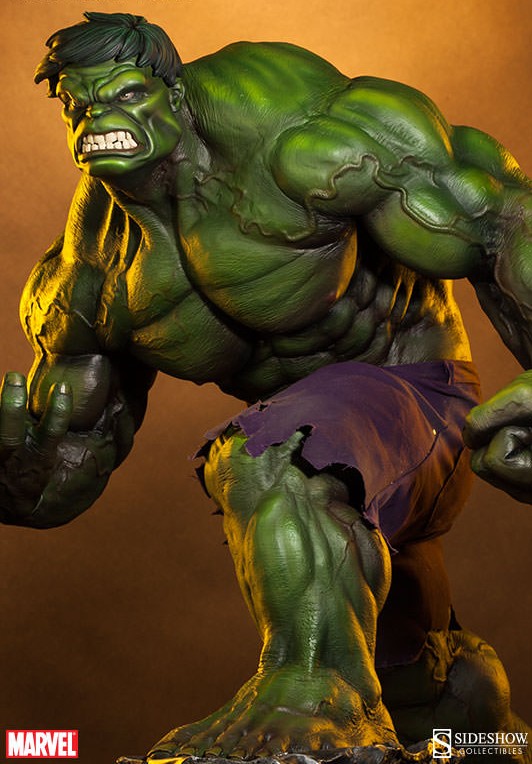 Now that I've seen the official photos of the Sideshow Green Hulk, I'm of two minds about it. On the one hands, I feel like this is something I don't really need. By and large, this is exactly the same statue as the awesome Premium Format Red Hulk statue that I ordered several weeks ago–just with a new head. That's a lot for $550. And about that head…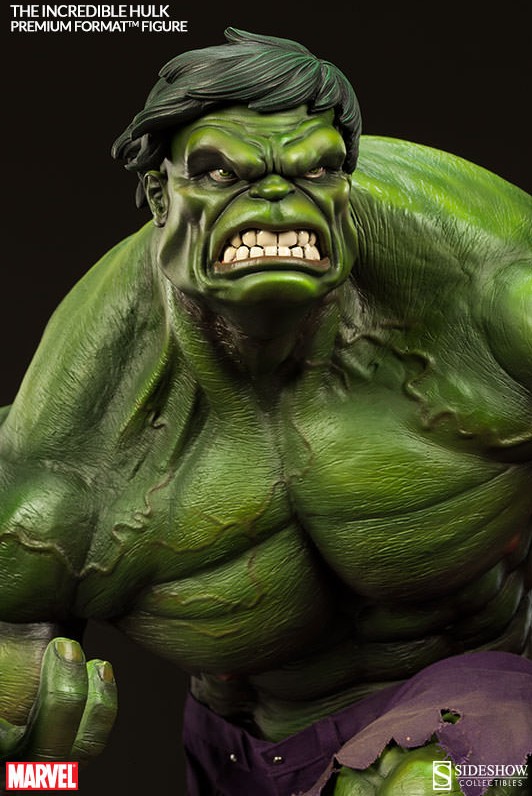 I straight-up hate the regular head sculpt that this Sideshow Incredible Hulk Premium Format Figure comes with just looks wrong to me. The head looks smooth and lacking skin texture and doesn't flow with the body of the piece in the way that it should, and Hulk's hair looks peculiar to me as well.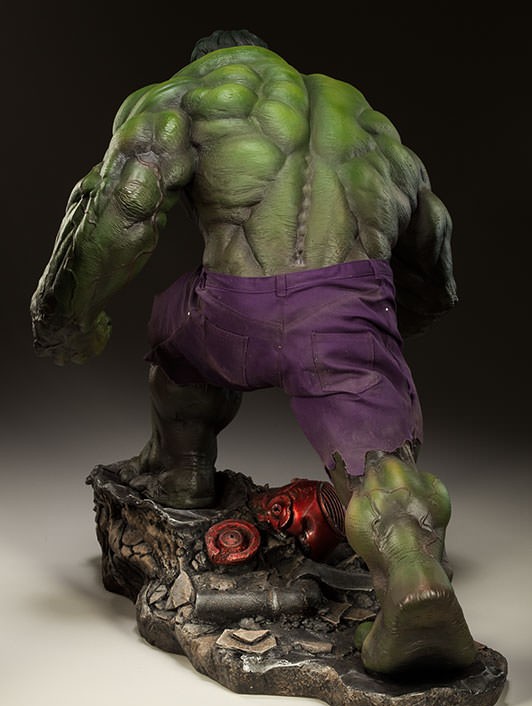 In addition, even the base of the Green Hulk Sideshow Premium Format Figure is a complete repeat of the one coming with the Premium Format Figure Red Hulk. If you're getting that statue, there's just not that much "fresh" about this Sideshow 2014 Hulk Premium Format Statue.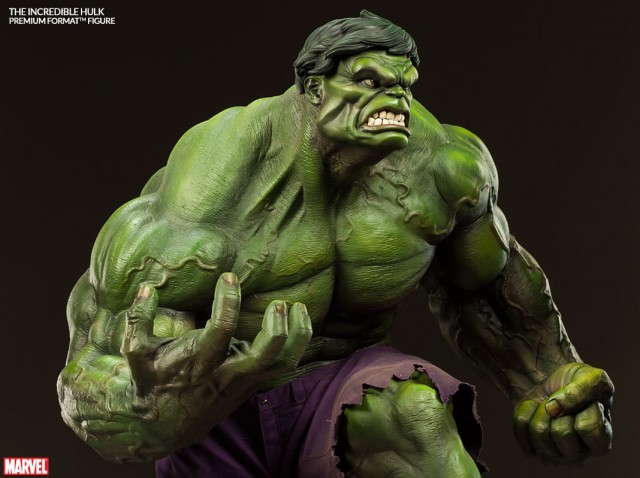 This statue would be an easy pass for me if it wasn't for one thing: the Sideshow Exclusive Green Hulk extra head. The Sideshow EX Hulk head is Jack Kirby inspired and is flat-out fantastic.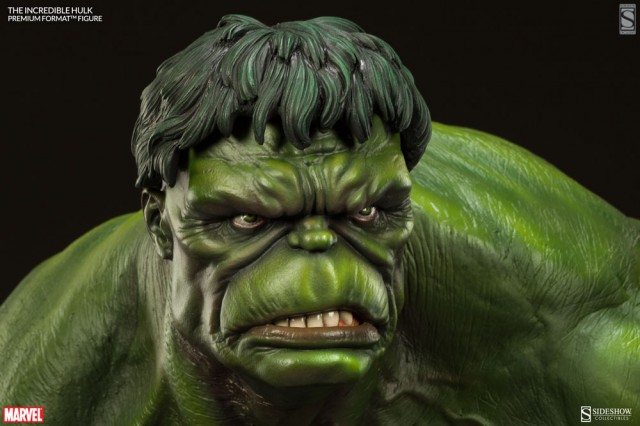 The Sideshow Exclusive Hulk extra head evokes the feel and style of the classic Kirby Hulk smashingly, and honestly makes me want to drop another $550 on this statue–because if I'm ever going to want this Hulk, it's going to be the Sideshow Exclusive Edition, which is only going to get more and more expensive on the aftermarket once it sells out.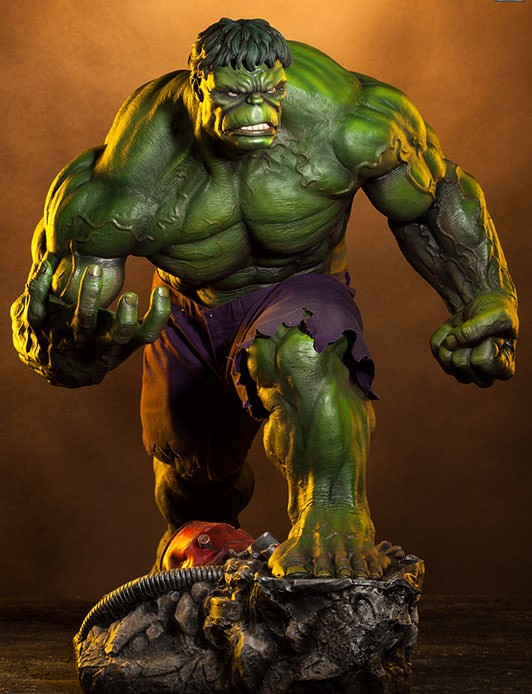 The Sideshow Exclusive Edition Incredible Hulk Premium Format Figure statue will go up for pre-order this Thursday afternoon. I'll post an update to the Marvel Toy News Facebook page once the Green Hulk statue goes up for pre-order, although I imagine that even with the high demand for this character it'll take a couple weeks for the Sideshow exclusive edition Hulk to sell out.
Alright, Marvel fans! What are your opinions on Sideshow Collectibles' latest Premium Format Figure take on the Incredible Hulk? Is this green statue excellent enough to make you part with $550 of your own green?