What's red and green and grey, weighs over 110 pounds, and will cost you almost three thousand dollars? If you guessed the quintet of Sideshow Hulk Premium Format Figures put up for order over the course of the past year, you're correct! Wait, did I say "quintet"…? That's right! Today, Sideshow Collectibles astonished the Marvel collecting world (and made any Marvel Premium Format collecting completists left cry) when they revealed a totally unexpected new item–the Sideshow Exclusive King Hulk Premium Format Figure statue is now up for order!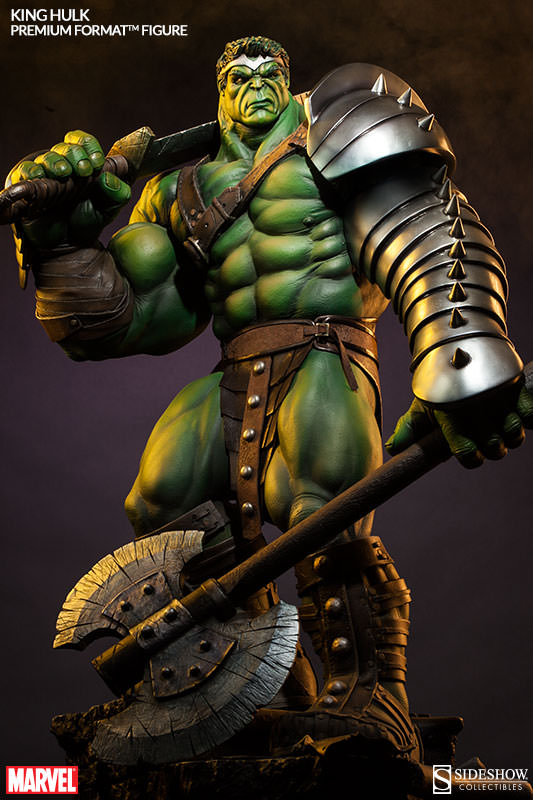 Just when Marvel collectors thought they were safe, Sideshow Collectibles has struck on the first day of their 2015 Online Comic-Con event! Ever since Sideshow announced their Premium Format Gladiator Hulk statue last summer, many fans have postulated that a retooled version of that statue from later on in the Planet Hulk/World War Hulk storyline would show up someday as a Sideshow exclusive. And as fate would have it–those fans were absolutely right.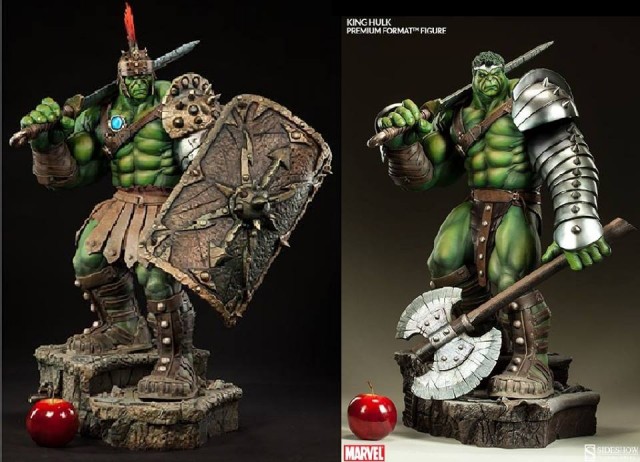 But while the just-revealed Premium Format Figure King Hulk largely borrows the same sculpt from last year's Gladiator Hulk statue, this new King Hulk statue is far,
far
more than just a "repaint".
There's an extensive amount of new tooling and accessories for this King Hulk Premium Format Figure, including a new head sculpt with tiara, a totally new left arm with shoulder pad and axe in hand, and new left hand armor. It doesn't sound like much, but these newly-sculpted parts make this statue look way different from the Sideshow Gladiator Hulk Premium Format statue.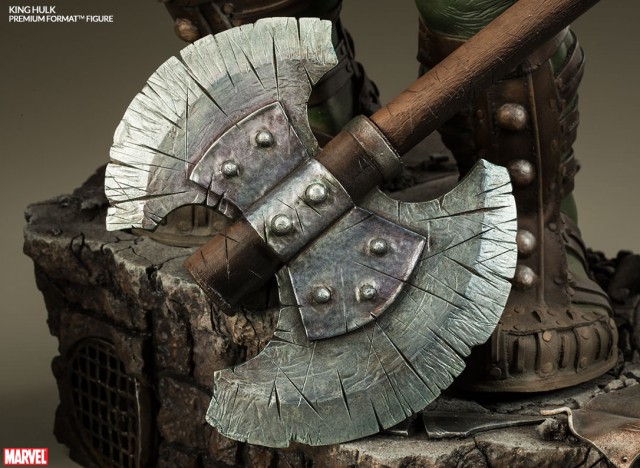 The amount of sculpting detail that went into the new axe that King Hulk wields is simply insane. This has to be the best-looking axe that I've ever seen with any toy or statue–ever.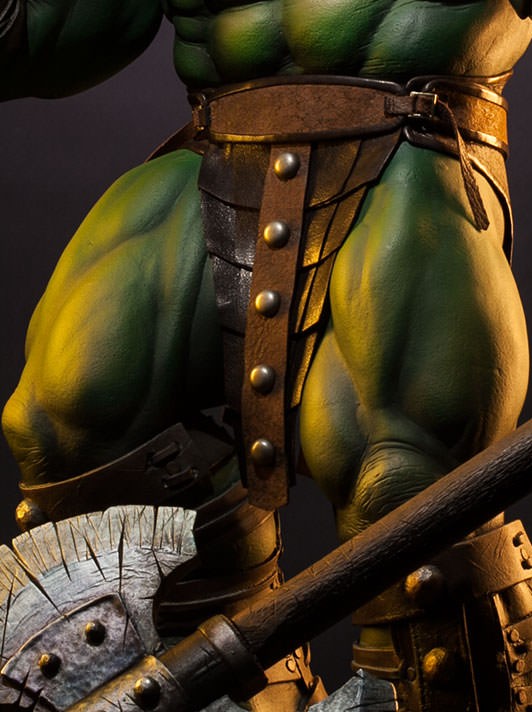 But that's not all! The most major new addition to this Premium Format King Hulk Sideshow statue is the soft goods loincloth, which is spectacularly detailed and looks phenomenal.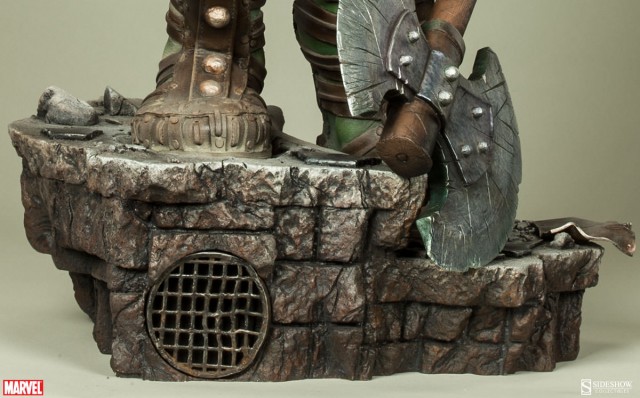 Even the base is different from that of Gladiator Hulk, as you can tell from the photo comparison that King Hulk's base has both a different sculpt and different paint deco than the Gladiator Hulk base.
Sideshow Collectibles could have very easily just included a straight-up reissue of the base from Gladiator Hulk, so it's commendable that they gave us something so totally different for King Hulk. Props to you, Sideshow!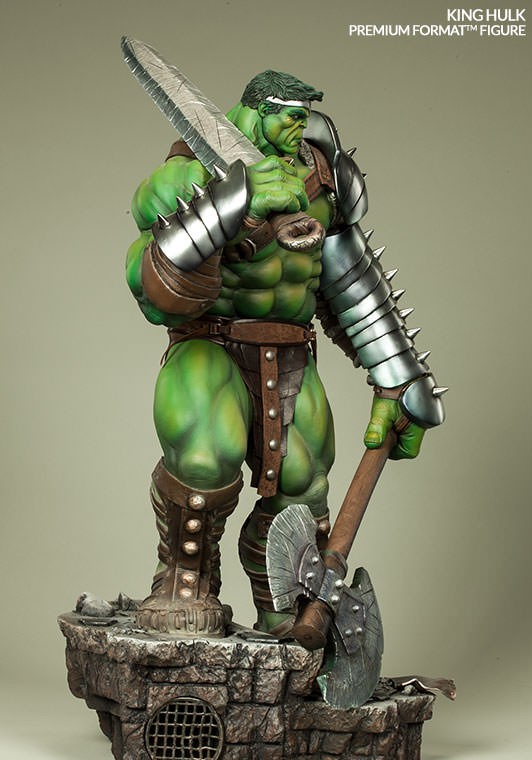 Weighing 25 pounds, this Sideshow Premium Format King Hulk statue is going to be among the heaviest Marvel Premium Format Figures ever produced (although it'll be a hair lighter than the Gladiator Hulk Premium Format Figure, since it doesn't include the bulky shield from that piece).
Not only will the new King Hulk Premium Format Figure weigh as much as a small child, but he'll take up as much space as one too! King Hulk is going to be 28″ tall (over two feet tall!), plus 19″ wide and 14″ long. This is not a Hulk statue for the weak of heart (or short of space!).
The Premium Format Figure King Hulk statue is exclusively available through the Sideshow Collectibles website and will not be distributed to other online retailers that usually carry Sideshow statues. So if you want this King Hulk Premium Format Figure, you'll have to place your order with Sideshow (until they sell out). King Hulk is scheduled to ship out in January 2015, and FlexPay is (thankfully available) for this $600 beast.
Let's hear it, Marvel collectors! Who out there is contemplating picking up this latest Hulk Premium Format statue? And is there anyone out there planning to pick up all five of the Sideshow Collectibles Hulk statues that Sideshow currently has up for pre-order?