Way back at San Diego Comic-Con 2015 (you know–two months ago), Diamond Select Toys announced that they were reentering the Marvel statue business with their revived line of Clayburn Moore Marvel Premier Collection statues! The line kicked off with a Wolverine statue that didn't receive the warmest reception from some collectors, but the second release in the line is a statue fans have been demanding for almost a decade: the long-lost Silver Age Thor statue by Clayburn Moore is now up for order!
When you've collected for long enough, you learn to live with the disappointment of pieces that you were excited about owning being lost to time forever and unlikely to ever see the light of day in your home.
But while the Marvel Legends Dani Moonstar and Songbird figures I've been pining away for for three years for may never see production, there's always hope–as evidenced by the impending release of this Diamond Select Toys Thor statue that's been sitting around unproduced since 2006!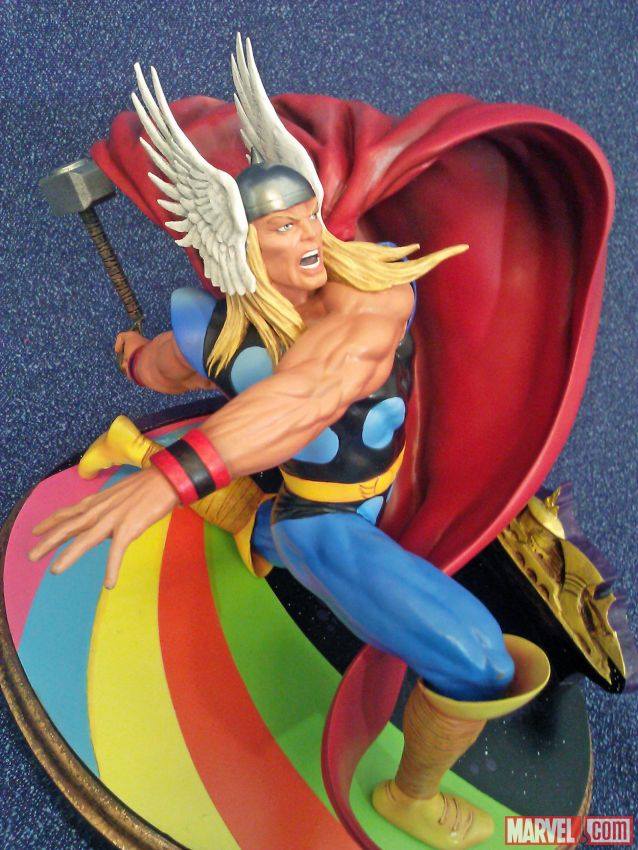 I remember reading an interview with legendary sculptor Clayburn Moore from almost a decade ago where he discussed how much this statue meant to him and his love for the Marvel Silver Age Thor. When DST left the Marvel statue world, I was convinced that this classic Thor statue was never going to be produced–but in a crazy twist of fate, here it is!
The Thor Marvel Premier Collection statue is just the way I remember it from 2006 and unchanged as far as I can tell–just the way I (and numerous others) wanted it!
The statue depicts Thor upon a trippy, classic-styled Rainbow Bridge, with the cosmos and the golden city of Asgard in the background. The Bifrost Rainbow Bridge looks ridiculous, but I think it's in a good way–it captures the quirkiness of its classic look so, so well!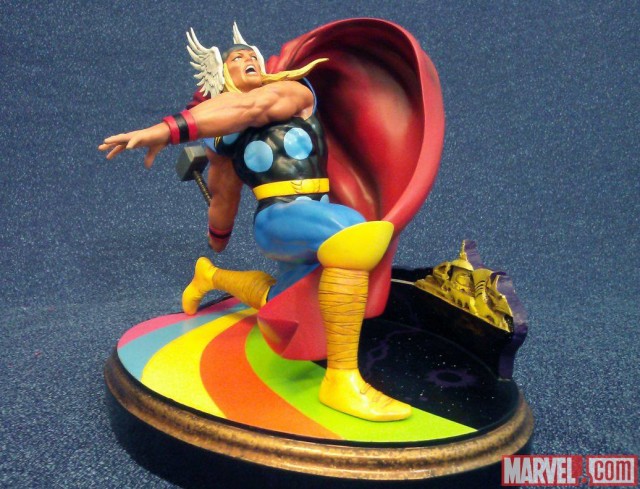 I have
no doubt
that this 9″ Thor statue will draw a lot of criticism from younger collectors and those accustomed to XM Studios and Sideshow Collectibles and what-not, but I think this is one of Clayburn Moore's masterpieces and probably the best collectible representation of this era's Thor ever.
Diamond Select Toys has set the edition size for this Marvel Premier Collection resin statue to 3,000, which I think should be plenty for everyone who wants this piece to get one. Even so, I already placed my order–I've been waiting a long time for this statue, and there's no way I'm going to miss out on it.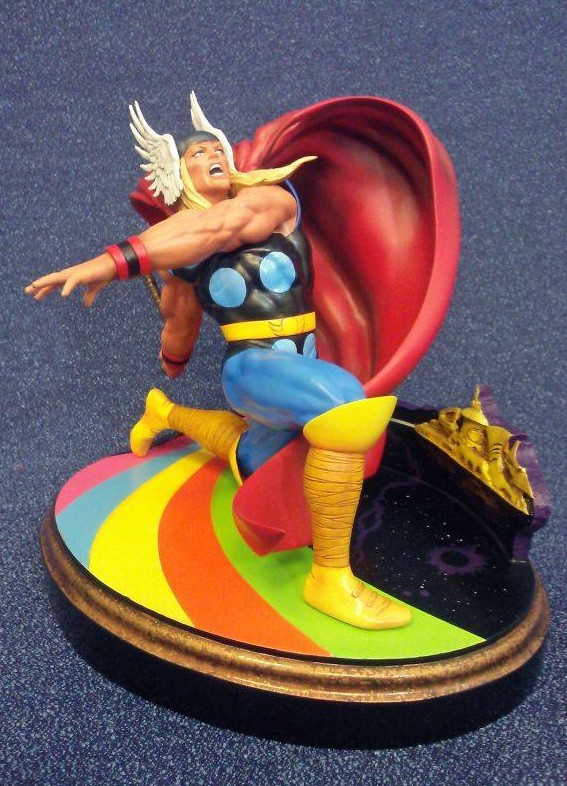 The Marvel Premier Collection Thor statue is now available for pre-order, and is scheduled to be released in spring 2016. The MSRP for that statue is set at $199.99, but you can get an early-bird discount to $179.99 if you pre-order from BBTS or EE. EE is also offering free shipping on the statue, so they earned my dollars.
I suspect that this is going to be a very polarizing Thor statue, with longtime fans loving it and more modern fans hating it. Where do you fall on this statue? Is this psychedelic Thor a must-have for your collection, or would you not be caught dead with this in your house?