Ever since we found out that Spider-Man would officially be in the Captain America: Civil War movie close to two years ago, fans have been drooling over the prospect of a new 12″ Hot Toys MCU Spider-Man in his movie costume. We didn't get a Civil War version for licensing reasons, and the first Homecoming Spidey turned out to be the neat-o–but definitely not classic–Homemade Suit Version. But finally, the one fans really want is on the way: the Hot Toys Spider-Man Homecoming Deluxe figure is now up for order!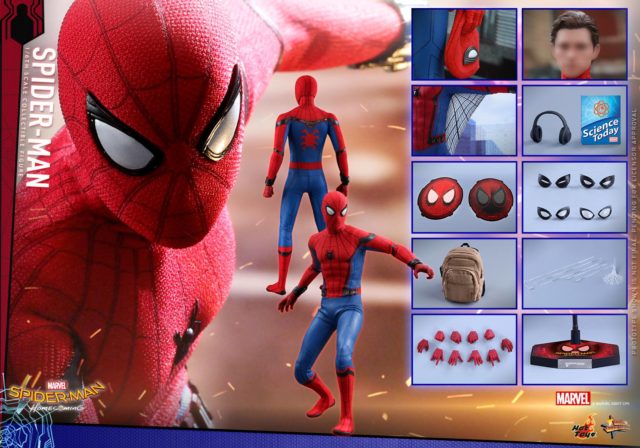 Collectors have been waiting plenty long for Hot Toys to create a "standard costume" MCU Spider-Man 1/6 figure, and as expected the best figure maker in the world (according to me) has not let fans down!
Not only has Hot Toys created a worthy successor to the awesome Amazing Spider-Man 2 MMS figure that's on a brand new correctly scaled (ie shorter) body and just as super-articulated as his predecessor, but they have loaded him up with accessories!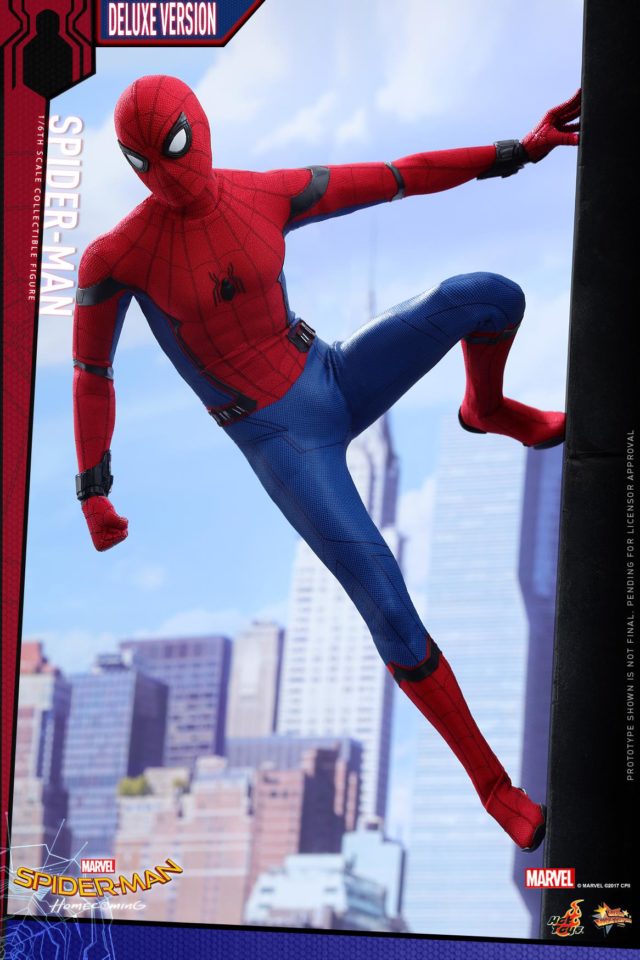 Hopes have been high for an alternate head with this figure ever since it was confirmed that there would be no unmasked Peter Parker head with the Hot Toys Homemade Suit Version, this Hot Toys Homecoming Spider-Man figure will include an unmasked Tom Holland portrait.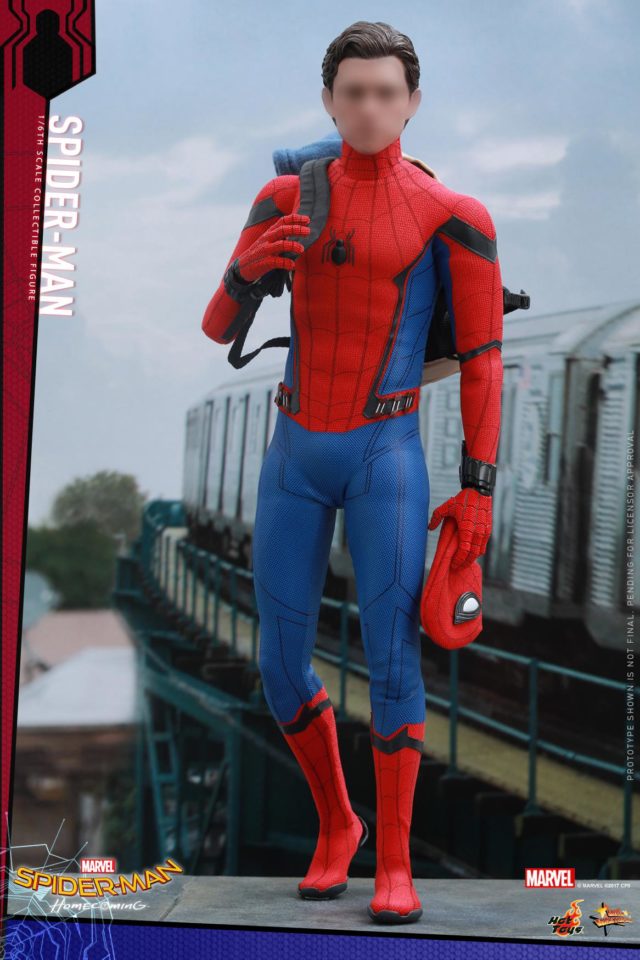 As usual, the head sculpt is blurred out for now as it's not finalized and approved by the licensor, but if any figure maker in the world can give us a spitting image of Tom Holland head, it's Hot Toys.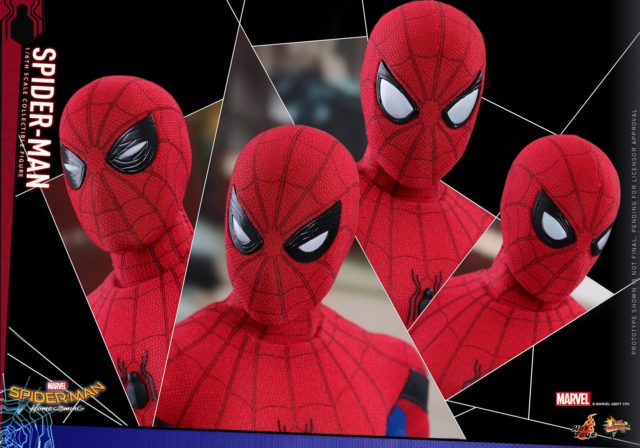 On top of the unmasked Spider-Man head, the figure also comes with four pairs of interchangeable eyes, a variety of web shooting effects pieces, tons of interchangeable alternate hands, a collector display stand, a backpack, web wings, a removed mask, headphones, and even a Science textbook! I love how expressive the eyes are on the new MCU Spidey mask.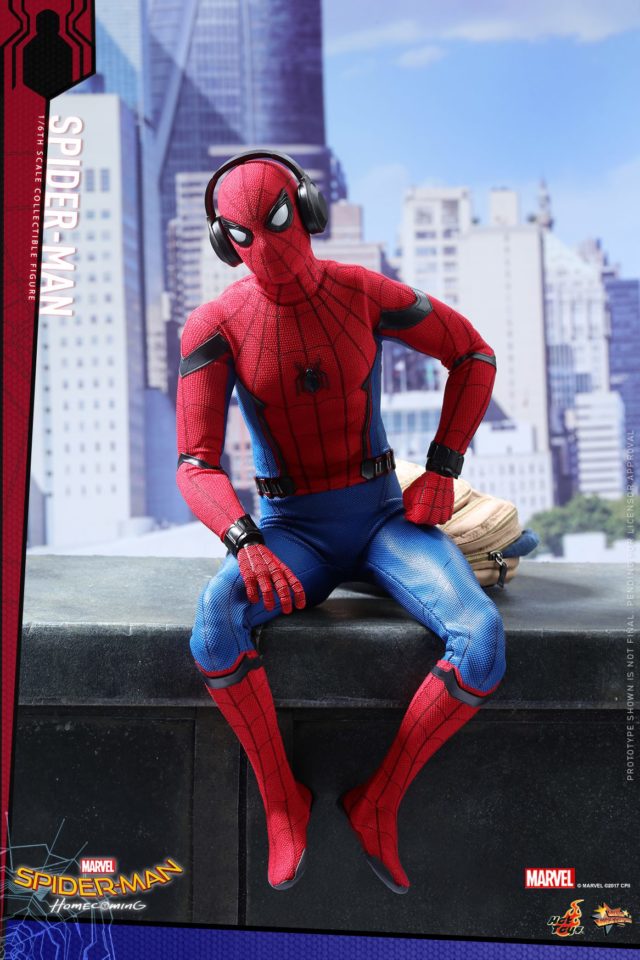 With all these goodies, the posing and display possibilities for this 12″ Spidey are going to be practically endless. Finally, a Spider-Man figure that can rock out wearing headphones!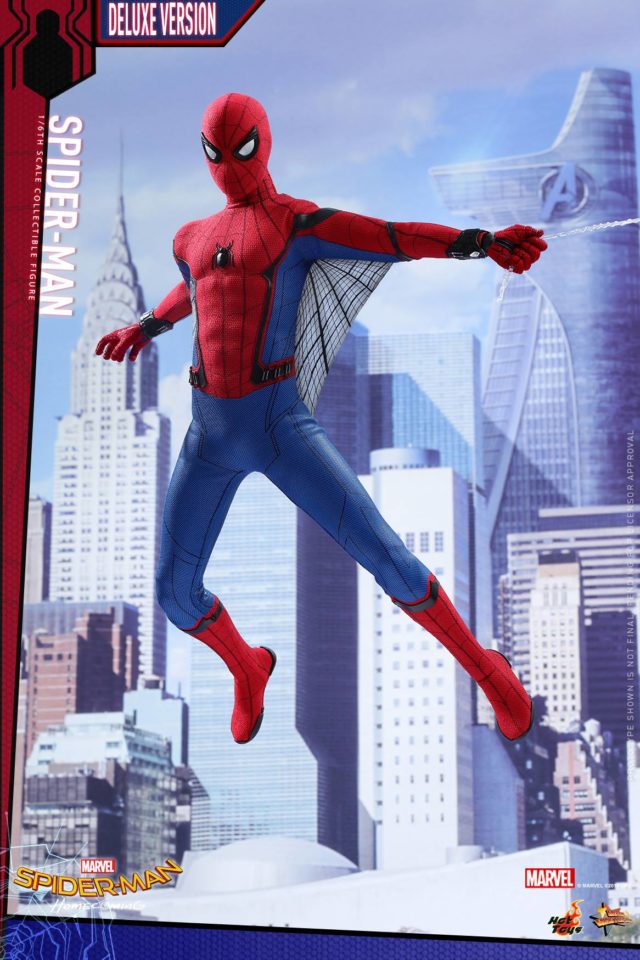 The pair of web wings will attach magnetically to the newly-developed body, so there's no worries about them falling off easily or the costume having to be compromised in order to facilitate plugging them in.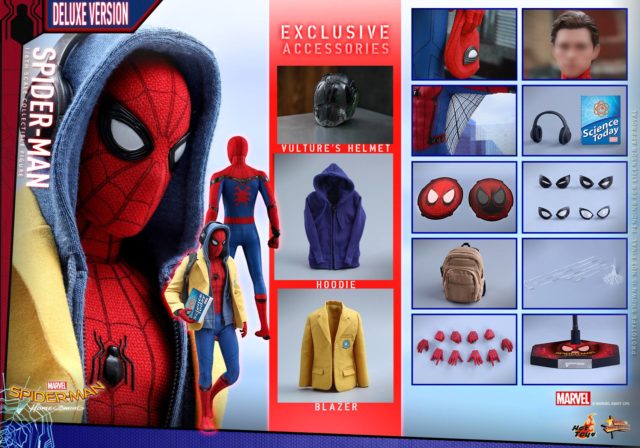 It's become a bit of a trend over the last half-year for Hot Toys to offer a "deluxe" version of major releases that get bundled with extra accessories, and Spidey now follows in the footsteps of Deluxe Star-Lord, Rocket Raccoon, Jyn Erso and more.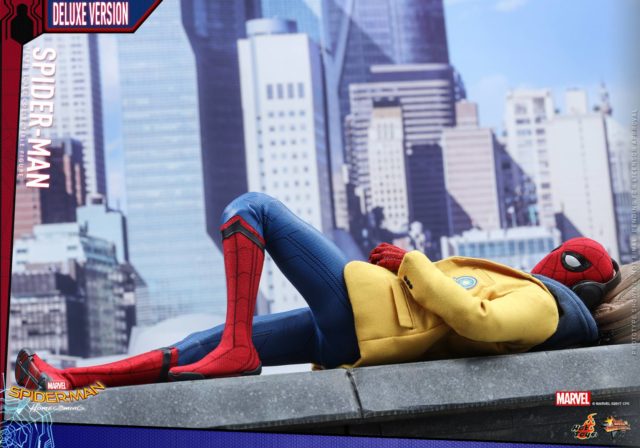 The Spider-Man Homecoming Deluxe version adds yet three
more
bonus accessories to the figure beyond what the regular version gets: a hoodie, a blazer, and a Vulture mask.
As soon as I saw Spider-Man tricked out in a blazer and hoodie in the official photos, I knew that HT would be earning those extra couple bucks from me. I also like the included Vulture helmet, as I think it's unlikely that we'll get a full Vulture Hot Toys figure (what with the wingspan having to be four feet wide and all).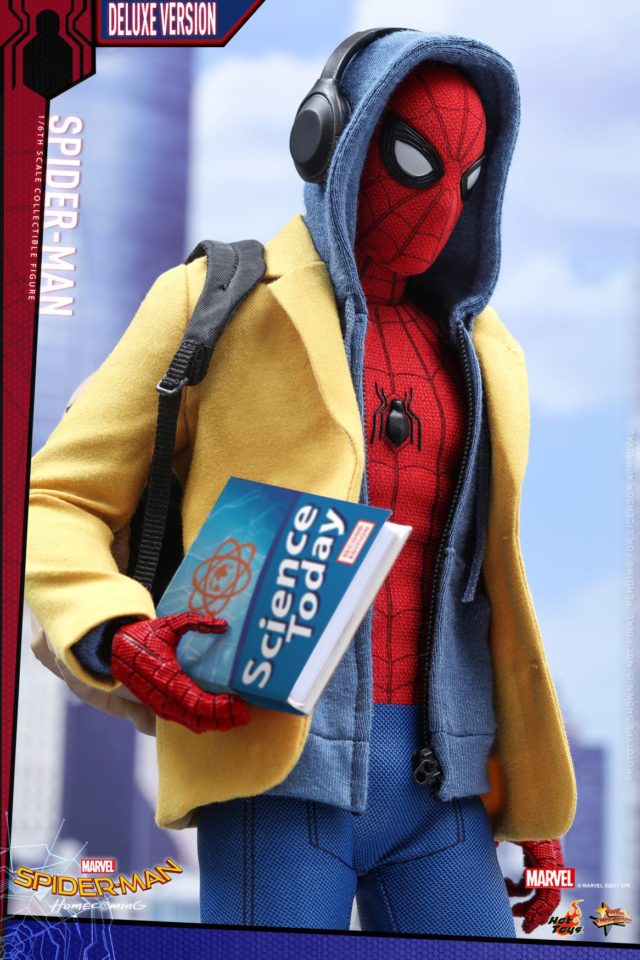 Both the regular and deluxe versions of the Hot Toys Deluxe Spider-Man Homecoming sixth scale figure went up for order this afternoon, and are scheduled to be released in Q2/Q3 2018. Yes, that's a long wait, but hopefully Hot Toys will surprise us and crank this guy out of the factory a little faster than expected.
Now that Hot Toys has fully revealed their long-anticipated Homecoming Spider-Man 12″ figure, what do you think, Marvel collectors? Are you opting for the regular or deluxe version of this figure (or none at all), and would you be interested in a 1/6 Vulture figure to complement it?