Ever since we first saw him teased in a trailer for Captain America: Civil War over a year ago, Hot Toys collectors have been demanding an MCU Spider-Man sixth scale figure. And today, those wishes will officially become reality when the first one is put up for order! But, well… it's possible this isn't quite the  Spidey some of those folks were asking for: Hot Toys Spider-Man Homecoming Homemade Suit Version figure is now up for order!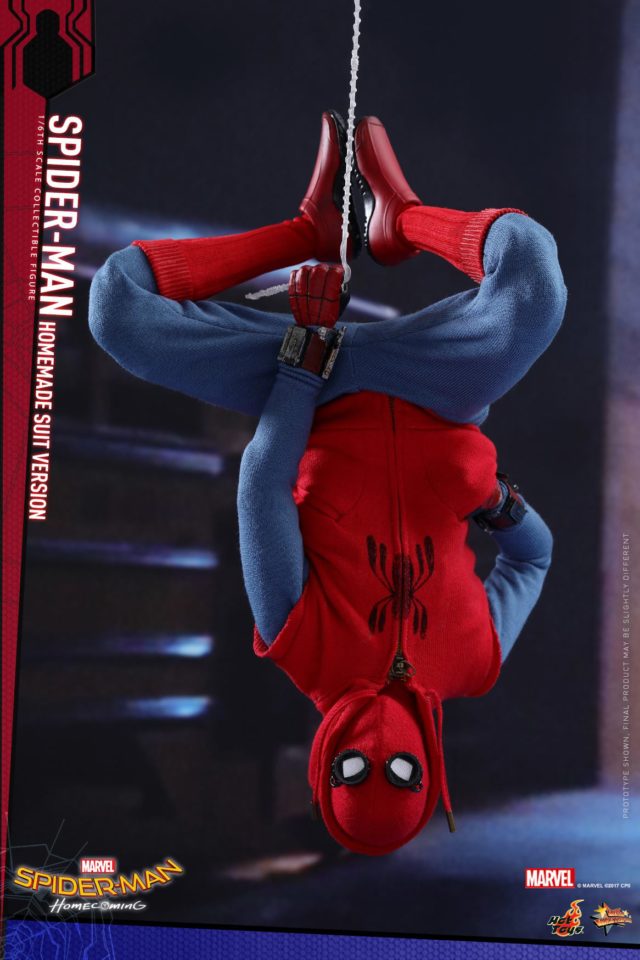 A couple weeks back, Hot Toys posted a teaser image for their Spider-Man Homecoming Movie Masterpiece Series 1/6 figure wearing the "main" costume from the Civil War and Homecoming. As you may have noticed–this isn't it.
Hey–! Put down that pitchfork!!
Rather than starting us off with the pre-order for what's perhaps the most-demanded Marvel Hot Toys figure ever, they're wisely giving this fun Spider-Man Homemade Suit Version a slight head start on the version everyone is gonna pre-order.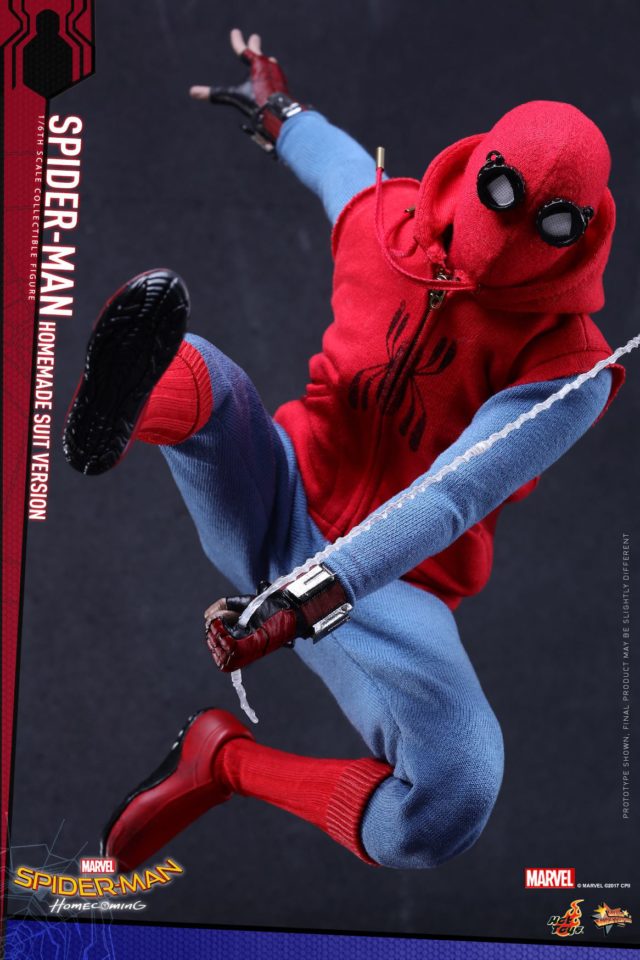 While Hot Toys has already been getting quite a bit of hate on social media for announcing this figure instead of a Hot Toys Old Man Logan (something that is probably frankly out of their hands), I think this weird Scarlet Spider-like Spidey variant is, well… awesome.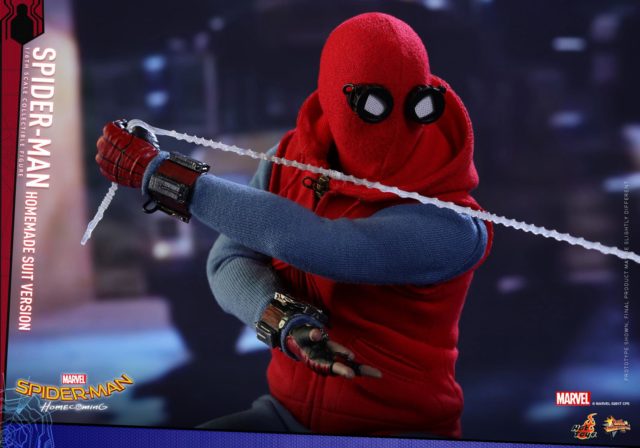 The felt-like look of the Hot Toys Homemade Suit Spider-Man is really incredible–this really looks like something a dopey teenager could make at home. I like this costume from Funko and Hasbro as well, but the soft goods HT is able to use really make this costume come to life authentically.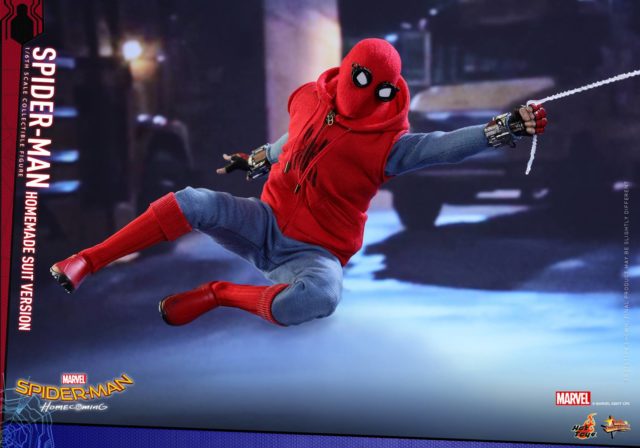 The Spider-Man Homemade Costume figure will stand about 11″ tall, so it should be in approximately the right scale to look right next to the "adult" Marvel MMS figures, and the loose-fitting nature of the costume's design means that it looks terrific in any pose, as there's no visible seams  or joints to look awkward anywhere.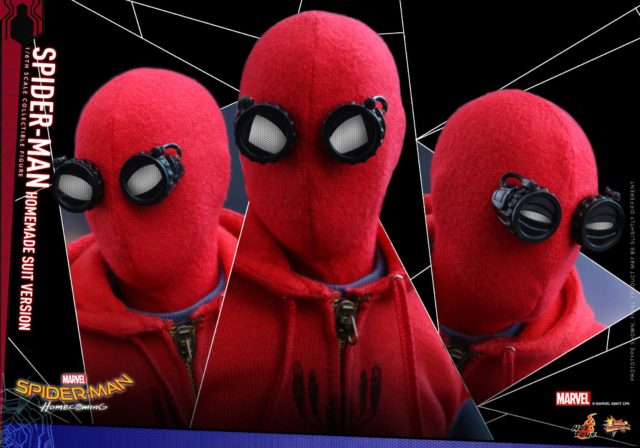 Also, let me just say that I love–love–the interchangeable eyepieces on this figure. The personality that the different eyes give Spidey are tons of fun, and I know I'll have a blast changing up Spidey's expression frequently.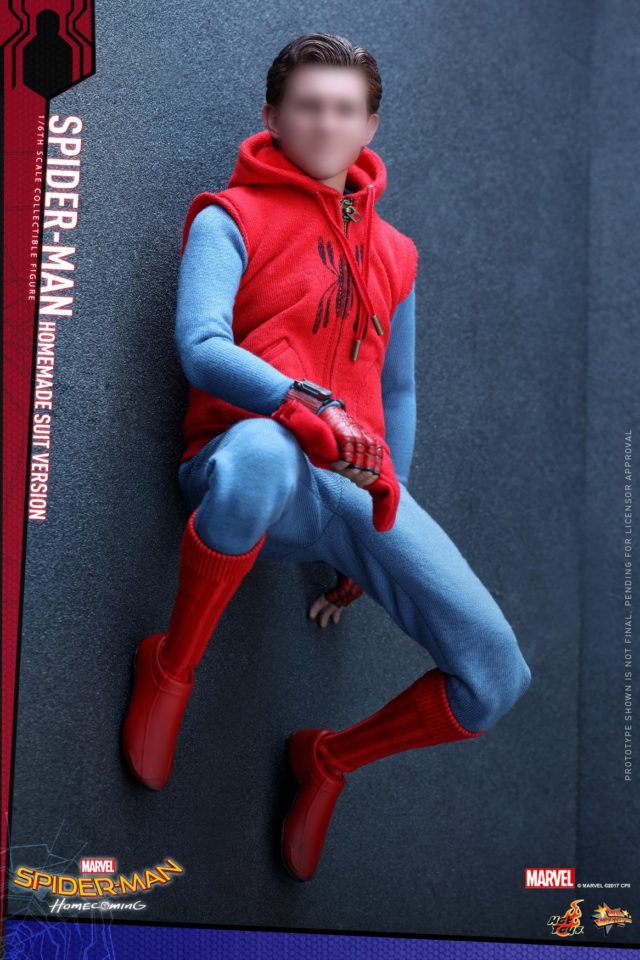 I think Hot Toys is well aware this costume isn't necessarily tops on many collectors' lists, but they're giving us some slick accessories to make up for that. It's unknown if the regular costume Spidey will include a Peter Parker Tom Holland portrait head sculpt, but we do know for certain that this Homemade Suit Spider-Man will.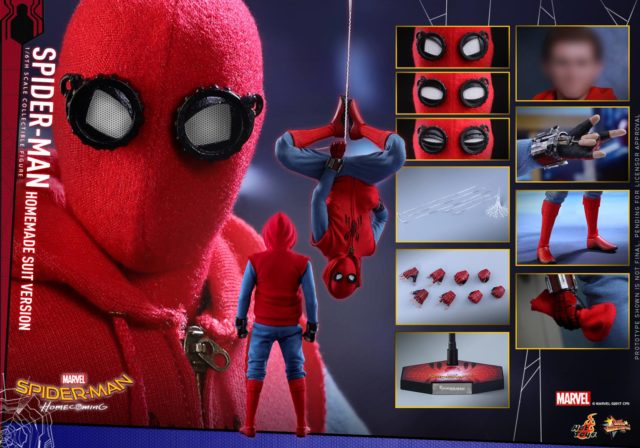 The Tom Holland likeness hasn't been approved yet so it's blurred out in the photos, but it's nice to know that it's there nonetheless. I reckon if the regular costume version doesn't include an unmasked head, that Tom Holland head sculpt will make this a
really
strong seller.
In addition to the unmasked Peter Parker head, the figure will include eight interchangeable hands, five different spider webs that attach to the web shooters, a spider web effects piece, a removed mask and a dynamic figure stand display base.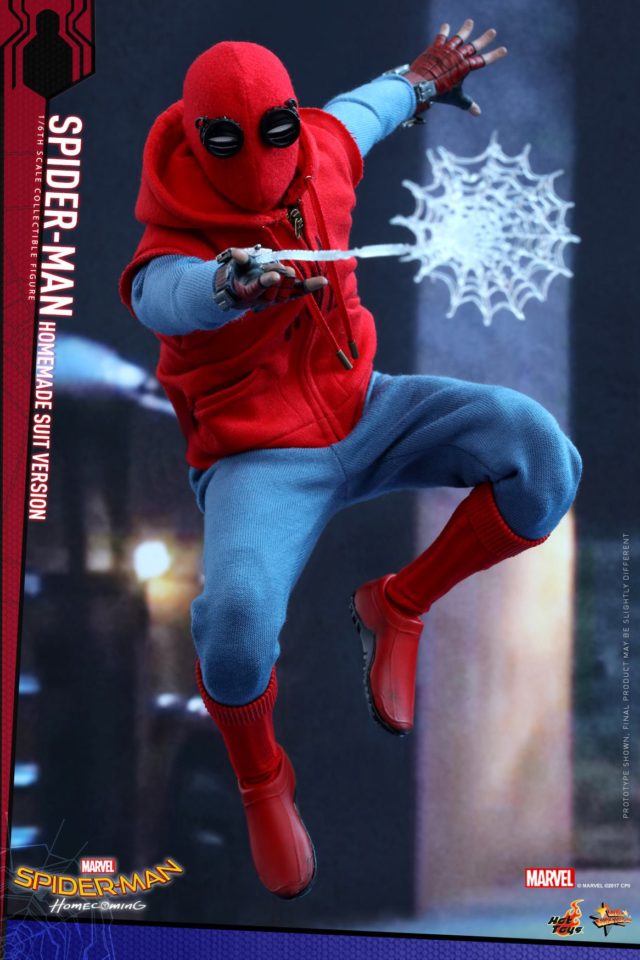 The Hot Toys Homemade Suit Spider-Man figure is now up for order, and is expected to be released in Q4 2017. The figure is retailing for $219.99, which is an overall solid value for what looks to be a newly-designed smaller body with a bunch of worthwhile accessories such as the Tom Holland Peter Parker head.
Hands up, Marvel collectors! What do you think of Hot Toys' work on their first MCU Spider-Man sixth scale figure, and is the Spider-Man Homemade Suit Version one that you're considering adding to your own collection?