They say that there's a first time for everything, and with that in mind, I think we may have our first-ever sole heavy-packed Marvel Legends 6″ figure being the hardest-to-find figure from a series! When the Marvel Legends Spider-Man Homecoming series leaked out in April, only the two-per-case Web Wings Spider-Man was nowhere to be found, leaving many Vulture Build-A-Figures incomplete. But Web Wings Spidey has finally flown in and is available online and in some Walmart stores already! Was he worth the wait?
The Right:
When the first Hasbro Marvel Legends MCU Spider-Man movie figure was released in the Civil War 3-Pack last year, many collectors said they planned to pass on that box set and just pick up the same Spider-Man individually this year from the Marvel Legends Spider-Man Homecoming wave. The expectation was clearly that Hasbro would just be repacking the same figure this year.
They didn't–Hasbro took the difficult and expensive road instead, giving us an almost 100% new unique-molded Homecoming Spider-Man 6″ figure that is basically superior to the Civil War Spider-Man figure.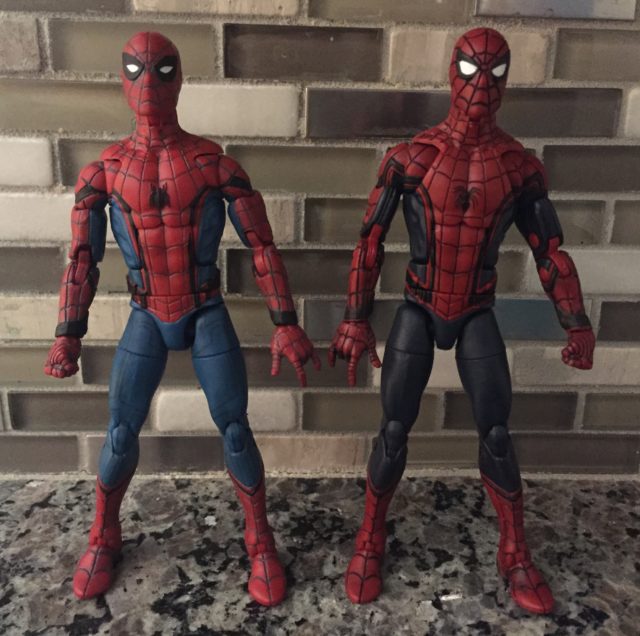 While I liked–and still like–the Marvel Legends Civil War Spidey figure, you can see he's clearly a rushed job when compared with the new Web Wings Spider-Man Marvel Legends figure.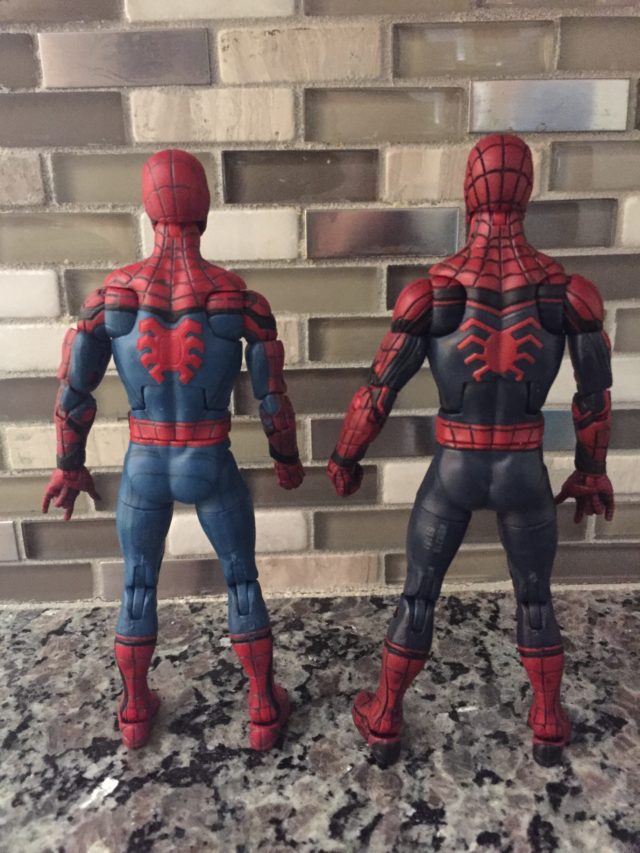 The Civil War Spider-Man ML figure's costume has zero texture on it, and a head that doesn't look quite right. Thankfully, the only parts from that figure that I believe Hasbro has reused for the new MCU Spidey are the forearms (and possibly the hands), which lack the fabric texture seen on the rest of the figure.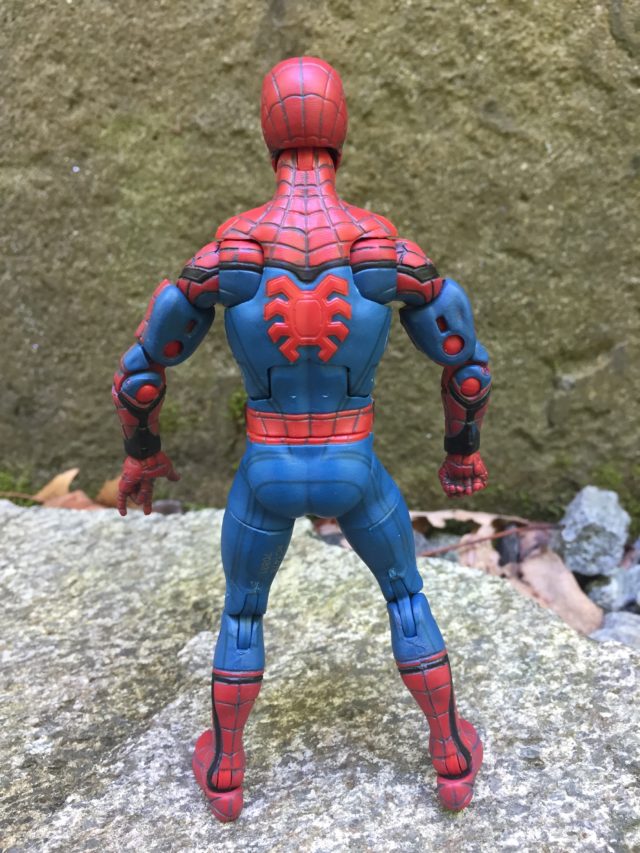 The back of the new Wed Winged Spider-Man Marvel Legends figure is really different from the Civil War Spidey, as the spider symbol is a totally different size and shape and you can see the new blue lining detailing on the costume really clearly.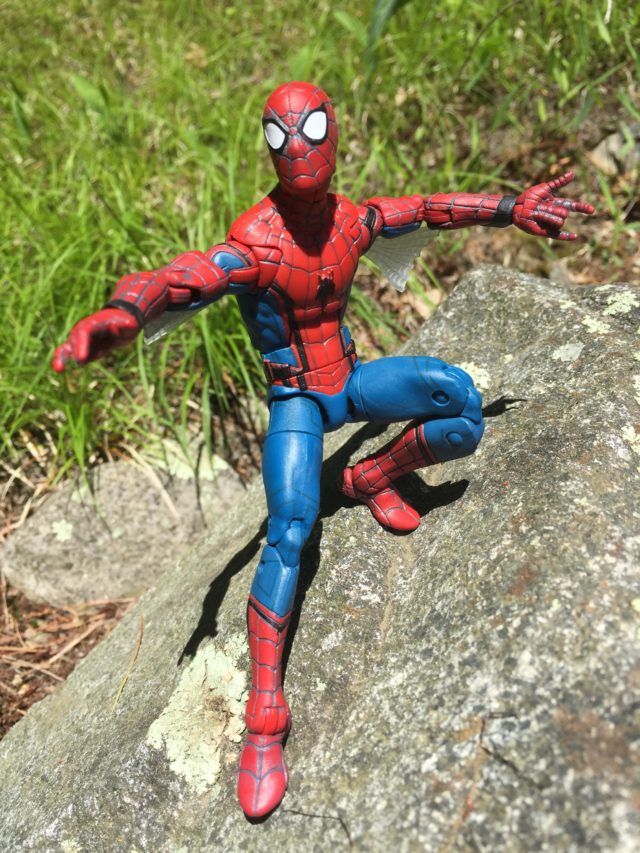 Almost every centimeter of this new Web Wings Spider-Man Marvel Legends figure is covered with tiny dots (like a basketball) that give the sculpting detail a depth that blows the Civil War version out of the water. The closer you get to the figure, the better it looks.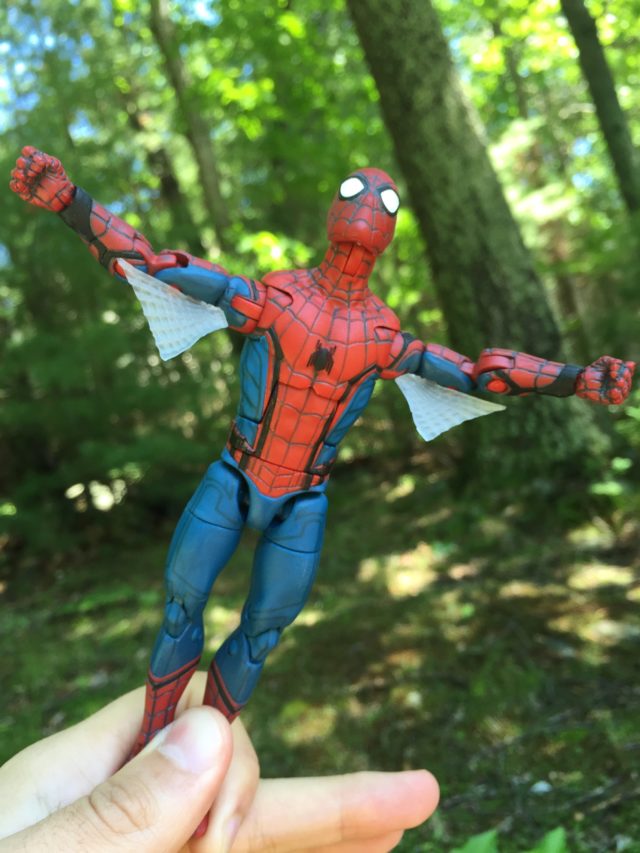 The textures aren't the only thing Hasbro has added, though–this new Tech Suit Spider-Man comes with the much-hyped "web wings" that are the most interest new aspect of the costume.
The removable wings are cast in translucent plastic and easily can be snapped into and out of place on Spidey's biceps. They're also tight enough that they don't fall out every two seconds (hallelujah!).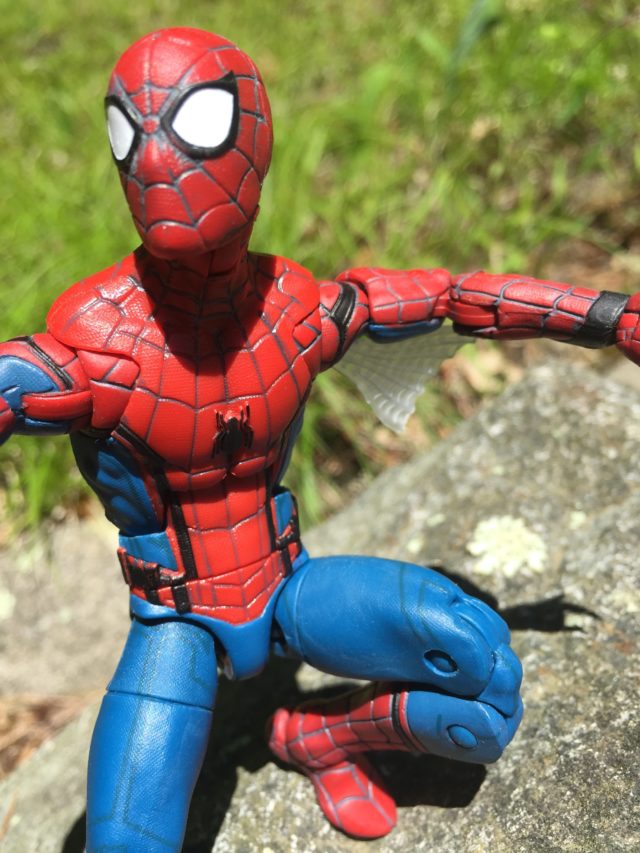 There's also a feature I don't believe we've ever seen from a Marvel Legends Spider-Man figure before: a second masked Spidey head is included! We get both wide, neutral-eyed and bold, "angry-eyed" heads with this figure.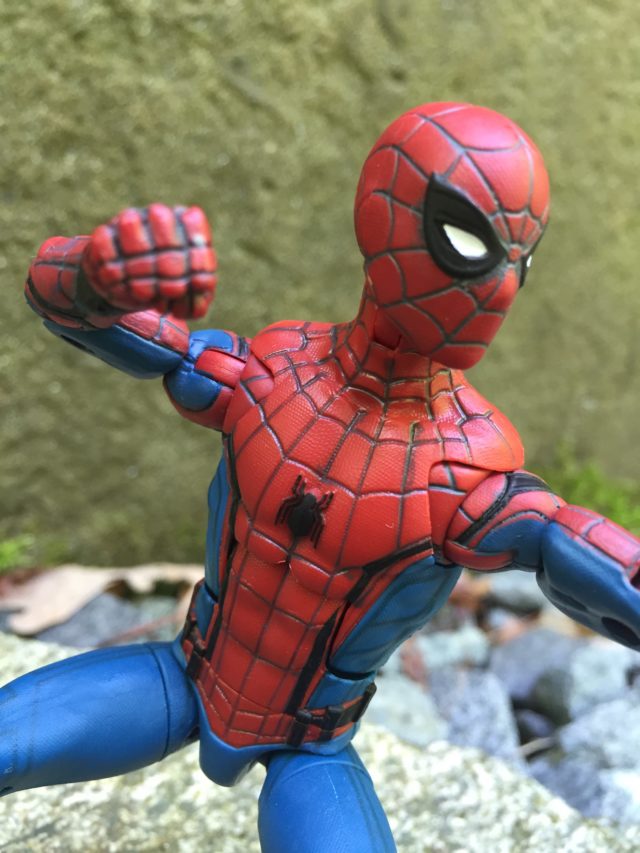 I think both heads are more on-model than the Civil War head, although I'm partial to the expressive moody-eyed Spidey head.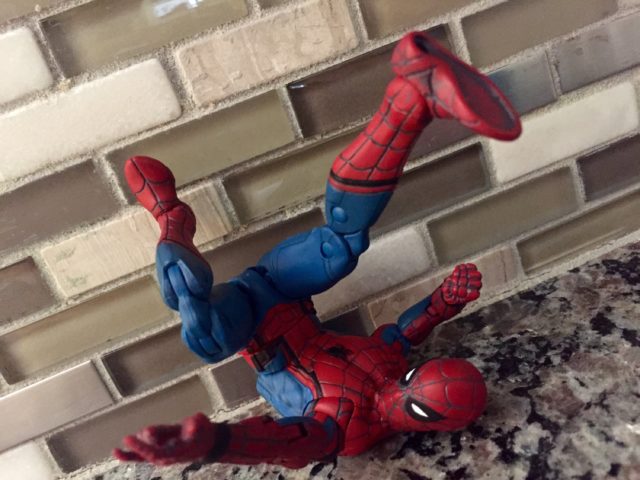 Articulation-wise, this is another winner from Hasbro. His hips could stand to have a slightly larger range of motion (they don't quite reach 90 degrees when opened), and I would have liked swivel calves, but otherwise I'm very pleased with this figure's flexibility.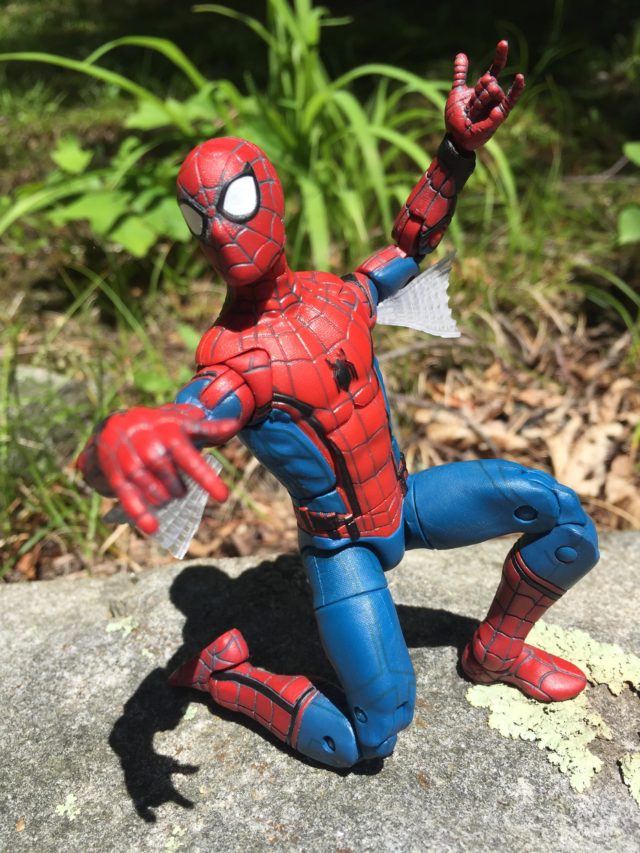 The complete articulation scheme includes a ball-hinge head; upper torso ab crunch; swivel waist/biceps/thighs; ball-hinge shoulders with butterfly joint; double-hinged elbows and knees; swivel-hinge wrists and hinged ankles with rockers.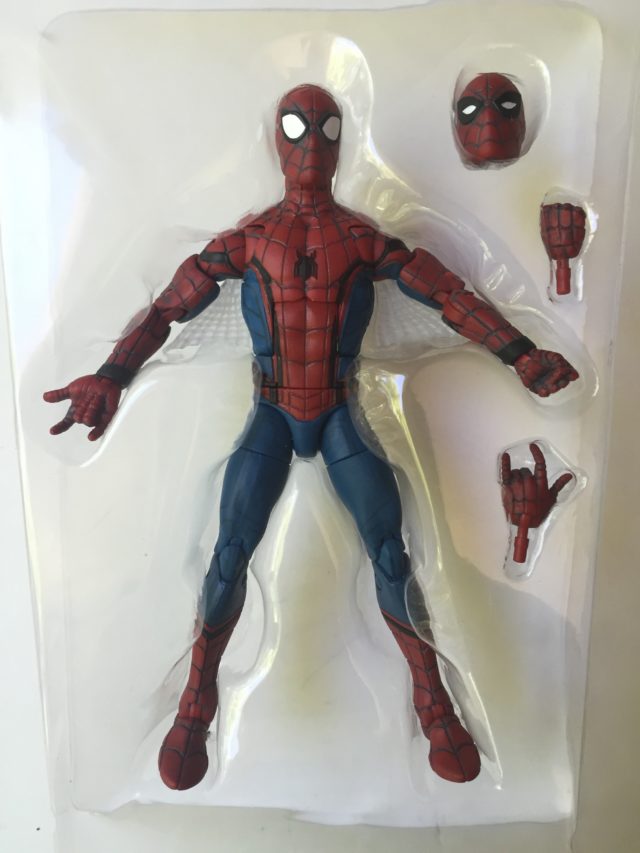 You also get one extra pair of interchangeable hands with this figure (so you have both web-shooting hands and fists), as well as the last piece of the Build-A-Figure Vulture Flight Gear Pack.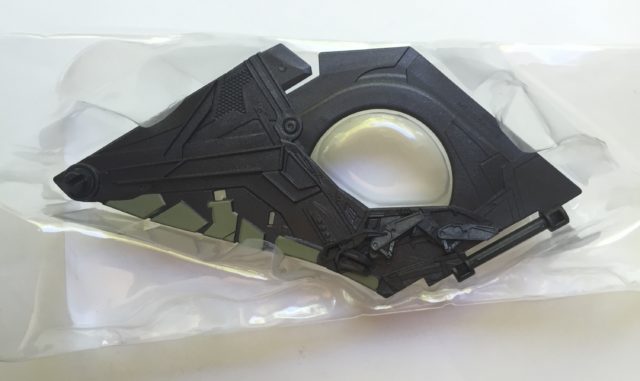 I'm especially excited to finally get the last piece of the Vulture Build-A-Figure wings, as I've had the rest of the incomplete flight gear sitting on my kitchen table for almost two months now (much to my wife's delight).
The Wrong:
Hasbro comes ever-so-close to straight-up nailing a perfect Spider-Man Homecoming Tech Suit Spider-Man figure, but I've got a minor quibble that holds me back from awarding him perfect marks: the only genuine thing about this figure that bugs me (no insect pun intended) is that this figure is another victim of having some parts cast in cheap, rubbery plastic.
While most of the Homecoming Spidey figure feels rock solid, I can already feel the arm joints starting to get a little "gummy" to the point where I'm afraid to turn one of his biceps for fear of another one-armed Moon Knight incident, and I can't straighten his elbow at all because the joint is stuck even after boiling and will definitely snap if I force it.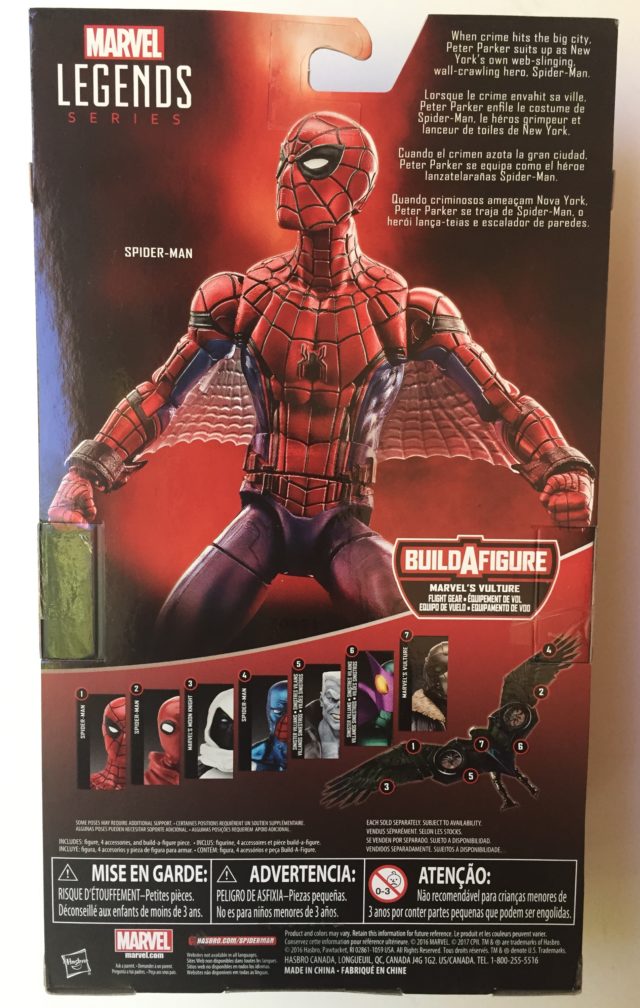 The rest of the Marvel Legends Web Wings Spider-Man is feeling pretty safe to pose and move to my desire, although his upper torso ab crunch is also crazy loose. As in, "bobble-head" loose where it rocks back and forth like mad whenever I move him the slightest bit.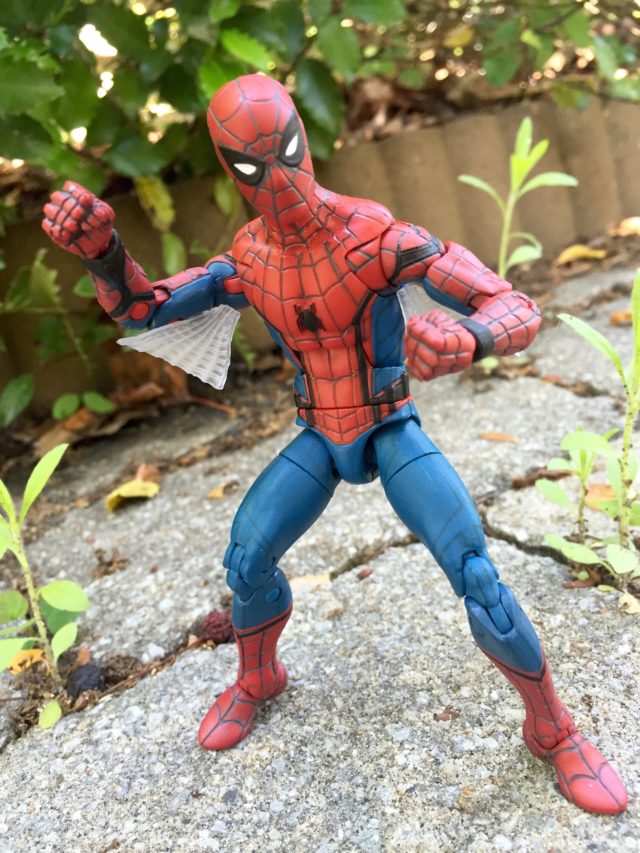 Overall: The first single-carded 6″ MCU Spider-Man Legends figure has arrived, and Hasbro has come out swinging with a figure that's wonderfully textured and sculpted, on-model to the movie, comes with thoughtful accessories, and is loaded with almost all the articulation one could ask for.
The plastic quality on some of the joints is questionable, and I would have liked a tad more lower-body articulation, but even if he's not quite perfect, Marvel Legends Spider-Man Homecoming Web Wings Spider-Man is a definite winner.
GRADE: A-