When Hasbro officially announced that the Marvel Legends Spider-Man Homecoming Build-A-Figure built by buying the whole wave wasn't going to be a figure at all–but rather the movie Vulture's Flight Pack wings–tons of collectors called foul (no, not "fowl"–vultures aren't fowl). After all, the series "Build-A-Figure" being an accessory was unheard of in Marvel Legends. But as soon as I saw the Marvel Legends Vulture at the 2017 Toy Fair, I knew Hasbro had done right by us: this Vulture Build-A-Figure is spectacular…
Right off the bat, I want to give Hasbro much-deserved props for releasing this Marvel Legends movie Vulture figure at all.
There's plenty of MCU villains far less complex and difficult to produce than Vulture that we haven't gotten–like Yellowjacket, Malekith, Kaecillius, Ronan and Crossbones–so I applaud Hasbro on the effort to bring us a movie villain figure that had to be extremely difficult to design and produce.
All that said, many collectors complained (a lot) when it was revealed that the Spider-Man Homecoming Build-A-Figure was actually just the Vulture Wings Flight Pack, and the base figure itself would have to be purchased separately.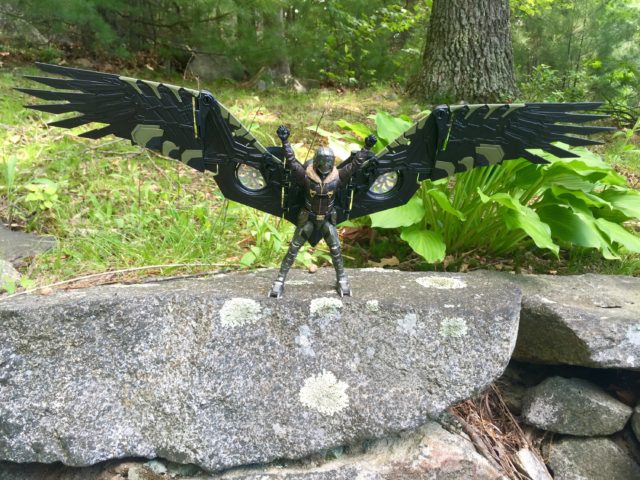 Even so, I think that disappointment was mostly due to collectors not being able to visualize just how humongous the two-feet wide Vulture wings are. Difficult to engineer and requiring 100% unique tooling that can't be used elsewhere,  the wings themselves definitely feel equivocal to a whole other figure to me.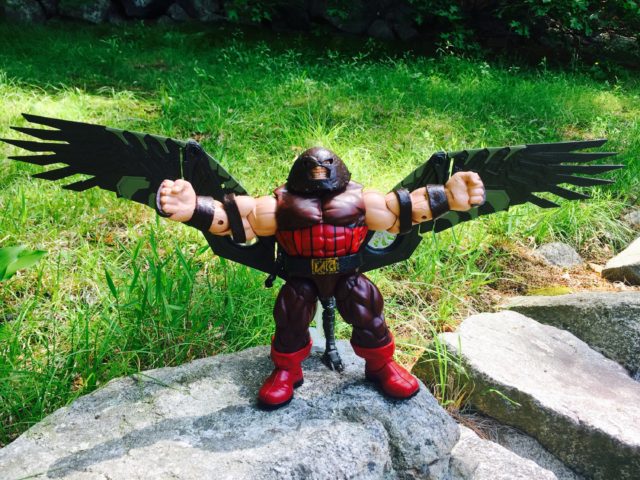 To get an idea of how large the Vulture Flight Pack wings are, they're still vastly wider than even the huge Juggernaut Build-A-Figure with his arms fully spread. If the wings hadn't been the BAF, a single-packed Vulture with Wings would have likely cost 40-50 dollars.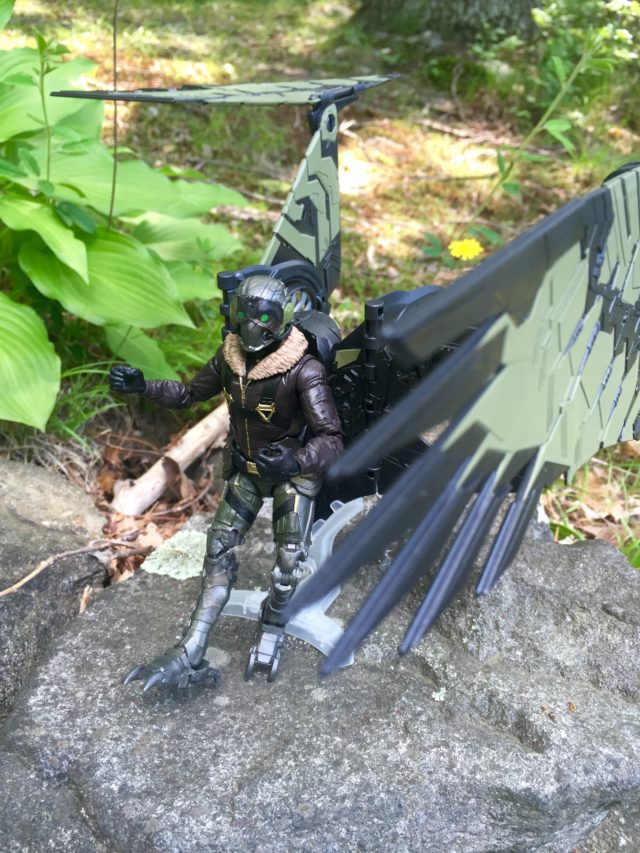 The wings themselves are also amazing compared to what we've seen on previous figures like Civil War Falcon. Besides the fact that they're an insane two feet wide, they're also absolutely loaded with articulation. I count 12 points of articulation just in the wings–more  than double the POA that 3.75″ Star Wars figures have these days!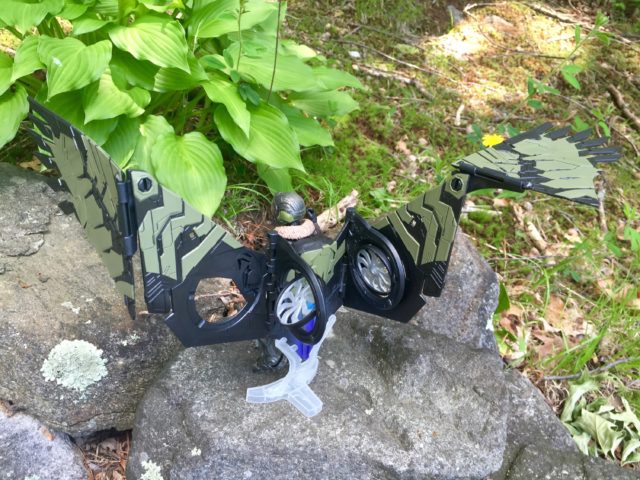 The one accessory Vulture has (besides his wings themselves) is a clear plastic support stand. Ordinarily, I'm but big into figure stands like some people are, as I feel like having a stand–even a clear one–tends to distract away from the action figure itself. But in the case of the Build-A-Figure Vulture? Bring on the support stand!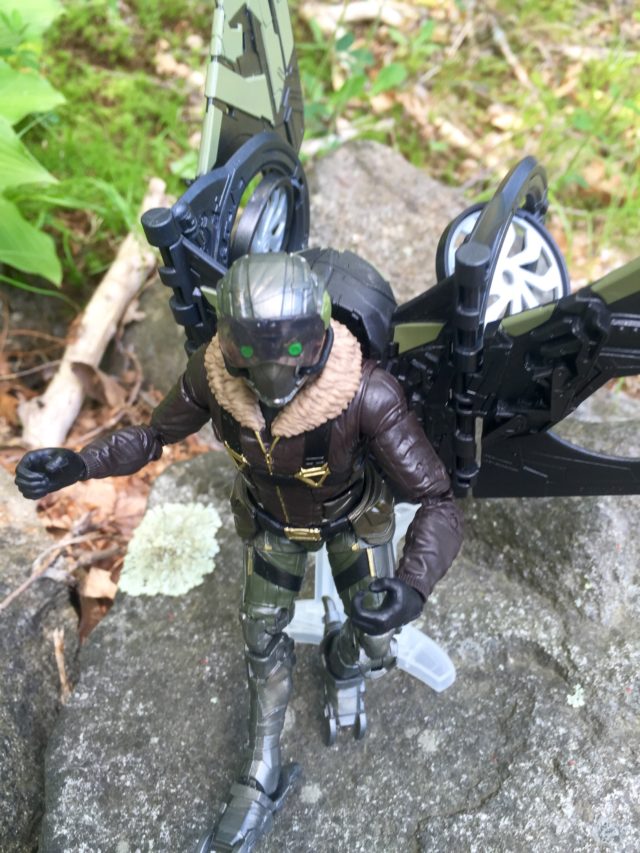 Now, don't get me wrong. Marvel Legends Vulture can absolutely stand without the extra support, and I had no problem photographing him just standing there solo. However, once you add the support stand, he loses all wobbliness and top-heaviness from the flight pack wings and just becomes a lot more more fun to pose and play with.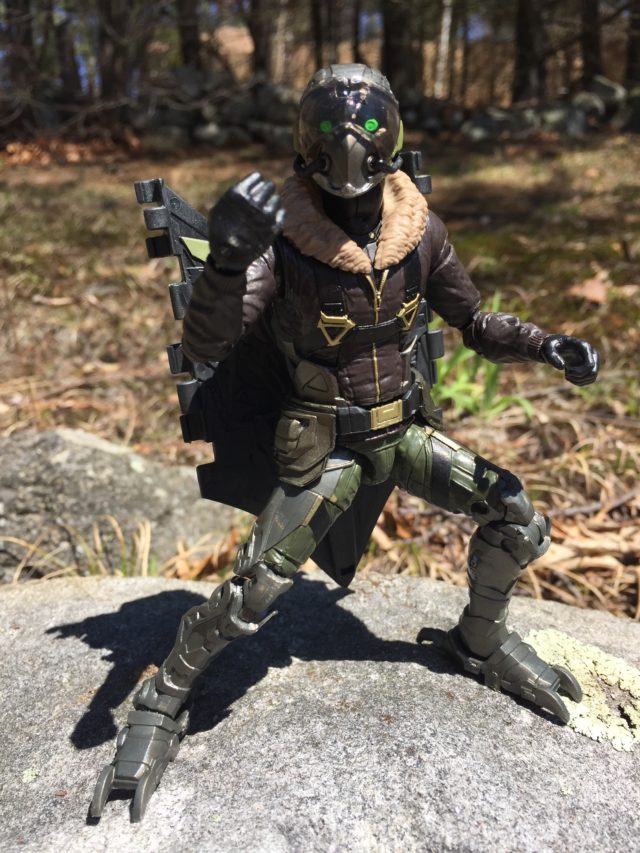 And pose Homecoming Vulture you can! When you take into account the double-digit number of joints in the wings, the Vulture BAF may have more points of articulation than any Hasbro Marvel Legends figure ever! Also, the joints are all nice and tight, and none of the plastic feels like it's cheap or going to break.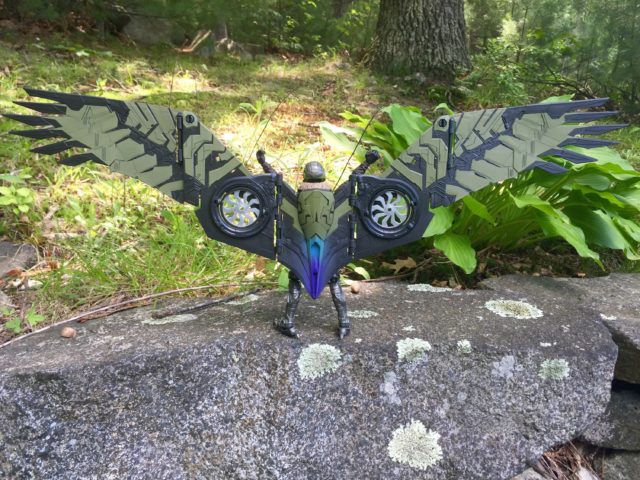 The base 6″ Vulture figure itself features almost everything you'd expect, with swivel waist/thighs/biceps; ab crunch; double-hinged knees and elbows; ball-hinge head/wrists/shoulders and hinged ankles with rockers. There's no swivel calves, but I don't think those would really make sense with the mechanical boot design anyway.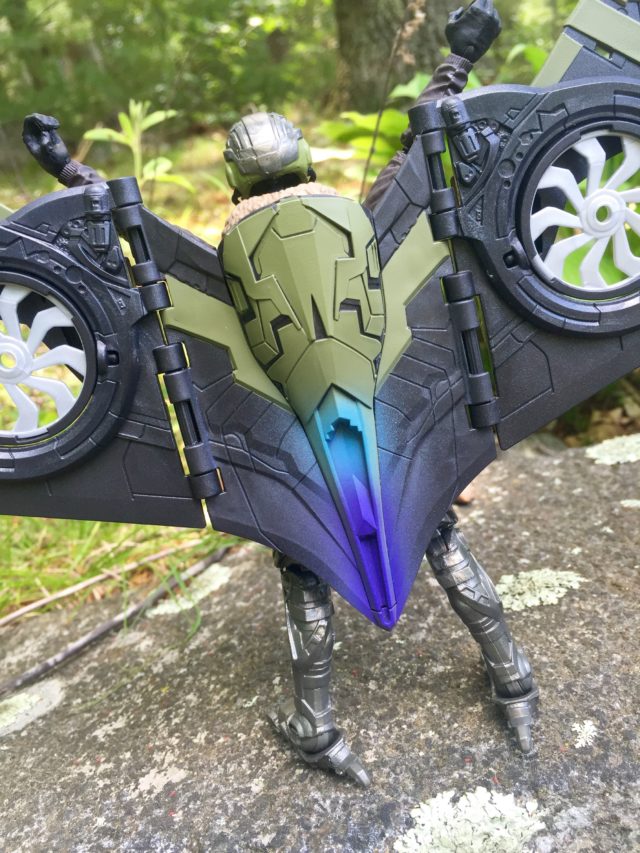 When I first saw the Spider-Man Homecoming  Vulture movie design, I thought it looked pretty ridiculous. After hanging out with this figure for a bit, I've changed my tune somewhat.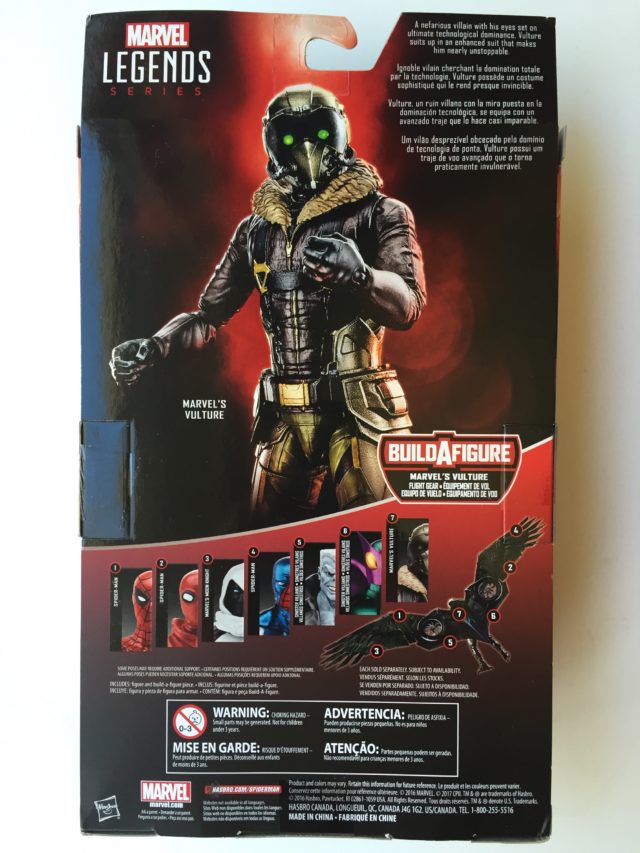 I'm still not totally sold on the leather bomber jacket with fluffy fur collar, but the talon-like metal feet are pretty intimidating, as are the piercing green eyes peering out from the Vulture's helmet. Honestly, the Vulture head might be one of my favorite designs we've seen come out of the MCU ever. Very sinister, creepy and cool all in one.
The Wrong:
One frequent complaint about this figure that I've seen from collectors is that there's no unmasked Vulture Michael Keaton head available. Seeing as how trying to get a Michael Keaton likeness approved would probably be a nightmare and I doubt Vulture is flying around much in costume with his mask off, I can live without an unmasked Vulture head.
What I would have liked, though, is some alternate "fist" hands for the figure. I imagine that Vulture does a lot of punching in the Spider-Man Homecoming movie, so I would have liked some fists for fistacuffs action. Alas, poor Vulture is now forever stuck in the "grasping hands" zone.
Other than that quibble, I got nothing. Hasbro did gangbusters on this toy.

Overall: While the decision by Hasbro to make the "Build-A-Figure" an accessory for another figure in the wave was a controversial one, I ardently believe Hasbro made the right choice here. You have to see the size and playability of the Vulture BAF wings to believe them, and this is easily one of the most impressive and unique Hasbro Marvel Legends 6″ figures ever released. Major movie villain with a new mold, two-foot poseable wings, and excellent sculpting and paint details? Yeah, this is an easy one to say "A" for. Great work, Hasbro.
GRADE: A