From the company who brought you Iron Man Mark II, Mark III, Mark V, Mark VI, Mark VII… and many many more Marks… here comes the numbering sequence gap-filling Iron Man Mark IV! To the shock of no one anywhere, Bandai Tamashii is releasing an S.H. Figuarts Iron Man Mark IV, which is now up for order in the US! But he won't be arriving alone next year—Samurai War Machine (you read that right) is on the way as well!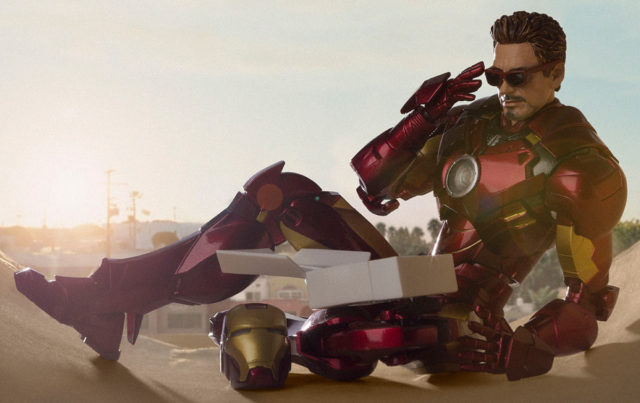 Bandai Tamashii has been rapidly building an SH Figuarts Hall of Armor with all of the most iconic Iron Man armors from the movies, and I couldn't be more delighted. There's never a bad figure released in this S.H. Figuarts Iron Man series, and each release is like a mini-Hot Toys (that doesn't cost the $250-$350 Hot Toys prices).
And now, having recently released the Mark V and Mark VI (redux) iterations of the armor, Bandai Japan is ready to complete the Iron Man 2 armors trio with their super-articulated, top-class 6" Iron Man Mark IV!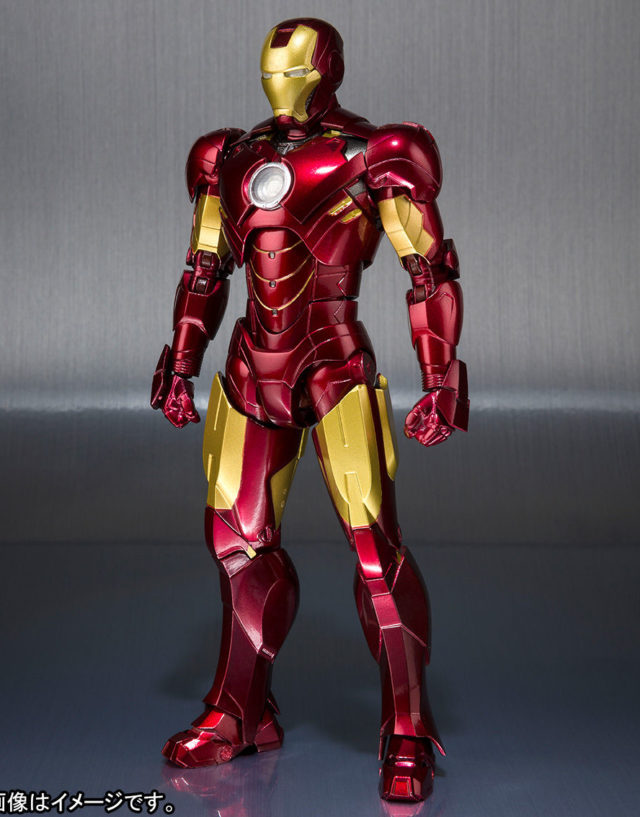 At a glance, the Iron Man Mark 4 armor is gorgeous, albeit a bit similar-looking to the Mark 6 armor. But Bandai Tamashii has found a way to make this figure feel a bit more distinct—with some awesome accessories!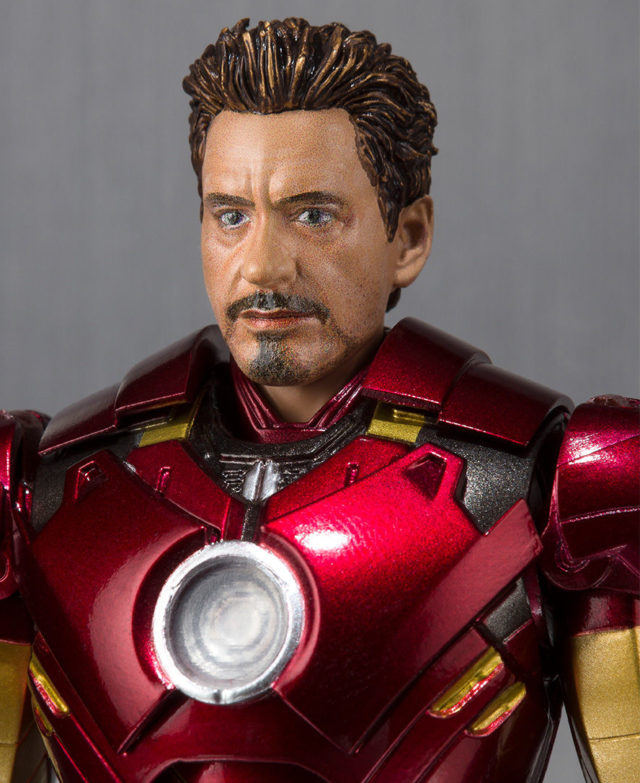 The S.H. Figuarts Iron Man Mark IV figure will come with not one, but two Robert Downey Jr. portrait Tony Stark faces. Now there's something we don't see very often from any company…!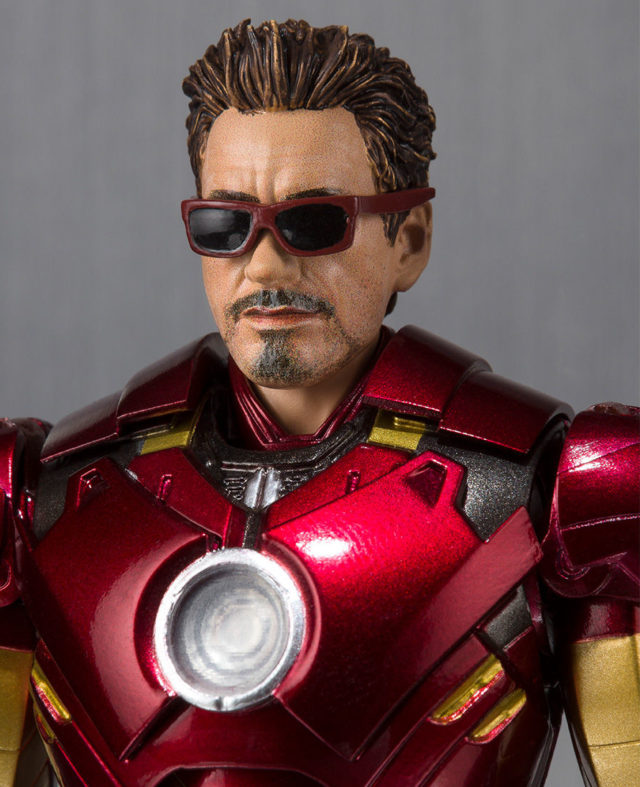 There's one unmasked head with interchangeable face plates, for those who are wondering. I'm partial to sunglasses-wearing Robert Downey Jr. myself.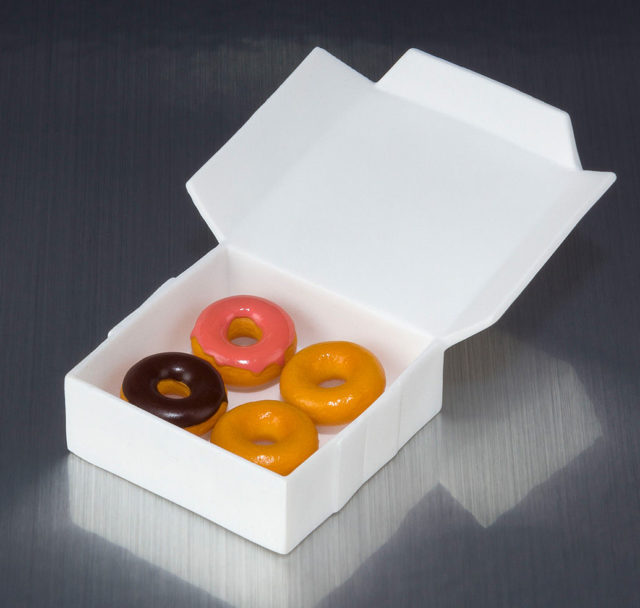 In addition to the unmasked portraits, the figure also includes interchangeable shoulder and leg armors, interchangeable hands, effects pieces, and yes… a box of donuts. Thanks, Bandai! You're the best!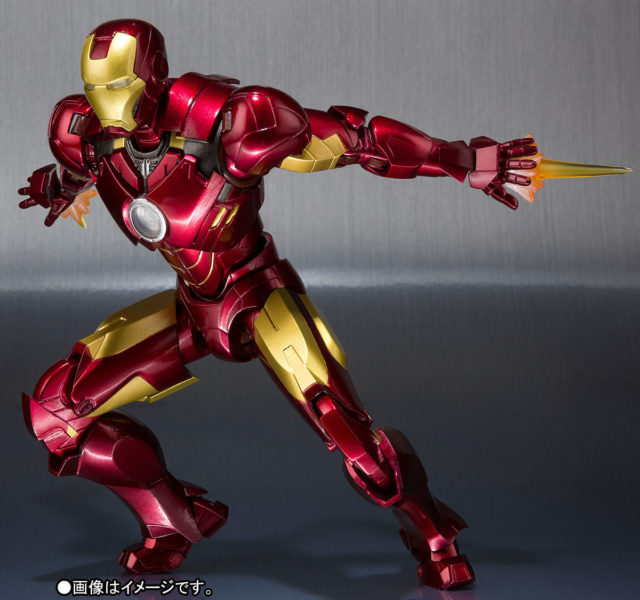 In order to make this Iron Man Mark IV Figuarts figure available in the United States via Bluefin Distribution, Bandai contractually had to add a Hall of Armor unit to the figure for licensing reasons. I'm building a 6" Hall of Armor, so that's fine by me, but it does raise the MSRP to $110. Your buying sensibilities may vary.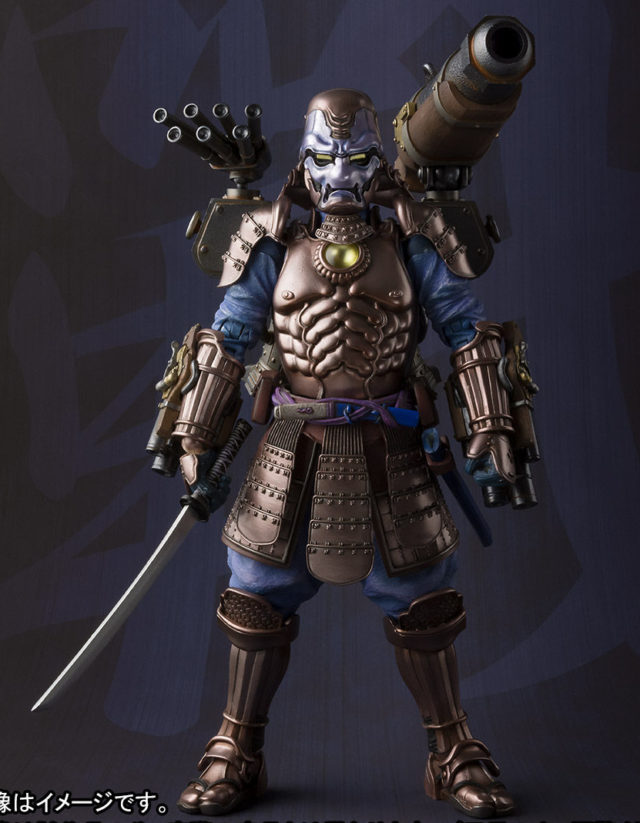 But wait—! Along with one of the most traditional Iron Man movie armor permutations, Bandai/Bluefin is also bringing us a totally non-traditional, non-canonical armor in the form of Manga Realization Samurai War Machine!
I've been a harsh critic of the Marvel Manga Realization series of figures from the start, and this Manga Realization War Machine is not an exception (Forgive me, Samurai Marvel figure fans!).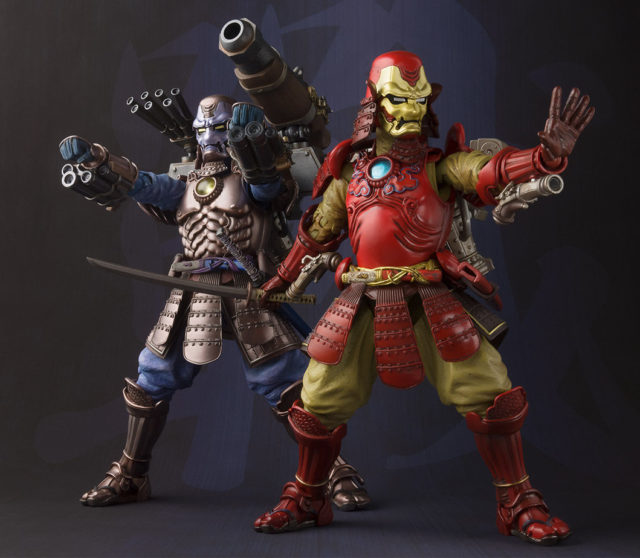 While you might be expecting a straight-up repaint of the Samurai Iron Man Manga Realization here, there's actually quite a bit of new tooling here to make this figure unique. The chest armor is all-new, and he includes a backpack with dual shoulder-mountable cannons. He'll also be the first Manga Realization figure to come packed with a figure stand (pedestal).
Although I totally respect Bandai Tamashii for adding cool new weapons and retooling the chest plate on the Samurai Iron Man figure mold, I straight-up hate the colors on this. They just don't say "War Machine" to me at all. If we can have crazy patriotic-colored samurais, I don't see why War Machine couldn't be in silver and greys instead of purple and bronze.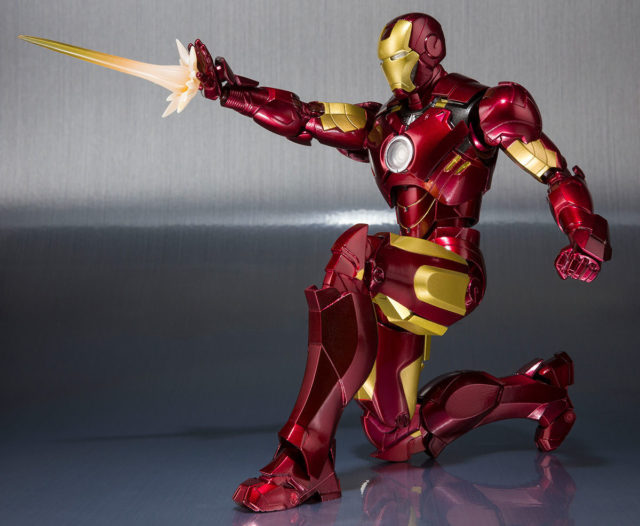 The Samurai War Machine and SH Figuarts Iron Man Mark IV figures are now up for order, and are scheduled to arrive in the United States in Spring 2018. US retailers aren't allowed to discount these during pre-orders, so they're the same $90 and $110 (respectively) everywhere right now.
Thoughts on the two newest armors coming to our Bandai Marvel figure collections, Marvel collectors? Is the Mark IV a worthy addition to your Iron Man collection, and how do you feel about the aesthetic of the War Machine Samurai figure? Are you hoping to see either of these lines continue?