Time flies, huh? It seems like just yesterday that the SH Figuarts Iron Man Mark VI figure was the first Marvel Figuarts figure to ever be announced for an official North America release by Bluefin Tamashii Nations, but that figure is already scheduled to arrive next month! And with the MK VI on the way, I think it's high time us poor, neglected (I'm being sarcastic) Iron Man fans had something new to look forward to: the SH Figuarts Iron Man Mark II figure is now up for order!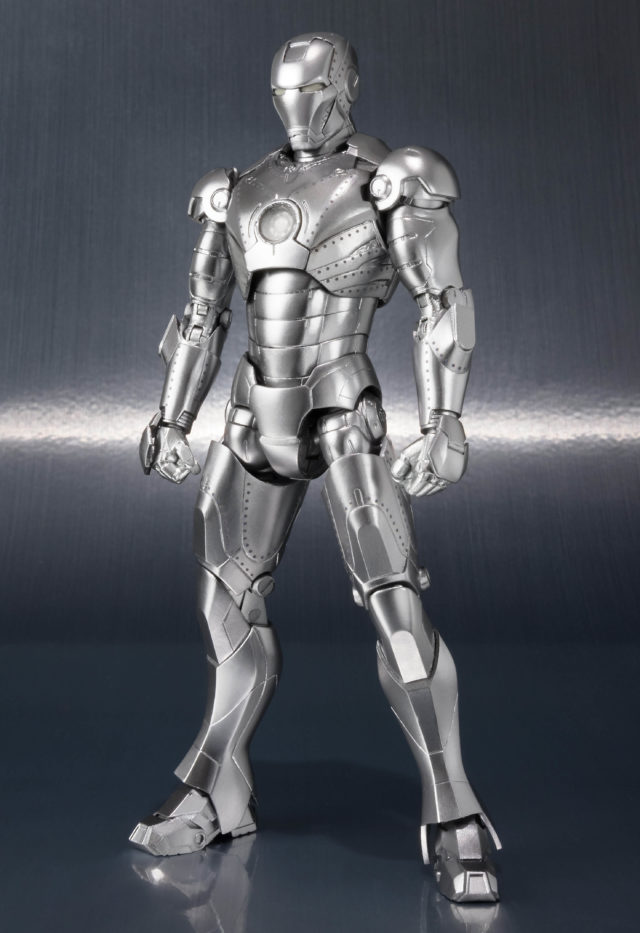 Anybody who reads regularly knows that I love me some Iron Man armor permutations. And so, since the beautiful Comicave Studios Die-Cast Iron Man 3 House Party Protocol figures line seems to be dead in the water (alas, I really wanted die-cast Disco and Peacemaker), I'll take what I can get in 6″ form from Bandai Japan.
But hey–that's not a bad thing at all. Because what we're getting from Bandai Japan is a continuing series of Iron Man Figuarts figures of the armors from the first two Iron Man movies!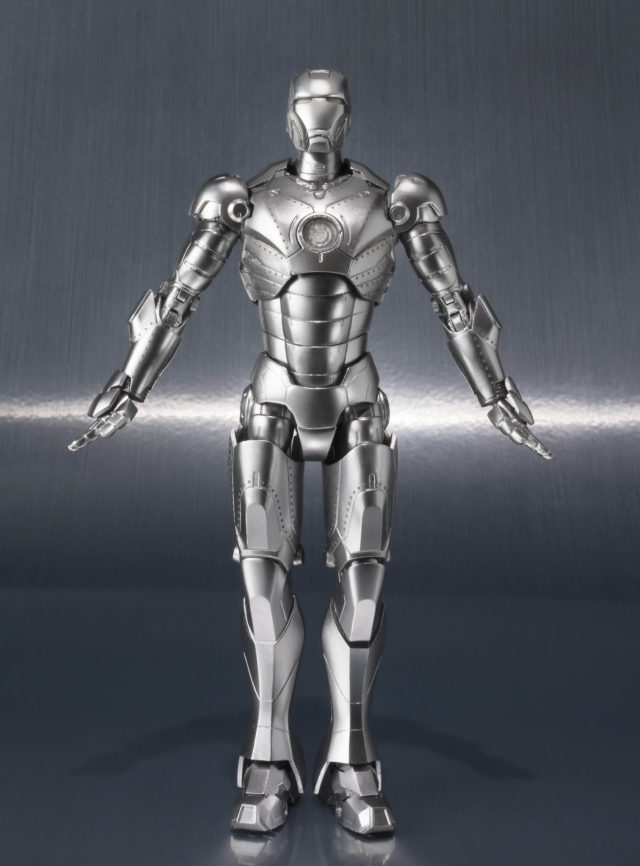 There's a pretty big contingent of fans out there waiting for the Figuarts Mark I armor, but it looks like the wait is going to be a bit longer–because the next release is the most silver Iron Man ever, the S.H. Figuarts Iron Man Mark II!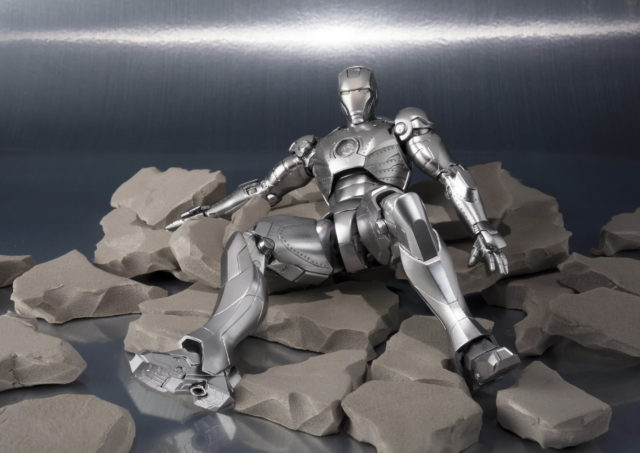 The Mark 2 didn't get a ton of screen time in the first two movies, but it did appear for longer than 98% of the House Party Protocol armors do in the third movie. And more importantly, it's gosh-darn gorgeous. Love that pure silver color scheme!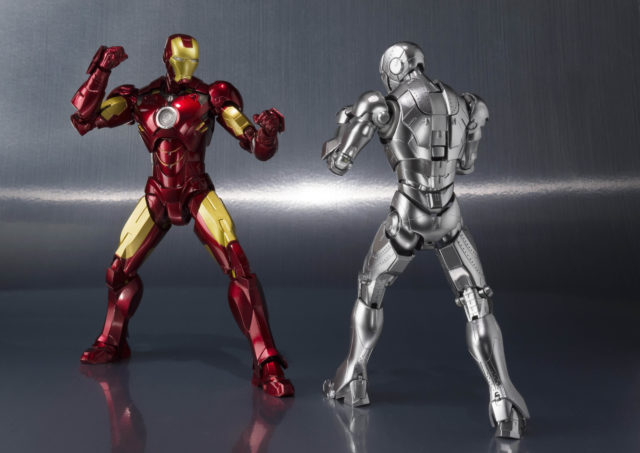 The figure will come with the standard accessories we've come to expect from Bandai Japan: interchangeable hands, multiple effects pieces and interchangeable back armor (okay, that last one is a little uncommon).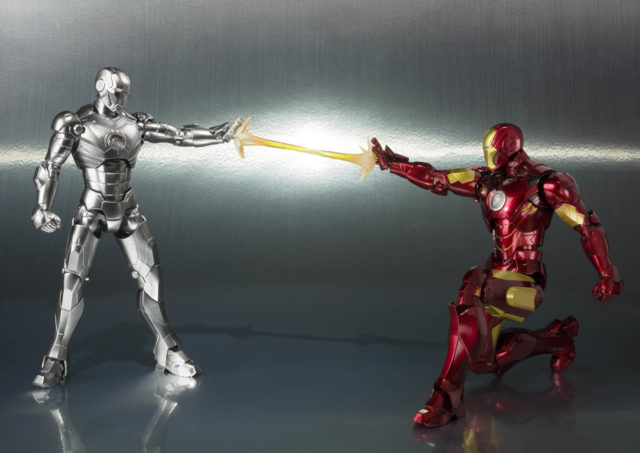 But, of course, there's one big accessory for those of us stateside that I'm overlooking. As was the case with the previous SH Figuarts Iron Man Mark IV set, the Figuarts Mark II Iron Man will only be available in the United States  as part of a combo pack with another Iron Man Hall of Armor unit.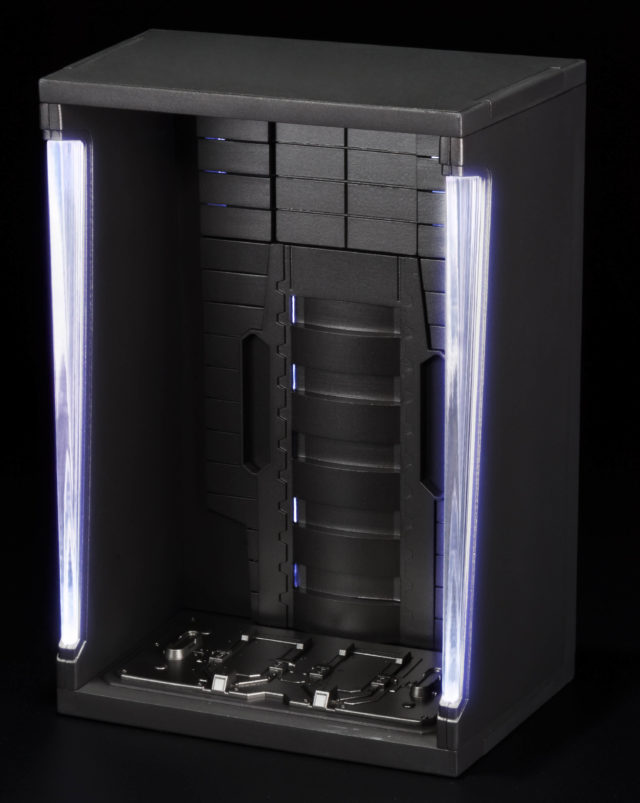 Details of the licensing agreement allowing Bluefin Tamashii Nations to distribute S.H. Figuarts Marvel figures in the U.S. aren't exactly public, but I think we can see pretty clearly from the few figures that have been solicited so far in North America that Bluefin has to include some sort of oversized accessory (ie Flame Effects; Hall of Armor Pod) that gets the Marvel Figuarts figures over $80 in order to release them here.
I'd be grouchy about this if the extra accessories weren't something I'd want anyway, but Marvel Legends scale Hall of Armor cells…? Sign me up!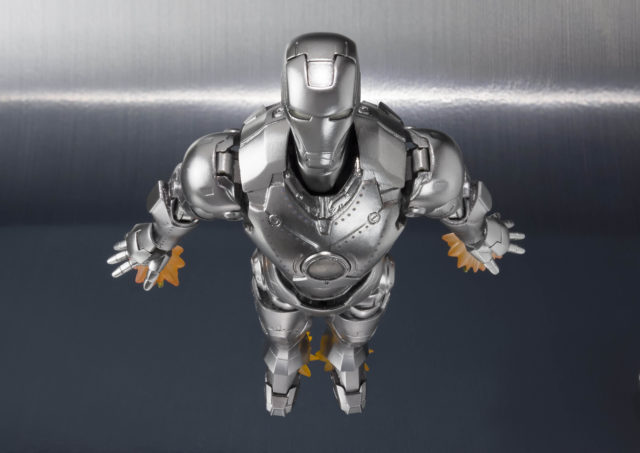 The Iron Man Mark II Figuarts figure is now up for order. In the United States, the set will sell for $109.99 (and have free shipping through EE). As this figure is a Bandai Premium Web Exclusive, it will not be available for cheap import through AmiAmi and HLJ like the non-web exclusives are. I'll send out an alert once this set actually goes up for order.
Now that we're into the second release in the series, how are you feeling about the SH Figuarts Iron Man Hall of Armor series, Marvel collectors? Are you planning on picking up the Mark II… and perhaps the rest of the series as well, or is $110 for a 6″ figure and expanding diorama just not for you?