Well, it looks like it's a good thing I didn't delay too, too long in posting my Kotobukiya New York Toy Fair 2017 photo previews–because the Kotobukiya Star-Lord ARTFX and Spider-Man 2099 ARTFX+ statues are now up for order! Along with the pre-order solicitation comes the official photos, specs and pricing info, so let's take a look at all the details about these two figures that made their debut at the 2017 Toy Fair last month…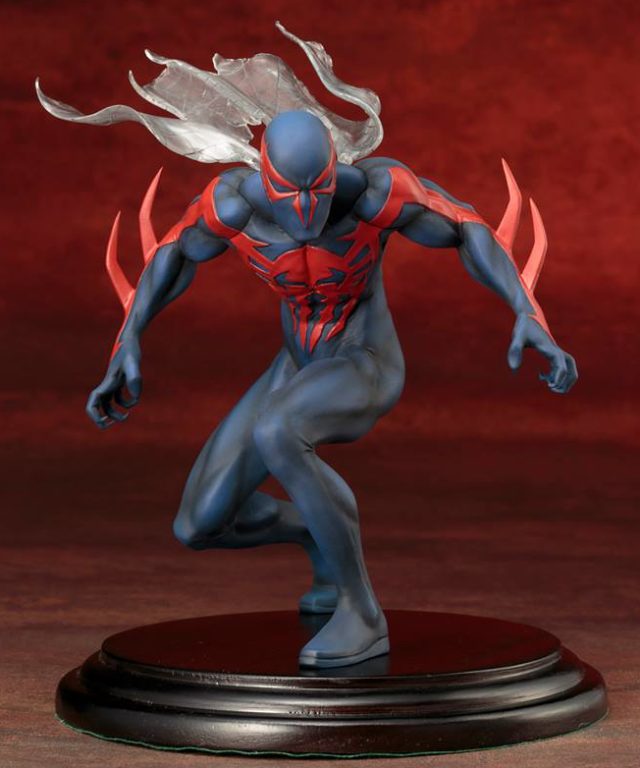 Kotobukiya is usually pretty good about opening pre-orders for their latest Marvel statues very soon after showing off the prototypes at a show or event, so it wasn't a surprise when they posted the solicitations for their next two summer 2017 Marvel pieces this week.
Both of these are fan-favorite characters that Koto has never done before in any form, and now that we've seen the official photos, both of them are looking just as great as they did at New York Toy Fair last month!
The only part of ARTFX+ Spider-Man 2099 statue that wasn't readily visible in the Toy Fair display case was the back side, but we can see it clearly in these official photos. The paint shading on his back really brings out the details well (although 2099's pose combined with the simple tight-fitting spandex costume may emphasize his butt in a way that makes some dudes a bit uncomfortable).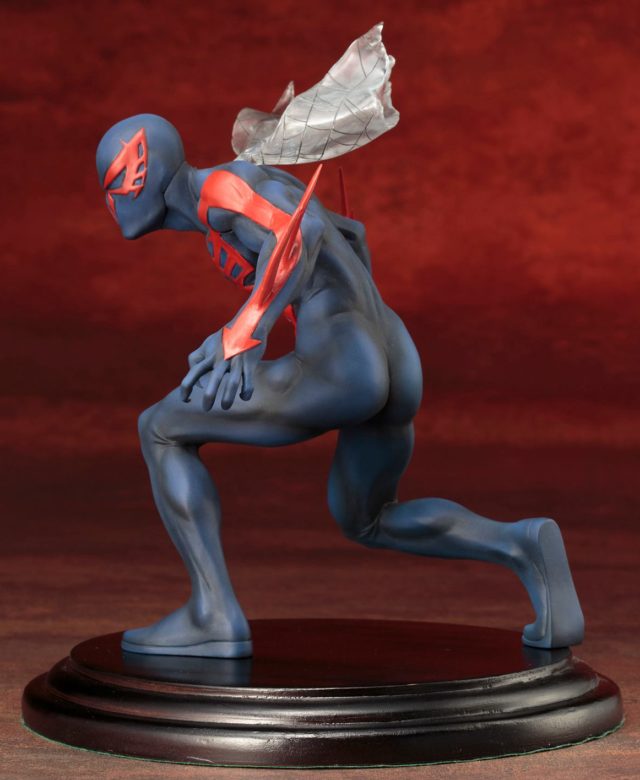 The Koto Spider-Man 2099 statue is priced at $64.99–a steep drop off the 80 bucks price of ARTFX+ Carnage (thank God). 65 dollars MSRP is still a lot for a 1/10 scale statue, but at least it's not the extortionate price Carnage was.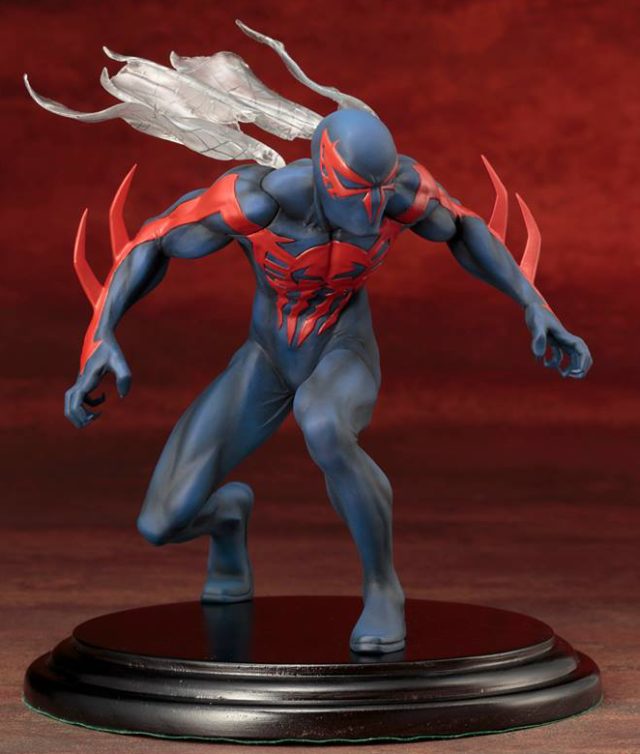 This piece looks terrific, and is a viable alternative for those who doesn't have tons of space and 700 bucks to throw at the 1/4 Prime 1 Studio Spider-Man 2099 statue that I'm madly infatuated with.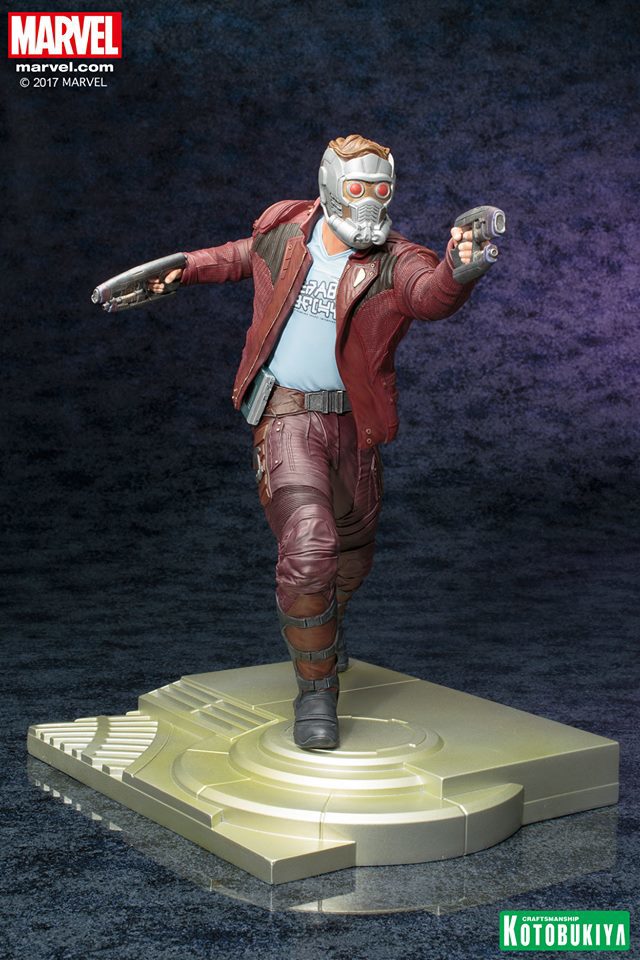 Meanwhile, the Kotobukiya Star-Lord ARTFX statue looks
just as good as it did at NY Toy Fair 2017
–and perhaps a little bit better! The official photos let us see what Star-Lord's helmet looks like on the statue for the first time, and while it looks a bit too white to me in these images, I'm confident Koto will get the color matched perfectly by the time this hits our doorsteps.
Star-Lord's headphones are removable display option, and I like the dynamic action pose for a character who's never had a sixth scale statue before. Baby Groot spent more time crashed on the floor of the display case during the show than he did on Peter Quill's shoulders, but we can see how super cute he is properly positioned in these photos.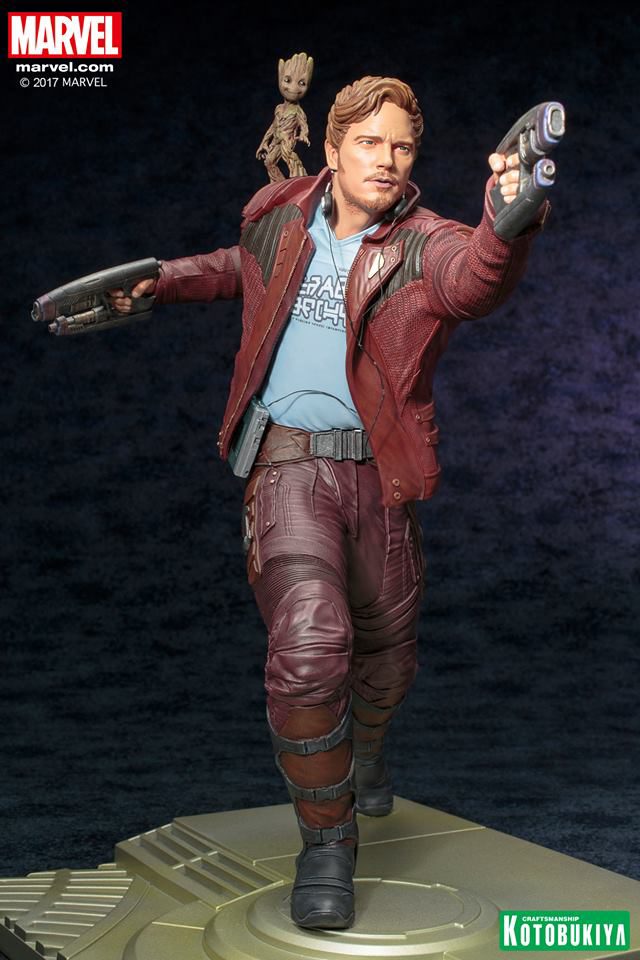 The 1/6 Kotobukiya ARTFX Star-Lord statue (with Little Groot!) is now up for order and is scheduled for release in September 2017. It stands 12.5″ tall and has an MSRP of $139.99, but thankfully you can get a $15 pre-order discount and free shipping from WoozyMoo right now. This is unfortunately the only Guardians of the Galaxy Vol. 2 movie statue that Koto has planned, but I wonder if there might not be a comic-based Guardians of the Galaxy ARTFX+ series in our future…?
Now that we've seen the final prototypes and their price-points, what do you think of Koto's newest pieces, Marvel collectors? Are either of these statues bound for your collection later this year, or are you put off by the sizes, price, character selection or some other detail?