Way, way back in January 2017 (when Devil Dinosaurs roamed the Earth), a mysterious auction listing popped up online for a trio of unannounced, unreleased Loot Crate Exclusive Jada Metals Logan Wolverine figures. Details were murky about these leaked figures, so I didn't talk about them then. But the mystery has been solved! The Metals Wolverine figures are part of this month's Crate, and Marvel Metals collectors have just two more days to order the Primal LootCrate and keep their collections complete!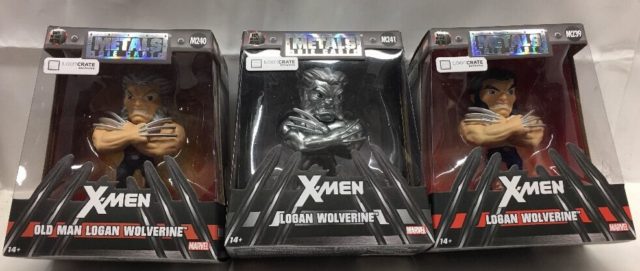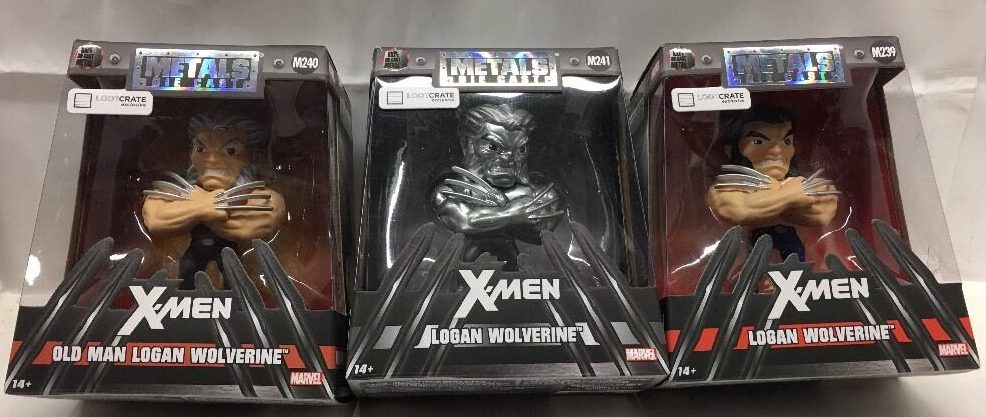 The contents of the monthly Loot Crate subscription box leaking onto the Internet in advance of the boxes actually shipping out isn't exactly unusual–in fact, it's become a sort of time-honored tradition. In fact, oftentimes LootCrate goes ahead and posts spoilers for their boxes themselves as an advertising promotion!
But what is a wee bit unusual is one of Loot Crate's Exclusives leaking out onto ebay months before the box the exclusive is in begins to ship. Or in this case–three of their exclusives!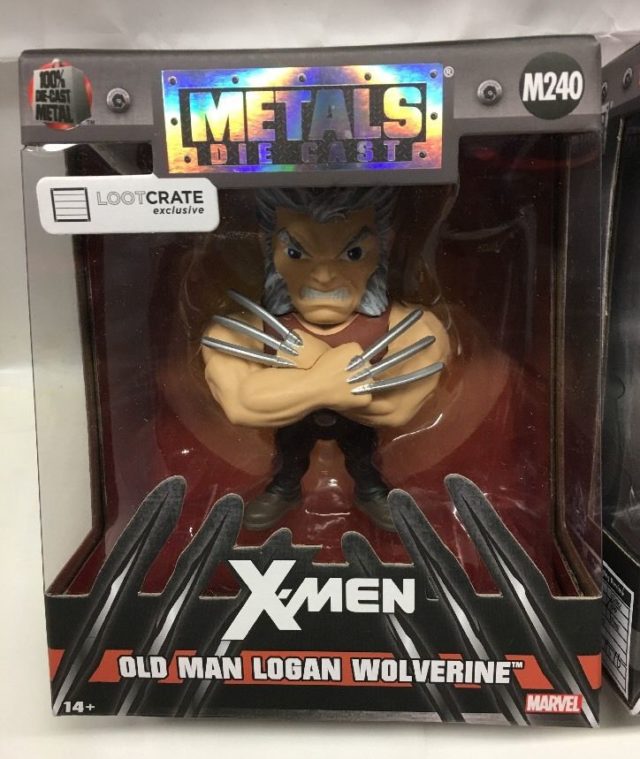 In honor of the "Logan" movie hitting theaters this month, there's an exclusive Wolverine item in this month's "Primal" themed Loot Crate. And what that item turns out to be is actually one of three items–the three aforementioned Wolverine Logan Jada Metals figures!
One of the three Jada Logan Metals figures will be randomly inserted into each Primal Box, so you'll have to trade with other collectors or order at least three boxes to get the whole trio.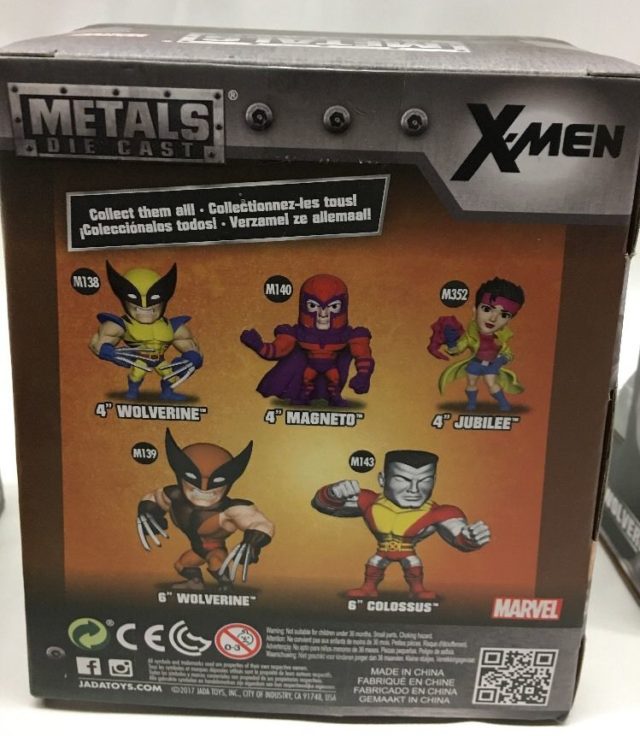 The back of the box for these exclusives will also show off five more previously unannounced X-Men Metals figures that will presumably be released to mass retail stores this spring: Jubilee (!!!), Magneto, a 4″ Jim Lee Wolverine (Tiger Stripe), a 6″ Colossus and a 6″ Brown Costume Wolverine.
I'm not sure exactly why Brown Costume Wolverine gets the 6″ treatment, since he's one of few characters that really should be shorter than all the others, but that Jada Metals Jubilee is absolutely to die for. Bring it on, Jada!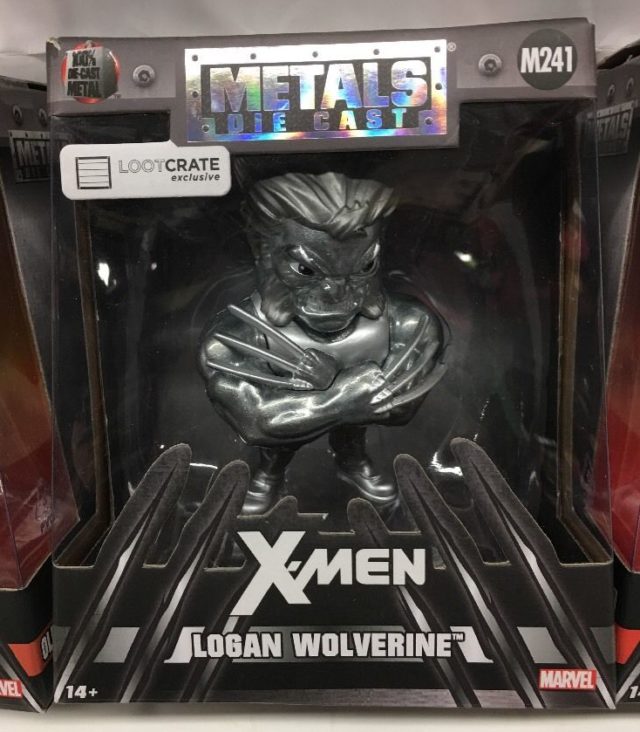 But! Back to the figures in the Loot Crate itself! The three possible figures in the series are unmasked Wolverine (Logan), Old Man Logan and an unpainted silver Unmasked Wolverine. I don't think I have to point out which one of these is going to be
the
hot one this month, and which one is gonna be the unpopular one (hint: the unpopular one will be the unpainted one).
As the cost of a Jada Metals figure is about $13 and that's also the cost of the March 2017 Loot Crate, ordering this crate was a no-brainier for me. Even if the rest of the stuff in the mystery box is junk, I'll have already gotten my 13 bucks' worth.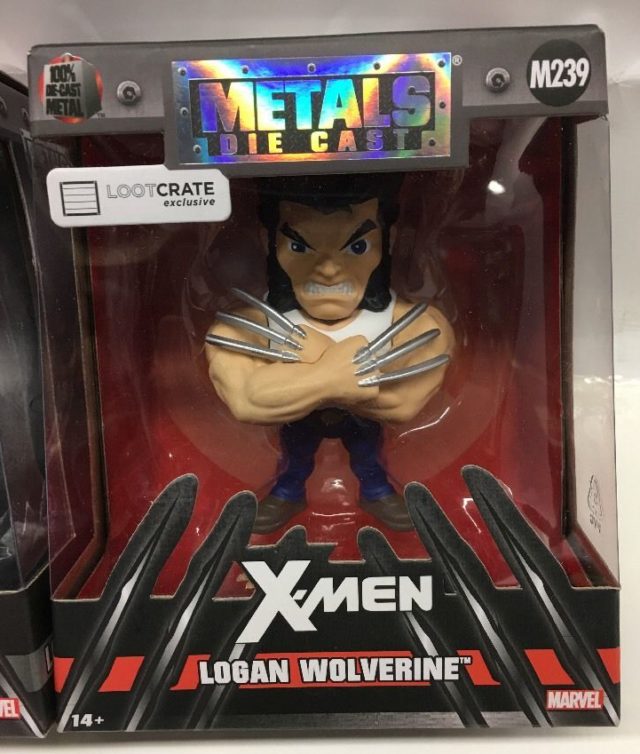 The March 2017 Loot Crate with Metals Logan figure is still available for order as of writing, but orders close at midnight on Sunday March 19th. This is one of very few Loot Crates where I expect an item in the crate will end up being worth more than the cost of the box itself, so definitely consider snatching this up if you're a Jada Metals Marvel collector.