This week's Marvel toy news drought is still going strong, so it's time for me to pull from my remaining photos stash from last month's New York Toy Fair 2017! Like most years, Kotobukiya had a 1/6th scale Marvel ARTFX statue on display at Toy Fair 2017. But unlike most years (okay, every year), this time it wasn't Iron Man-related! Coming later this spring, it's the Guardians of the Galaxy Vol. 2 Kotobukiya Star-Lord ARTFX Statue!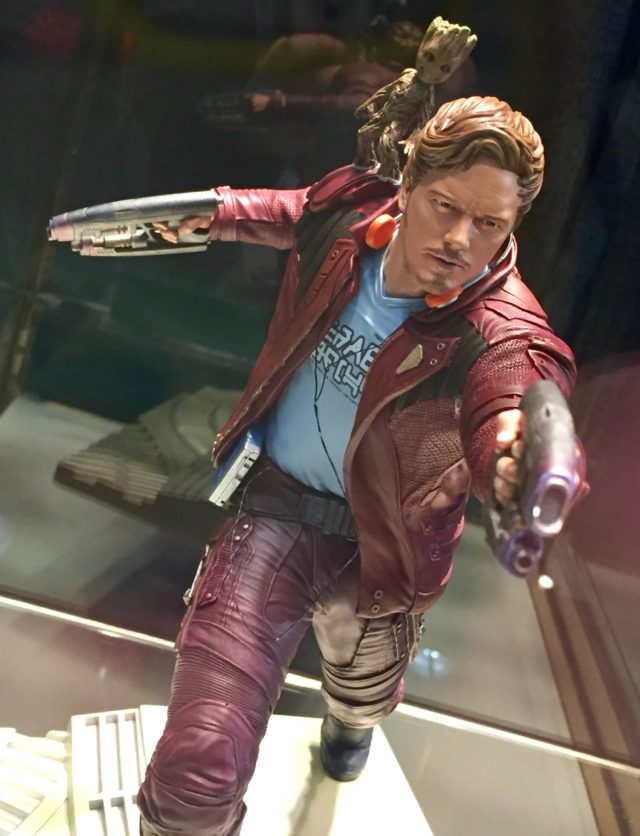 Despite the fact that they're fast becoming one of the most popular and recognizable superhero teams in existence, Kotobukiya hasn't really given the Guardians of the Galaxy much love just yet. In 2014,
Koto released a movie Groot and Rocket Raccoon ARTFX+ statue
that wasn't exactly a huge hit, and… well, that's really it.
But at NY Toy Fair 2017 last month, we got a look at the one item Kotobukiya has planned to tie-in with this year's Guardians of the Galaxy Vol 2 movie: a 12″ ARTFX Star-Lord statue!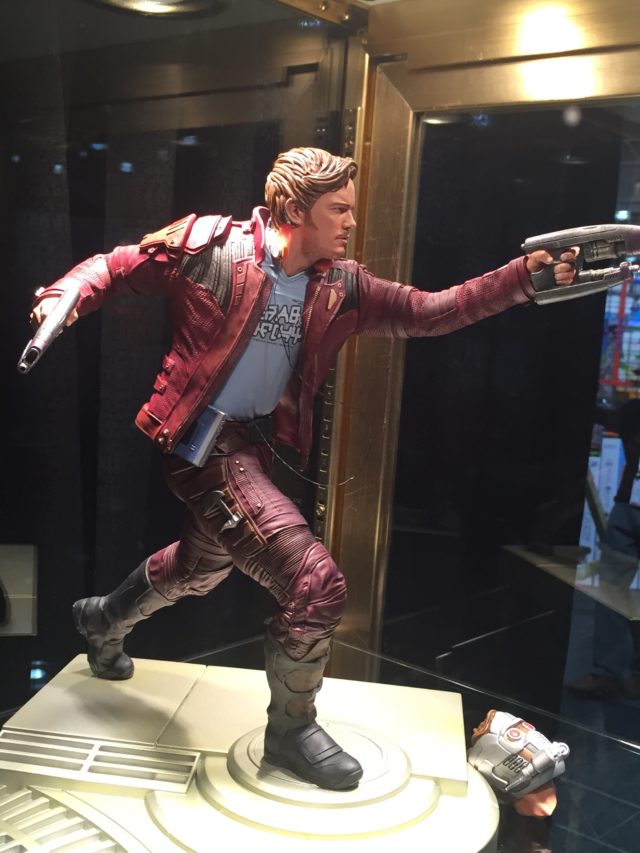 Now, not to be confused with Kotobukiya's long-running, low-priced and beloved 1/10th scale ARTFX+ series of figures, the Marvel ARTFX line consists of 1/6 scale (aka Bowen Designs scale) plastic statues. They're like the Fine Arts Series of statues from Koto, except cheaper and with smaller bases and plastic instead of resin.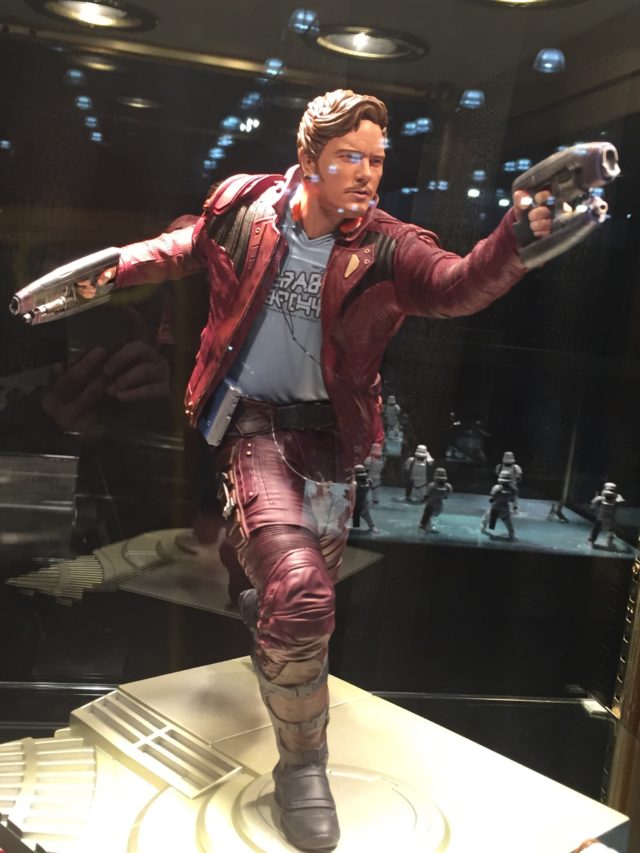 Off the top of my head, the only movie characters I can ever recall Koto doing in this scale are Iron Man and War Machine (there's also a super-cool comics-based Deadpool on the way), but it looks like Peter Quill has finally hit the big time and earned himself a major release as an ARTFX statue!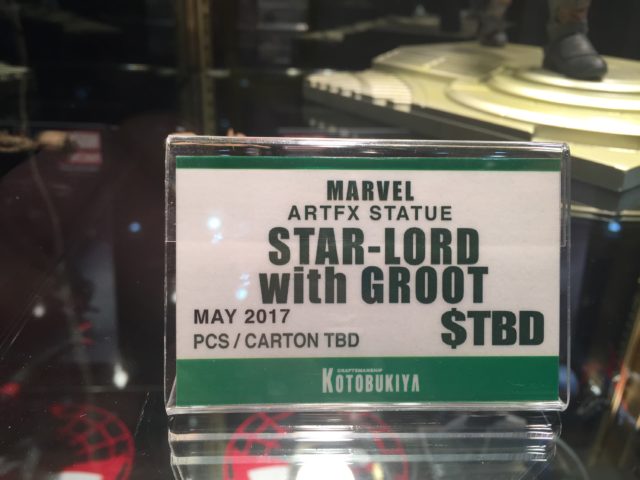 The placard at the 2017 Toy Fair indicated that the Star-Lord Kotobukiya statue would be released in May 2017, but seeing as how Koto has yet to even solicit the figure for pre-orders, I'd assume that that date is overly optimistic. I'm not saying it's totally impossible this piece will ship two months from now, but I'd say it's pretty unlikely.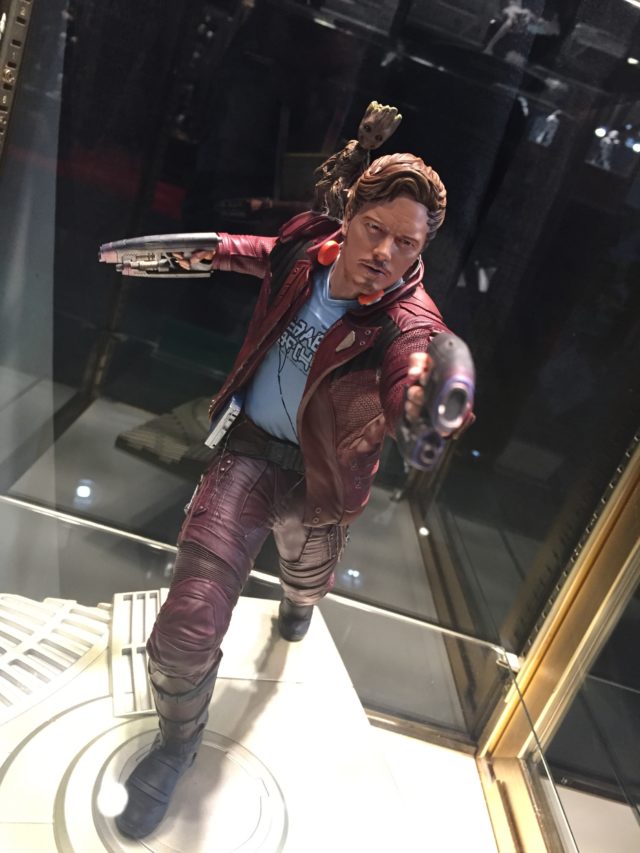 Of course, Chris Pratt would probably be pretty lonely if the Star-Lord Kotobukiya statue was coming all by himself–so Star-Lord has a little friend along for the ride: Baby Groot!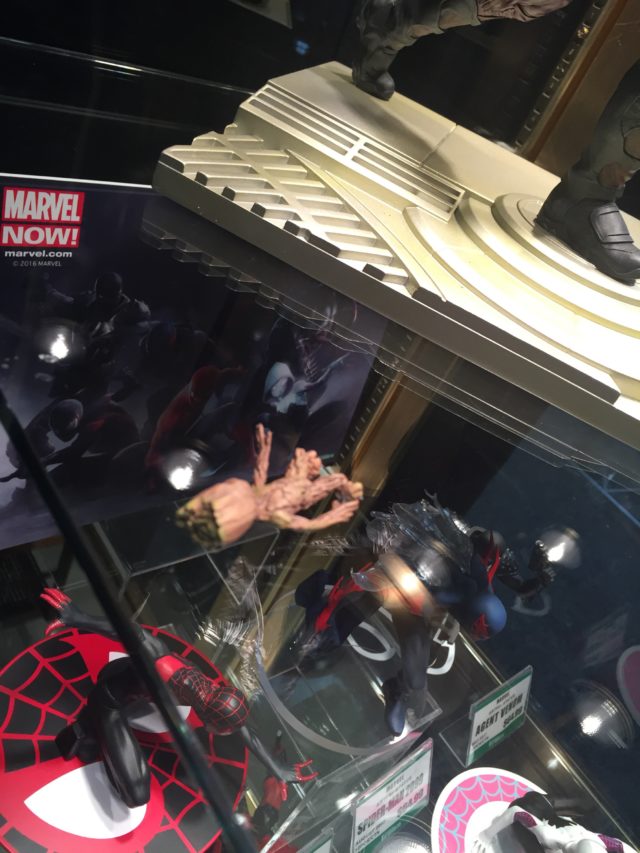 The Koto Baby Groot figure is really small, and may be a bit prone to falling off of Star Lord, as the Baby Groot figure was fallen on the floor of the display case for much of Toy Fair (and almost all of my photos).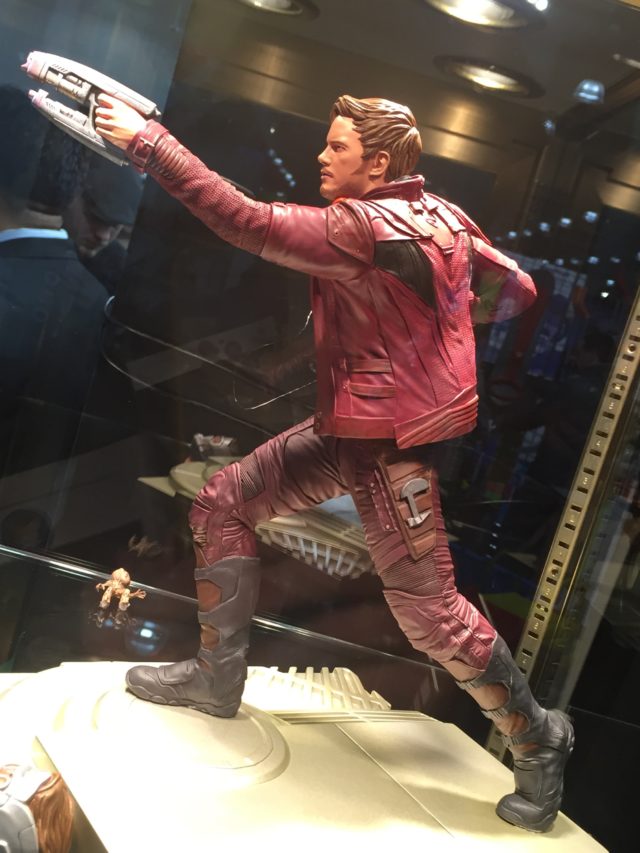 Groot isn't the only extra with Koto's Star-Lord figure, though: along with the display base, you also get an interchangeable masked Star-Lord head.
These masked heads are lifesavers for companies whose Chris Pratt likenesses are disappointing, but with Koto's Chris Pratt portrait being so go nice, I doubt I'll have much need for the masked head myself. That said, I know there are many folks who prefer their Legendary Outlaw with his helmet on, so the interchangeable head is definitely a welcome addition to the statue.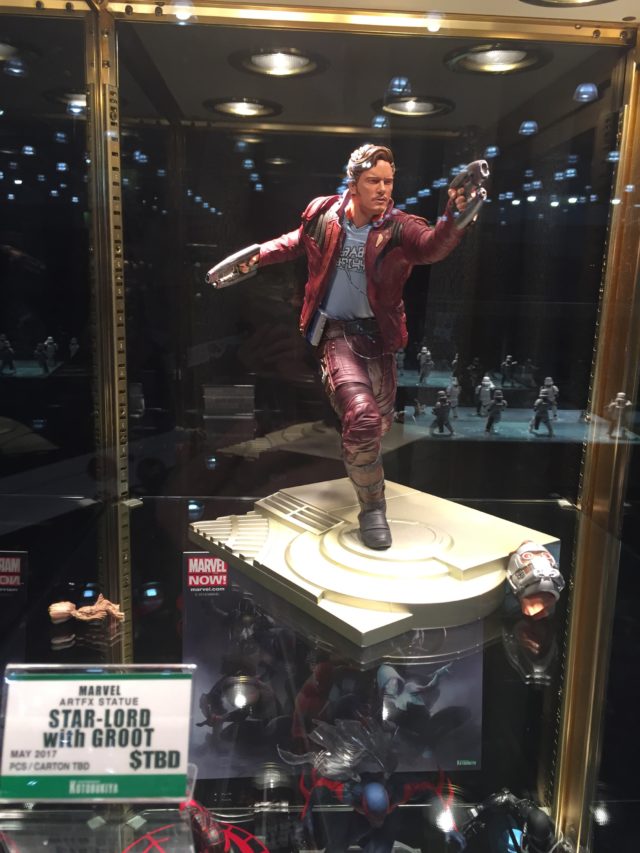 The Kotobukiya Guardians of the Galaxy Star-Lord statue is expected to go up for order this spring, with a release date later on in 2017. I'll post updates here and to the Marvel Toy News Twitter and Facebook Pages once Koto confirms the specific release info for this figure.
What do you think of the one collectible Kotobukiya has lined up for GOTG Volume 2, Marvel collectors? Were you hoping for more (or less) representation for this movie? And are you interested in adding ARTFX Star-Lord to your collection?