Sometimes you wake up in the morning and it is legitimately the perfect day. For me, this morning was one of those mornings. Not only did I wake up this morning to discover that the first Guardians of the Galaxy trailer had premiered overnight (an event which I knew about but somehow forgot to watch anyway), but then I logged onto my computer to discover a totally unexpected statue announcement–the Kotobukiya Guardians of the Galaxy Rocket Raccoon and Groot ArtFX+ Statue is now available for order!
First thing's first–if you haven't seen the Guardians of the Galaxy premiere trailer, I forgive you. I've also pasted it right above so that you can watch it. Right now. Go ahead.
…Done? Okay, good. For me, personally, this is one of my favorite movie trailers I've ever seen. No lie. I feel like Marvel Studios managed to encapsulate the offbeat tone and feel so well in that two and a half minute trailer so well that's unbelievable. The look, the camp humor, everything–awesome. I know plenty of people have their doubts about how successful this movie is going to be at the box office (and perhaps rightfully so), but for Guardians of the Galaxy fans, this is looking like it is going to be a real treat.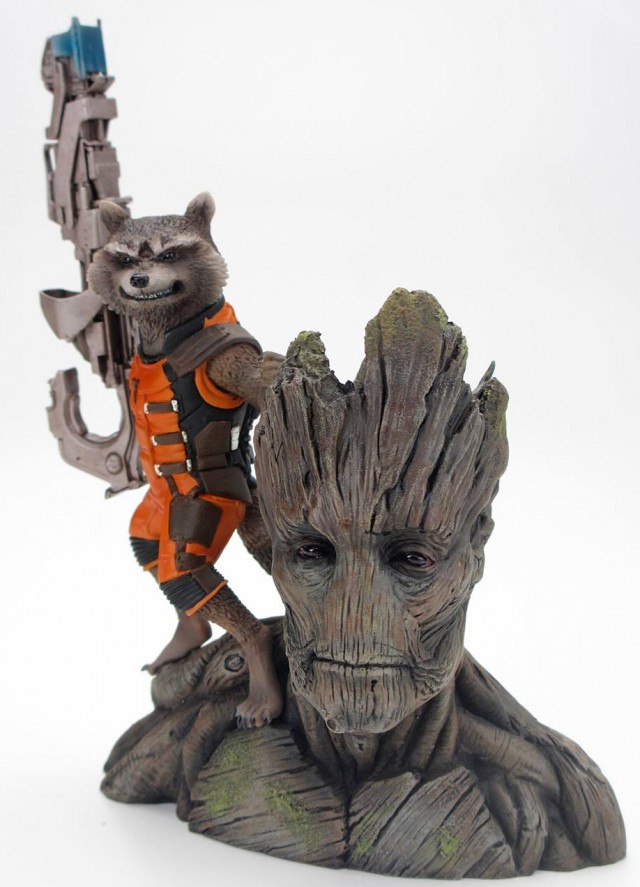 Now, down to business. Last week Gentle Giant announced their Star-Lord mini-bust, the first-announced high-end Guardians of the Galaxy collectible. This week, to coincide with the GOTG trailer's release, other companies are following suit with their own first Guardians of the Galaxy collectibles. Kotobukiya has decided to cash in on by making their first Guardians of the Galaxy ArtFX+ statue in the form of what is almost certainly going to be two of the most popular characters in the film–Rocket Raccoon and Groot.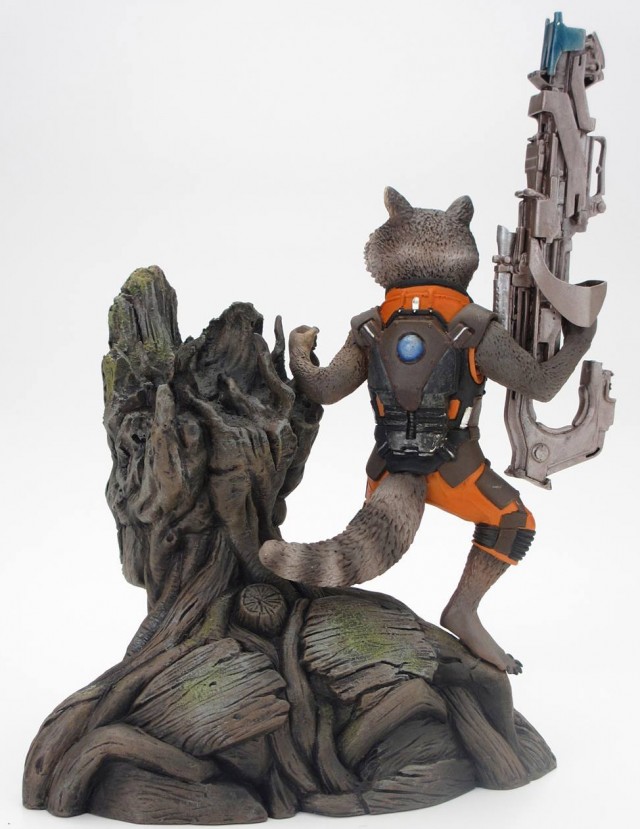 My affinity for the anthropomorphic Rocket Raccoon is pretty well-known. I've loved the character since before he became prominent in the Annihilation event, I stood in line for an hour and a half to get the plush Rocket Raccoon at NYCC 2013, and I main Rocket Raccoon in Marvel vs. Capcom 3 (even though I'm pretty awful with him specifically). So am I excited for the first ever Rocket Raccoon high-end collectible? Yes. Yes, I am.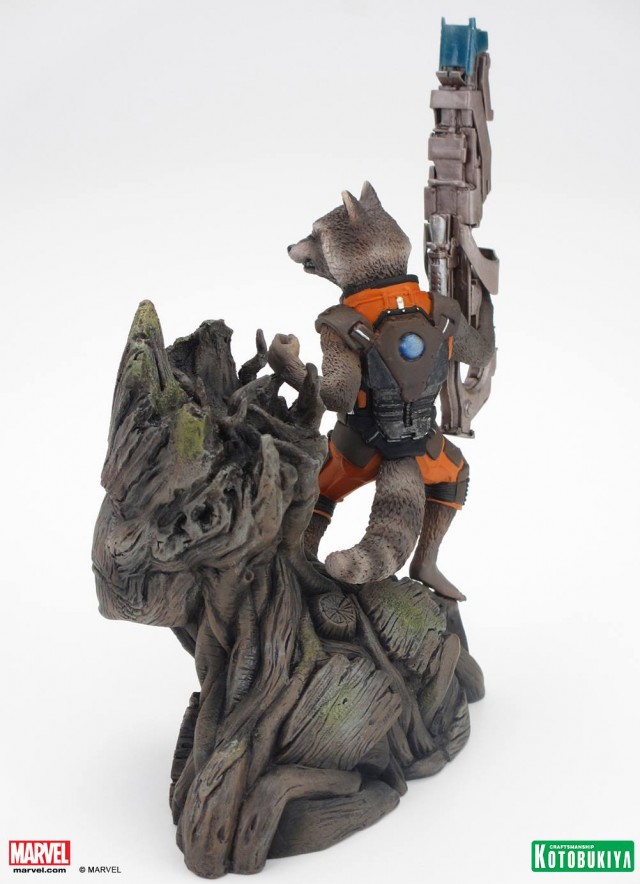 I think Kotobukiya has done a gorgeous job with this 1/10 scale Guardians of the Galaxy Kotobukiya Rocket Raccon and Groot ArtFX+ Statue. The sculpting and texture on the Groot portion of the statue make it very self-evident that Groot is a tree man and not just a giant (thankfully–the one episode I saw of Attack on Titan will give me nightmares for the rest of my life), and Kotobukiya wisely chose to depict a fierce, angry-looking Rocket Raccoon instead of a more cuddly, benign-looking Rocket.
A deadly Rocket Raccoon will sell to the mainstream male collector population far, far better than a cutesy version (though I'll love every piece of cute Raccoon Raccoon swag we get as well).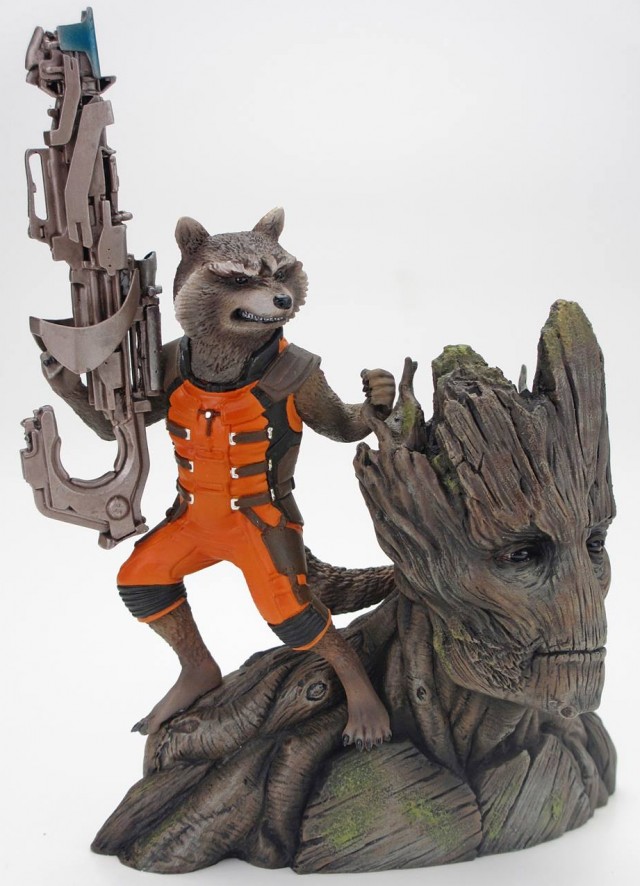 The Kotobukiya Guardians of the Galaxy Rocket Raccoon & Groot ArtFX+ Statue is now available for order, and is scheduled to be released in September 2014, right after Guardians of the Galaxy has (hopefully dominated at the box office). The statue isn't up for pre-order anywhere yet, but I'll add links to order it once it's available.
As you might imagine, this Rocket Raccoon & Groot statue is an instant purchase for me, and will be receiving a full review and photos the moment I can get my hands on it. What about you, Marvel fans? Do you have space in your collections for the first-ever high-end collectible featuring of both Groot and Rocket Raccoon?