Of all the things that I was not expecting to see while wandering around the Diamond Comics Distribution booth's display cases at this week's New York Toy Fair 2014, a brand-new, unannounced deluxe MAFEX action figure set would have been one of the things at the top of the list. While we learned last month than MAFEX had a brand-new Amazing Spider-Man 2 movie action figure on the way for later in 2014, what we didn't know until Toy Fair 2014 is that they were also planning on releasing a special MAFEX Amazing Spider-Man 2 DX Set with a ton of accessories. Of course, the catch is that those accessories will cost you. A lot.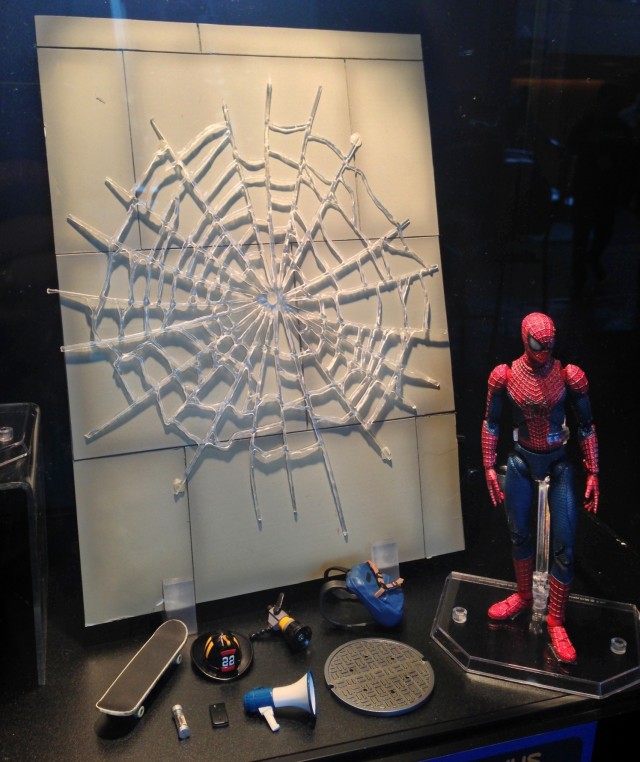 Last month Medicom unveiled their Miracle Action Figure EX (MAFEX) Amazing Spider-Man 2 action figure, which is due out in September 2014.
The original MAFEX Amazing Spider-Man figure now sells for hundreds of dollars online, so fans wanting their own MAFEX Spider-Man have been hotly anticipating this fall's release of the MAFEX ASM2 Spider-Man action figure, which is set to retail for $44.99.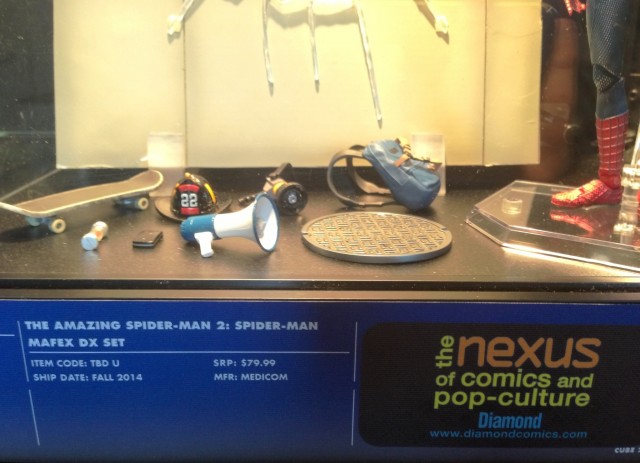 What we didn't know until this week's 2014 New York Toy Fair, however, was that Medicom has a super-special deluxe set planned–the Amazing Spider-Man 2 Spider-Man MAFEX DX Set! This set is scheduled to ship out in Fall 2014 as well.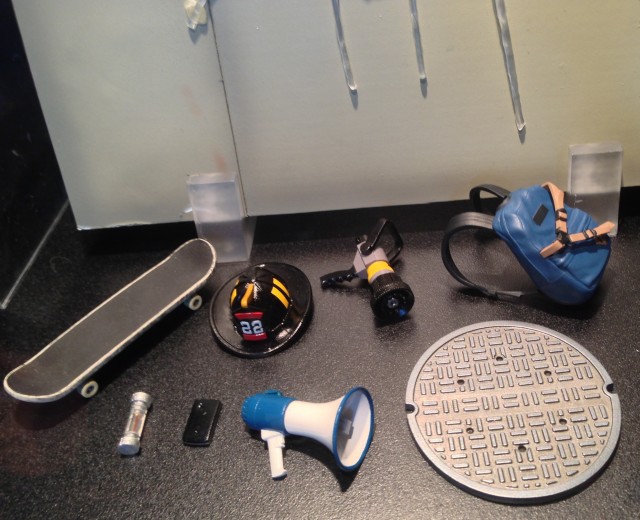 As seen in the Diamond Comics 2014 Toy Fair display case, the Amazing Spider-Man 2 MAFEX DX set will include an extra nine accessories: a manhole cover, a bullhorn, a chemical vial, a cell phone, a skateboard, a fireman's hat, a backpack, a flashlight and a giant plastic spider-web (which probably includes the wall backdrop seen in the display). Presumably you can stick the MAFEX Spider-Man figure on the web, although that wasn't show at the New York Toy Fair 2014.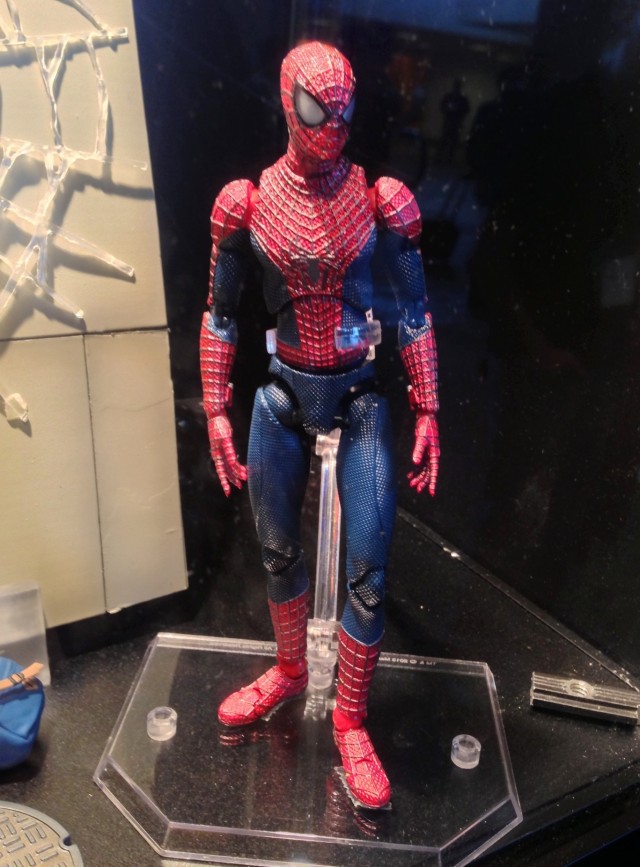 The MAFEX Amazing Spider-Man 2 action figure included with the MAFEX DX set looks to be exactly the same as the standard figure–just with a boatload more accessories. This is likely to be the most poseable Amazing Spider-Man 2 Spidey figure (unless Figma announces their own Figma Amazing Spider-Man 2), although some of the flexibility leads to some ugly joints that bother me.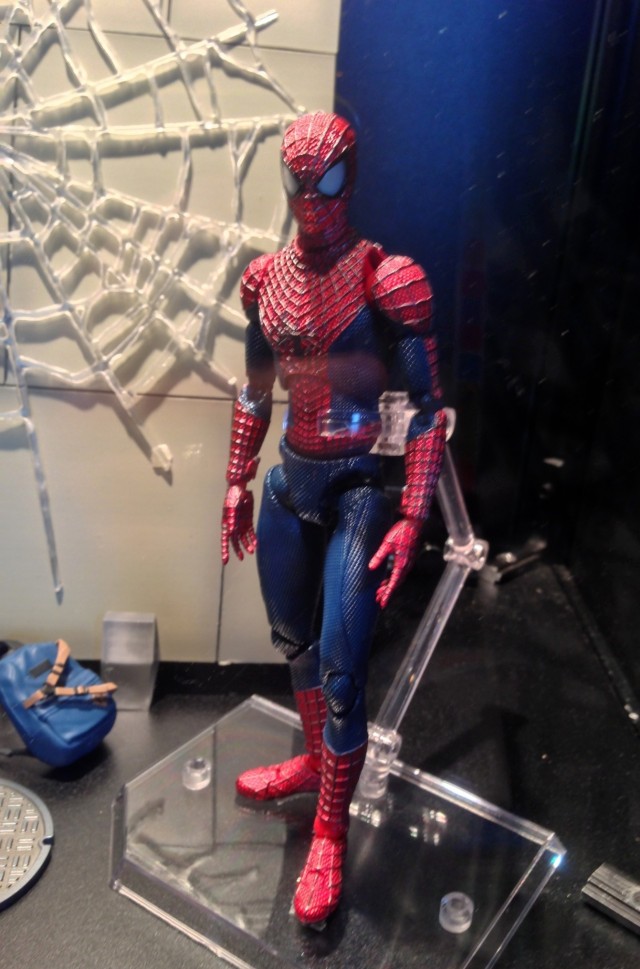 BigBadToyStore is presently sold out of pre-orders for the regular MAFEX Amazing Spider-Man 2 action figure, but they should have the MAFEX DX Amazing Spider-Man 2 set available for order in the near-future.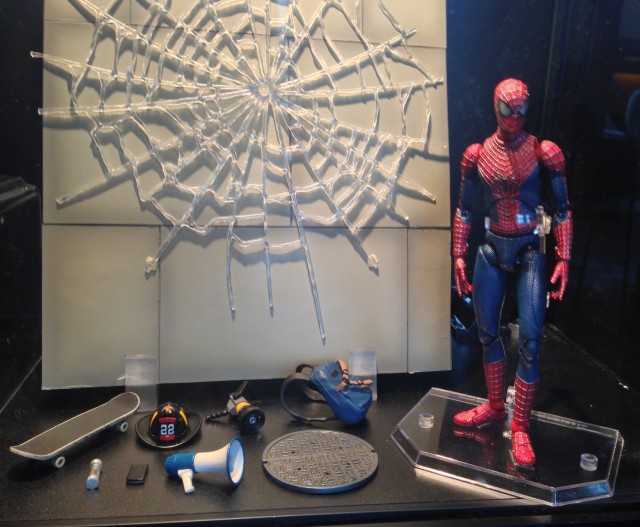 I'm still not totally sold on whether or not I want the MAFEX Amazing Spider-Man 2 figure at all, personally, but I know that a lot of fans are loving the look of this one. That said, how do you like the extra $35 in accessories that come with the ASM2 MAFEX DX set, Spider-Man fans? Do you think the additional accessories are worth almost as much as the Amazing Spider-Man MAFEX figure itself, or will you be passing on the DX set?