Photos of the Marvel Funko Guardians of the Galaxy POP! Vinyls Star Lord, Groot and Drax the Destroyer figure prototypes leaked out onto the web quite a while ago, so we had some idea of what to expect when Funko did the grand New York Toy Fair 2014 Funko Guardians of the Galaxy POP Vinyls reveal! Just to keep things interesting, though, Funko had a couple surprises lined up beyond painted versions of the figures we'd already seen: brand-new, never-before-seen Funko Rocket Raccoon and Gamora POP! Vinyls figures…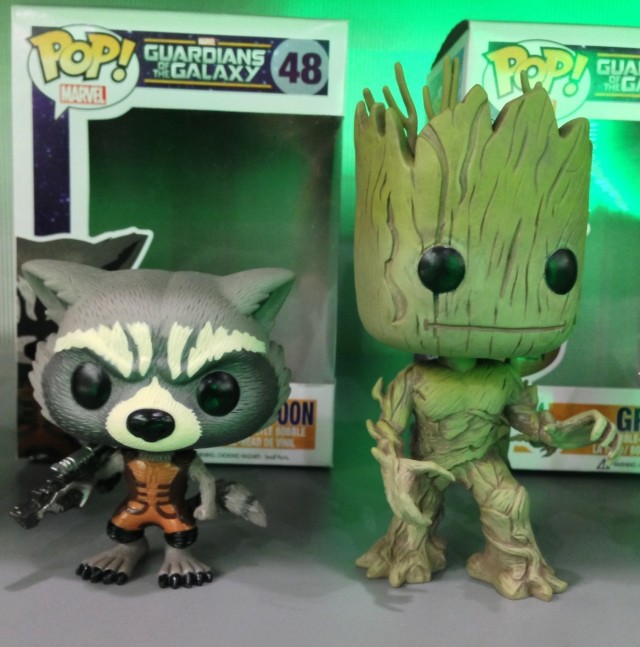 Funko really put one over on me! I legitimately thought that there might not be a Rocket Raccoon Funko POP! Vinyls figure, but instead only a Rocket Raccoon Mystery Minis figure. It would even make a sort of sense, as Rocket is physically much smaller than all of his teammates. So I really thought Rocket Raccoon not getting his own POP! Vinyls figure was a real possibility.
But nope! As revealed today at the 2014 New York Toy Fair, the soon-to-be iconic Marvel superstar anthropomorphic raccoon will be standing right besides his Guardians of the Galaxy Funko counterparts when the Funko GOTG toys arrive this summer!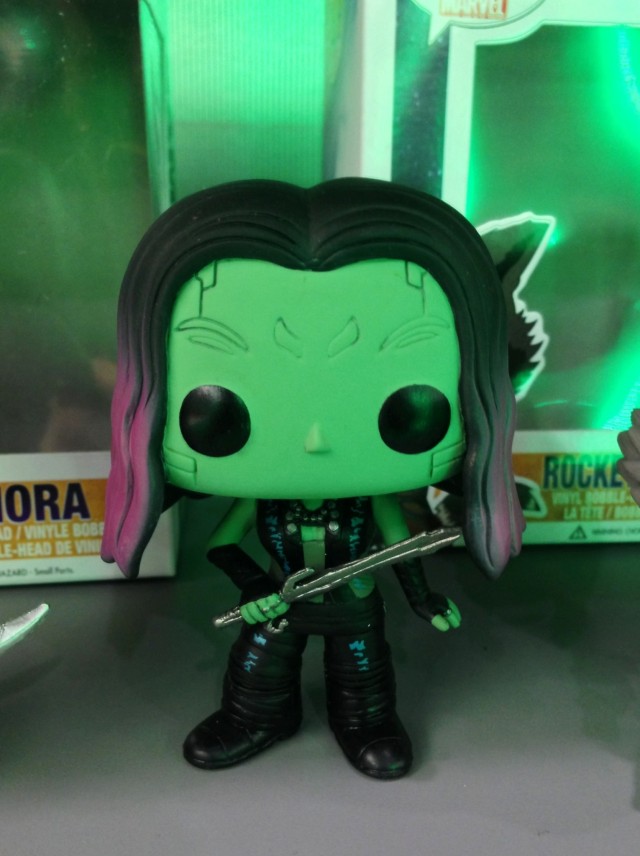 And to round out the GOTG, it's the token female: the Funko Gamora POP Vinyl figure! Gamora is the daughter of Thanos in the Marvel comics, although it remains to be seen if that bit of continuity will be exactly the same in the Marvel movies universe. This POP Vinyls Gamora is very cool with her color-gradient hair and sword-wielding pose. I don't know if she's quite as cool as the Funko Black Widow, but she's definitely looking deadly!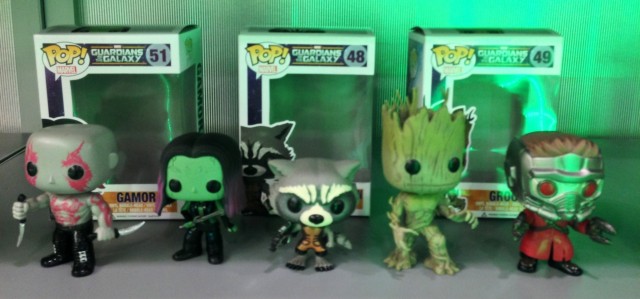 Now we know for a fact that we're getting the entire Guardians of the Galaxy team in Funko POP Vinyls form–something we can't say for any other Marvel team! Even the Funko Avengers movie lineup is missing a Hawkeye POP Vinyl, but the Guardians of the Galaxy POP Vinyls will be altogether and complete! This is quite a feat that I think Funko definitely deserves some real props for!
The Funko Drax POP! Vinyl figure looks much, much better now that's painted up. Adding the colored tattoos to his body really does add a ton of appeal and style to what is otherwise just a POP Vinyl of pro wrestling superstar Batista.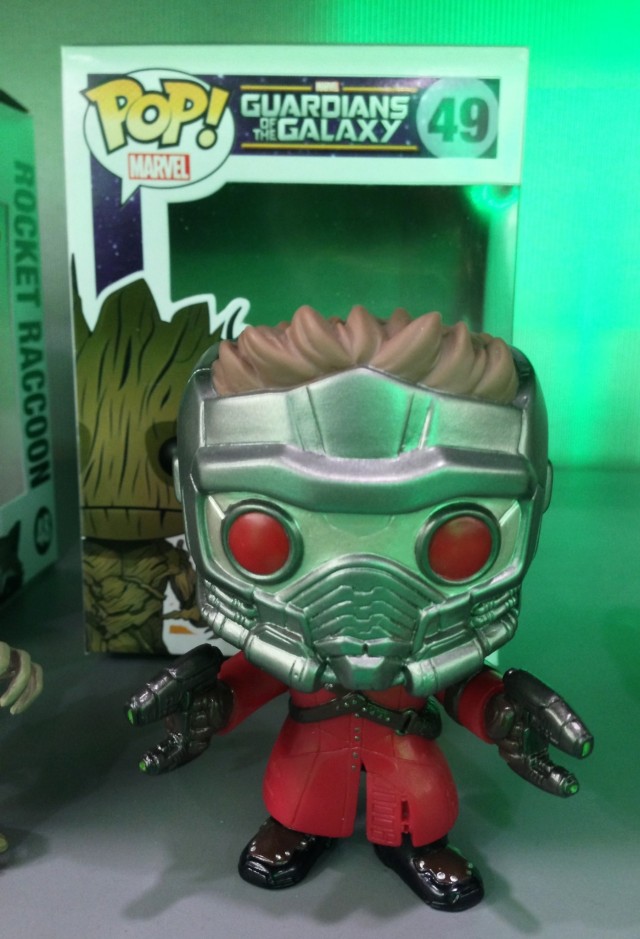 And while I'm still not sold on the movie Star-Lord costume, I think this super-deformed Funko Star Lord POP Vinyls figure (somehow) looks many times better than the Marvel Legends Star-Lord action figure. Go figure!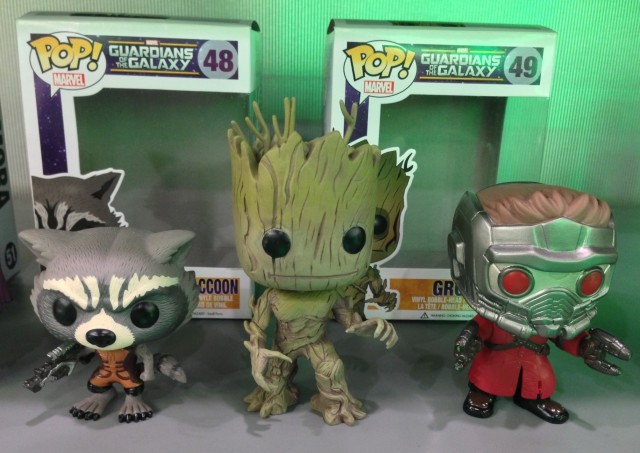 The Funko POP! Vinyls Guardians of the Galaxy figures were the only new Marvel POP Vinyls on the display at New York Toy Fair 2014, but I'll be posting more NY Toy Fair news all week, and you can 'Like' Marvel Toy News on Facebook to have updates and photos sent straight to your Facebook Newsfeed!
Having seen the painted prototypes for the entire Guardians of the Galaxy Funko POP! Vinyls team, what do you think, Marvel fans? Will you be dropping about fifty bucks this summer on a full set of GOTG POP Vinyls, picking-and-choosing, or skipping the line altogether?