I attended the Mattel Toy Fair 2017 Collector's Preview event Sunday afternoon to check out the new 6″ Halo figures for Gamer Toy News, and while I was at the event, I noticed some Marvel faces staring back at me from a line I only vaguely knew existed. Never one to turn my nose up at taking photos for Marvel Toy News, I stopped to take some photos of all the Marvel Hot Wheels cars on display at the 2017 Toy Fair…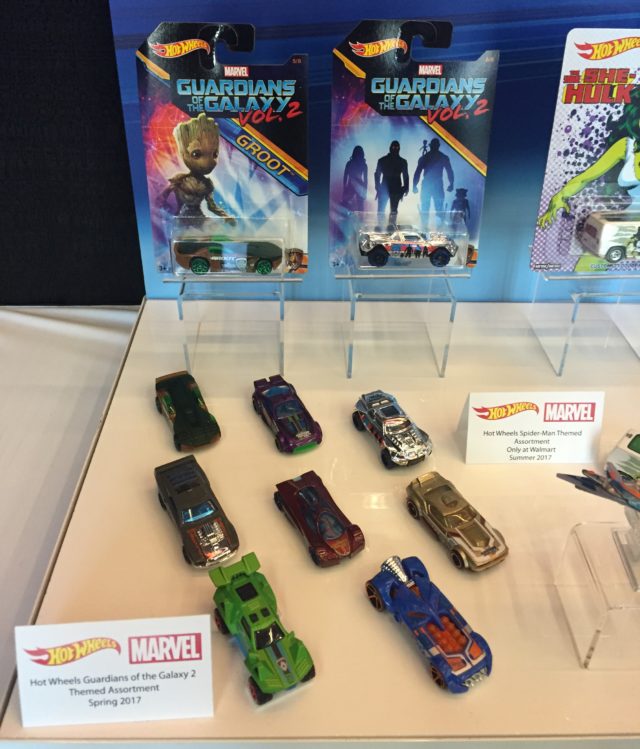 Disclaimer:
I don't believe I've ever purchased a Hot Wheels car in my entire life, and I regularly forget the make and model of my own car (not a toy–the one I drive). I am
not
a car person, much less a Hot Wheels person. If you guys who are into Hot Wheels want to chime in in the comments with your own impressions and thoughts on these, I would be delighted. Seriously.
Thankfully, the folks over at Mattel were kind enough to put little placards next to each of the sets of Hot Wheels Marvel carts at the 2017 Toy Fair, so I can at least relay what each of these assortments are called and when they're going to be out…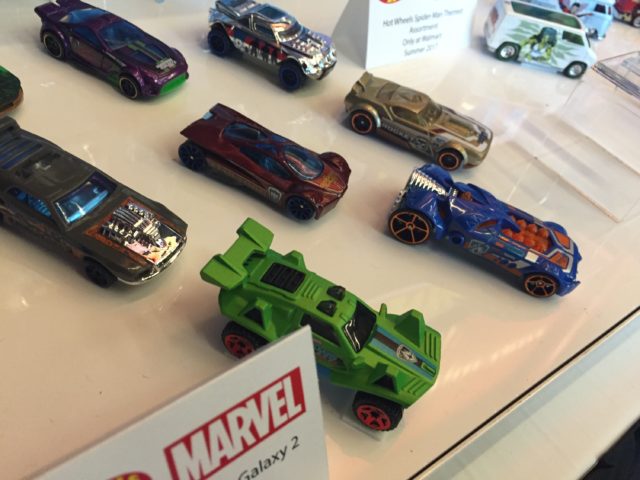 Of most interest to me of the Marvel Hot Wheels Mattel showed at the New York Toy Fair 2017 was definitely the Guardians of the Galaxy Vol. 2 themed assortment that's due to hit stores in Spring 2017. What makes these Guardians of the Galaxy themed is apparently the character-inspired colors and styles of the die-cast cars, along with sometimes logos or the characters' names in text printed on the side.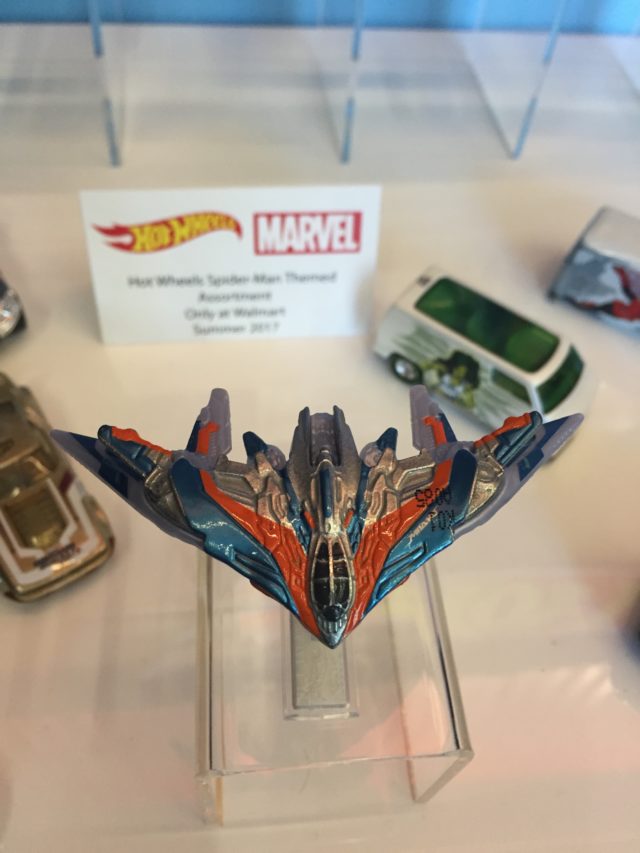 The one item that really, really caught my attention was the die-cast Hot Wheels Milano spaceship. I don't know that I'm willing to break my streak and pop my Hot Wheels cherry for it or anything, but I do have a weakness for GOTG toys…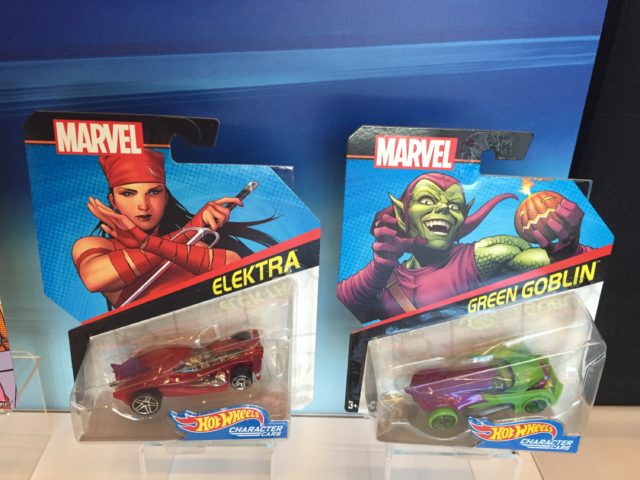 In addition, there's a Hot Wheels Spider-Man themed assortment coming exclusively to Walmart stores in Summer 2017.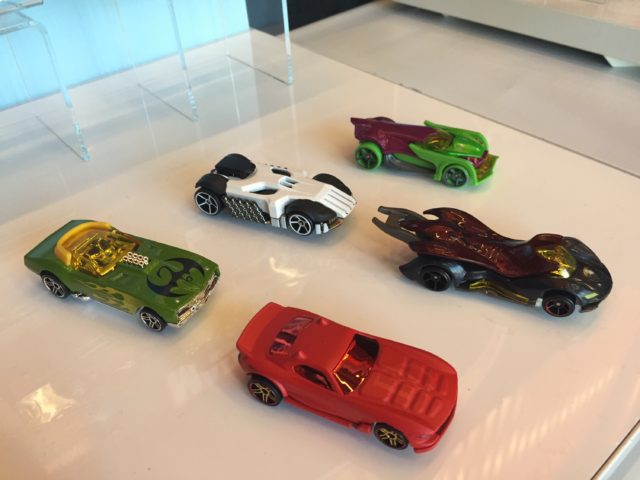 This series includes Hot Wheels Iron Fist, Elektra, the Green Goblin, The Punisher and one more curvy grey and maroon car that I really can't guess what character it's based off of. Anyone…? The style of these cars looks pretty strange to me, although that Iron Fist Hot Wheels is pretty slick.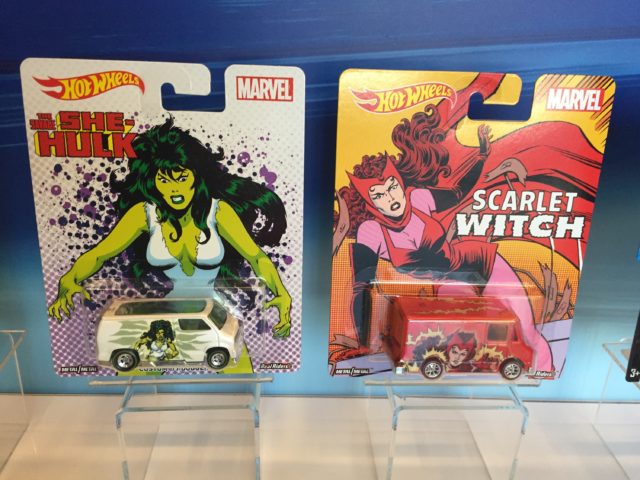 Finally, there's one more mass release set of Marvel Hot Wheels cars scheduled for Spring 2017 at mass retail: the Hot Wheels Women of Marvel Series.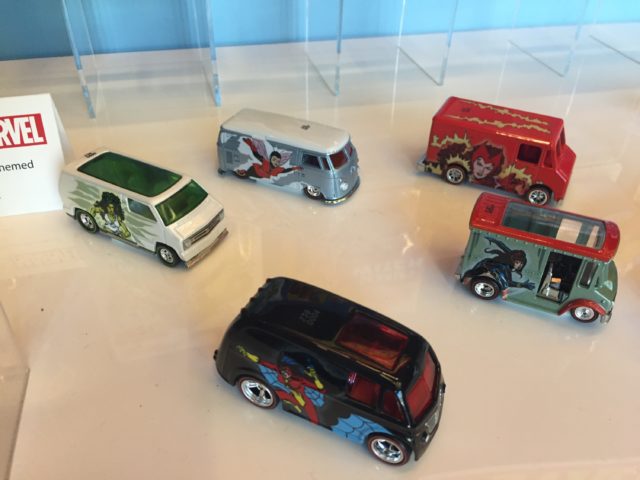 All of the trucks and minivans in these series have comic book artwork of various iconic women such as She-Hulk, Scarlet Witch, The Wasp, Black Widow and Spider-Woman printed on the sides of the vehicles.Only these five cars were shown at the Mattel event, so I have no idea if there are more planned or if this is it. They're single-carded on snazzy cardbacks, though!
Why women only get to be trucks and vans and not awesome Hot Rod cars, I really have no idea. At least the Elektra in the Spider-Man series gets to be something sporty, I suppose!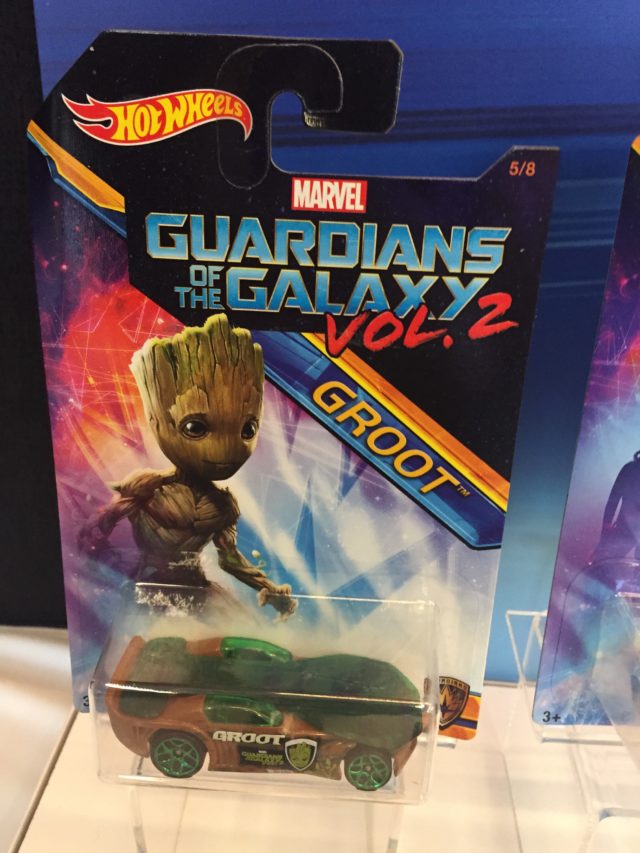 A quick Google search revealed to me that most of the previously-released Hot Wheels Marvel cars are available for order on Amazon, although I've no idea if their pricing on these little cars is any good. Like I said–this isn't my area of expertise, but I figured some readers out there would probably dig these die-cast cars.
What do you think of the Marvel Hot Wheels cars that Mattel showed off at New York Toy Fair 2017, Marvel collectors? Are any of you into collecting this line, and would you like to see coverage of this series continue here on Marvel Toy News?