It's taken me a few days to get to around to talking about it, but my first stop at New York Toy Fair 2017 over the weekend was at a booth that never disappoints me: LEGO! I was worried we wouldn't see anything new at the show since the first Marvel 2017 sets literally were released one day before Toy Fair began, but there were two new LEGO Marvel Summer 2017 sets on display, including the LEGO Spider-Man Homecoming ATM Heist Battle 76082!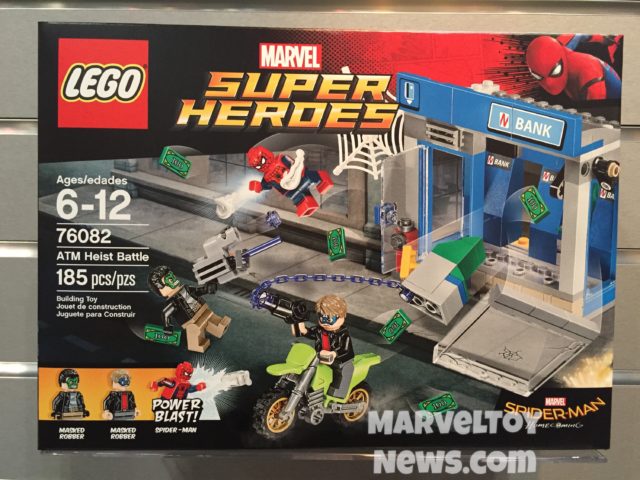 I've seen the trailer for the Spider-Man Homecoming movie about a half-dozen times now, but the only things my brain has retained from those viewings are 1) Peter and the-guy-who-should-be-Ganke drooling over some girl in the cafeteria and 2) the scene with Spider-Man foiling a bank robbery being carried out by superhero-masked crooks.
Only one of those scenes seems like it would make a marketable LEGO set, and luckily that's the one of the two that TLG decided to make in brick-built form! This is the cheaper of the two LEGO Spider-Man Homecoming sets, priced at just $19.99 and likely to be the target of parents of kids who just want a movie Spider-Man minifigure.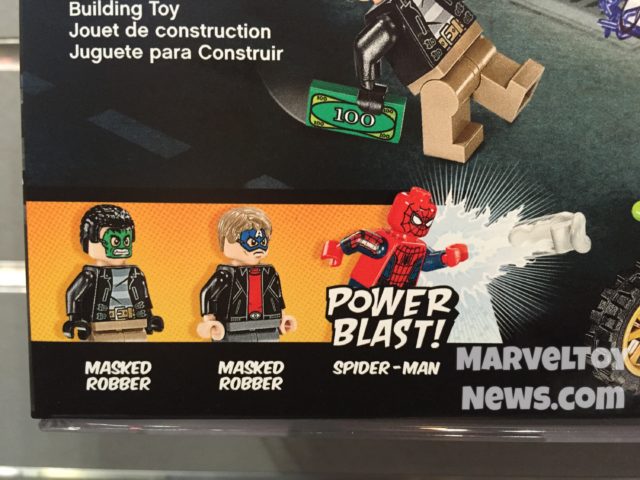 The Spider-Man minifigure comes with a "Power Blast" action feature for the first time ever. I sort of prefer last year's web effects pieces to the "Power Blast!", but at least LEGO is trying new things to keep Spidey minfigs fresh. The Power Blast" feature looks to just be some "web fists" that you can flick at the bad guys.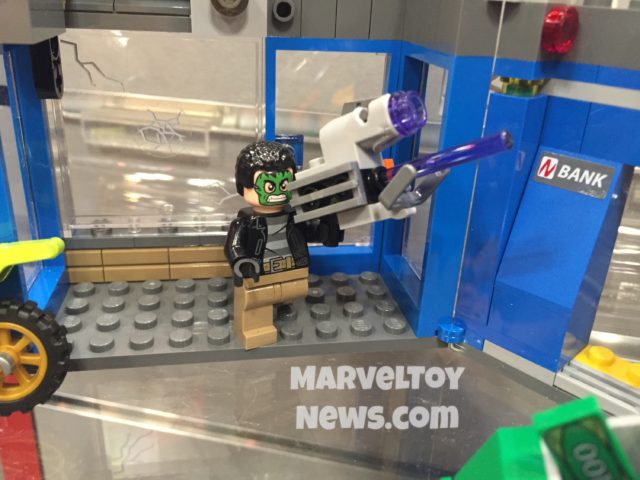 And speaking of the bad guys, that's far and away my favorite part of this set: two "Masked Robber" Minifigures are included with this set–the Captain America Mask Robber and the Hulk Mask Robber.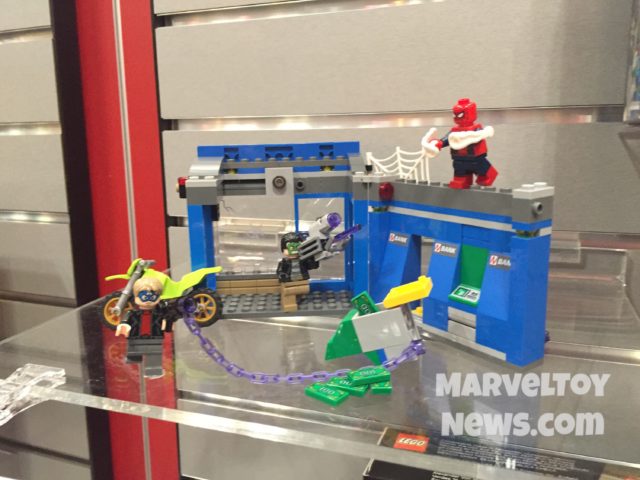 I won't hold my breath for TLG to ever release Thor and Iron Man Robber Minifigures to complete this scene, but I'm glad we're getting these very fun scene-specific enemies for Spidey to fight anyway.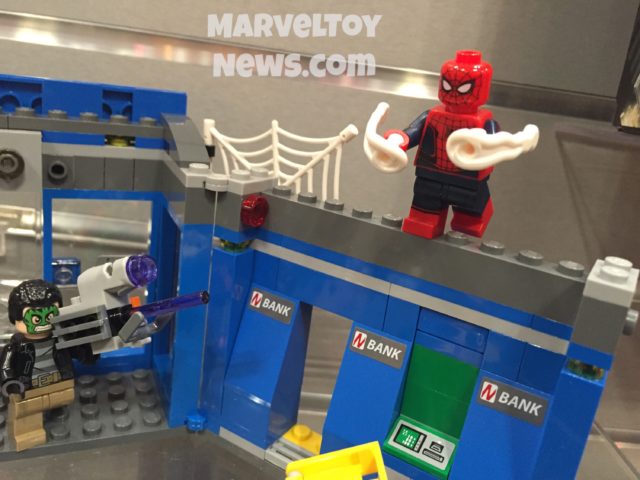 (I'm curious to see if these thugs will actually have a giant missile launcher in the movie, though…)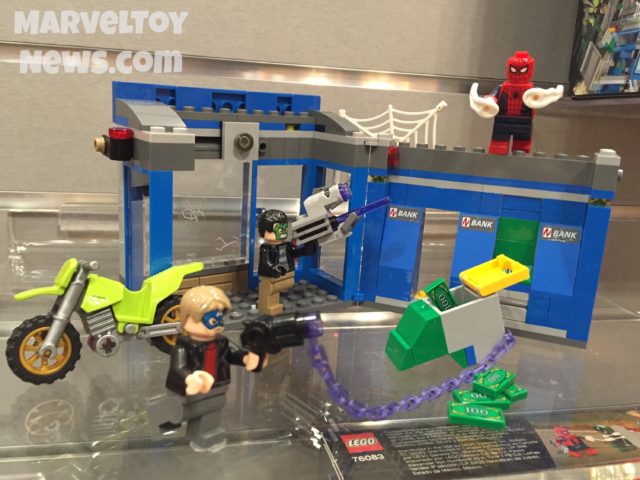 The 76082 ATM Bank Heist LEGO set bank playset itself is really simplistic, consisting of mainly just plain blue and grey bricks, a neon green motorcycle and some stickers.
Ordinarily that would be a bit of a bummer, but the environment in this scene is really simple in the trailer, so it's tough to fault TLG here–especially considering the reasonable $19.99 price-tag for a licensed set containing three Minifigures.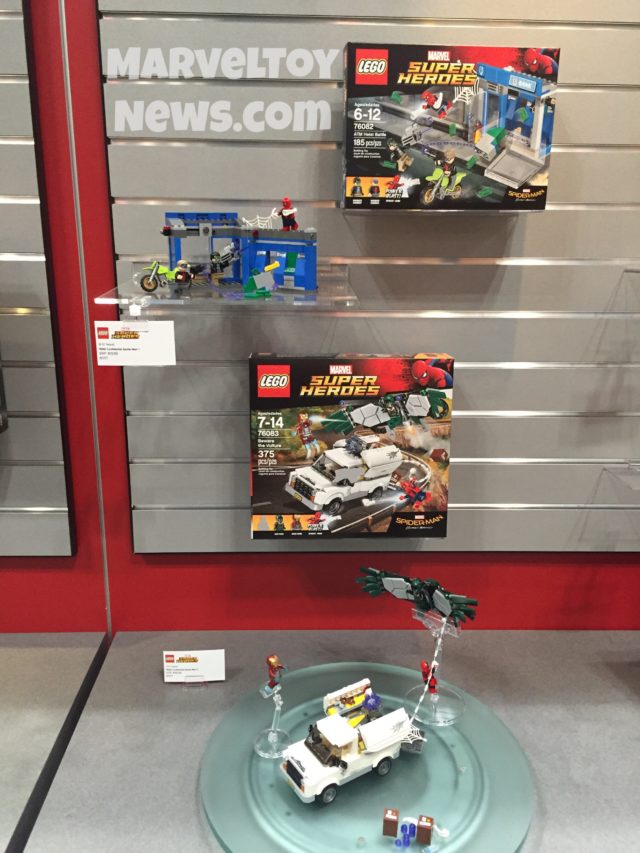 Both of the movie LEGO Spider-Man Homecoming sets have an official release date of June 1st 2017, and may actually be held off shelves until that date if the boxes are labeled with that as an official release date. I'll send out links to order the Homecoming sets via the Marvel Toy News Twitter and Facebook Pages once they actually go up for sale.
What do you think of the smaller of the two Spider-Man Homecoming LEGO sets, Marvel collectors? Would you have liked this set to have been more detailed and to have included the other two masked robbers at a higher price, or are you satisfied with this set just the way it is?