Earlier today I discussed the Marvel Select Netflix Daredevil and Spider-Gwen figures that we weren't expecting to see debut at New York Toy Fair 2017 over the weekend, and now it's time to take a look at the two figures we absolutely were expecting to see premiere at the show: Marvel Select Spider-Man Homecoming costume and Guardians of the Galaxy Vol. 2 Star-Lord! DST is one of the last companies to reveal their interpretations of these characters, so I was worried they might be overshadowed–but these are two Marvel Select movie figures that absolutely do not disappoint…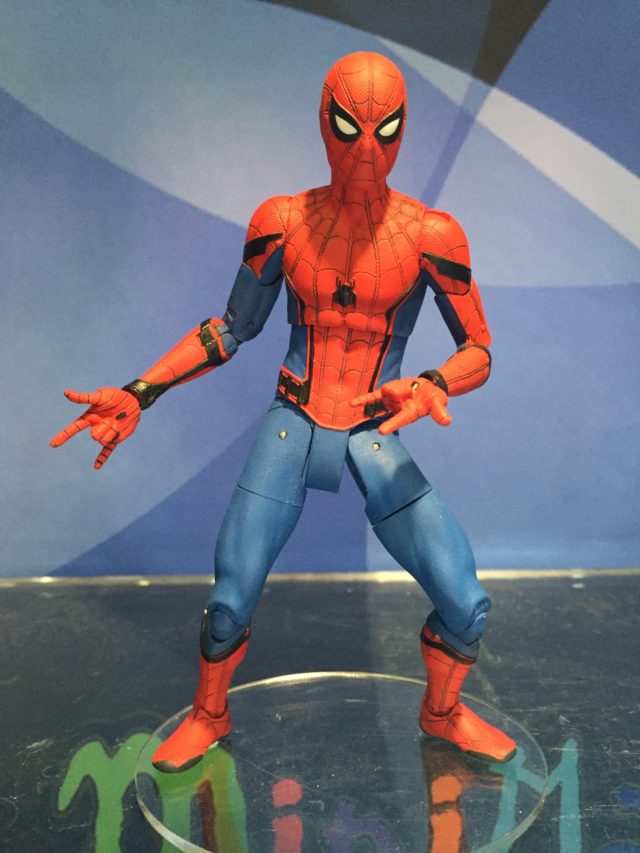 While I really enjoyed the introduction of Tom Holland as Spider-Man in "Captain America: Civil War" last year, I've never been terribly excited about the prospect of another solo Spider-Man movie so soon after the many other ones. So while the Marvel Legends Spider-Man Homecoming figures look pretty decent, I've still had a hard time drumming up enthusiasm for them.
But when I saw the Marvel Select Homecoming Spider-Man figure on display in the Diamond Select Toys booth at New York Toy Fair 2017 over the weekend, that was the first time I smiled and thought to myself "I've got to have that Spider-Man Homecoming figure".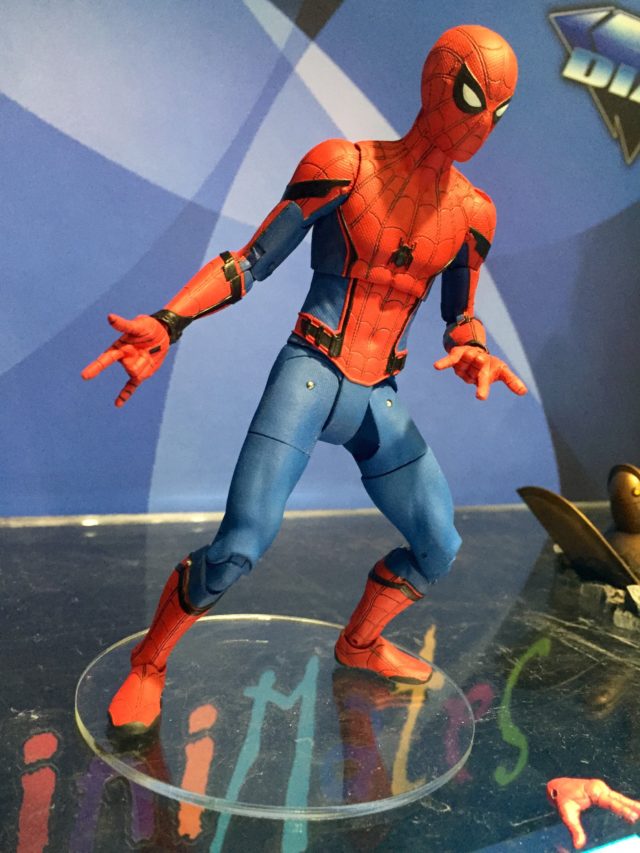 The slim body proportions and the incredibly well-done eyes on this 7″ Homecoming Spidey simply look better to me than the Hasbro versions, despite how much I love Marvel Legends.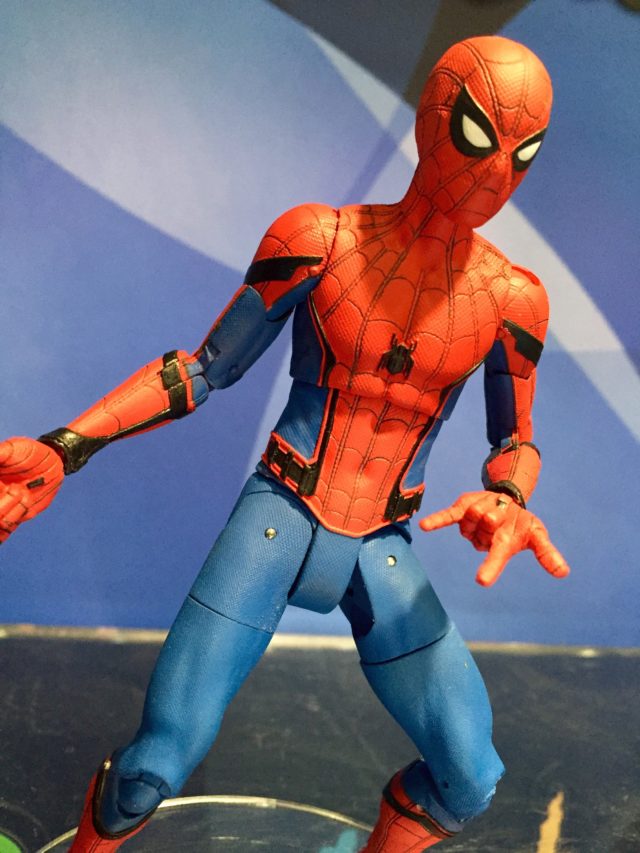 The bad news is that no unmasked Tom Holland head is scheduled to be released with the mass-release Marvel Select Homecoming Spider-Man figure right now, and a Disney Store exclusive unmasked version also hasn't been locked in yet. So it's possible we may be waiting a while for an unmasked Marvel Select MCU Spider-Man figure.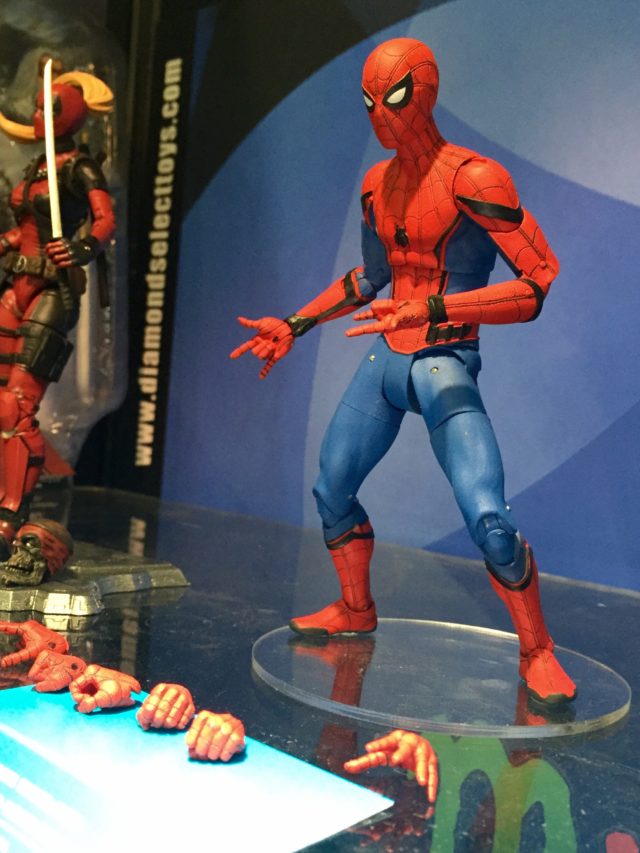 Also, thanks to Zach at DST for being really good about the fact that I knocked over the placard for this figure at Toy Fair and exploded all of the prototype Spidey's alternate hands all over the floor. You're a prince, Zach!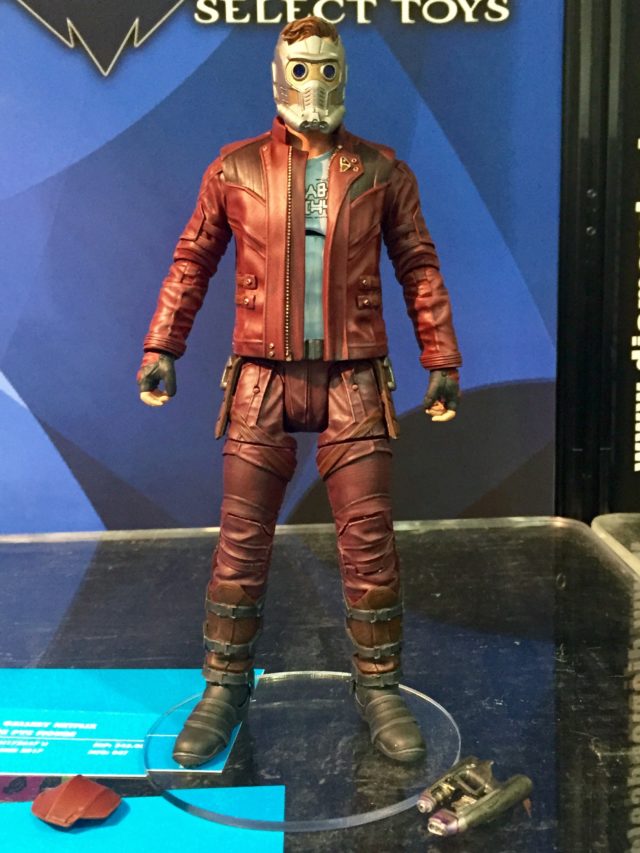 Meanwhile, another major MCU character getting his first Select figure was also on display: Marvel Select Star-Lord! Star-Lord will be packaged with Rocket Raccoon when he's released, but Rocket wasn't ready to debut yet at NY Toy Fair.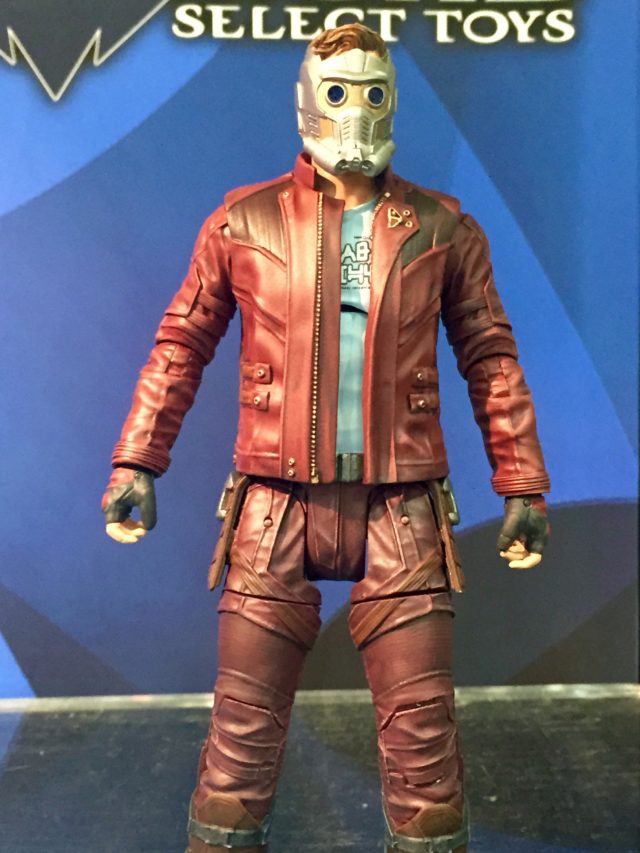 The DST Star-Lord figure wasn't posed in terribly thrilling fashion at the show and didn't have a Chris Pratt likeness to show off at all (nor is one confirmed for the figure), but I was reasonably happy with the figure. One of Star-Lord's Element Guns was also displayed next to the figure.
The paint deco and sculpting detail on the Star-Lord Select figure were both very nice, but I just wasn't blown away by this take on Peter Quill in the same manner as I was by the incredibly impressive Marvel Gallery Guardians of the Galaxy statues line.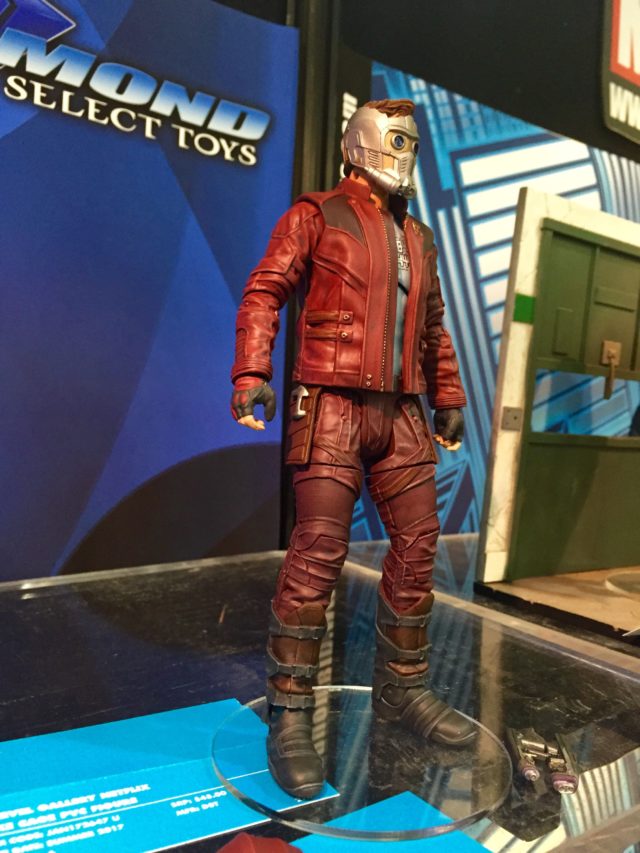 The Marvel Select Spider-Man Homecoming and Star-Lord figures are now up for order, and are scheduled to be released in summer 2017. These are movie figures which only get one production run each and cannot be reprinted (because of the one-year licensing period DST has for the movies), so definitely make sure you pre-order these if you want them–some retailers are already selling out at the pre-order stage.
Now that the elusive Homecoming Spidey and Star-Lord figures have made their long-awaited appearances, what do you think, Marvel collectors? Has your anticipation for these figures grown (or shrunk) now that you've actually seen them outside of silhouettes, and will you be buying these new toys this summer?