My apologies for the sparse updates—I haven't been feeling so swell during or after NYCC 2017, so things have been a bit slow. But! I'm looking to close out my New York Comic Con 2017 coverage today and tomorrow, beginning with all the 7" Marvel Select figures goodness that Diamond Select Toys brought to the show—including the Thor Ragnarok Gladiator Hulk & Thor Figures, the long-awaited Guardians of the Galaxy movie figures, Spider-Gwen and more!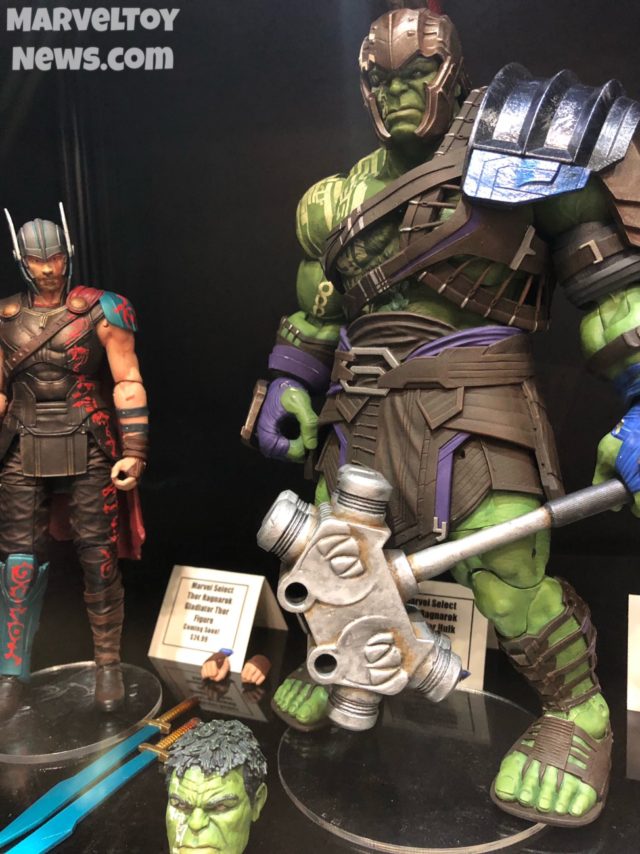 While DST brought along multiple new additions to
almost
every one of their Marvel collectibles lines to NYCC 2017 over the weekend, one branch that
didn't
have anything new shown off was the long-running Marvel Select 7" figure line.
But while there was nothing we'd never seen before on display (the Marvel Select Black Panther movie figure wasn't ready to be shown just yet), everything that had been seen before was at the show and (for the most part) looking fine.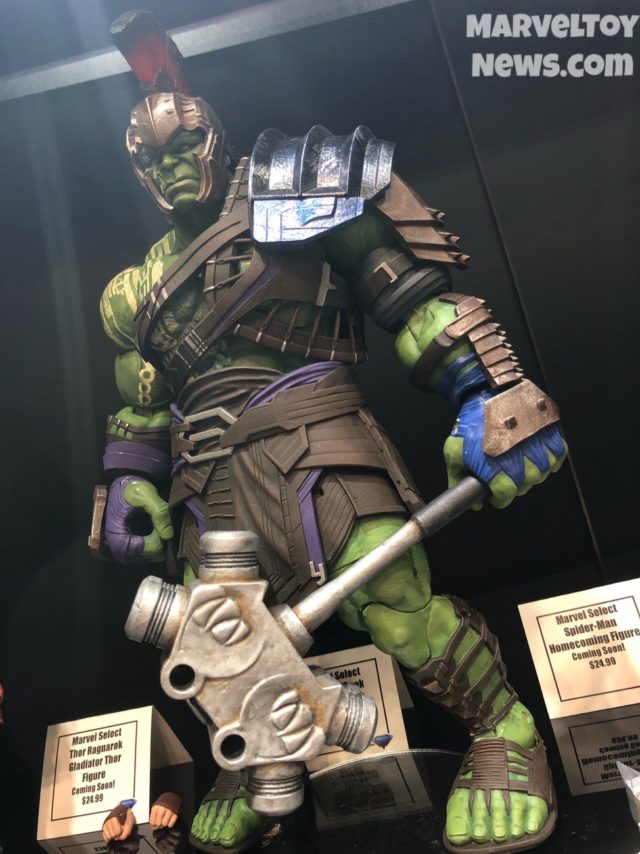 Probably the most impressive of the Select figures on display was the Marvel Select Thor Ragnarok Gladiator Hulk movie figure. Make no mistake: this figure is a monster.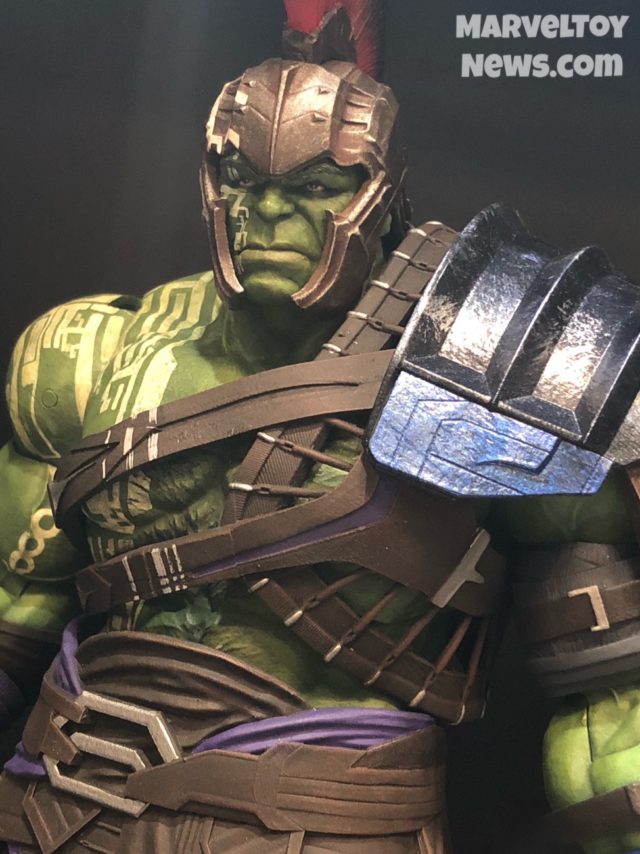 The Gladiator Hulk Select is larger and more detailed than the Marvel Legends version in every way, and is extremely impressive all-around.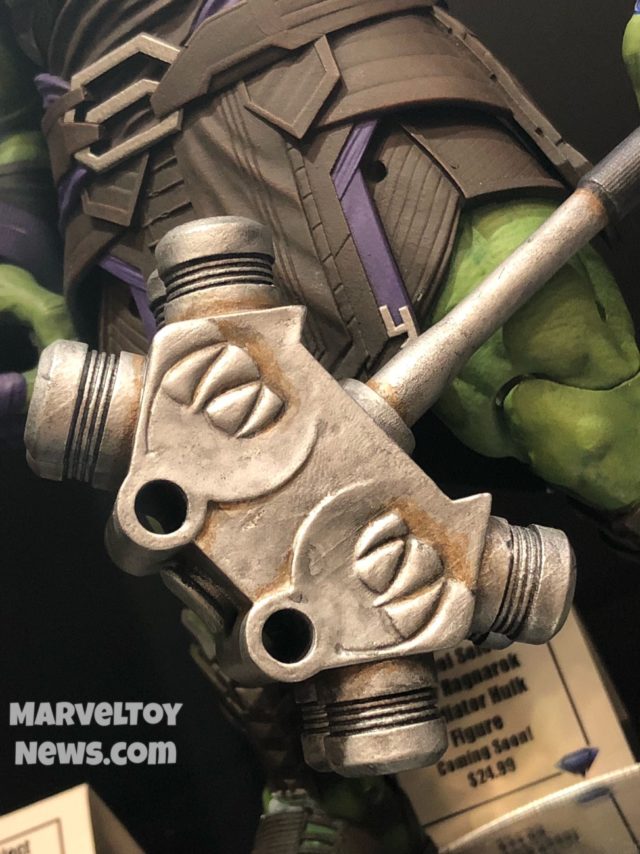 And not only do this Ragnarok Hulk's weapons look nice and sturdy, but they've also all got nice paint deco on them.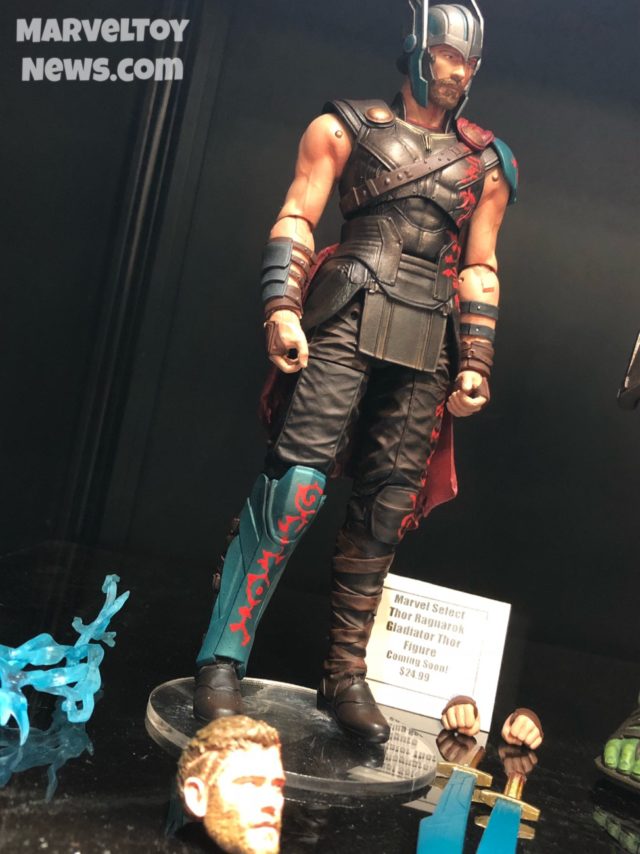 I like the Select Gladiator Thor figure as well, although I don't feel that he's quite as nice as the Hulk.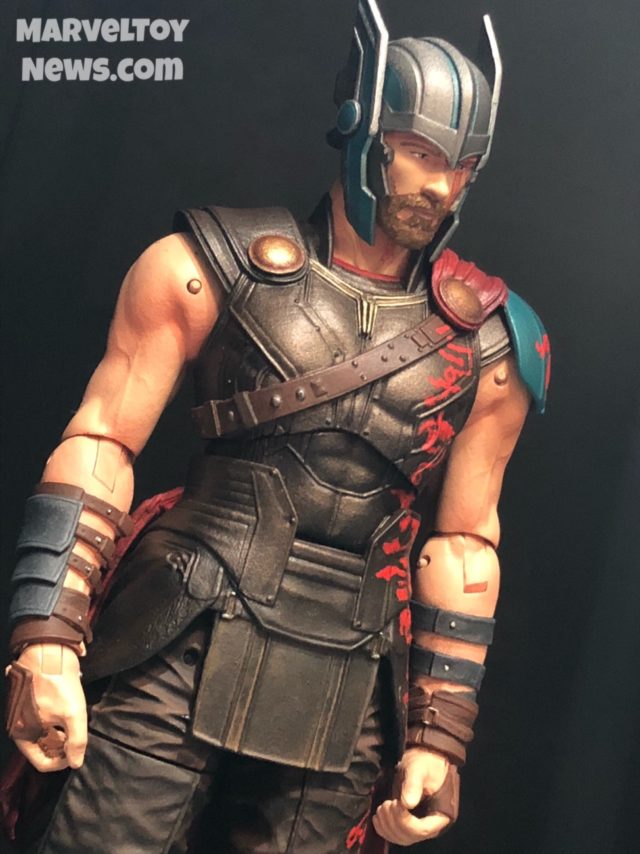 The Chris Hemsworth portrait doesn't look as on-point as what we've seen from other companies, although the costume detail here is still outstanding for a $25 figure (as opposed to a like $60 Figuarts and an $85 ONE:12 Collective version).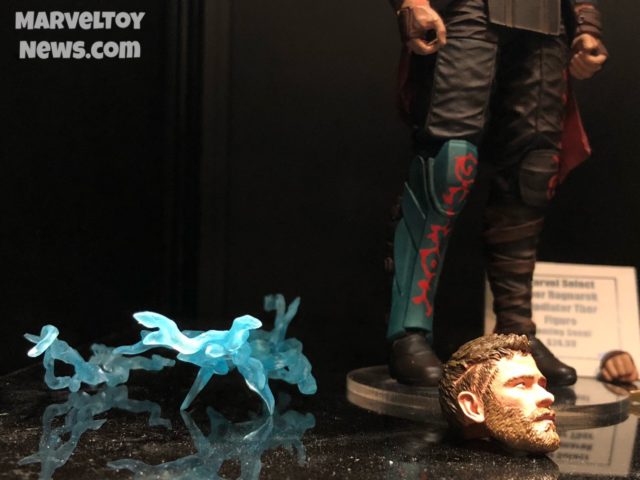 Thor will come with twin swords and interchangeable helmeted and unhelmeted heads, as well as a cool attachable lightning effects piece.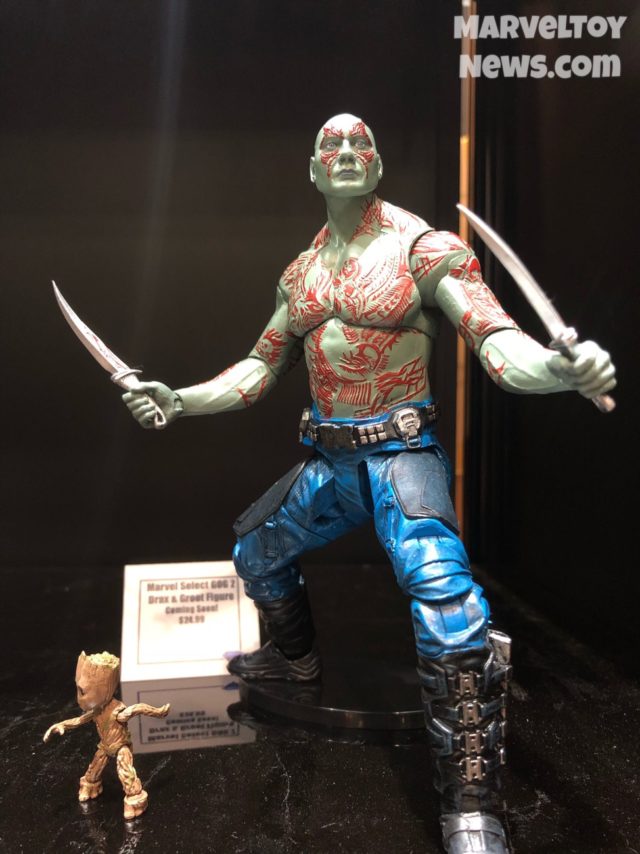 While the Thor Ragnarok Figures aren't going to arrive at retail until 2018, the much-anticipating Guardians of the Galaxy movie figures are set to hit around the end of the year.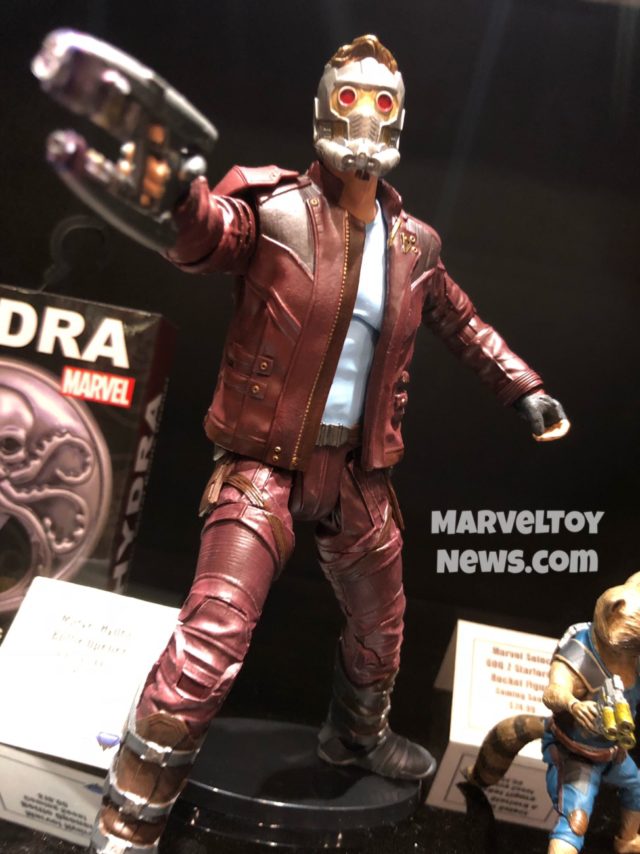 A production sample Star-Lord figure was on display, which is a rare DST figure that's not drawing wide acclaim from collectors. There's no unmasked Chris Pratt head (nor was one ever shown), the writing from Star-Lord's shirt has been removed since the first prototype was shown, and his shirt looks like it may actually be slightly the wrong color (though it was tough to be certain under the lighting in the display case).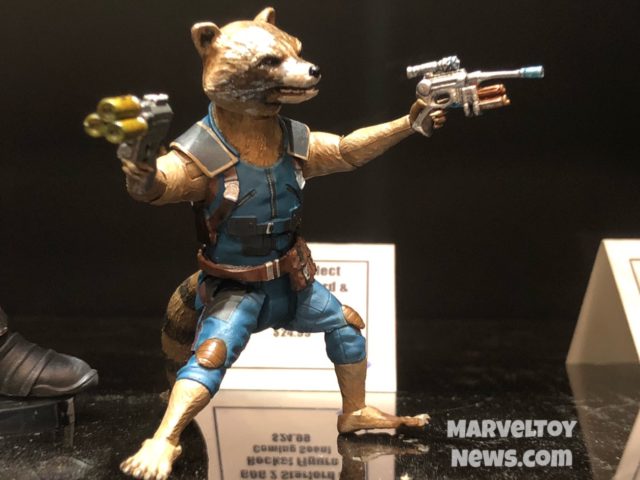 The Rocket Raccoon that comes packed with Star-Lord, however, looks stellar. He looks more movie-accurate than the Hasbro version to me, and isn't costing a separate 20 bucks like that one.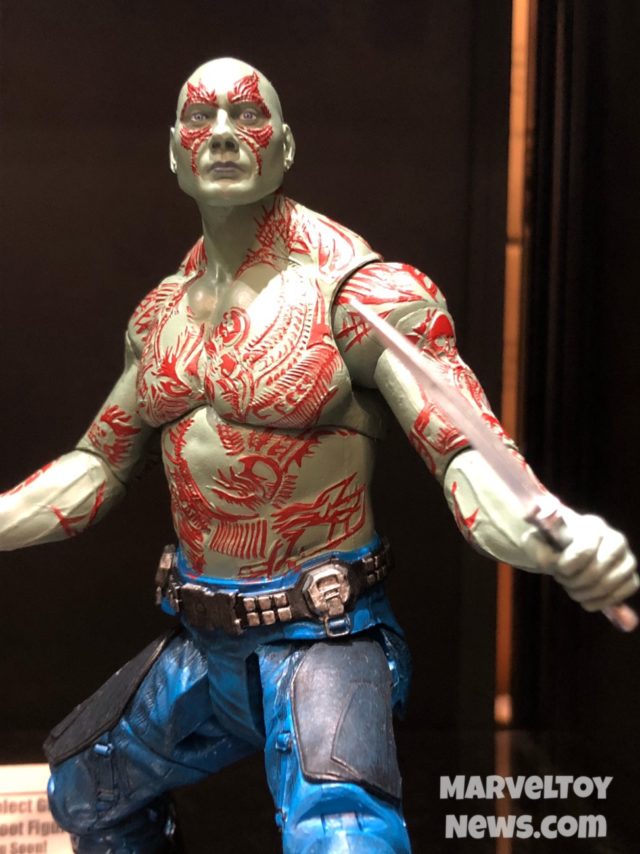 Drax made one of his first public appearances at New York Comic Con 2017 as well. Everything on Drax looks terrific from the neck down (the paint apps on the pants are particularly great), but I'm underwhelmed with his Tuvok-like expressionless head.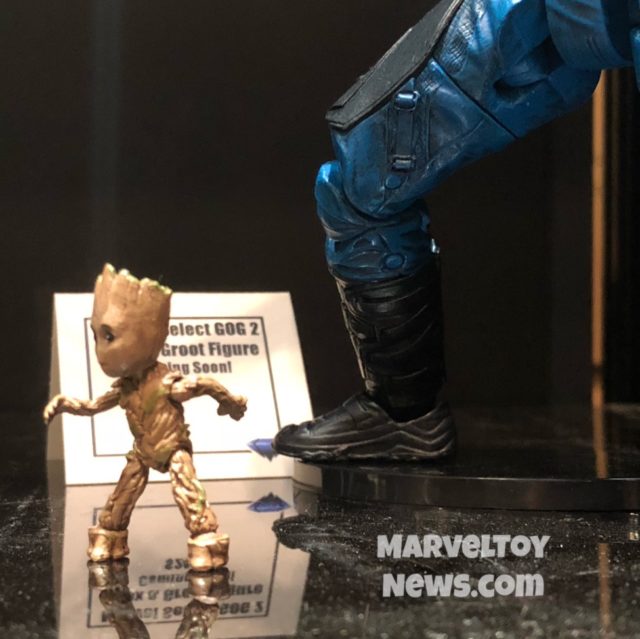 The last of the four GOTG movie figures (Gamora who?) is Baby Groot, who I was shocked to see actually looks articulated! We've had quite a few little Groot figurines, but the potential articulation on this one really sets it apart. I'm looking forward to this.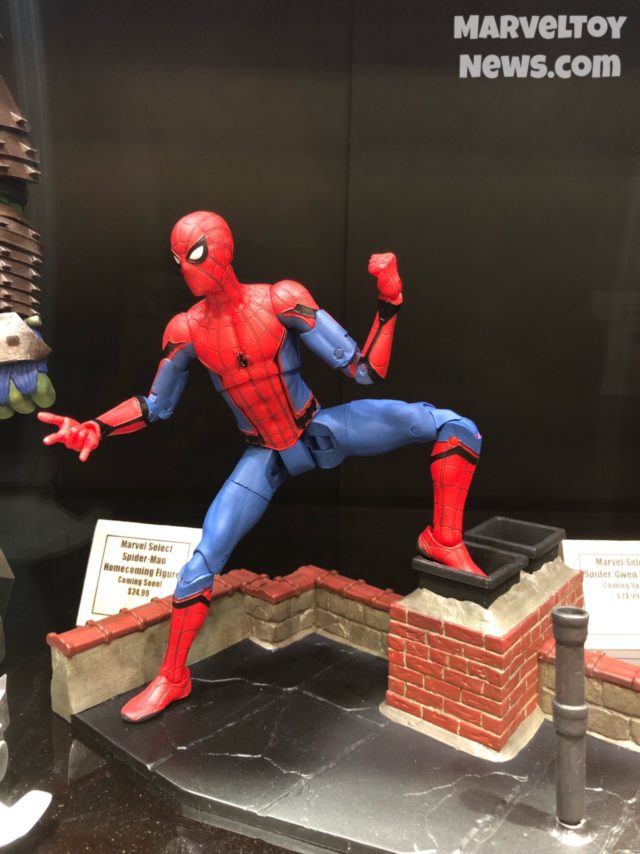 The Spider-Man Homecoming Select figure swings into stores this month, and was looking nice as well. The sculpt, paint and awesome rooftop diorama base are all looking top-notch, with the awkward hip articulation being the least impressive aspect of the figure.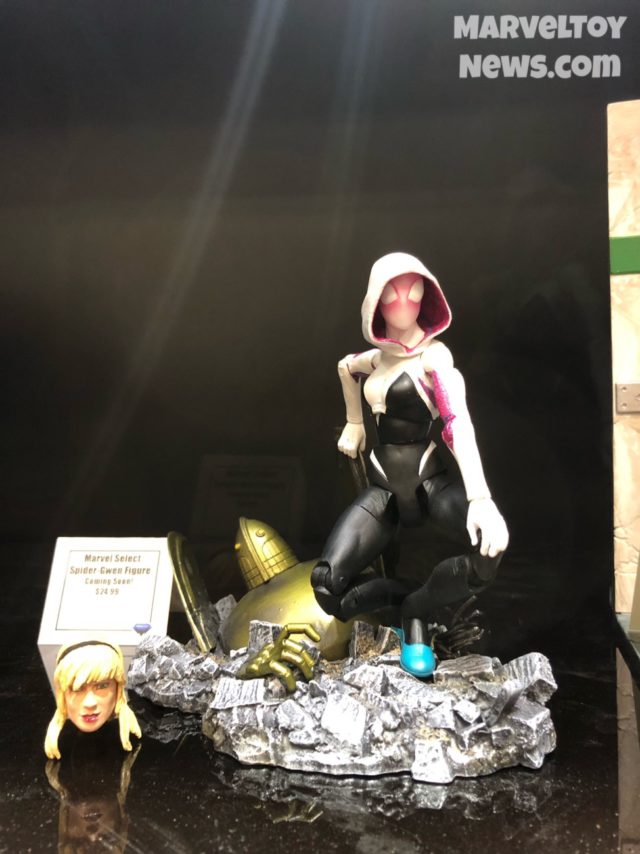 Finally, the last comic-based release of the year for the line: Marvel Select Spider-Gwen. This figure looks superior to the Marvel Legends Spider-Gwen to me, with much better proportions for the character than Hasbro's. The rubble base with embedded robot is pretty rockin' as well.
Only thing I'm not crazy about here is that fugly Gwen Stacy head, but I display all my Gwen's with their masks on, so it's not a deal breaker for me. Spider-Gwen is the next figure expected to arrive after Homecoming Spidey—likely within the next month.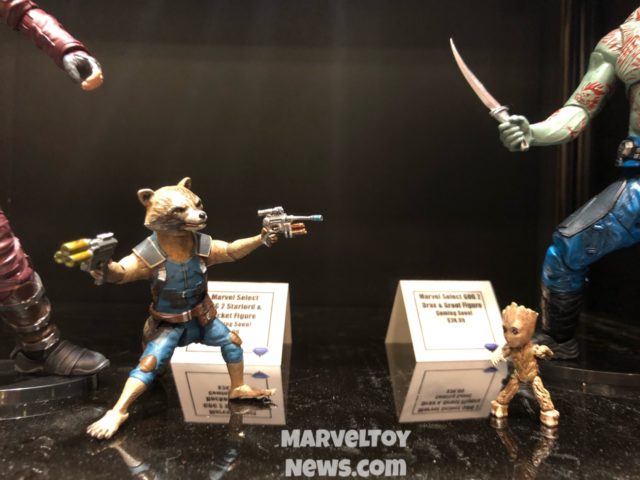 All of these Marvel Select figures are still available for pre-order online (and even with a slightly pre-order discount), with release dates throughout the end of this year and the start of next year. Be aware that, as usual, DST has a limited one-year licensing period for the movie figures, so those are unlikely to ever be replenished once they're sold out.
Based off the most recent display of Marvel Select action figures from New York Comic Con 2017, what are your thoughts on the upcoming releases, Marvel collectors? Which of these figures are must-buys for you, and which are you planning to leave hanging on the pegs?