Last year, Sideshow made their biggest Marvel New York Comic Con reveals ever when they debuted their Premium Format Venom and Carnage Statues at the show. This year, they looked to one-up themselves once again by premiering the fully-painted prototypes of the Iron Man Mark III going up for order this week and the Wolverine Premium Format Figure at NYCC 2017! Do these reveals top the symbiotes? Let's take a look…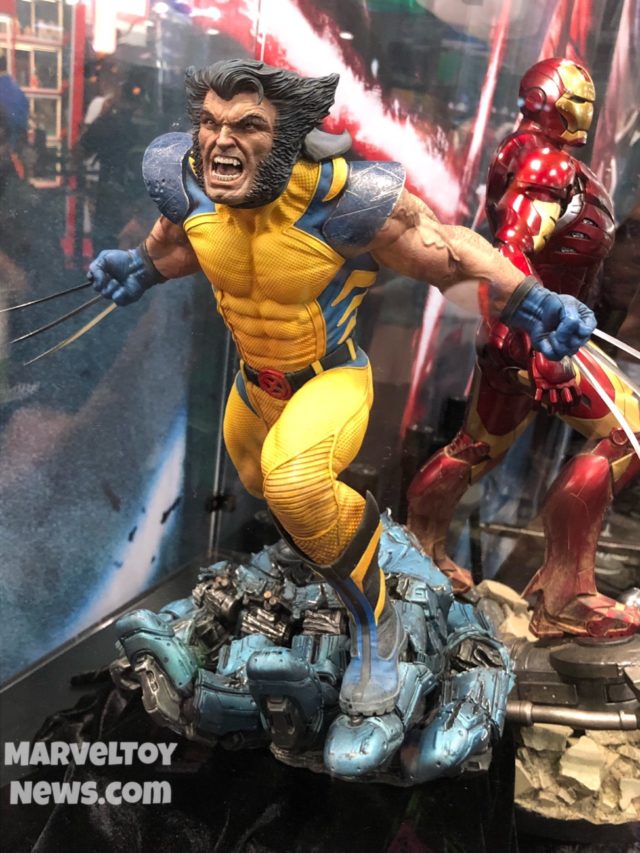 After Sideshow Collectibles debuted an unpainted Premium Format Wolverine prototype alongside Magneto at SDCC 2017, it seemed like a sure thing that we'd see both those prototypes finished at NYCC 2017, right…?
Wrong! While the fully-finished Wolverine Premium Format Figure did make his grand debut at New York Comic Con 2017, he was accompanied by another 1/4 statue of a character who's made of metal (instead of who controls it): Iron Man Man Mark III!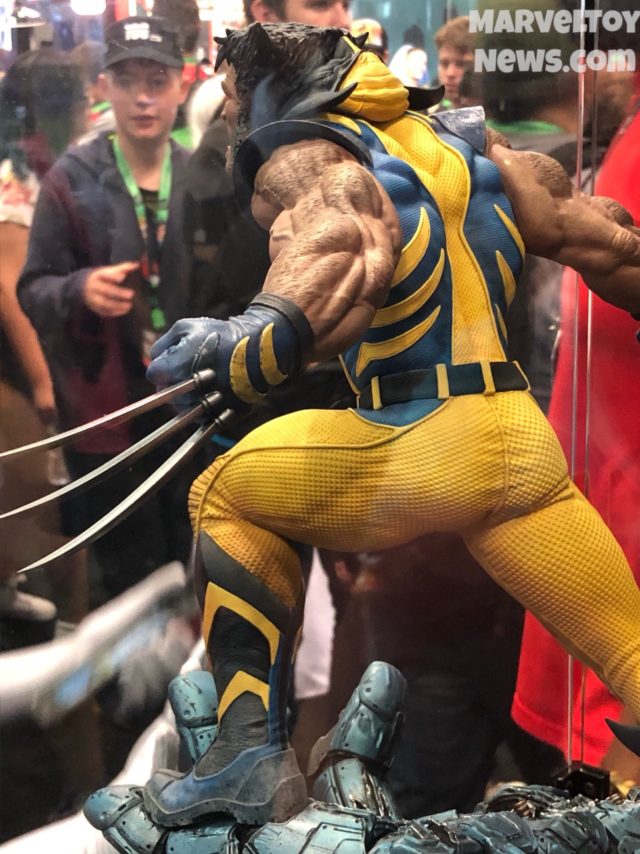 First, the new Wolverine PF Statue. Sideshow has previously done a mixed media Tiger Stripe Wolverine and a fully-sculpted Brown Costume version, but this time is a fully-sculpted Joss Whedon era Astonishing X-Men Wolverine!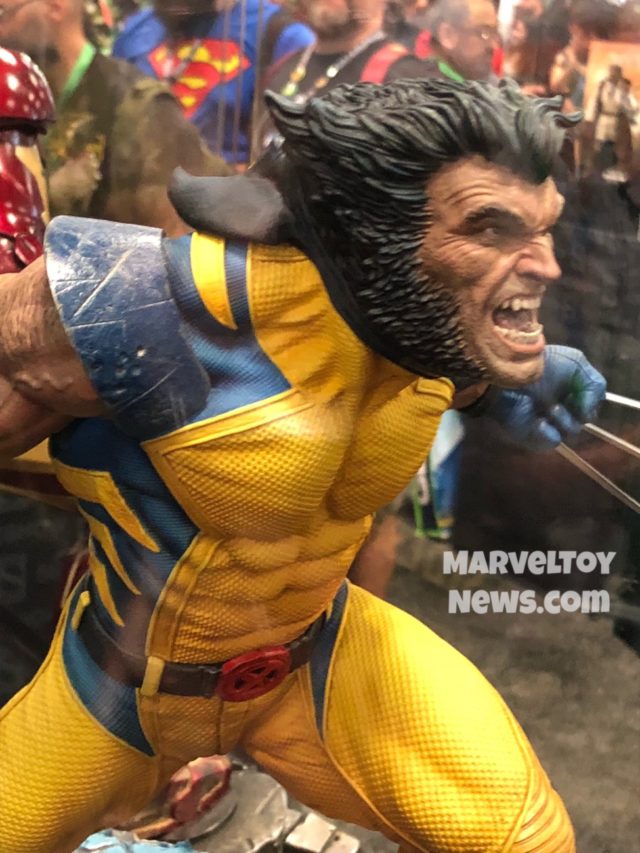 The prototype at SDCC in July featured the masked head, but Sideshow Collectibles opted to show off the unmasked Logan head in New York this week.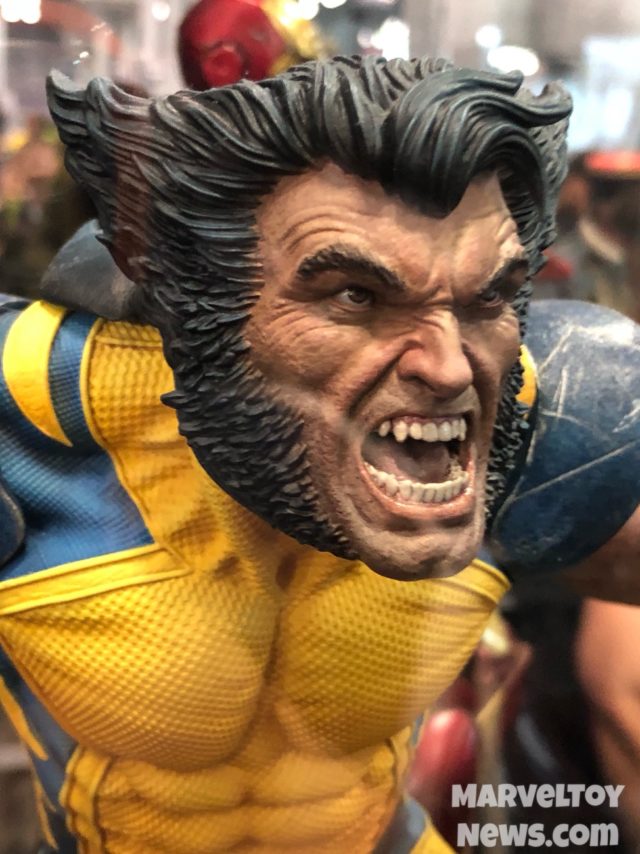 Rarely will I ever display any Wolverine collectible with the mask off, but the sculpting and paint detail on this Logan portrait are downright incredible. This just may be the best and most realistic unmasked Logan head that I've ever seen on a statue!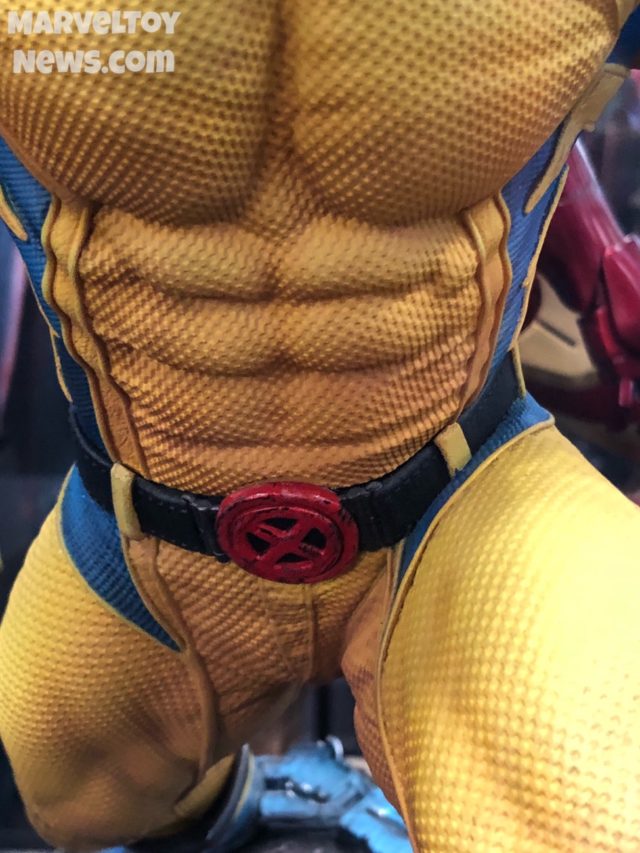 The detailing on the rest of the 1:4 scale figure is no slouch either: the texture on the Astonishing costume is outstanding, almost convincing me that the costume is made of real soft goods instead of polystone resin.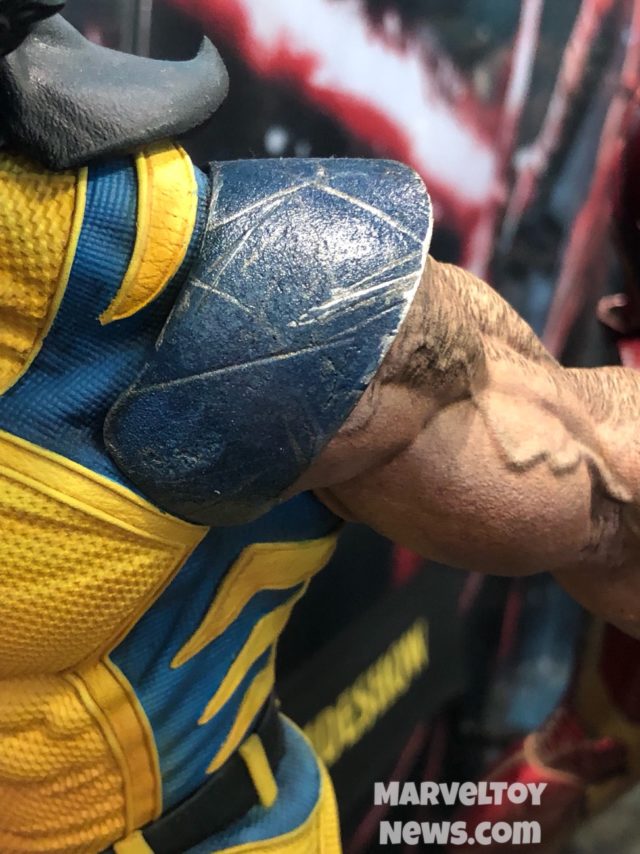 The ferocious fighting stance that Wolverine is in is pretty convincingly intimidating, and makes this Premium Format Figure feel a lot more dynamic than just another museum pose.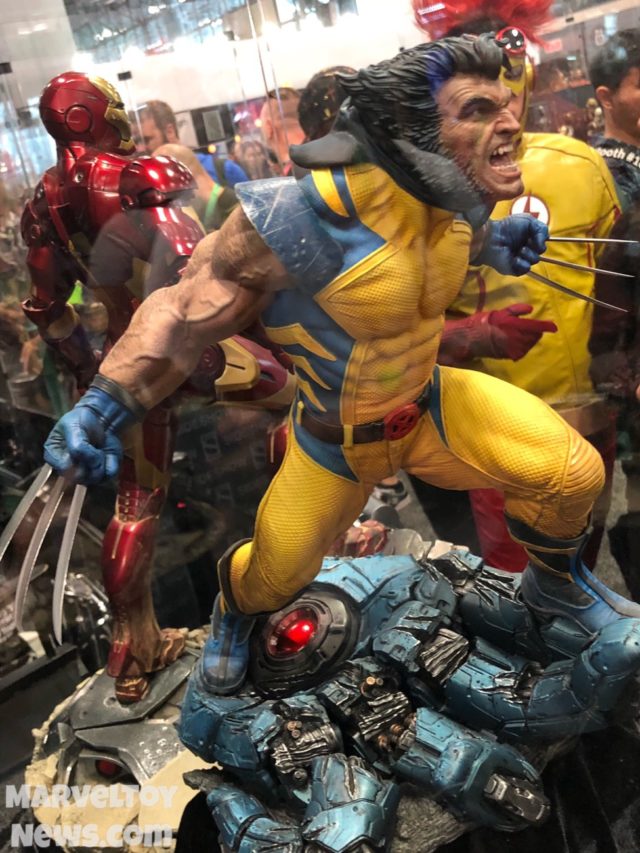 I'm personally "over" Sentinel heads and hands being used as bases for X-Men statues—or so I thought. For whatever reason, the metallic blue robot hand used for the base here is just different enough to feel fresh and unique to me. (I'm not sure what giant blue robot Wolverine was fighting, mind you, but I do like it.)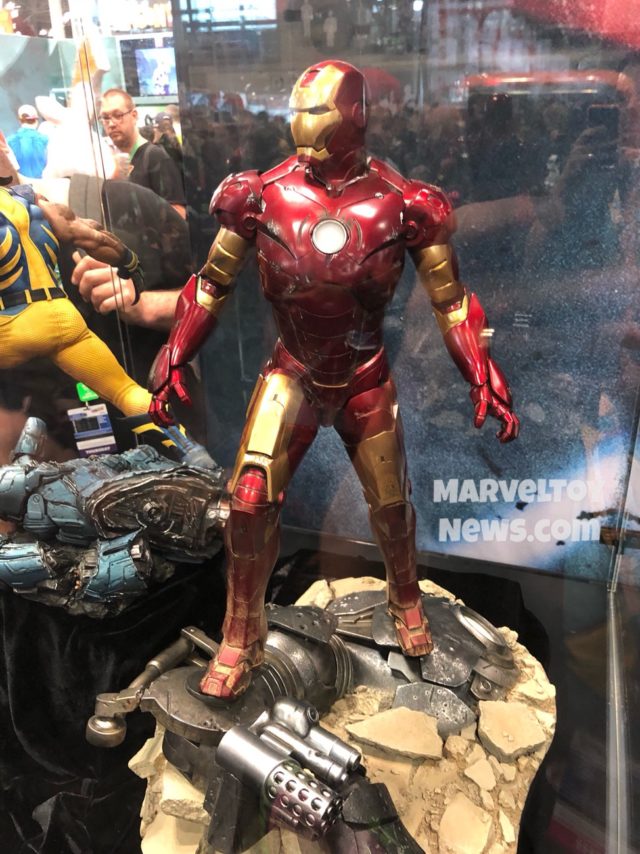 Meanwhile, the other quarter-scale Marvel statue Sideshow debuted at NYCC 2017 isn't a Premium Format Figure at all—it's a movie-based maquette of Iron Man Mark III!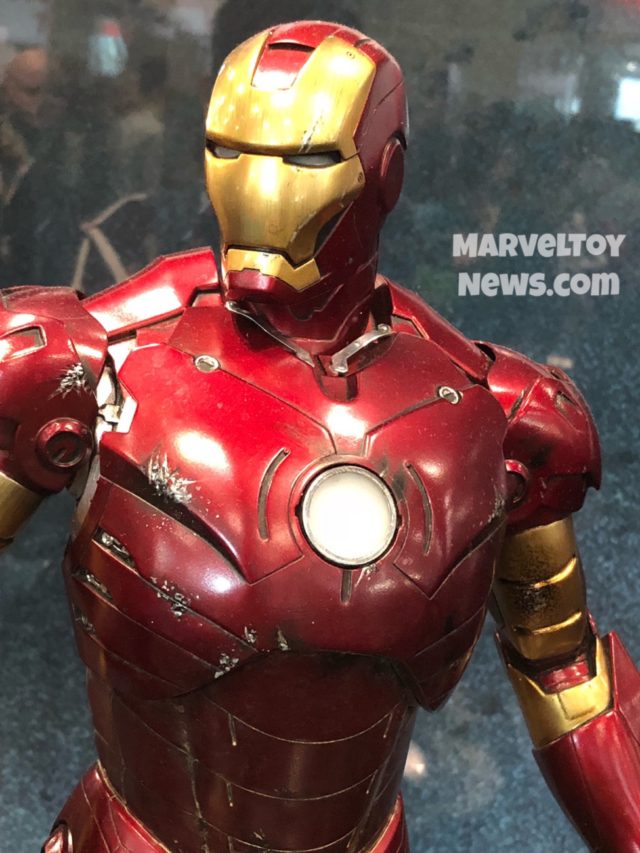 Sideshow has been releasing various Iron Man movie armors as maquette statues for several years now, so it's not a shocking plot twist that they showed another at New York Comic Con last week. Even so, this one is a big deal, because it's a statue of the most-loved movie armor of all: the Iron Man Mark III from the first Iron Man movie!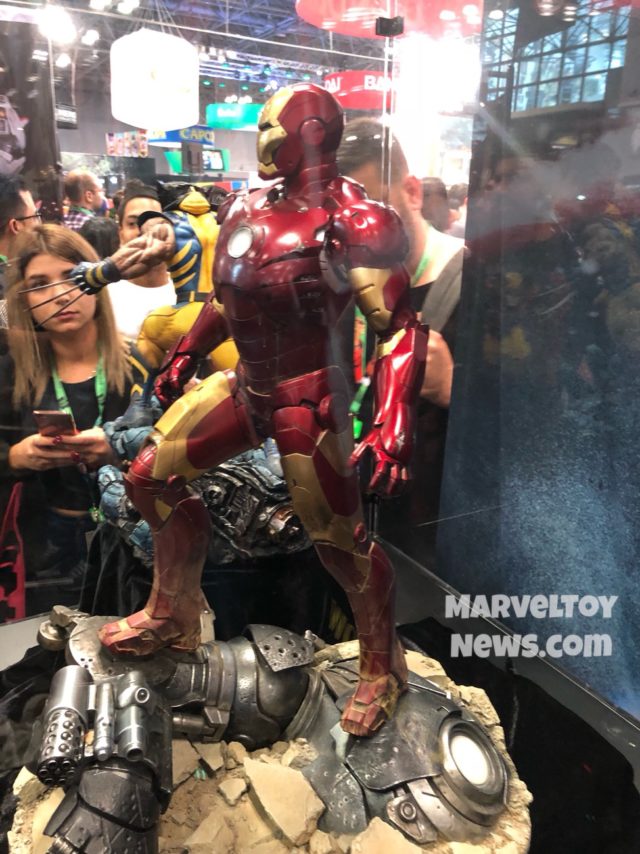 As far as iconic statues from Iron Man movies go, you can't get much more iconic than Iron Man standing in this pose atop a huge defeated Iron Monger base. This is probably the best pose Sideshow could have chosen for this piece.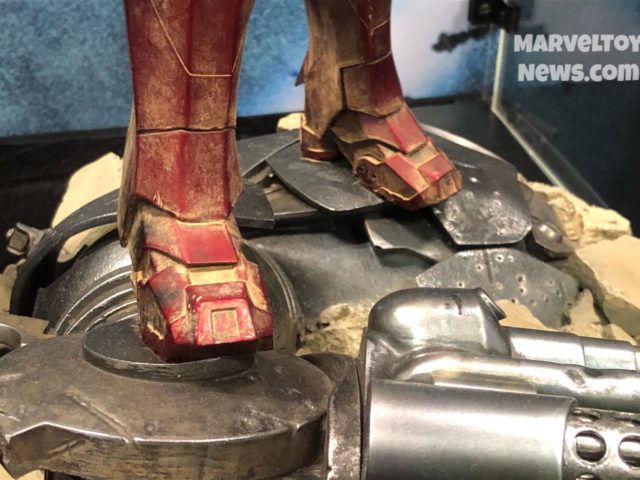 The destroyed Iron Monger base has a pretty humongous spacial footprint, but it's really impressive nonetheless. The "dirt" paint deco on Iron Man's feet looks eerily real, and the Iron Monger helmet that comes with the exclusive version is going to complement this base wonderfully.
My only real concern with this piece is that the base is going to be 16" deep, which I'm concerned may make it a bit difficult for some collectors to find a good display space for in their collections.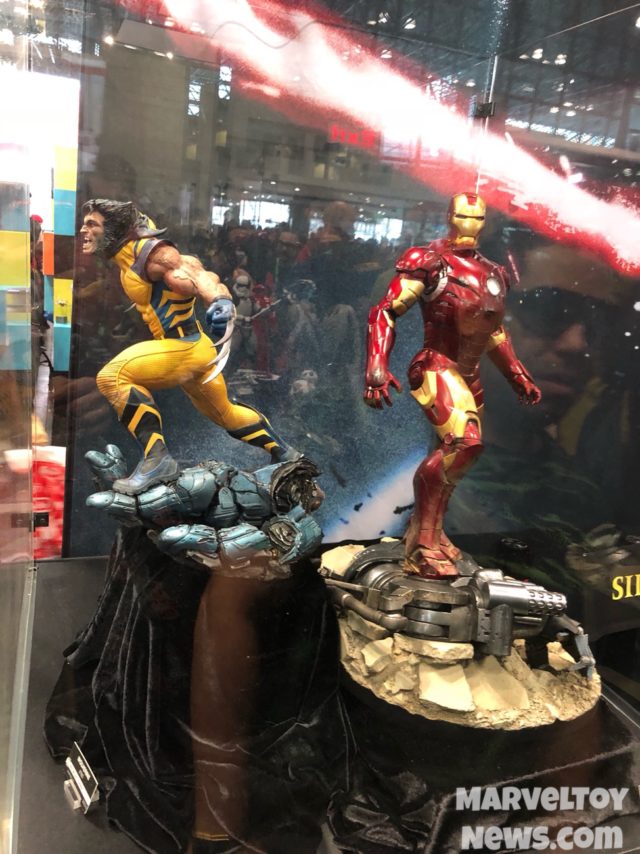 The Sideshow Exclusive Iron Man Mark III Maquette goes up for order this week, and I'll be posting a full preview of the piece with hi-res official photos prior to pre-orders opening. There's no pre-order date or pricing information for Wolverine (or Mageto, for that matter) available yet, but I'll post updates here and to the Marvel Toy News Facebook and Twitter Pages once those details are available.
What do you think of Sideshow's Marvel 1/4 statue reveals from New York Comic Con 2017, Marvel collectors? Is this their best showing at a NYCC yet, and are you planning to snap up either of these pieces?