As anticipated, Bandai Tamashii Nations brought along their four previously-solicited Marvel Manga Realization Samurai figures to New York Comic Con 2017 (even the poor Samurai Spider-Man that's 40% off online). What was not anticipated—at all—however, was that Bandai would be bringing "Approval Pending" designs of five more characters for the Manga Realization line: including Hulk, Wolverine, Deadpool and more!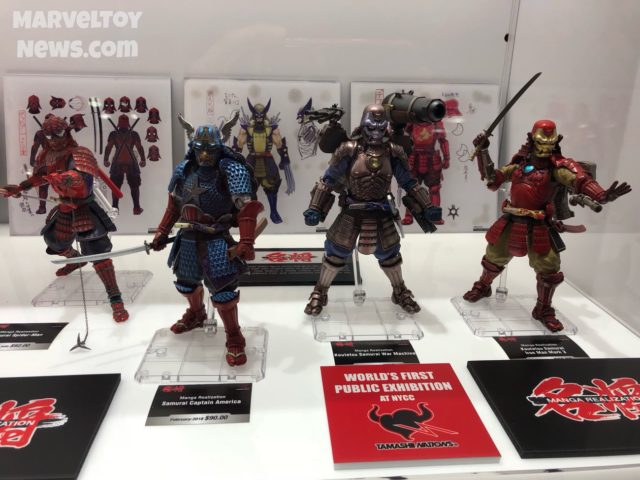 If ever—
ever
—there was a line that I truly thought was going to be a quick and unabated flop, it's the Bandai Marvel Manga Realization series of feudal-themed figures. I mean, seriously: Samurai Spider-Man and Captain America? What the hell?
And yet—! Not only has the fourth figure in the lineup been recently solicited in War Machine, but the "Pending Approval" stamp on the concept designs at New York Comic Con 2017 indicate that Bandai Tamashii is aiming to expand the line to more than twice its current size! Let's see what they've cooked up…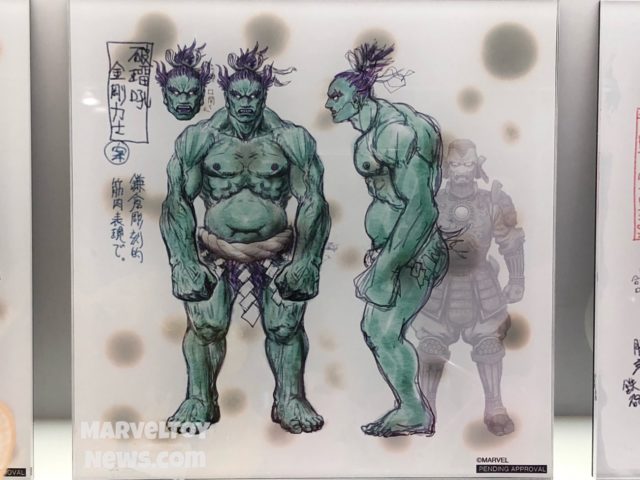 Let's start with what I think most everyone will agree is the coolest concept design here: Manga Realization Hulk. As you can see, he's an ogre!
This is just inspired, and would give the tiny superhero samurais (look at the scale compared to Iron Man) a practical enemy to combat! Hopefully the Ogre Hulk Realization figure gets approved and produced, because I love this concept.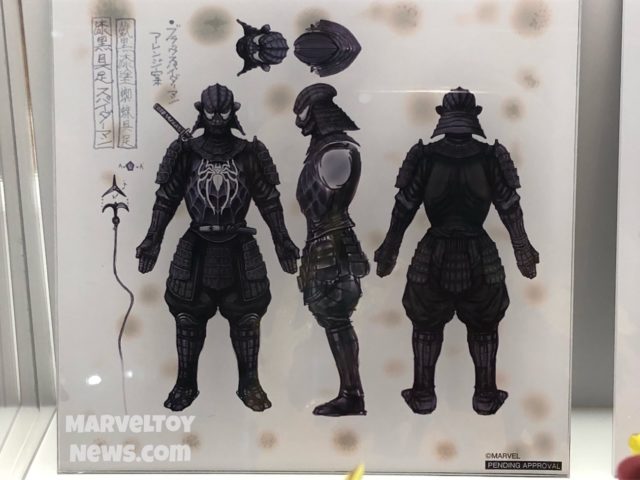 Less inspired is… Black Costume Spider-Man. As you might expect, this is a black repaint of the first release in the line to make a Symbiote Samurai Spider-Man. I'm a sucker for Symbiote Spider-Man toys, so I guess this is an okay choice for a repaint.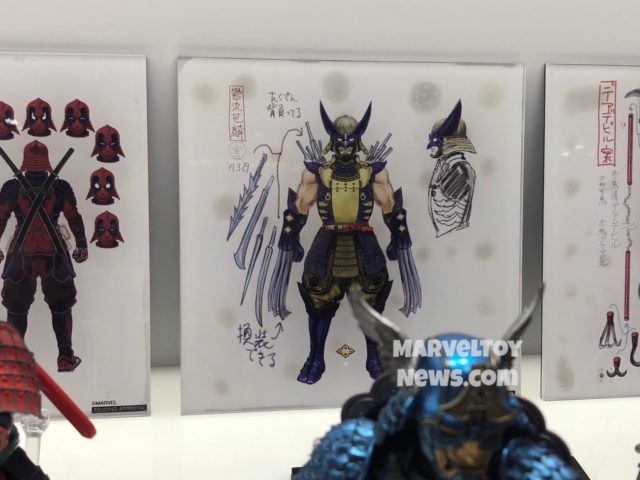 Samurai Wolverine looks absolutely ridiculous–but in a very fun and unique way. The samurai helmet mashup with Logan's mask looks super funny, and I love the wide assortment of blades. This is awesome.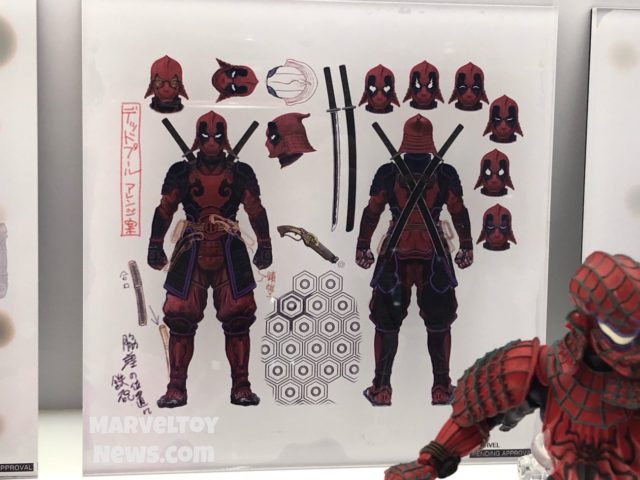 Back on the new character front, it's Ronin Deadpool! We can see from the concept artwork that there are a lot of ideas for different expressive heads for a Samurai Deadpool. Deadpool makes logical sense as a ronin (like Boba Fett before him in the Star Wars line), and is rife with repaint possibilities. I'll be surprised if this figure doesn't get greenlit.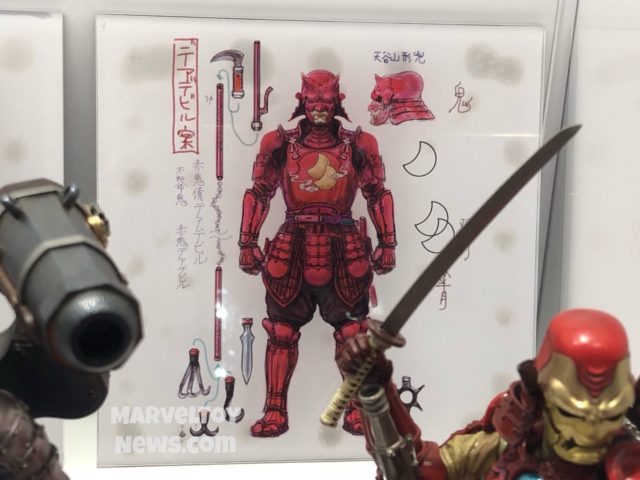 Finally, we've got a Manga Realization Samurai Daredevil figure. This is… fine… I guess, but a ninja Daredevil would have made a lot more sense to me, personally. The devil-horned samurai helmet is about the coolest aspect of this figure.
In addition to the five concept designs, all four figures that have been released or solicited were displayed in front. I just can't get behind that Samurai War Machine's color scheme, but I don't hate Samurai Captain America in person.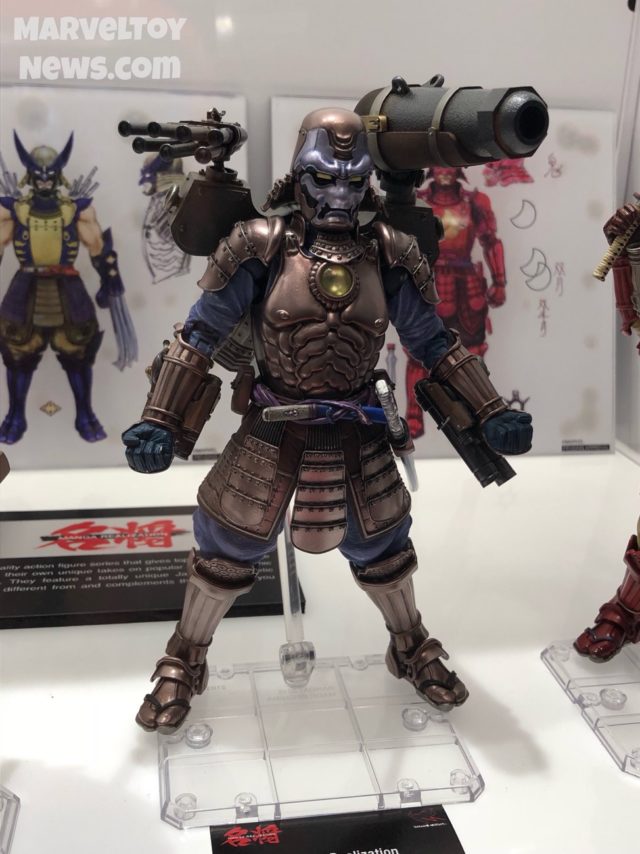 Manga Realization Iron Man and Spider-Man are currently available for heavily discounted prices online, with Captain America and War Machine still up for pre-order at MSRP. I'll post additional news and photos of the concept art characters debuted at NYCC 2017 if any of those designs end up becoming physical figures.
Now that we've seen the potential future of the Marvel Bandai Manga Realization figures line, what are your thoughts on where things are heading, Marvel collectors? Would any of these figures be potential buys for you, or are Samurai-themed superheroes just not in the cards for your collection?