UPDATE 12/21/2017: Remember this series of Toybiz tribute Marvel Legends Retro figures that we were all so excited about? That hit last month and have mostly been flying out of stores at full price? Well–PLOT TWIST! All five remaining figures are the Deal of the Day today, with $9-$11 each prices for 6″ Marvel Legends Black Widow, Spider-Man, Punisher and more! I wish I could say I waited, but, well… we all know I didn't. Did you?
ORIGINAL: It's been hitting sporadically at Walgreens stores since last month, but at last, the final Hasbro Marvel Legends 2017 wave of 6" Figures is beginning to hit stores in force! I'm still waiting for the set that I ordered online to arrive, but I couldn't pass on the opportunity to take in-hand Marvel Legends Vintage Series figure photos at my local Toys R Us today…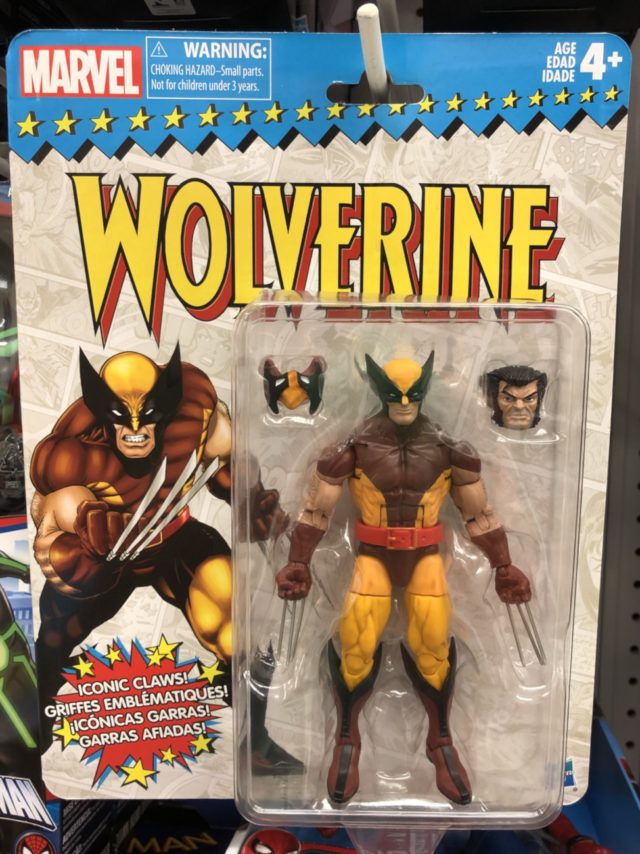 The Marvel Legends Toybiz Tribute wave really came out of nowhere when it appeared at San Diego Comic-Con 2017, but the response from collectors thus far has been very enthusiastic.
Despite there not being a Build-A-Figure in the wave, most collectors have been pretty excited about at least one aspect of this series, whether it be the Toybiz-inspired Vintage packaging or the opportunity to get sold-out, in-demand figures like Pizza Spider-Man and Brown Costume Wolverine without paying a mint.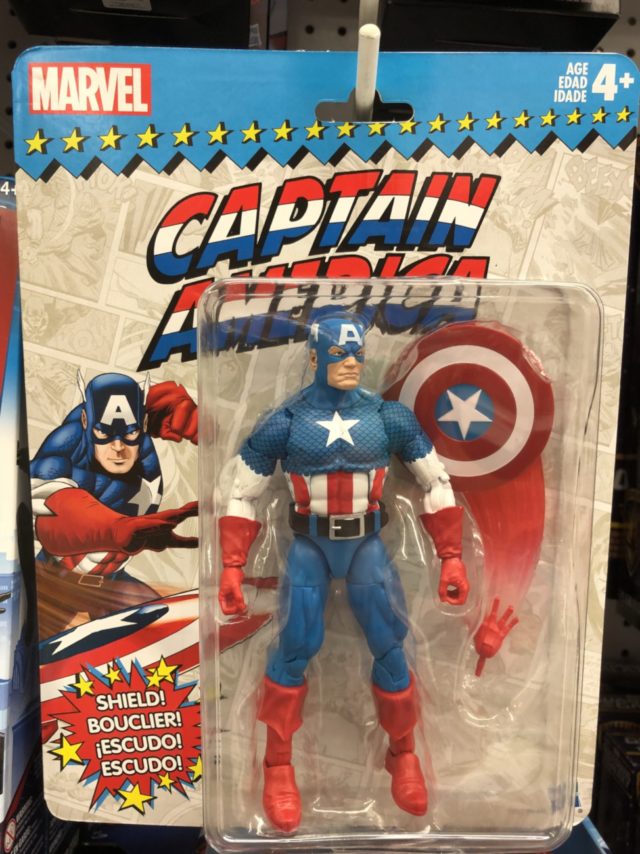 While I've seen these figures packaged in person at several conventions this summer and fall, the size of the packaging still took me by surprise when I saw these on the shelf at Toys R Us. The cardbacks for these make the packaging way bigger than the box style we've become accustomed to.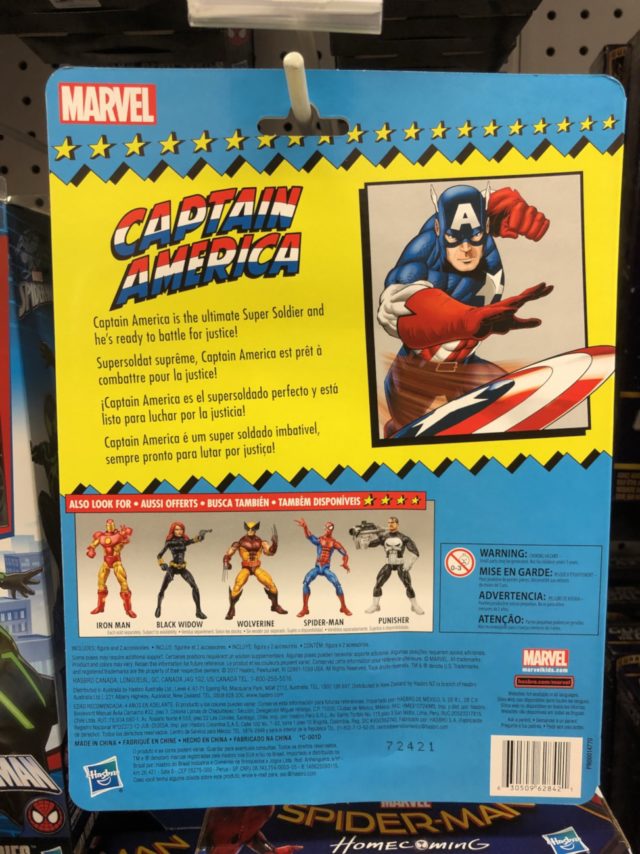 For those wondering, yes—the back of the packaging does continue with the retro, throwback style of the front.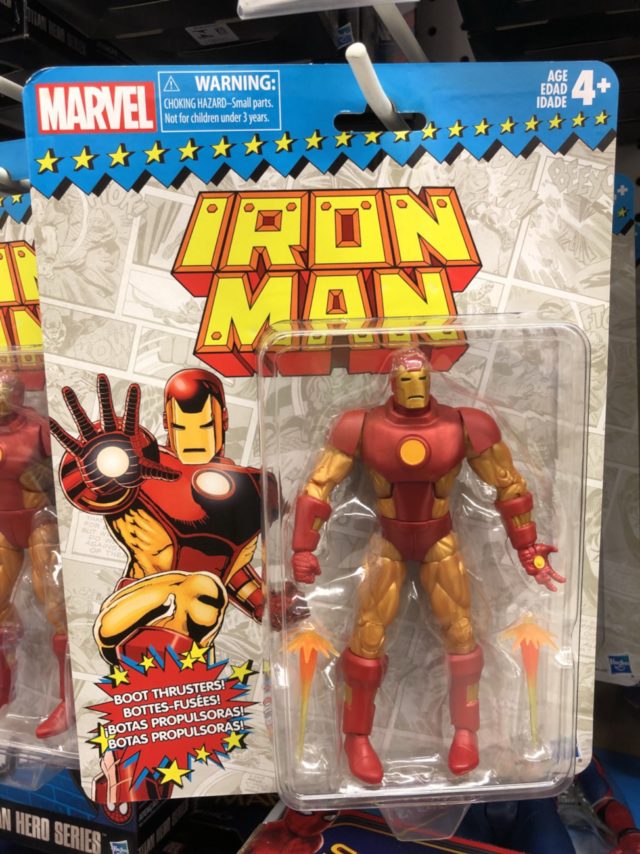 The series is being shipped in cases of six, with one of each figure in the series:
Spider-Man (Pizza)
Black Widow (Classic)
Iron Man (Neo-Classic)
Captain America (Classic)
Punisher (Classic)
Wolverine (Brown Costume)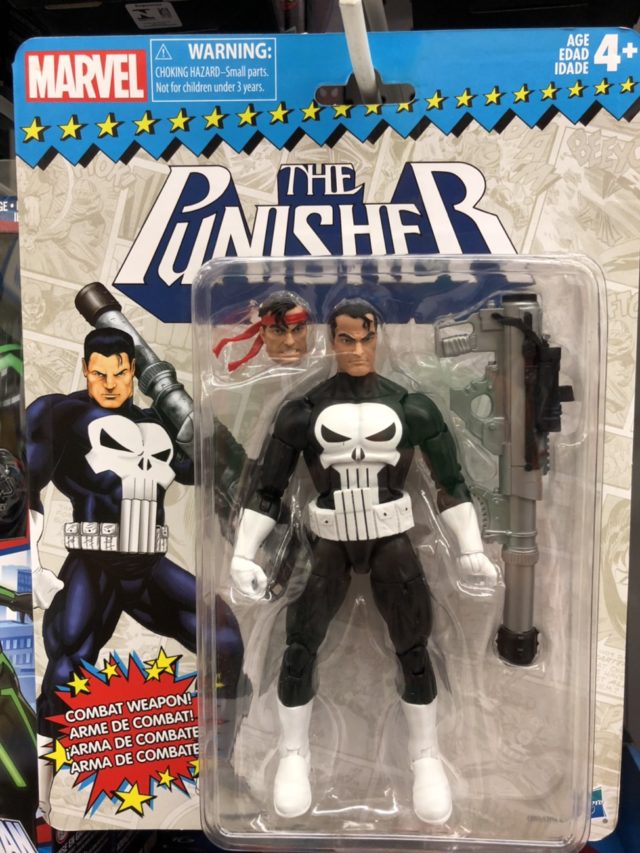 With there being ample supplies of last year's Walgreens Punisher still sitting on the shelves in many Walgreens stores, I wouldn't be surprised to see him as the pegwarmer of this set.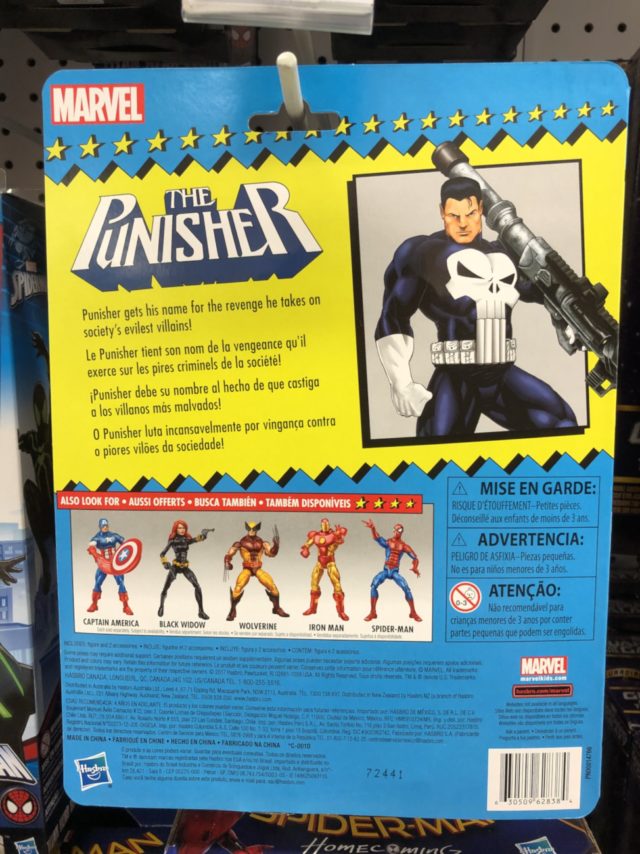 (And actually, that would also be sort of a throwback, as I can remember Toybiz Marvel Super-Heroes Punisher figures rotting off the pegs as a kid!)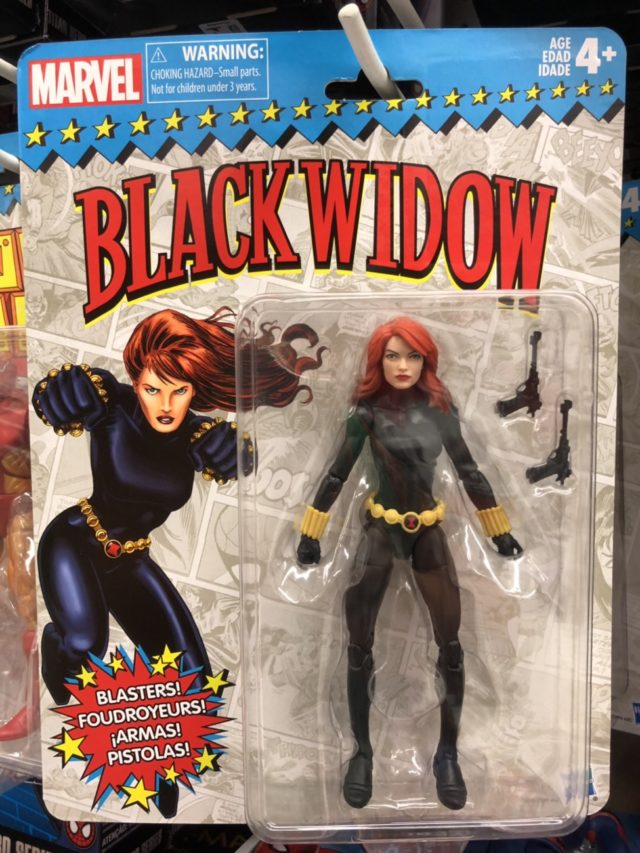 The one totally "new" figure in the series is a classic Black Widow Marvel Legends figure, as the other five characters are all kitbashes of releases from the last few years.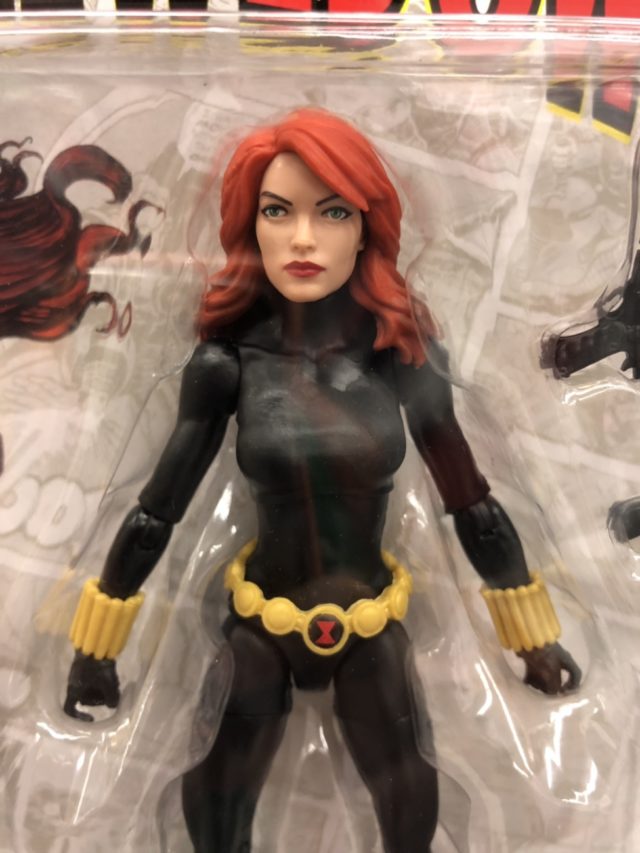 I've heard quite a few grumbles about the ML Mary Jane head being used for the new Vintage Black Widow figure, but I'm really not sure that saltiness is warranted—the  MJ head looks terrific on Natasha.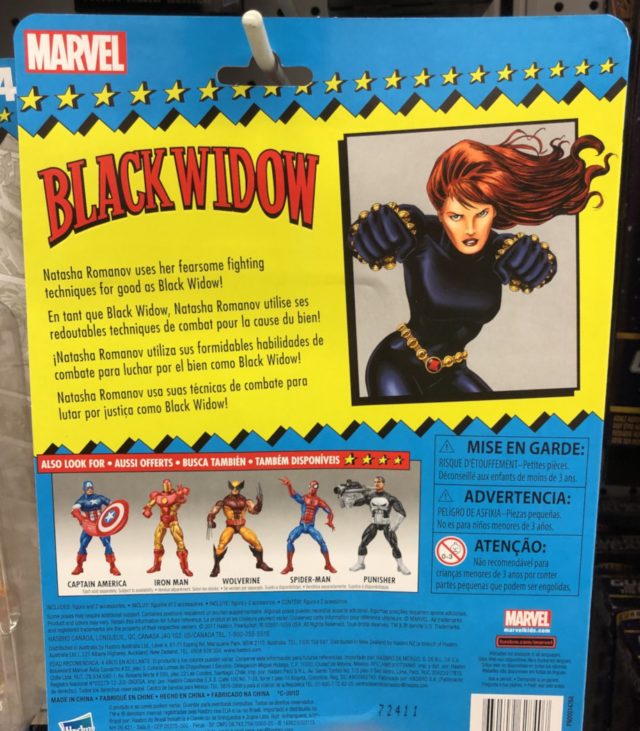 If Black Widow had come out first, I'm not convinced many fans would be complaining about the head at all.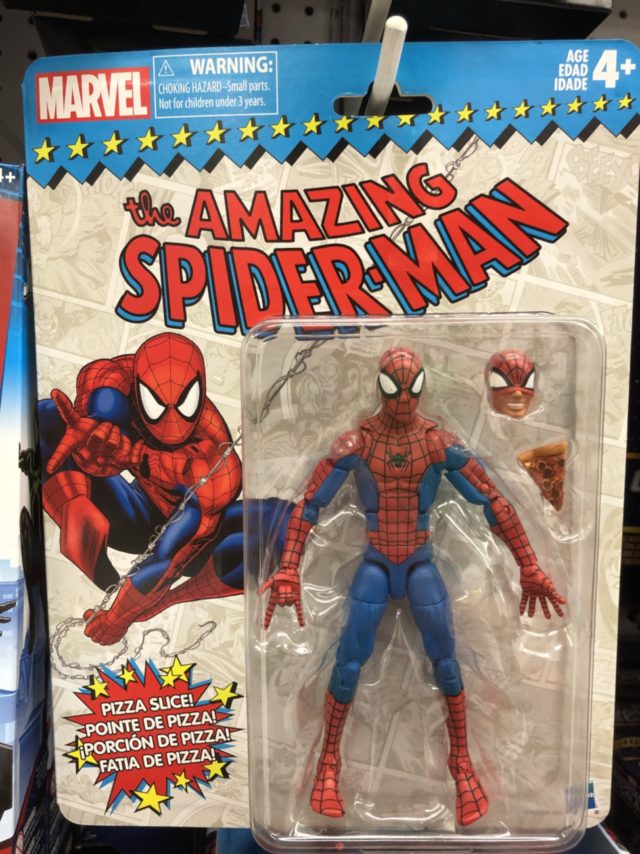 The Vintage Spider-Man is probably the reissue in this set that suffers the most for missing accessories the original came with.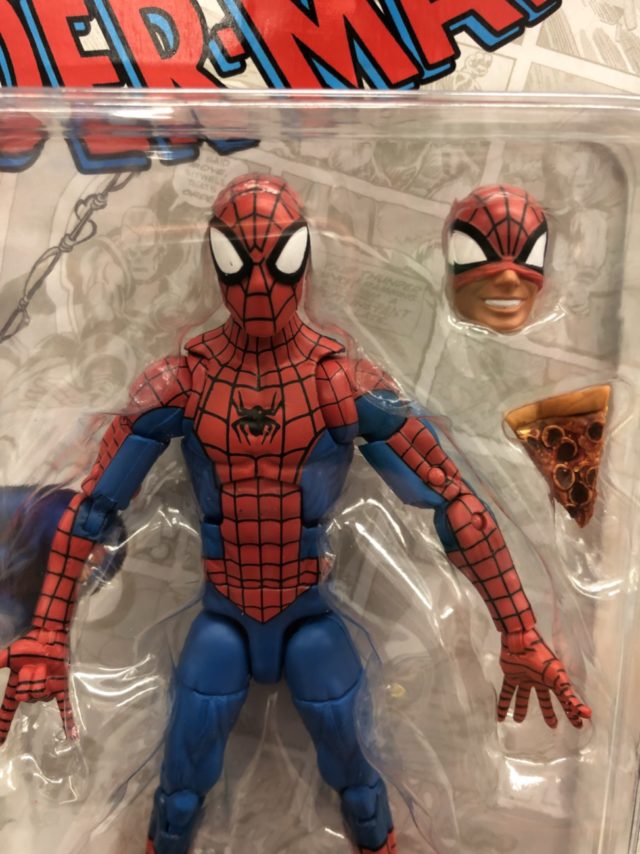 While I love that the pizza slice and half-unmasked head are back, it's going to be frustrating for many buyers that this Spidey comes with one web-shooting hand, one wall-crawling hand, and zero fists.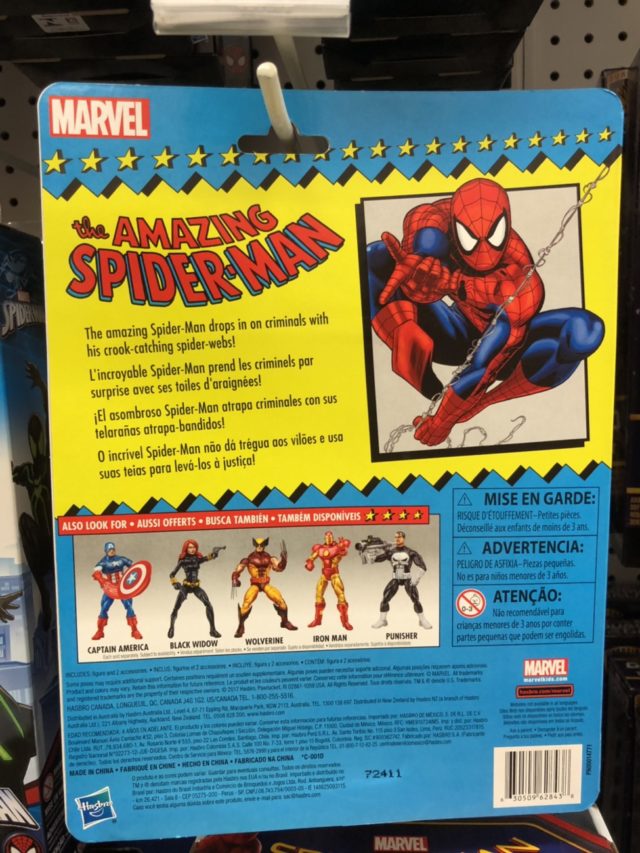 Even so, I love the packaging art for this Spidey, and since I already have the original version and the SDCC 2016 The Raft repaint, I'll be keeping mine carded.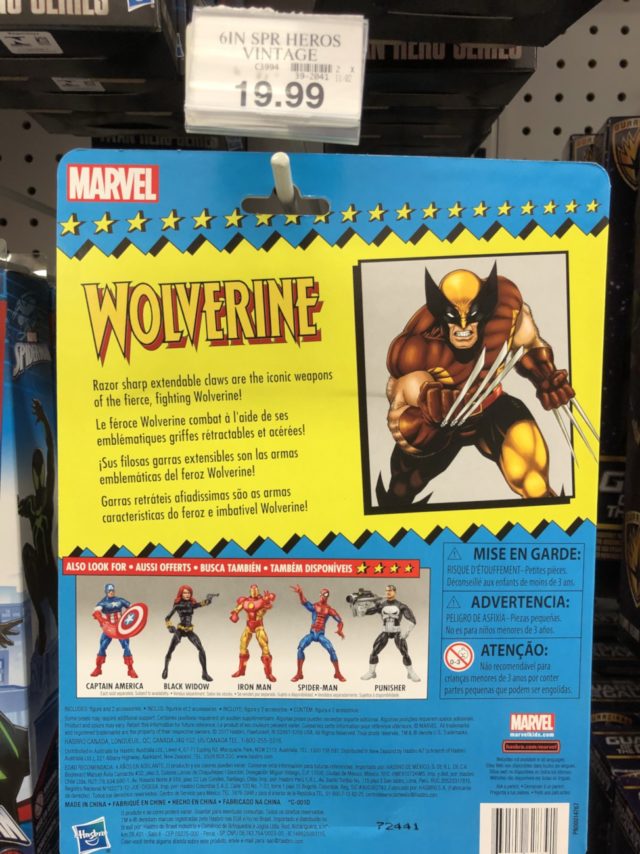 The best-received figure in the whole Vintage Marvel Legends series is almost certainly Wolverine, as not only was last year's X-Men Legends Wolverine get outlandishly expensive on the aftermarket, but this is basically a superior upgrade of that figure due to added paint deco on the arms and new accessories.
The empty Wolverine mask is a neat inclusion, and I genuinely can't remember the last time we got a 6" unmasked Wolverine head packed in (anyone?). Logan is the clear-cut choice for hottest-selling figure in the wave.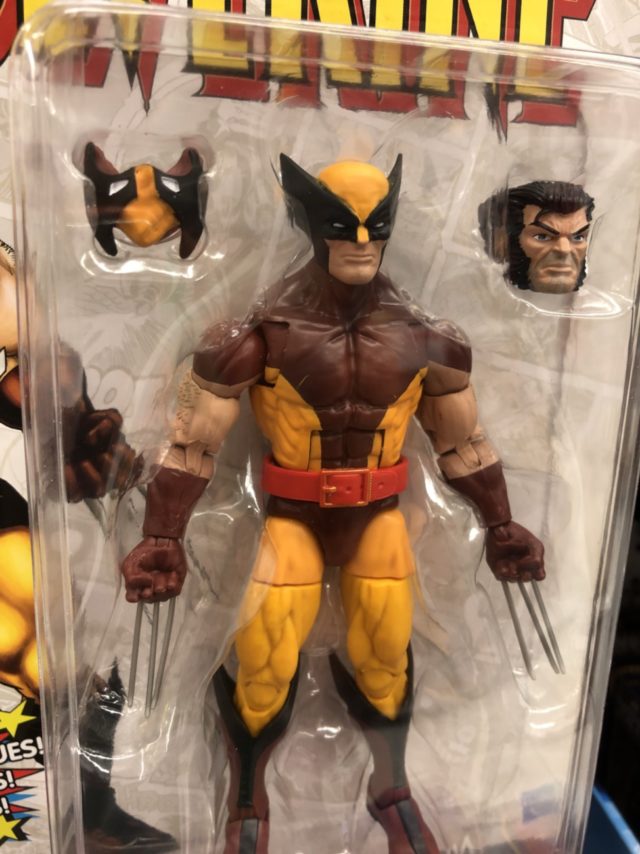 The Marvel Legends Vintage Series is now available for order online in full sets and is also starting to hit local Walgreens, Walmarts and Toys R Us stores. Amazon hasn't opened orders  for singles of the individual figures yet, but I'll send out alerts via the Marvel Toy News Facebook and Twitter Pages once they begin.
Who's found the Vintage wave of 6" Marvel Legends figures at retail already, and who's still looking? For those of you who have seen them in person, what do you think? Would you like to see this style of series continue with more waves?