Sideshow Collectibles has been on a Marvel hot streak lately, with their new Wolverine, Silk, Spider-Gwen and Green Phoenix statues all being gorgeousness. But that roll may be coming to an end with this week's new solicitation, which I get the feeling is going to be a divisive piece (at best). The Sideshow Exclusive Mark Brooks Spider-Man Spider-Verse statue is now up for order, but this is not looking like it's going to be one of the better-received Spidey statues…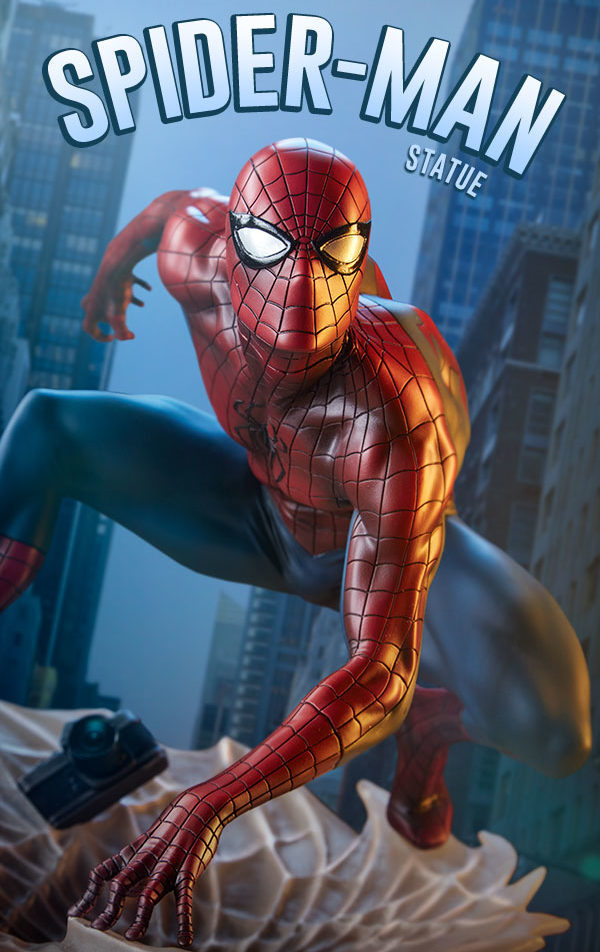 When it comes to Spider-Man statues, I'm a pretty easy mark. Spidey is one of the most dynamic characters in existence, which means there's almost an infinite number of versions of the character you can make figures of while remaining fresh. So rarely do I see a Spider-Man statue that I don't at least
think
about picking up.
But this latest one–the Sideshow Collectibles Mark Brooks Spider-Verse Spider-Man statue…? Yeah–this is one that I'm all-but-certain I'm going to be passing on.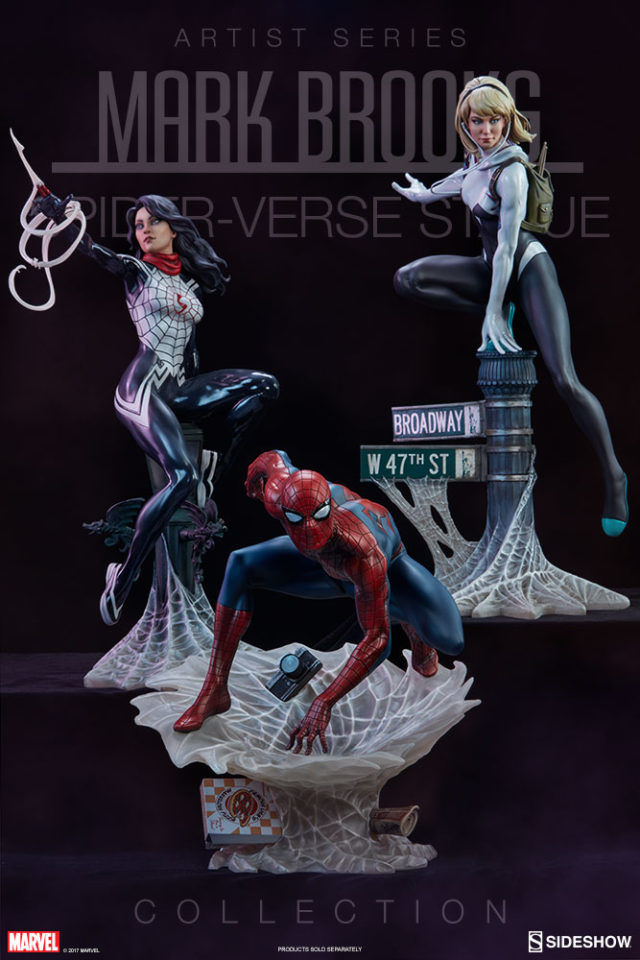 When I first saw this statue on display at New York Comic-Con 2017 in October, I was so hyped about the Silk and Spider-Gwen statues displayed alongside it that I didn't really pay much attention to ol' Spidey. But when I circled back to look at my own photos of him, I was definitely not impressed.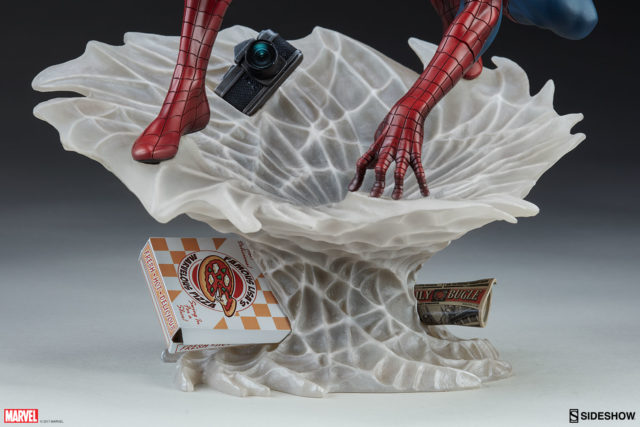 While I think the actual Spider-Man figure itself here looks pretty nice, I utterly loathe the base on this piece in a way I can't recall hating a base before. It looks like Peter is riding around a tornado made of webbing, with random (but relevant!) trash stuck to the webbing.
I thought maybe Sideshow could still win me over on this piece with a great Exclusive Edition and a solid value for a price-tag, but it was not to be. The price on this is $400 for EX—an almost unthinkable amount for a statue that's just 12" (yes, twelve inches) tall.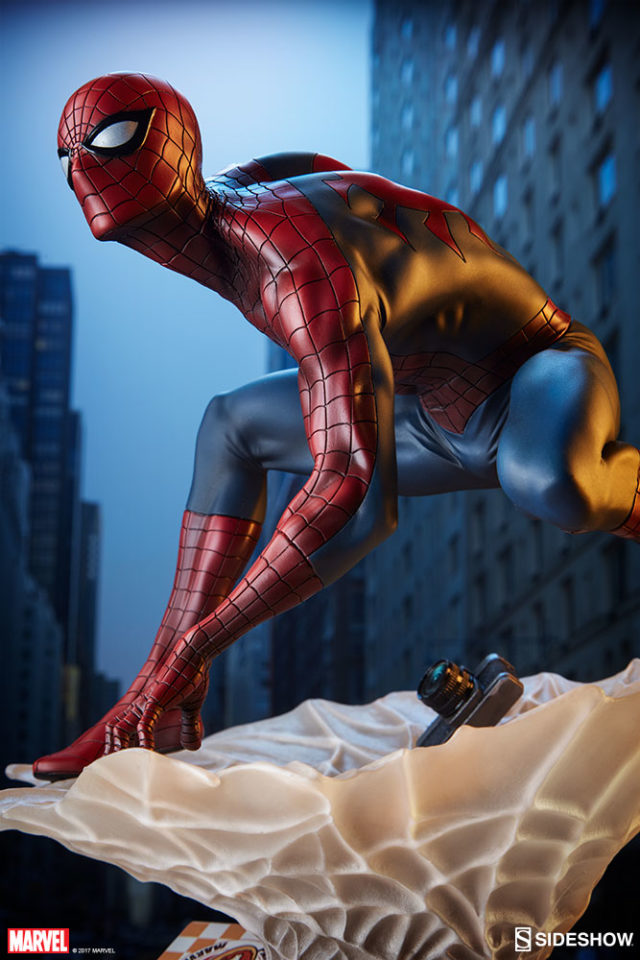 I really dug the early 1/5 Avengers Assemble statues that were priced at $360, but there's just no way that this dinky 1/5 Spider-Man is worth $400 (at least, not to me).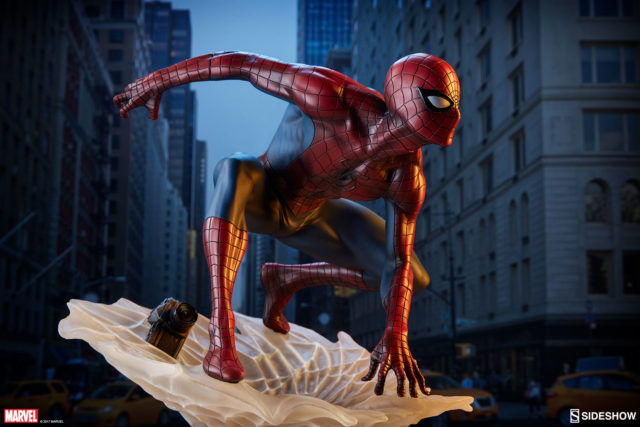 As much as I like Mark Brooks' art style and the Spider-Verse statues collection as a whole, this particular statue really disappoints me.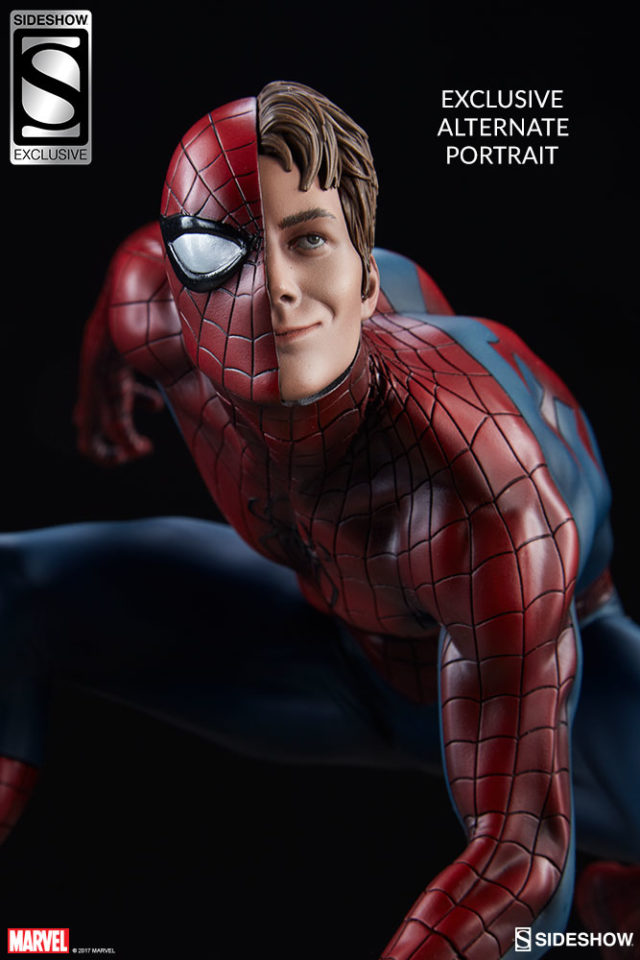 My hopes for the Exclusice Version to save the piece were also dashed when I saw it—a creepy bilaterally cut "Spider-Sense" Peter Parker/Spider-Man Head. Seriously—I get a real serial killer vibe off this. Do not like.
I've seen this type of effect used in comic books hundreds of times when Peter's spider-sense goes off in his civilian clothes, but I'm not sure I've ever seen it cut to half-Peter face while Spidey is masked.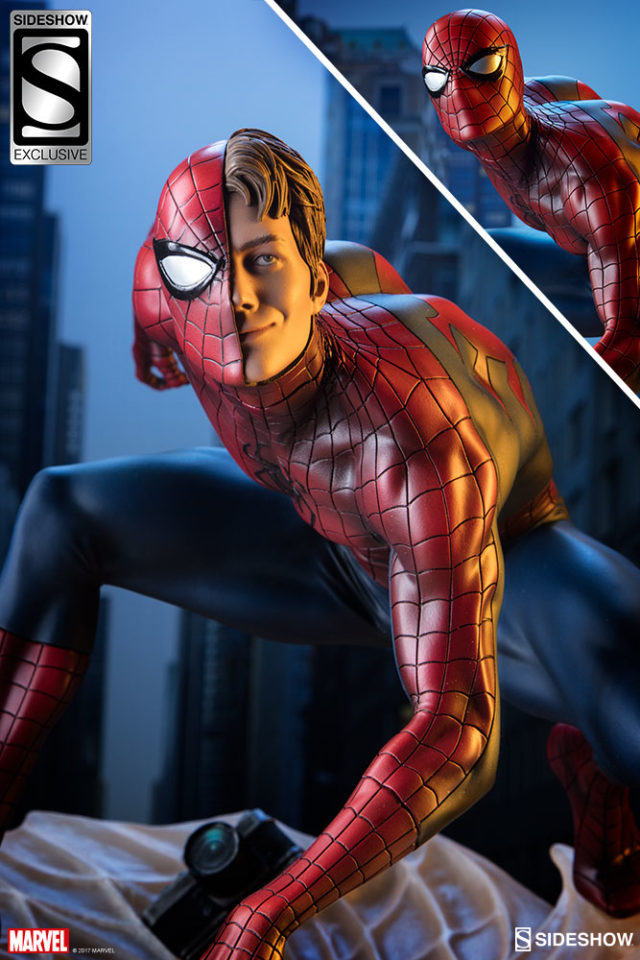 The Sideshow Mark Brooks Spider-Man Exclusive statue is now up for order, and is scheduled to be released in Q4 2018. Given that an ultra-popular character like the Spider-Gwen in this collection has a low edition size of just 750 pieces for the Exclusive, I wonder if the final edition size for this much less well-received Spidey statue might end up being ultra-low–like 350 pieces or less. That's something to keep an eye on in the coming months!
What do you think about the latest Sideshow Collectibles Spider-Man statue, Marvel collectors? Is the general criticism that this statue is receiving deserved? Or is this an underrated piece that you think will grow on folks, with collectors kicking themselves for skipping this Spidey down the line?