It's pretty much beyond question that Deadpool has been the hottest character at Marvel for the past couple years. But if there's a modern comics character who can even approach the Merc with a Mouth in popularity, it's the sensational Spider-Gwen! It was only a matter of "when", not "if", Sideshow Collectibles would get around to their own Gwen Stacy Spider-Woman. And now, we know exactly when we can order her—the Sideshow EXCLUSIVE Spider-Gwen statue is now up for order!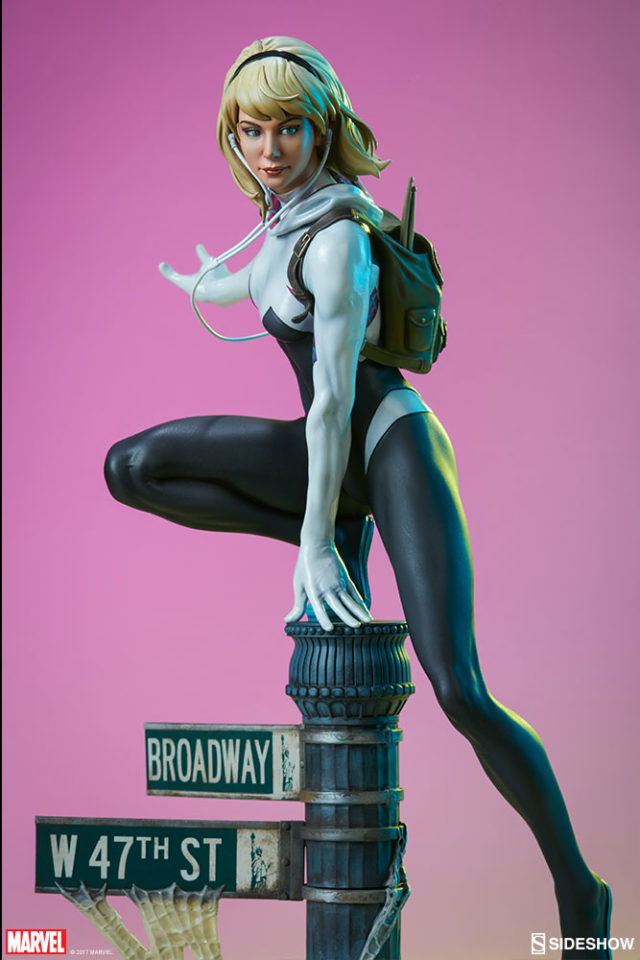 Spider-Verse—featuring "every Spider-Man ever"—was one of the craziest and most popular Spider-Man centric events in history. So it only makes sense that Sideshow Collectibles would want to cash in on a line of Spider-Verse statues.
And it looks like Sideshow is doubling down on logic by kickstarting the line with by far the most popular character to come out of the event: Spider-Gwen!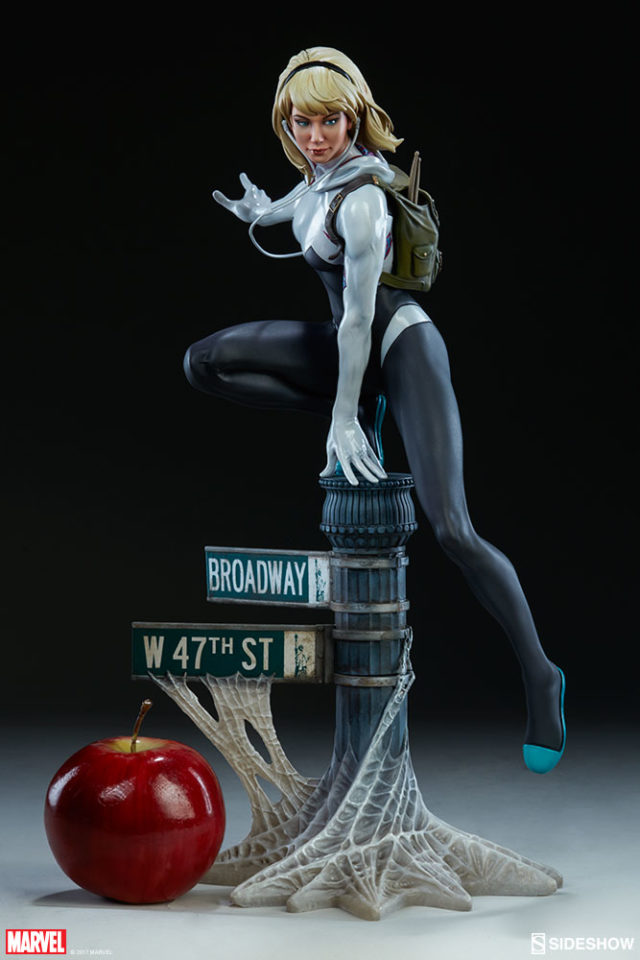 The Sideshow Spider-Verse line of statues by artist Mark Brooks is the newest line of Spider-Man themed statues by Sideshow Collectibles. At 1/5 scale, Sideshow is able to dial back the prices to semi-affordable levels, and also deliver statues that won't consume every centimeter of space that collectors have left. Lower prices? Less space? I'm in!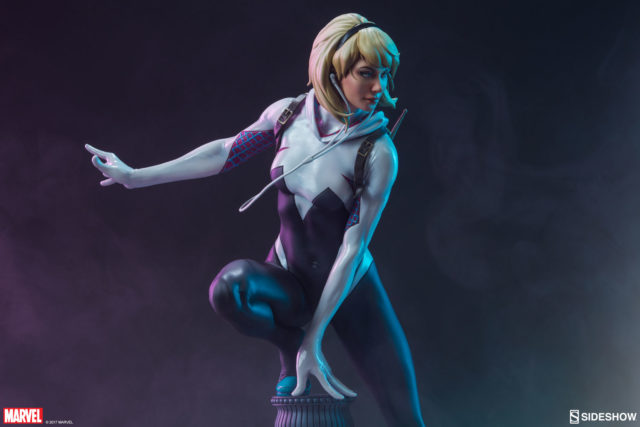 I know some collectors are hardcore about 1:4 scale pieces only, but I'm open to a happy compromise between 1:4 and 1:6. The Spider-Gwen statue still looks wonderfully detailed and designed, and if this Spider-Verse series is going to be an expansive new line (and it appears that it is), many folks will be happier to see statues a bit cheaper that take up less of a spatial footprint.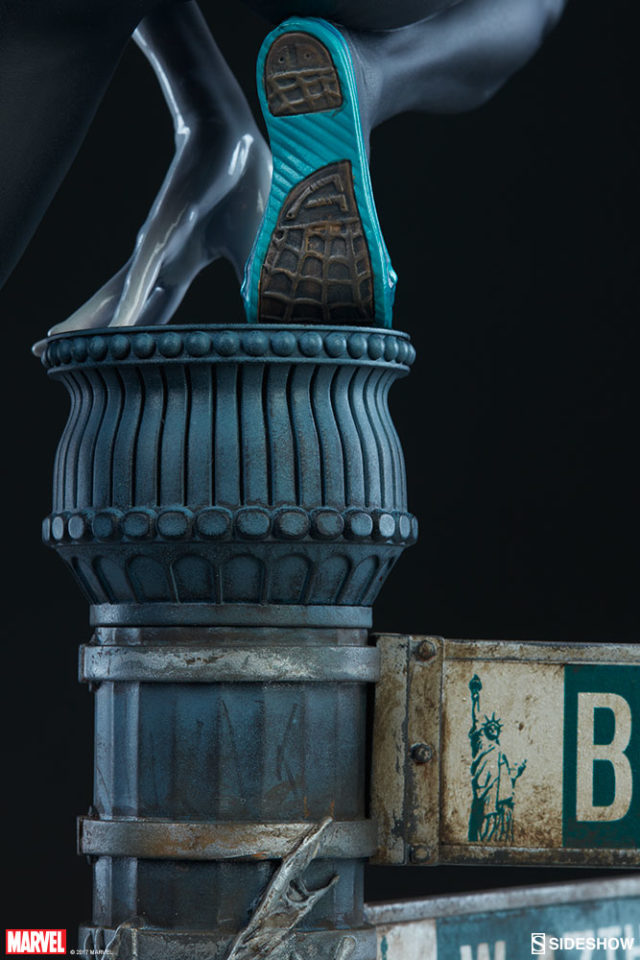 Sideshow went all out with the detailing on this piece, hitting on important details such as the grime on the street sign and the bright teal treads on the back of Gwen's shoes.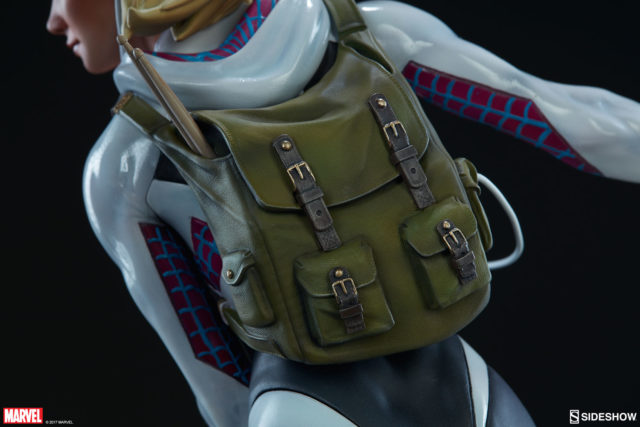 Spider-Gwen's backpack has a great sculpting texture on it, and having her drumsticks sticking out gives the piece a little more personality, which is always a plus.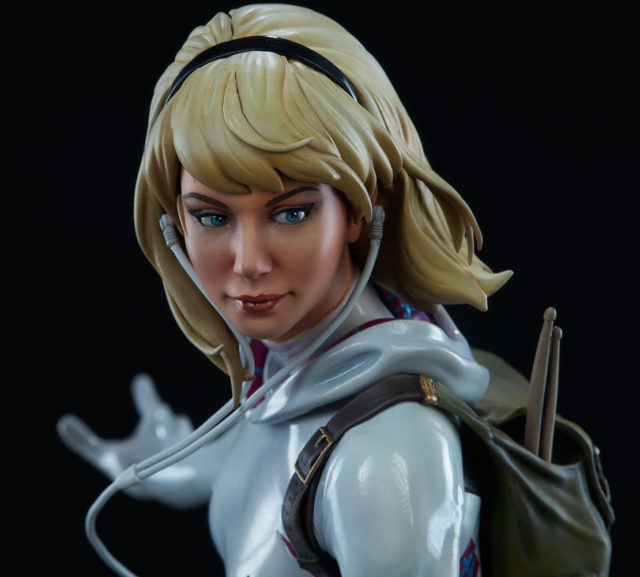 The actual Gwen Stacy head sculpt manages to be pretty and accurate, and I appreciate that Sideshow didn't feel the need to give Gwen a goofy smile or a a scowl, and went with the slightest grin instead. Peter Parker's OTP looks absolutely lovely.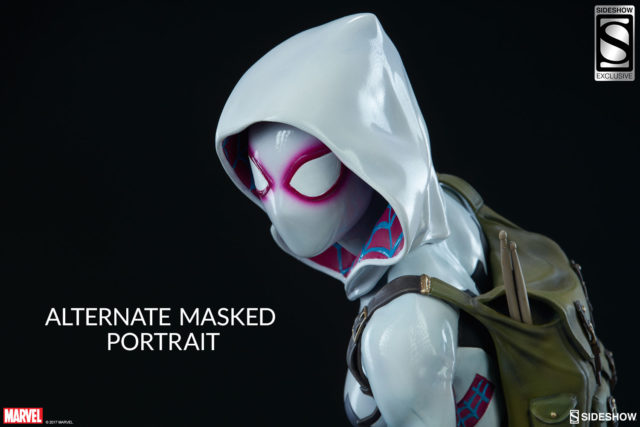 As we've come to expect from Sideshow Collectibles, there's an exclusive edition of the Spider-Verse Spider-Gwen statue that will only be sold on their website. But this time, the exclusive bonus item is an absolute must-have—an interchangeable masked Spider-Gwen head!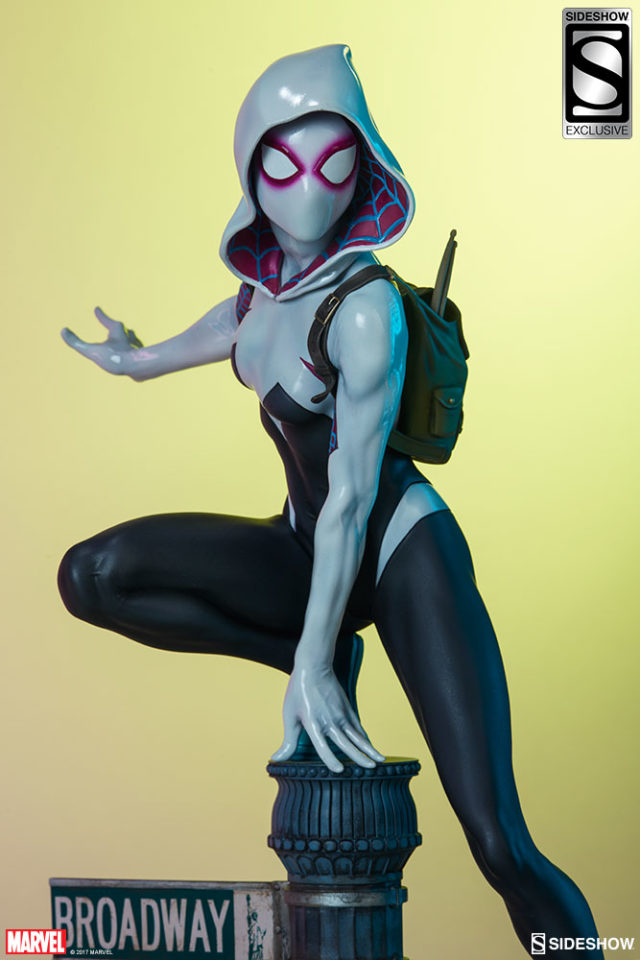 I'm honestly a bit shocked to see Sideshow choosing such a crucial part of Gwen's costume as a limited exclusive accessory! Pretty much
everybody
is going to want at least the option of displaying their Gwen Stacy Spider-Woman with mask, meaning this is going to be a
hot
seller for Sideshow.
This is one EX that I absolutely would not wait on—I can see this particular exclusive being extremely expensive on the aftermarket once it's sold out.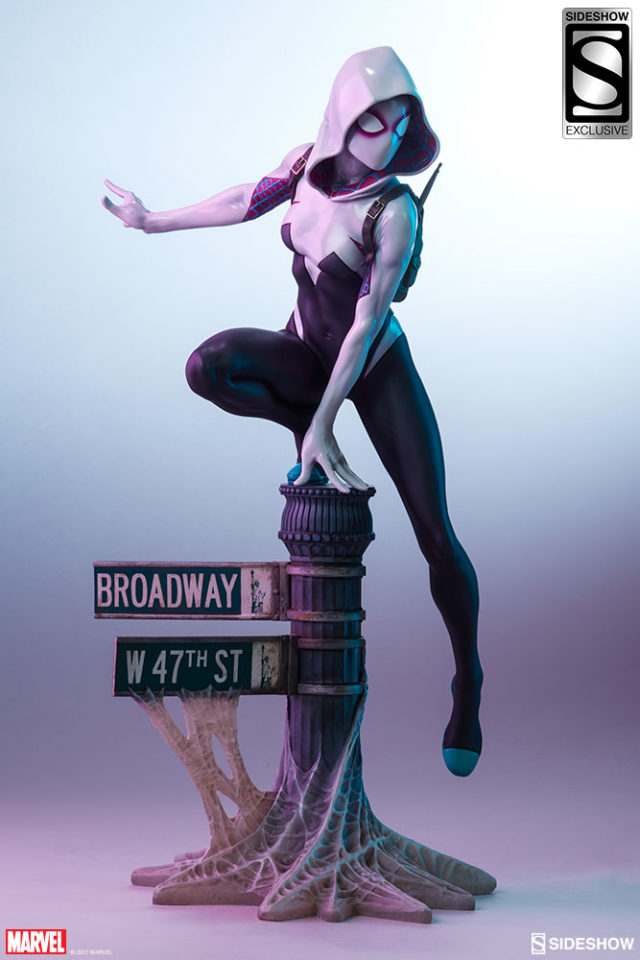 The Exclusive Sideshow Spider-Verse Gwen Stacy statue is now up for order, and is scheduled to be released in Fall 2018. Sideshow has priced this at $425 for the exclusive and $415 for the "Collector" (regular) version, which is at about 20% less than what Premium Format Figures have been retailing for lately.
With Sideshow having now fully revealed the first entry in their Spider-Verse statues series, where do you stand, Marvel collectors? What do you think of masked Spider-Gwen being an exclusive, and are you in for the EX? Will this series being 1/5 instead of 1/4 turn you away entirely?