I apologize for the lack of updates yesterday, as a combination of a ton of appointments at the New York Toy Fair 2017, massive server downtime because of the heavy traffic generated by the event and traveling back to New England from New York City with a massive migraine limited my posting capabilities temporarily. But I'm home now and ready to tackle the 2017 Toy Fair in some depth–beginning with coverage of some figures folks have been really and truly waiting for: the Marvel Select Spider-Gwen and Netflix Daredevil figures have now been revealed!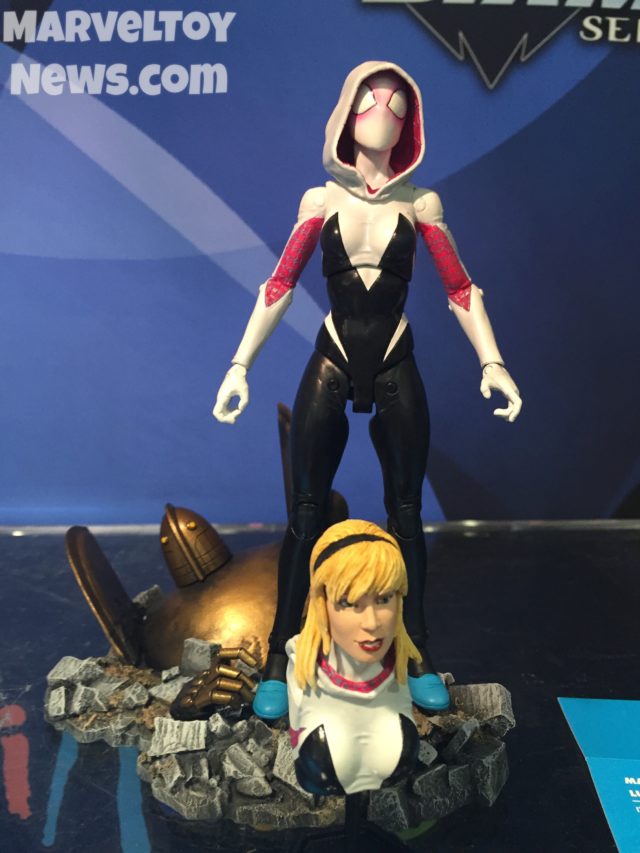 If it wasn't for the phenomenon that was Deadpool, 2016 would have truly been the year of Spider-Gwen. Diamond Select Toys released no less than four different Spider-Gwen figures in 2016, including two Marvel Gallery statues, a Minimate and even a Premier Gallery statue (
that is amazingly still available for close to half-price!
).
But the one Spider-Gwen that was most requested from DST still eluded collectors–until she unexpectedly swung into Manhattan to make her debut at the 2017 New York Toy Fair this weekend! Gwen Stacy is among my favorite characters, so I was thrilled to see this on display at the show. Let's take a look…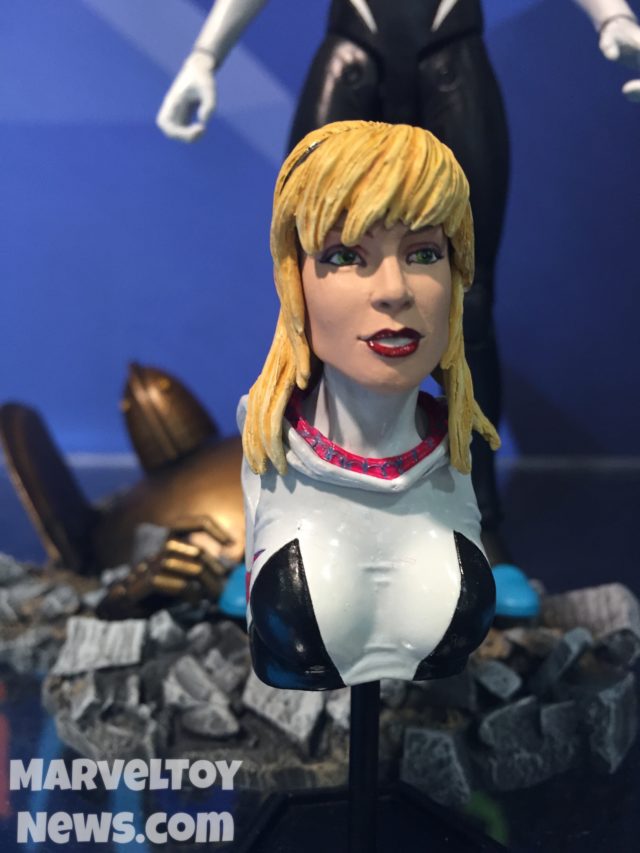 The Spider-Gwen Marvel Select figure appears to come with a feature that I can't remember ever seeing on a DST Marvel Select action figure before: a whole interchangeable head and bust! This is an instance where just an interchangeable head might not do, since Gwen actually has her hood down here as well as her mask off. It's unclear if this was made just for the display or if we'll get an actual interchangeable bust piece.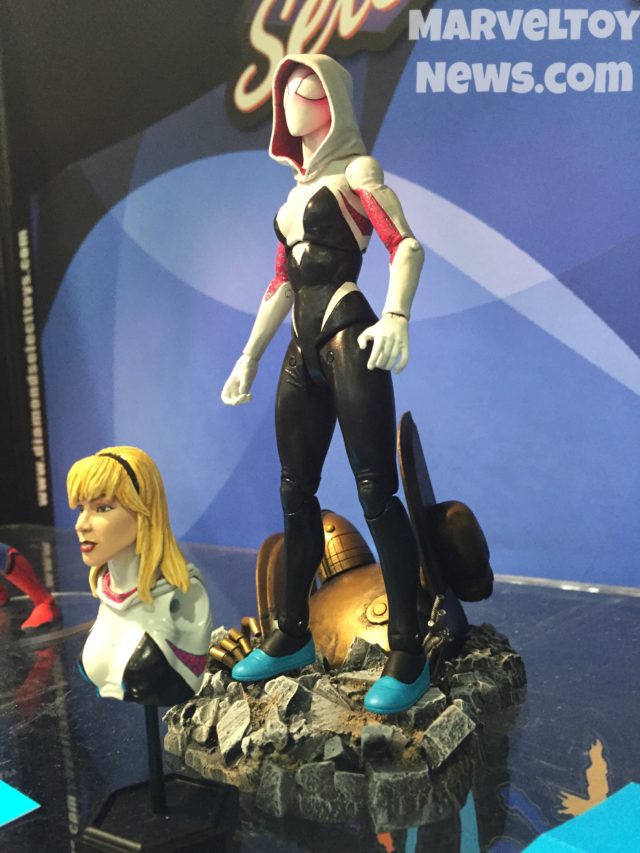 My photo of the unmasked Gwen Stacy head is super hi-res and larger than the actual toy, so the prototype looks a little rough here, but trust me on this: it looks great in person.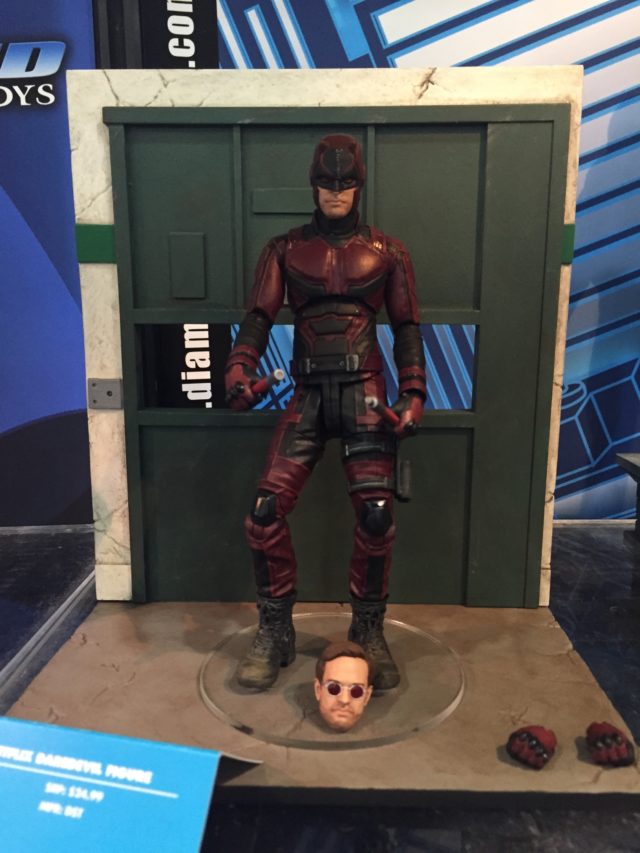 In addition to the 7″ Spider-Gwen action figure, Diamond Select Toys also debuted another figure that fans have been crying for for close to two years: the Marvel Select Netflix Daredevil figure!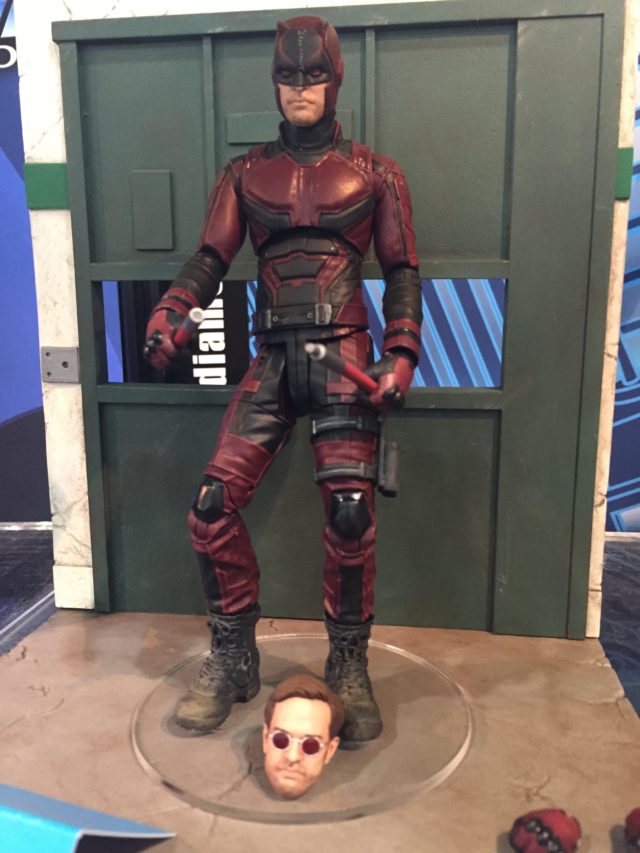 Both of these figures were actually displayed on a shelf that was over my head in the Toy Fair Diamond Select Toys booth, so I wasn't able to get the perfect photos that I strive for, but I think you can get a decent idea of how these looks from the photos I did take.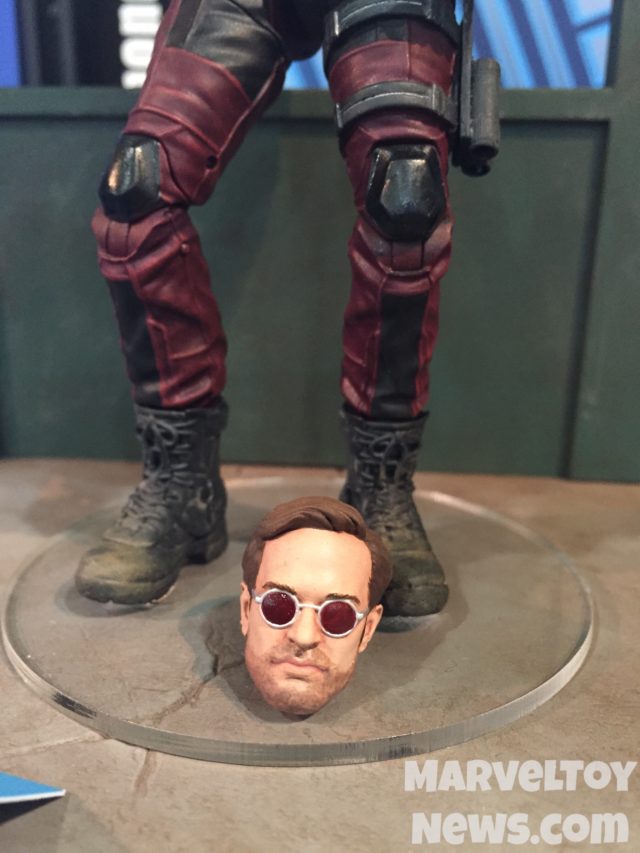 After having no Netflix Daredevil super-articulated action figures up until now, collectors are really going to be absolutely spoiled for choice with the Mezco ONE:12 Collective, Marvel Legends, Hot Toys and now Marvel Select Daredevil Netflix figures all being released later in 2017!
Along with a pair of batons, four interchangeable hands and a pretty good-looking Charlie Cox portrait Matt Murdock head, the DST Netflix Daredevil figure will also come with one of their trademark humongous, diorama-style display bases. As usual, collectors will be getting plenty for their money with this release!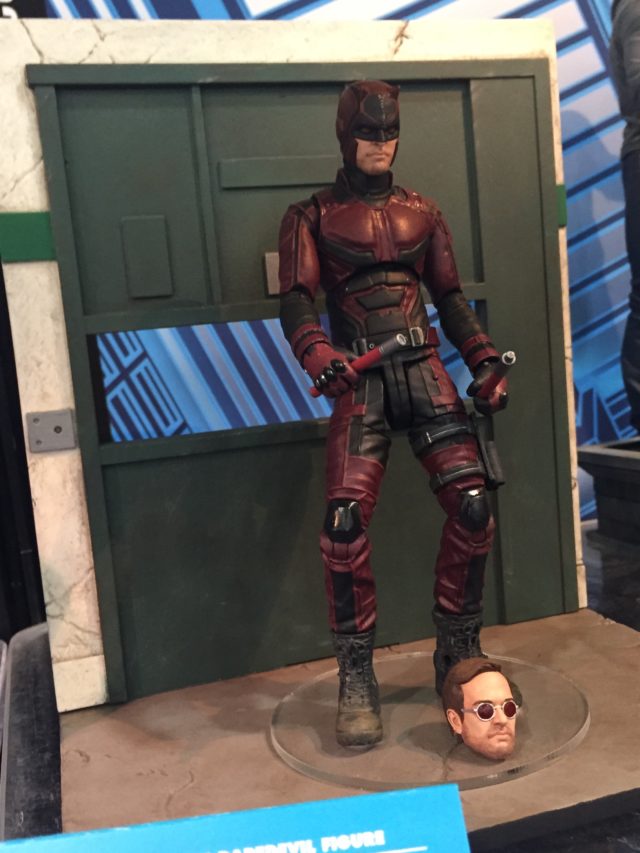 The Marvel Select Daredevil and Spider-Gwen figures are expected to be up for pre-order in the next couple months and should be released in the second half of 2017. I'll post an update to the Marvel Toy News Twitter Feed and Facebook Page once each of the new figures go up for order. Both figures will retail for the usual Marvel Select figures price-point of $24.99 (or less for pre-orders from some retailers).
What do you think of the two surprise Diamond Select Toys Marvel figures revealed at the 2017 Toy Fair, Marvel collectors? Were these two hugely-demanded characters worth the wait? Are these the versions of Netflix Daredevil and Spider-Gwen that you want in your 6″-7″ displays, or are you opting for releases from other companies?