If you're a Diamond Select Toys Marvel collector, the time to run in terror is right now. Because DST is coming for your (yes, specially your) money, with a massive list of new Marvel figures and statues going up for order this month! I'll talk about the various PVC and resin statues that Diamond Select Toys has lined up a bit later on, but for now let's focus on the two headliners of this month's solicitations: the Marvel Select Spider-Gwen and Netflix Daredevil figures are now up for order!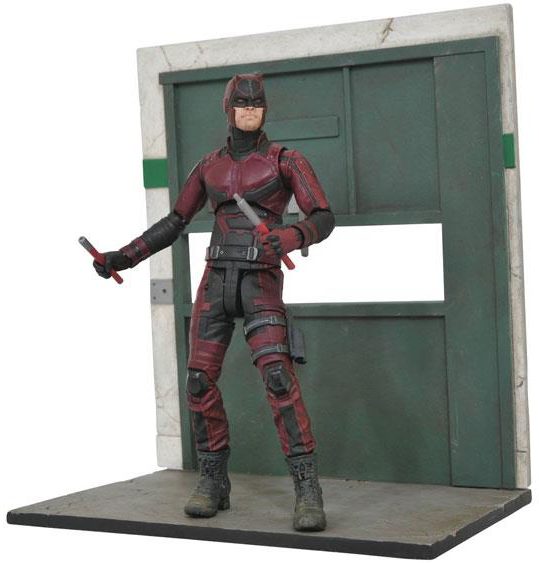 The natives (AKA Marvel Select collectors) have been getting a little bit restless the last week or so, and I've seen several threads with fans wondering when the next Diamond Select Toys figure would be going up for sale. Well, those collectors can now take heart, because they're getting two new pre-orders for the price of one (not literally) as part of this month's DST solicitations!
It's unusual for an MCU-based Select figure to be put up for sale in the same month as a comic book-based figure, so it looks like we really hit the jackpot this month!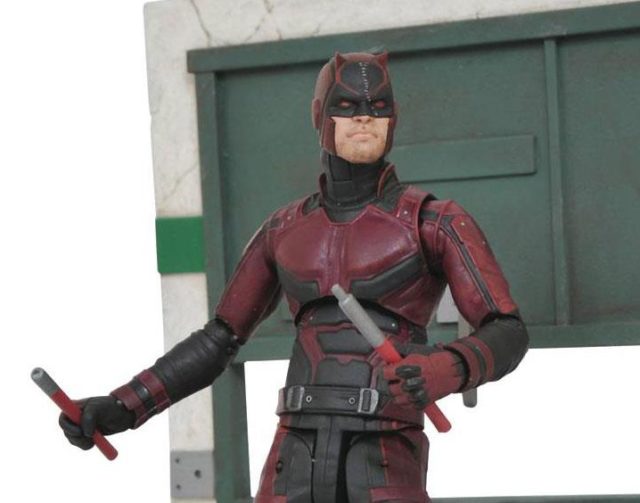 The Netflix Daredevil Marvel Select figure will be the first Netflix-based character to ever be released in the 7″ Diamond Select Toys Marvel Select line of toys (but hopefully not the last!). While I know it may not be everyone's preferred costume, Matt Murdock is dressed up in the Daredevil costume that he wore at the start of Season 2 of Netflix Daredevil and is looking top-notch.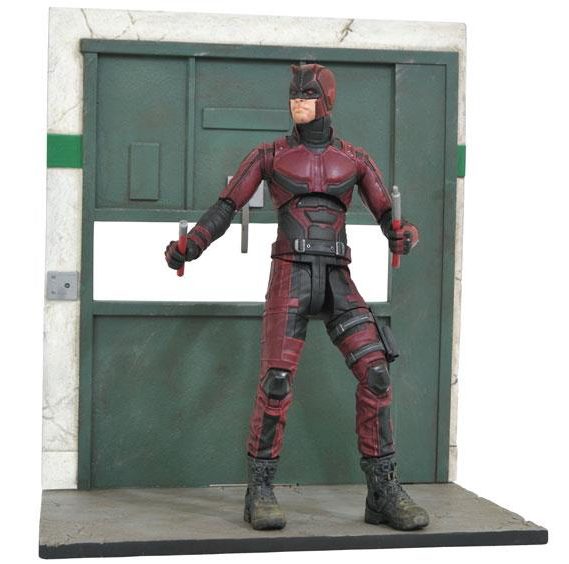 Sculpted by the masters over at Gentle Giant Ltd., this Daredevil 7 inch figure will feature the usual 16 points of articulation (which is what DST is contractually limited to) and will include a pair of billy clubs and a decently large display base depicting the elevator seen in the season premiere of Netflix Daredevil Season 2. If you've been secretly dying for an elevator door backdrop–your time is now!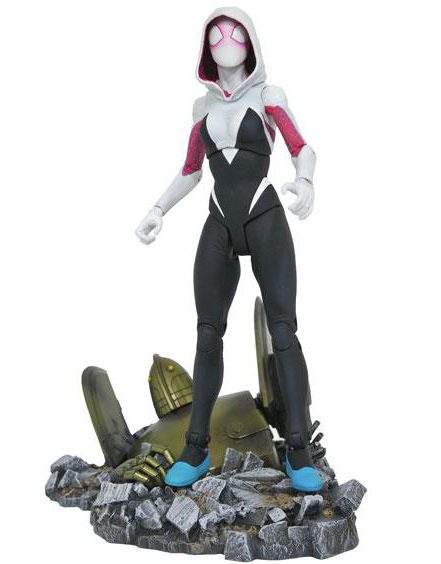 Even before she was officially revealed at New York Toy Fair 2017, Spider-Gwen seemed like an absolute no-brainer choice for the next female comic book character to add to the Marvel Select toy line, as the alternate universe Gwen Stacy Spider-Woman is Marvel's hottest character other than Deadpool over the course of the past two years.
Since this version of Gwen Stacy is a swinging teenager, she's 6.75″ tall instead of the usual full 7″ that we're used to seeing in this line. She comes with interchangeable hands, raised and lowered hoods and a downed robot display base–but oddly enough, seemingly not the unmasked Gwen Stacy head that was displayed at the 2017 Toy Fair in February. Hmmmmm.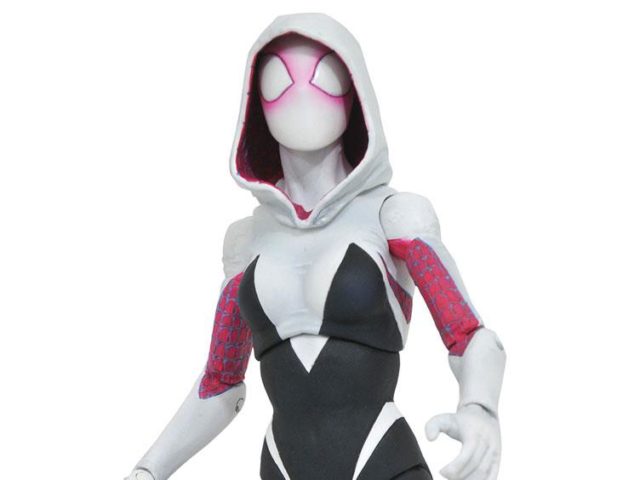 The Marvel Select Netflix Daredevil and Spider-Gwen figures are now up for order, and are scheduled to be released in October 2017. All DST Marvel Select figures tend to be produced in limited batches, and popular characters like Carnage and Venom sell out months before shipping (and then take a year or more to be reissued), so if you've got your heart set on owning either of these characters in Marvel Select form, I'd highly recommend putting in a pre-order sooner rather than later.
I'd always rather have an order I don't want and cancel it than want an order for an item that's already pre-sold out and consequently have to pay ebay prices, so I always place early orders for any Marvel Select figures that I think I might want. Your collecting preferences may, of course, vary.
What do you think of the newest duo of DST Marvel figures to go up for sale? Will the 7″ Daredevil Netflix or Spider-Gwen figures be on your shopping list for this coming fall, or are you satisfied with the 6″ Marvel Legends versions of these characters by Hasbro?