Sometimes when Square-Enix reveals new Marvel Play Arts Kai figures at a show, we wait around for what feels like all of eternity (okay, like half a year) for them to go up for order. But this is not one of those times! Just about two months after being unveiled unpainted at the 2017 Toy Fair in New York City, not only has PAK Magneto been solicited, but now the Play Arts Kai Doctor Strange figure is also up for order!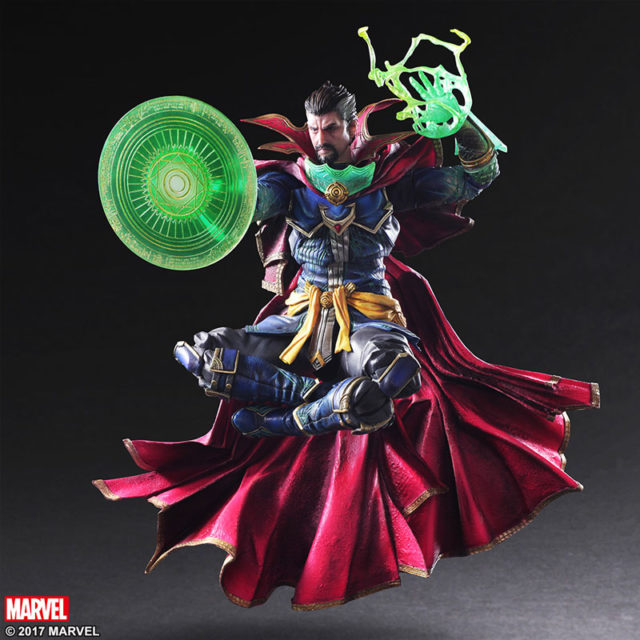 And now, once again, every known Play Arts Kai Marvel Variant figure in development has been put up for sale. Will the line continue, or are the Master of Magnetism and the Sorcerer Supreme the final entries in the Square-Enix Marvel brand…?
That's a question to be answered another day (by which I most likely mean San Diego Comic-Con 2017 in July), but for today, let's take a look at the potential final Marvel PAK action figure: Doctor Strange!
I was not smitten with the Benedict Cumberbatch Doctor Strange movie that came out last year, so I'm pleased that this reenvisioned version of the character swings much closer to the comic book look of the character than the MCU one.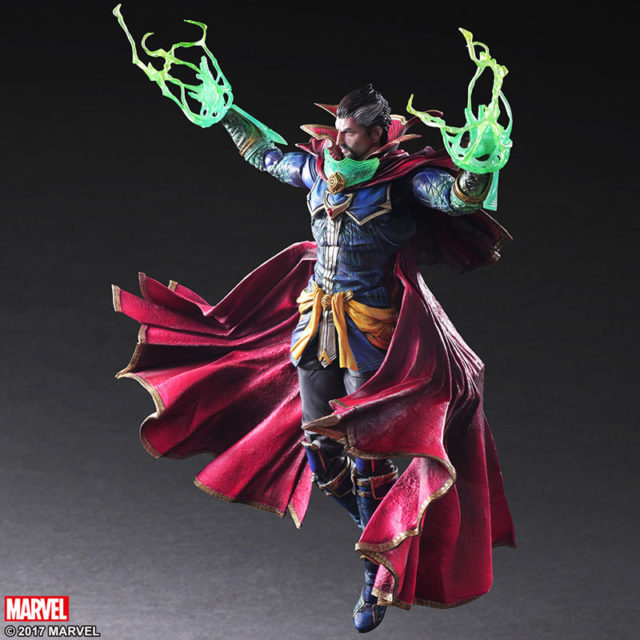 And while not every Marvel figure that Square Enix has designed has been a grand slam, this Dr. Strange Play Arts Kai figure absolutely is. Frankly, I think this is the most intimidating and powerful-looking that Stephen has ever looked on any figure or statue of the character.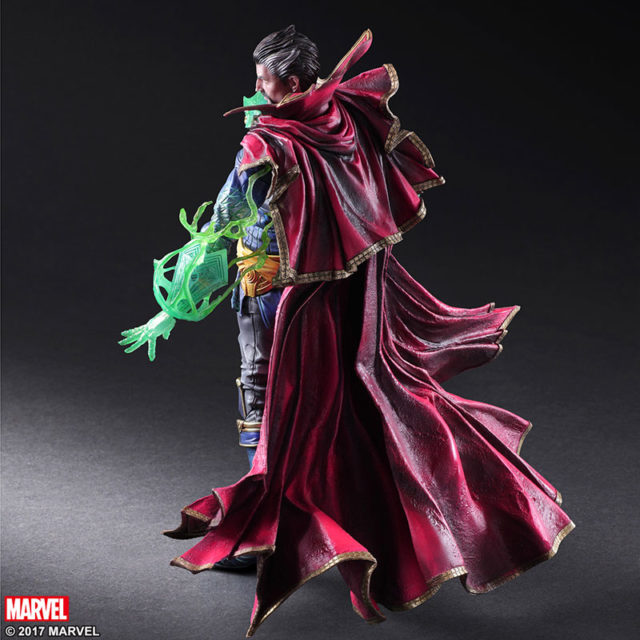 The sculpting on the the PAK Doctor Strange 10″ figure's cape and robes looks like it's at high-end statue levels of detailing, and the serious head sculpt makes the doc look like a legitimate threat and not the doofy joke he often comes off as. Even those clear green forearm gauntlets look like serious business!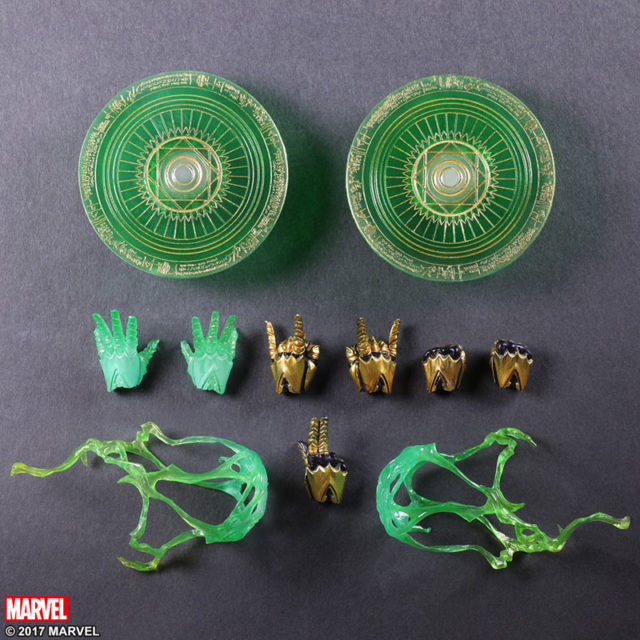 It also helps that this figure is coming with some of the most fun accessories we've seen in the whole Marvel Play Arts Kai line: seven interchangeable hands (including translucent green magical hands), clear green magical energy effects pieces, a figure stand and translucent magical rune effects that put those of just about every other company to shame!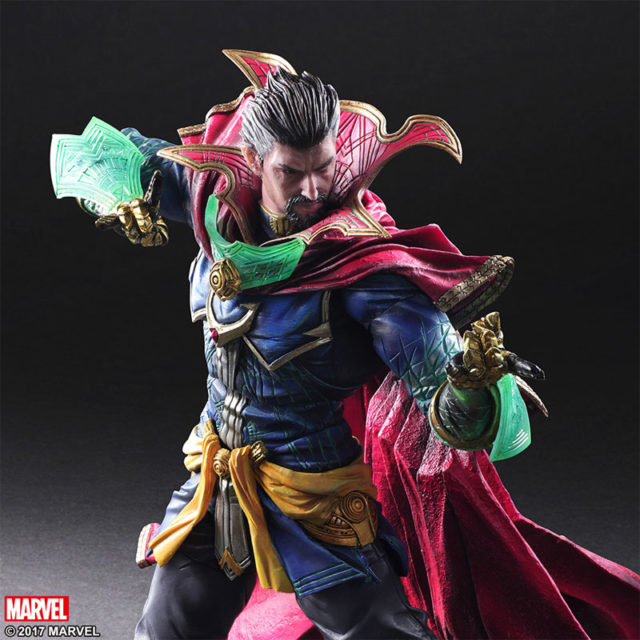 Really, there's only two things about this figure that I don't dig: the weird green "neck armor" and the price-tag.
The translucent green neck armor looks too weird and out of place to me in the photos, whereas the $149.99 MSRP is a hard pill for me to swallow with Doctor Strange being low on my list of favorite characters. Unlike Magneto, Deadpool and Wolverine, the Sorcerer Supreme is a character I don't mind risking missing out on waiting for a steep discount.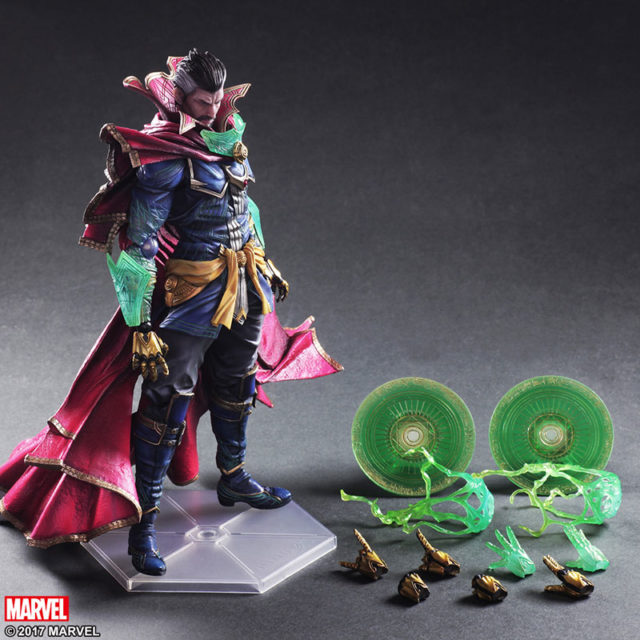 The Play Arts Kai Marvel Doctor Strange figure is now up for order, and is scheduled to be released in September 2017. This is the last known figure scheduled for release in the series, and if more characters aren't announced at SDCC 2017 this summer, the doc may end up having a short print run as the tail-end release in the line.
What do you think of the latest (and maybe last) Play Arts Kai Marvel Variant figure, Marvel collectors? Are you willing to dish out the big bucks for one of the coolest Doctor Strange toys ever, hoping for a blowout sale, or just plain not interested in this mystical release at all?