Of the many Funko Marvel Collector Corps boxes that have shipped since the advent of the series, the single most divisive box among subscribers was the MCC Guardians of the Galaxy box that shipped at the end of 2015. Personally, I loved the scarf and ornaments in that box–but not everyone shared my sentiments. But while that box wasn't a unanimous hit, I think the latest one might be! While the Spider-Man Homecoming Box is now up for order, let's have an in-depth review of this month's outstanding GOTG Vol. 2 Box before we look to the future!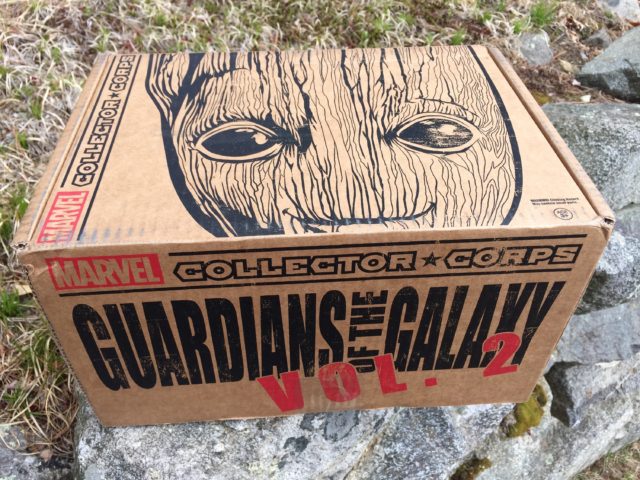 The original Funko Guardians of the Galaxy Collector Corps box is easily the most unorthodox box released to date (ornaments instead of regular POPs, a mug, and a scarf instead of a shirt), and wasn't entirely what some fans were hoping for.
Thankfully, with this latest box, I think Funko has put something together that I think pretty much nobody is going to gripe about. Let's dig in…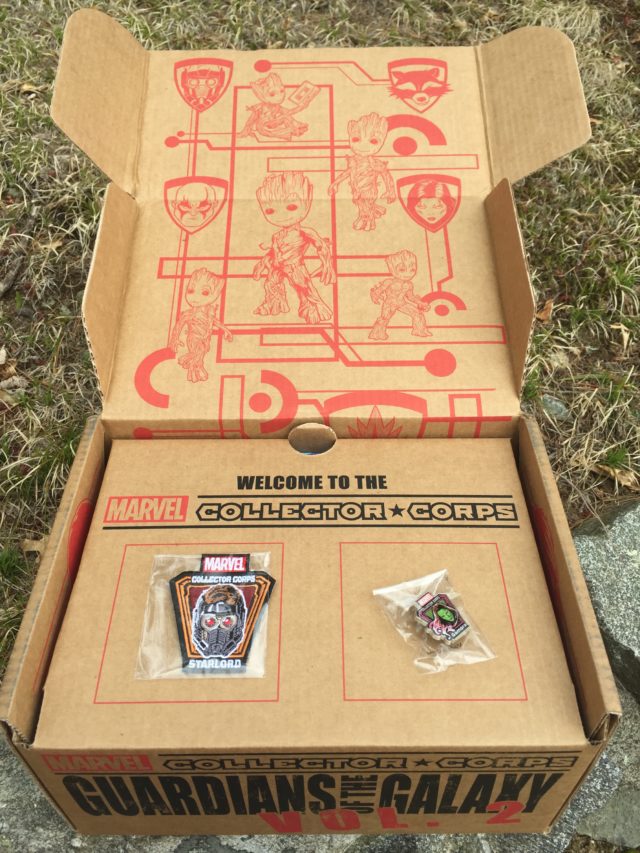 Inside of the very adorable Baby Groot-centric box, we find this month's Guardians-themed pin and patch combo.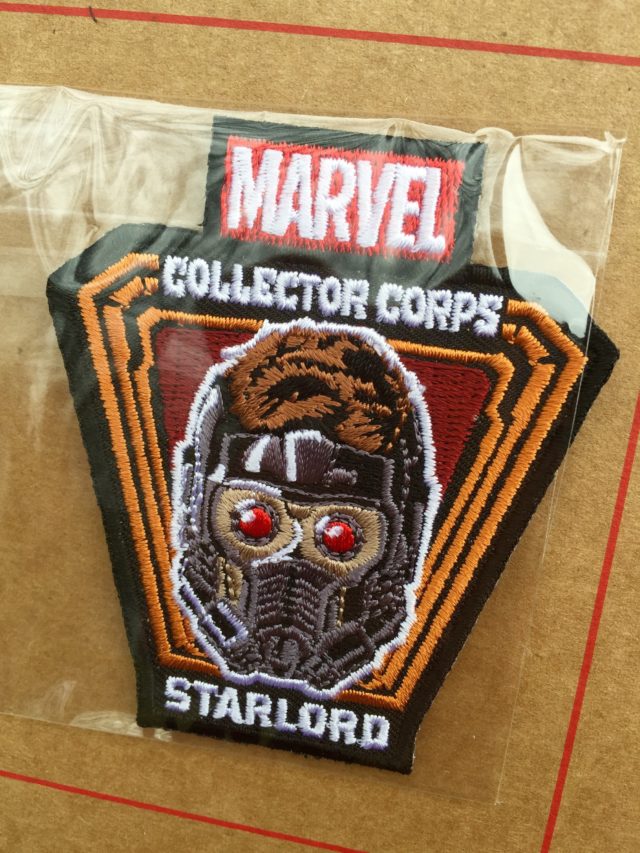 As anticipated, the Star-Lord mask appears here–but as a patch. I figured it'd be the pin (because metal), but the helmet actually looks very nice in patch form.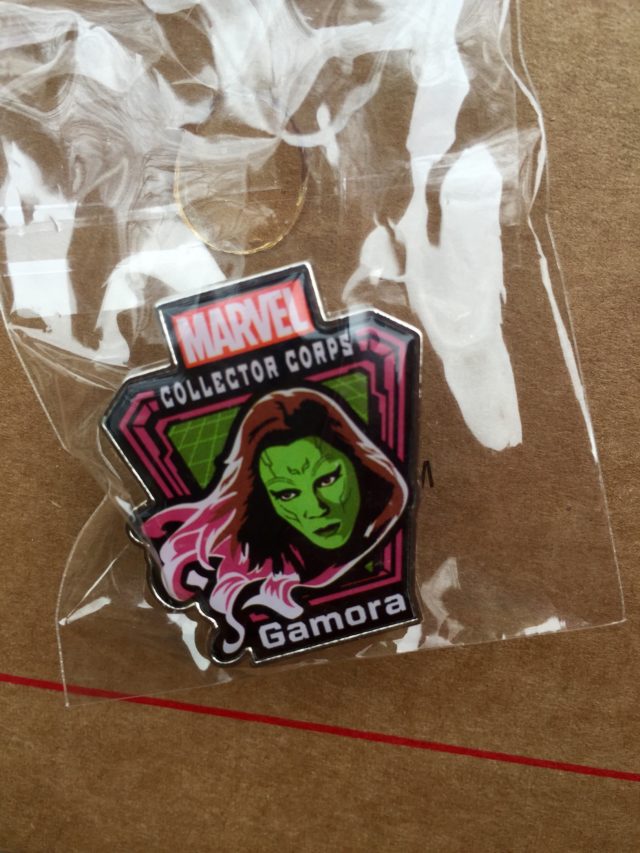 Gamora actually gets the honor of being the metal pin, and I wholly approve. As the only female in the core GOTG team, Gamora deserves some representation of her own in the box and I'm glad to see it here (plus the Gamora pin looks snazzy–that magneta hair really pops!).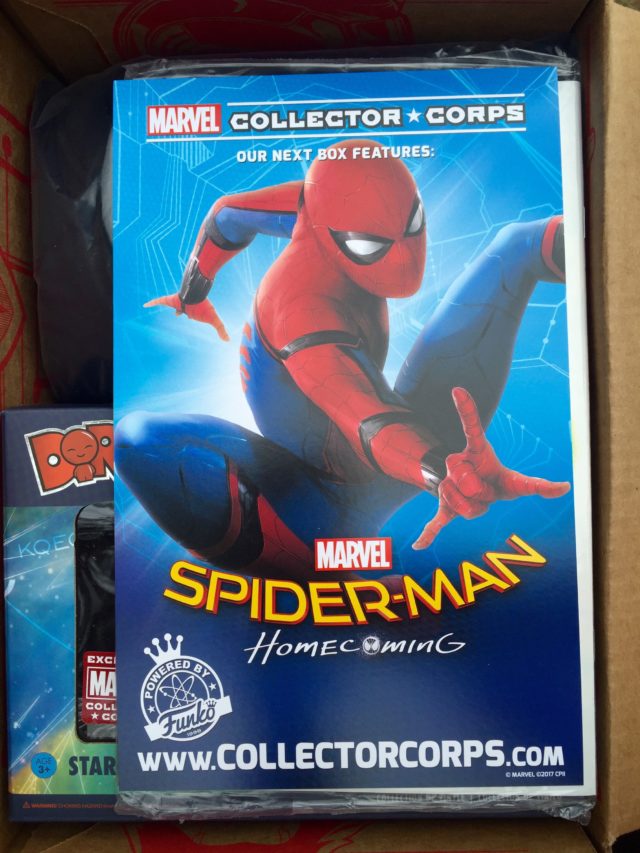 Diving further into the box, we see the ad for the June 2017 Collector Corps box: Spider-Man Homecoming! I think we all knew a MCC Homecoming themed box would be next, and I'm excited to start speculating about the contents soon (*cough* Iron Man *cough*).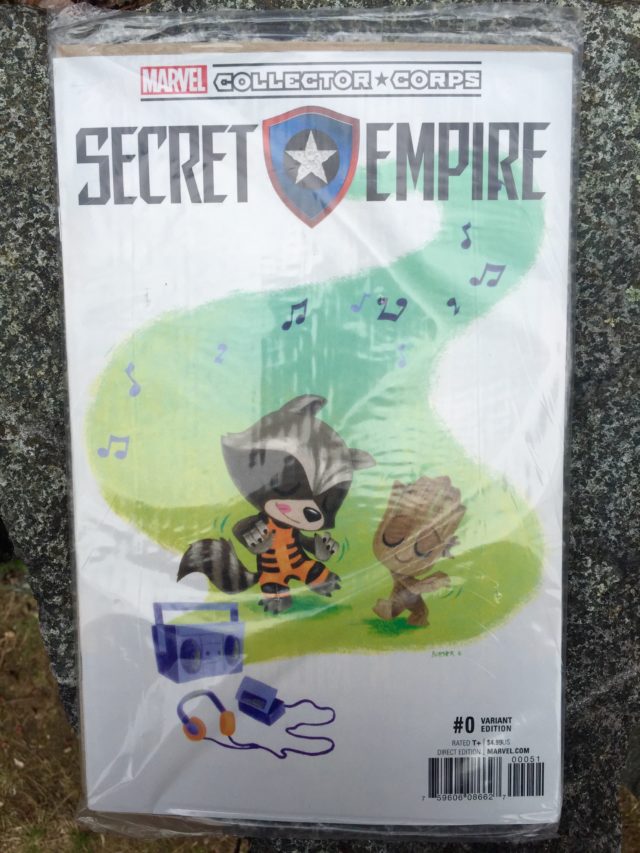 Underneath the announcement/contents card, we've got this month's comic book–and surprise, it's the Secret Empire #0 comic book that was just released in stores yesterday! Wow, I was not expecting this.
I'm a bit conflicted about this comic choice. I love the Funko Rocket and Groot on the cover and that we're getting a $4.99 comic book in this box that kicks off the big Marvel spring/summer storyline–but the comic doesn't have a ton to do with the Guardians (though they do appear briefly in it). A different comic might have been more appropriate, but I'm really pleased with this variant cover nonetheless.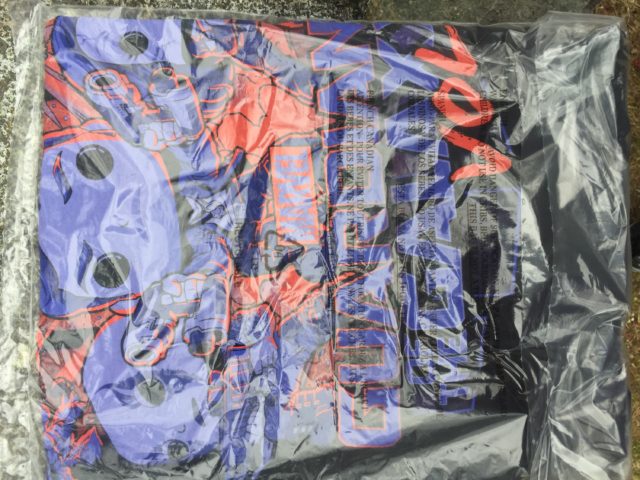 Next up, we've got the first Collector Corps Guardians of the Galaxy shirt! Collectors wanted this in the 2015 box, but getting it here instead allows us to get a shirt with the two new team members: Mantis and Yondu!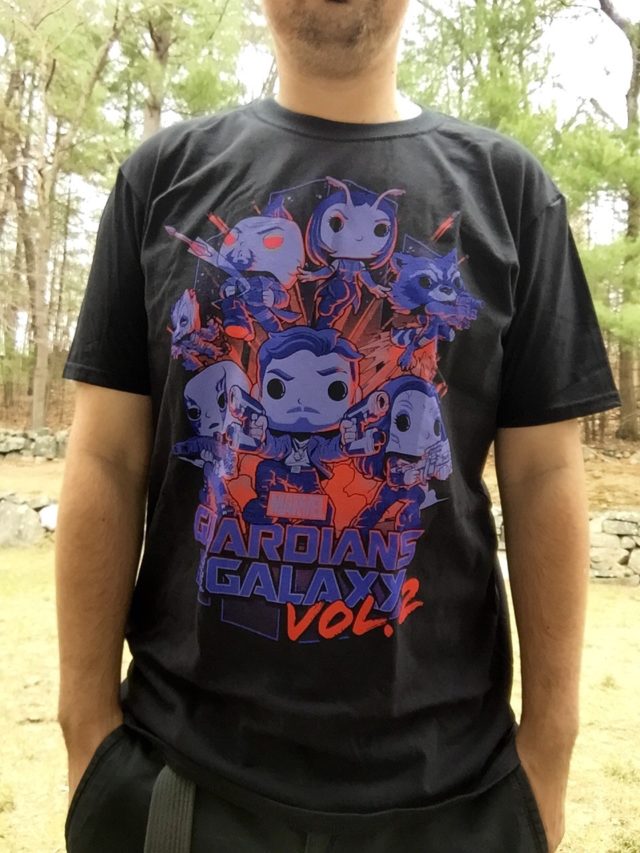 The fact that this is a black shirt with two colors on the team illustration on it makes it feel a bit too similar to the Rebels shirt in last month's Smuggler's Bounty box, but I really do like this shirt and will wear it proudly.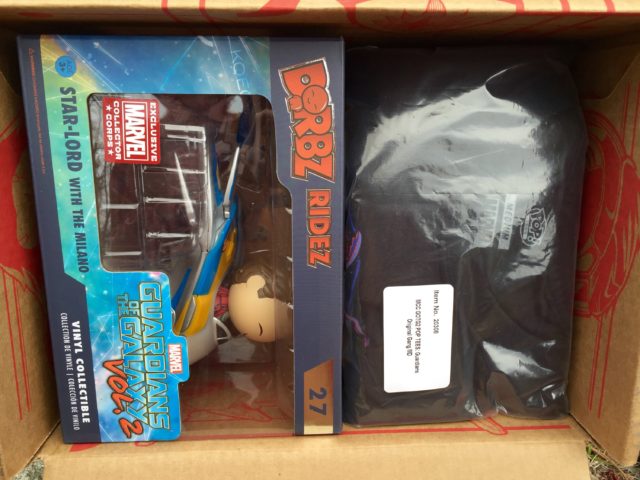 Finally, we've got the main events: not one, but two major vinyl figure releases!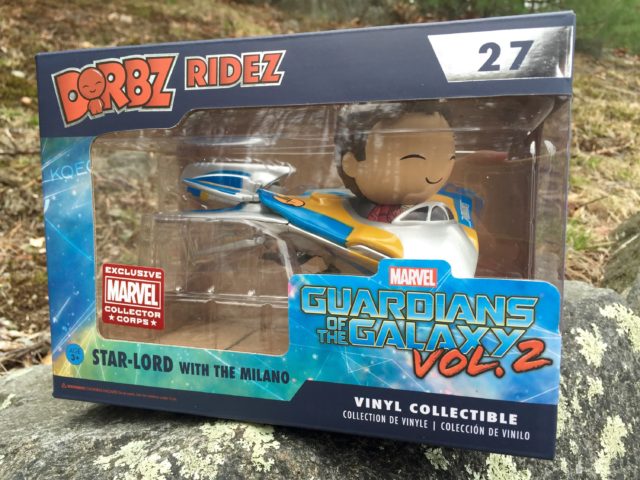 First, it's what I've heard fans asking for over and over since the last box: the Guardians of the Galaxy's ship, the Milano, is finally here in vinyl form!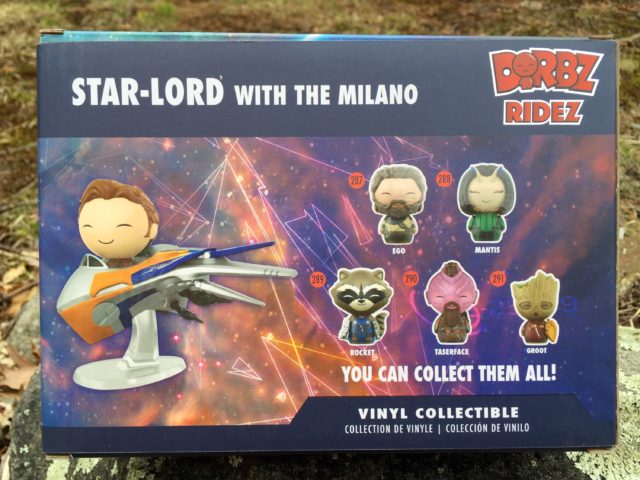 As soon as I saw how think the Guardians of the Galaxy Vol. 2 box was, I just knew there was going to be a Dorbz Ridez Milano in the box. And I am not disappointed!
Dorbz Ridez retail for $20 each, so just this boxed vehicle alone is worth the cost of this entire MCC Box. This is also the first time we've ever seen a Dorbz Ridez set in a Collector Corps box. Bravo, Funko!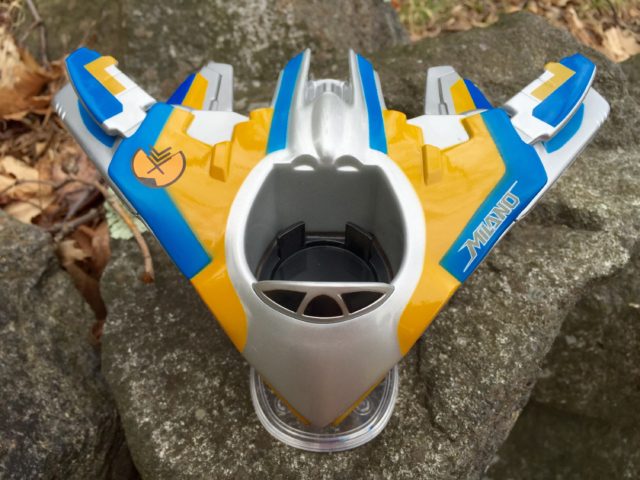 The Dorbz Milano Spaceship itself looks terrific. It's an all-new mold (obviously) and has a non-removable flight stand (why would you want a spaceship sitting on the ground anyway?).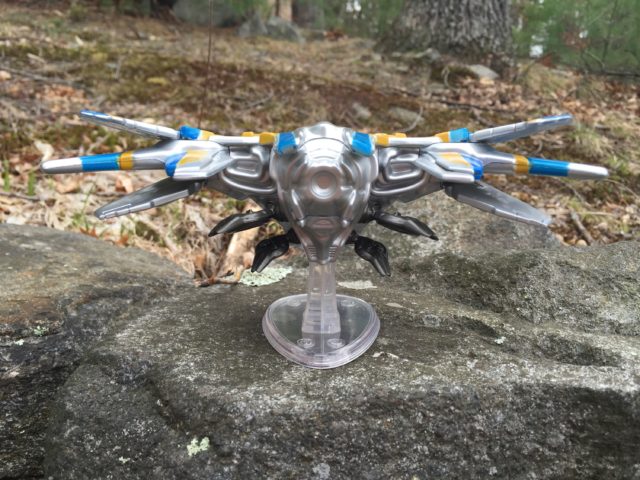 The Milano is a flat-out fantastic exclusive piece that a lot of collectors have been asking for in this box. A Funko Milano Spaceship in this box is a big win for longtime subscribers.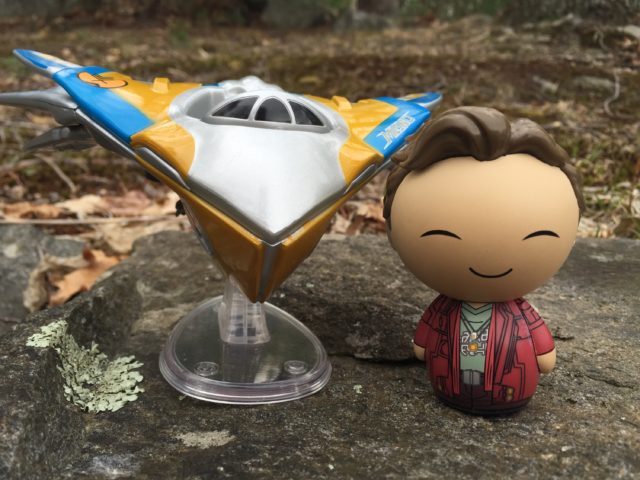 The Dorbz Star-Lord figure that comes with this set is a little bit different than the one we got for the first movie, so he's a worthwhile addition to the collection (though I wouldn't have minded a wee bit of facial scruff on him). And hey–you can never have too many Chris Pratt figures, am I right?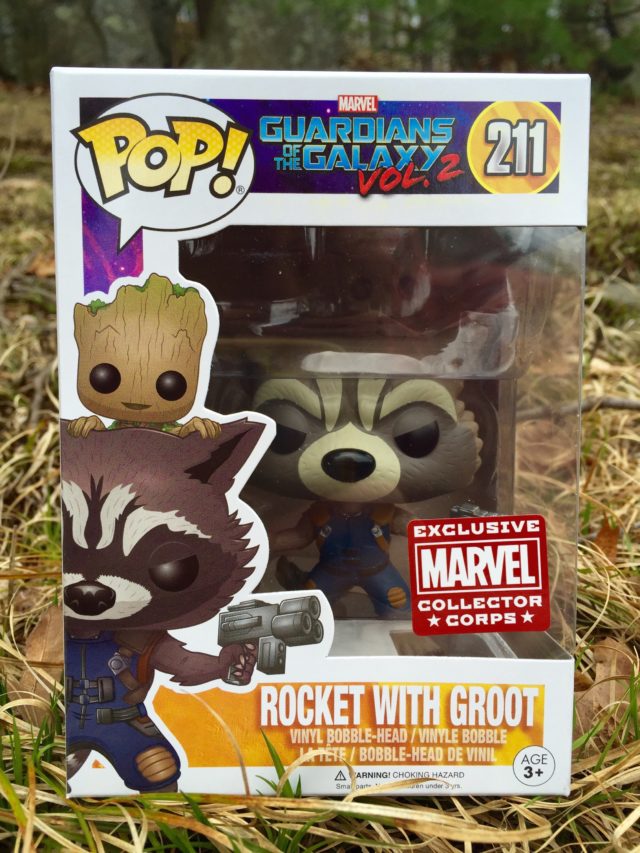 Last–but not least–we've got the exclusive Funko Rocket with Groot POP Vinyl figure.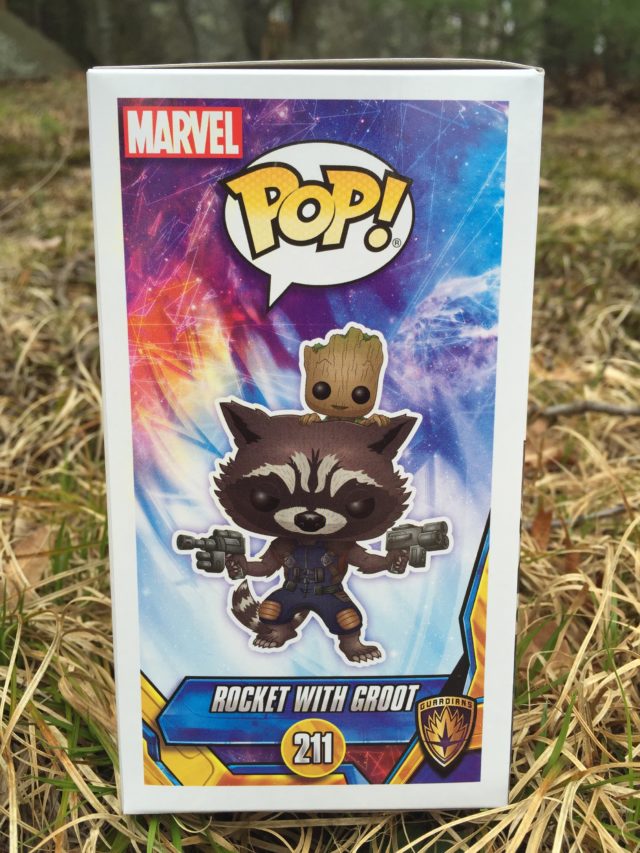 The box art for this particular figure is so cute!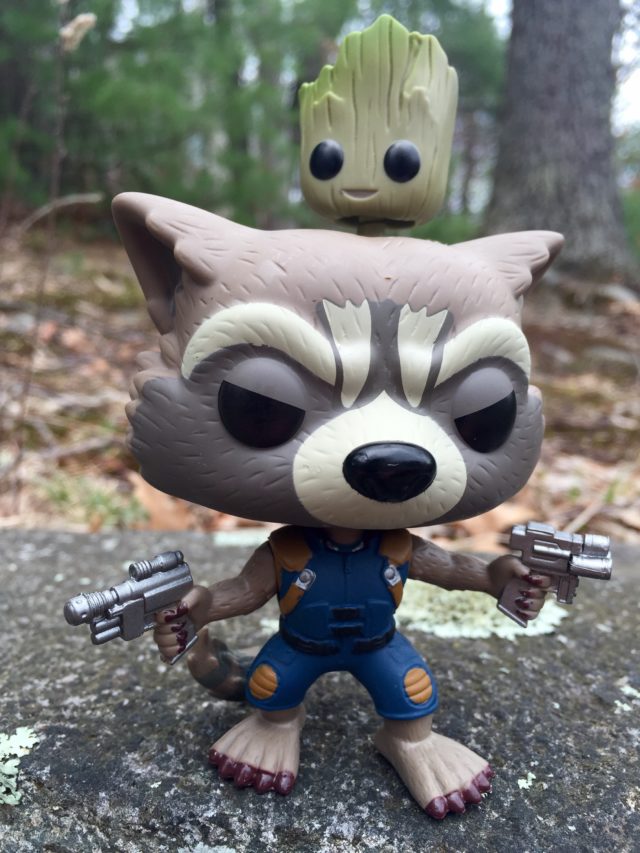 This isn't a surprise, since Funko revealed the figure earlier in the month–but the figure actually is better than I expected it to be based off online images.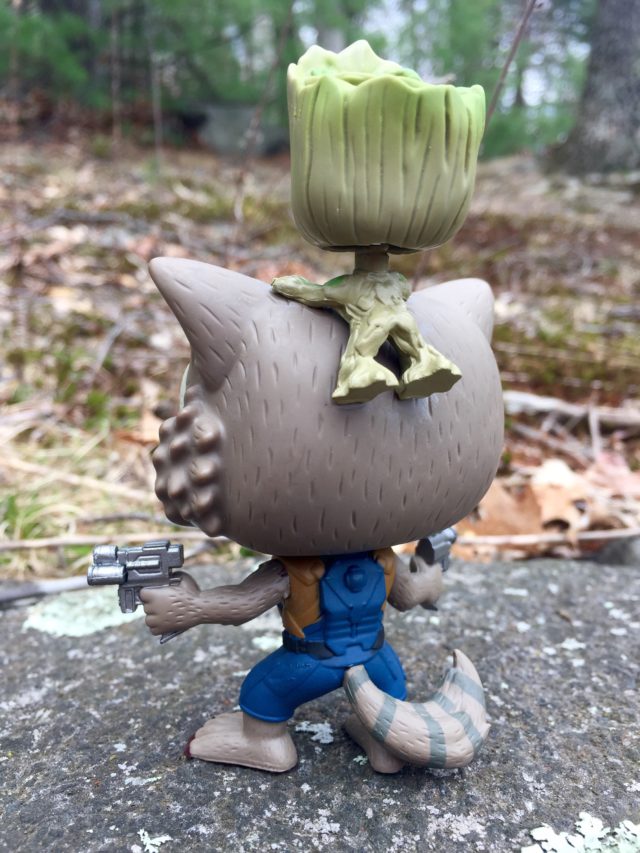 While Little Groot looks sort of puny in photos, he's actually a decent size in person–a little bit larger than a Pocket POP–and he's got his own bobble head! I really wasn't expecting that, and it adds a lot of charm to this POP Rocket & Groot figure.
I know a lot of folks wanted and expected a new version of Yondu here, but I'm sure Funko is aware of that and has him in the works. In the meantime, this exclusive POP Rocket with Groot figure really does feel fun and clever, and I don't think anyone will be disappointed with it once they've got it in-hand.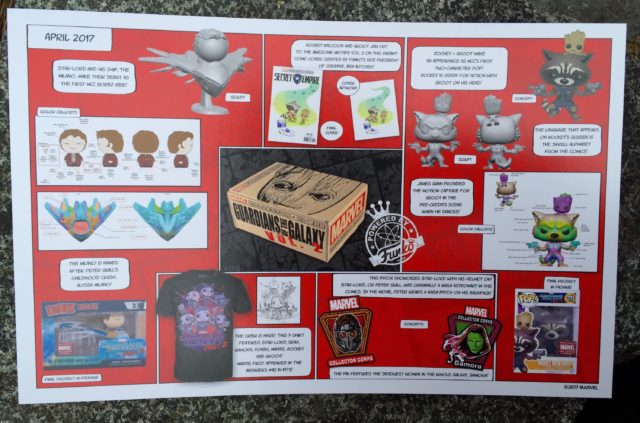 Overall, this is another in a continuing trend of near-perfect Marvel Collector Corps Funko boxes. While I would have liked to have seen Mohawk Yondu in this box, the POP Rocket with Groot and Dorbz Ridez Milano feel so special that it's really hard to complain at all. Excellent choices for the shirt and comic, and I even dig the patch and pin.
Funko is really on a roll with these MCC boxes, and I can't wait to see what they've got in store for us with the Spider-Man Homecoming Collector Corps box.
GRADE: A